N-Hance Review
In the spring of 2021, we used N-Hance Wood Refinishing to paint our kitchen cabinets. Now, a year later, we've had a chance to test the durability and quality. Here's my full (completely unsponsored) review.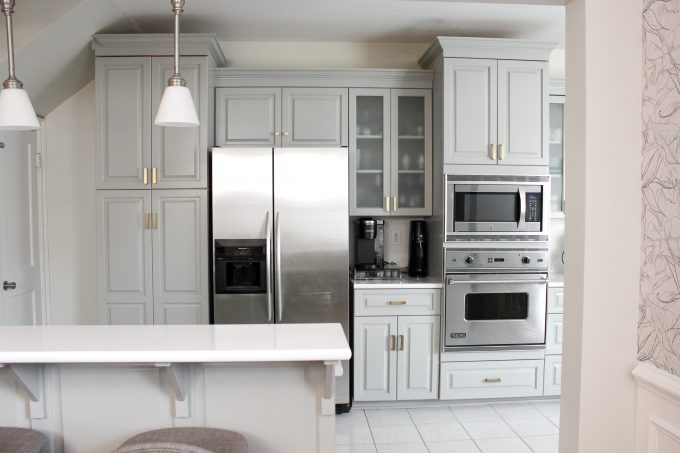 I spend a lot of time in the kitchen and while I've always loved our kitchen layout, I haven't always loved the color of the cabinets. The light maple wasn't my choice and the dark green countertops were also on the list of things to change. We decided to replace the countertops with quartz and have the cabinets painted. While we've done a lot of DIY projects (remember the basement renovation?) we were short on time and decided to hire this one out.
I got a few estimates before landing on N-Hance. (Specifically, I got quotes from Short Pump Painters and H. J. Holtz & Son, for those of you that are local.) We had friends that had used N-Hance and I was intrigued by their process. They use a UV light to cure the paint on the cabinets, making them more durable. They told me to think of it like gel nail polish compared to regular nail polish, which is what sold me. I know from experience that gel nail polish is the only thing that actually holds up to washing endless piles of dishes! Since I use my kitchen more than the average gal, I figured it was worth the extra cost.
How Much Does N-Hance Cost?
This obviously depends on the size of your kitchen, the number of cabinets, and the condition the cabinets are in. For us, it cost just under $6,000. This included adding slow-closing doors and drawers to most of the cabinets. To give you an idea of the size of our kitchen, we have about 40 cabinet doors and drawer fronts. This was significantly more than the estimate form Short Pump painters, which was only $3,500.
What are the benefits of N-Hance?
The main reason we went with N-Hance was that we wanted durability. It sounded like their UV light process would provide us with a stronger finish that could stand up to wear and tear.
It was also a relatively fast process that took five days from start to finish. They came in and took all the doors off and painted those in their shop. Then the kitchen was closed off for two days while they painted the frames and bases. We didn't have to remove everything from the cabinets, other than the two cabinets with glass doors, because we wanted the inside of those cabinets painted.
They also worked with Capitol Granite, the company that replaced our countertops. So we were able to have the countertops replaced at the same time, meaning our kitchen was only out of commission for one week total. As someone who uses the kitchen for work, this was a nice perk!
Before & After Photos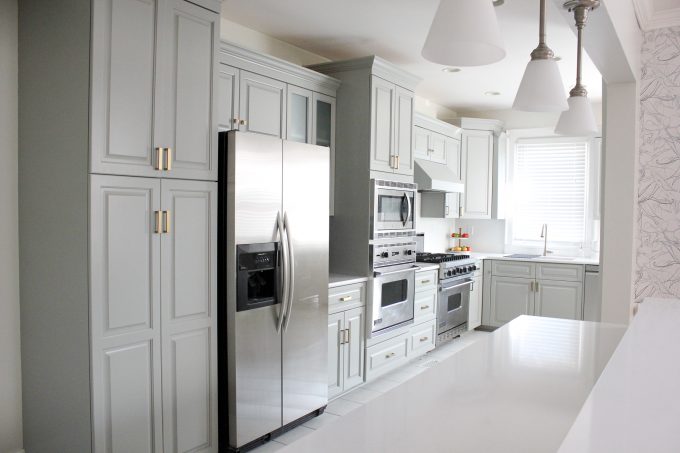 The color looks a little more muted and cool-toned in the photos but it's a slightly warmer grey in person. I really stressed over the color but I like the way it turned out! This color is Argos by Sherwin Williams. The countertops are white Quartz with just a small amount of veining.
Problems with N-Hance
Overall, I'm happy with the work. But there are a few things I'd mention before recommending working with them.
We asked for slow-close hinges to be added to the doors and drawers but they missed a few of the cabinet doors. Randomly, three of the doors (one cabinet door under the sink and two on the island) don't have the slow-close hinges. They said they'd come back and fix them, but they never did. I even called a week later to ask if they could come add them and they never responded to my call.
They made it sound like the cabinets came with a warranty. They talked about how they'd come to touch up paint if anything showed a scratch from normal wear and tear. But based on how they ignored my call for the hinges, I don't expect that they'd come back to touch up paint.
Some of the cabinets are already showing a bit of wear. Specifically, the drawer that hides our trash can, which obviously gets a lot of use, has quite a few scratches on top. Considering it's only been a year since we had the cabinets painted, that's a bit of a bummer. We have leftover paint so we can touch it up on our own, but it's disappointing that it hasn't been more durable.
The cost of the cabinet refinishing included drilling additional holes for new hardware. Some of the door handles were installed crooked. We were switching from single knobs to handles so they had to drill an additional hole. We didn't think it would be a problem but some of the holes they drilled were crooked, giving the handles an uneven appearance. In some cases, I think the problem was that the doors weren't hung completely level. In other cases, the second hold wasn't drilled exactly above the existing hole.
Would I Recommend N-Hance?
It depends. The process was fast and easy. The cabinets turned out beautifully and they were able to sand down some spots with noticeable wear and tear to make them look like new. And it was nice that our kitchen was only out of commission for a week. But I'm disappointed with the durability of the paint and the lack of attention to detail like the hinges and the handles. Knowing that we could have had it done for almost half the price with Short Pump Painters makes me feel like we overpaid for the quality of the work. Overall, I wouldn't recommend N-Hance.
More House Projects