Spicy Red Lentil Stew
This delicious red lentil stew is made with spicy adobo sauce and hearty chickpeas for a tasty, vegan soup that is full of flavor and plant-based protein!
I love this recipe because the red lentils make this soup thick, chunky, and extremely satisfying. Since lentils are loaded with plant-based protein and fiber, this is a recipe that will keep you full! The spices add lots of delicious flavor and this recipe only takes a few minutes to assemble. You'll have dinner simmering in no time!
What are red lentils?
Red lentils are a unique type of lentil because they break down when cooked. While other types of lentils typically hold their shape, red lentils soften quickly. Because of this, they cook faster than other colors of lentils. Since they're a unique type of lentil, don't try to substitute green, brown, or black lentils in place of red lentils. They won't cook at the same rate.
Are red lentils healthy?
Yes! Red lentils are a great source of protein and fiber and they're rich in folate and potassium. They're also a source of iron, which is especially great for vegans and vegetarians! They're convenient to keep in the pantry because they last a long time and they're very inexpensive.
Ingredients & Substituions
Onion, carrot & celery– These three ingredients are traditionally used in a mirepiox and they make up the base of the soup. It's a great way to add lots of vegetables into this recipe.
Tomato paste– Tomato paste is a great source of umami flavor.
Adobo sauce– You can either buy adobo sauce or buy a can of chipotle peppers in adobo sauce and just use a little bit of the sauce. Save the peppers for another use.
Red lentils– Reminder, these must be red lentils! Don't substitute green or brown.
Vegetable broth– I prefer to use a vegetarian-friendly "chicken" style broth which typically has more flavor.
Chickpeas– If you don't have chickpeas, try using white beans instead.
Topping Suggestions
This stew has a lot of flavor but you can still get creative with toppings! I love adding a handful of fresh cilantro on top! You can also add chopped avocado, a sprinkle of paprika, or crushed tortilla chips. If the soup is too spicy, swirl in a dollop of sour cream to tame the heat.
How to Make Red Lentil Stew
What to Serve with Lentil Soup
This soup is delicious with a side of this Street Corn Salad, which can be served as a salad or as a dip for tortilla chips. You could also serve this with a Black Bean and Corn Salad for a vegan option. If you want to add greens to your meal, try pairing this with my Spicy Kale Salad!
More Red Lentil Recipes
Print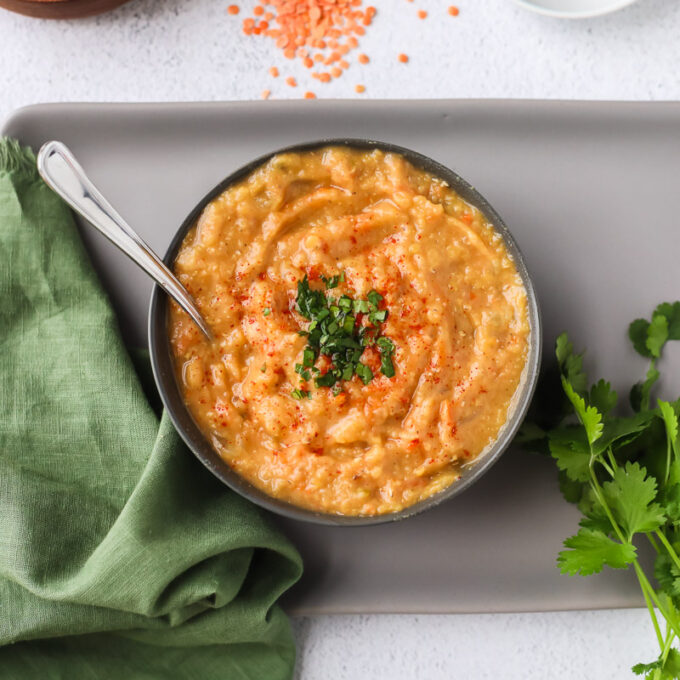 Red Lentil Stew
Author:
Prep Time: 15 minutes
Cook Time: 30 minutes
Total Time: 45 minutes
Yield: 6 cups 1x
Category: Soup
Method: Stovetop
Cuisine: American
Diet: Vegan
---
Description
This delicious red lentil stew is made with spicy adobo sauce and hearty chickpeas for a tasty, vegan soup that is full of flavor and plant-based protein!
---
1 tablespoon olive oil
1 small yellow onion, diced
1/2 cup carrots, chopped
1/2 cup celery, chopped
1 tablespoon tomato paste
1–2 tablespoon adobo sauce (depending on how spicy you like it)
1 cup red lentils, rinsed
4 cups vegetable broth
1 15oz can chickpeas
Cilantro, avocado, and/or tortilla chips for topping (optional)
---
Instructions
In a large pot, heat the olive oil over medium heat for 30 seconds.
Add the onion, carrots, and celery. Cover and cook over medium-low heat for 8 minutes, stirring frequently.
Add the tomato paste and adobo sauce and stir until the vegetables are evenly coated.
Add the lentils and vegetable broth and bring to a boil.
Once boiling, reduce heat to low and simmer for 12-15 minutes or until the lentils are softened.
Use an immersion blender to blend the soup until slightly chunky. If you don't have an immersion blender, carefully transfer the soup to a blender, allowing steam to escape through the event. Blend until slightly chunky.
Return the soup to the pot and stir in the chickpeas. Continue to cook over medium-low heat until chickpeas are warm, about 5 minutes.
Divide into bowls and add toppings, if desired.
---
Keywords: red lentil stew