30 Vegan Instant Pot Recipes
If you're looking for vegan Instant Pot recipes, this list has you covered with plenty of delicious, healthy, and easy recipes!
It's official- I'm obsessed with my pressure cooker. After I bought it, it took me a couple of months to actually use it, but now I find myself pulling it out for nearly every meal! From soups and stews to curries and risottos, it seems like it can do everything! As a vegetarian, I wasn't sure if I'd get a lot of use out of it, but I've been pleasantly surprised that there are so many meat-free recipes out there!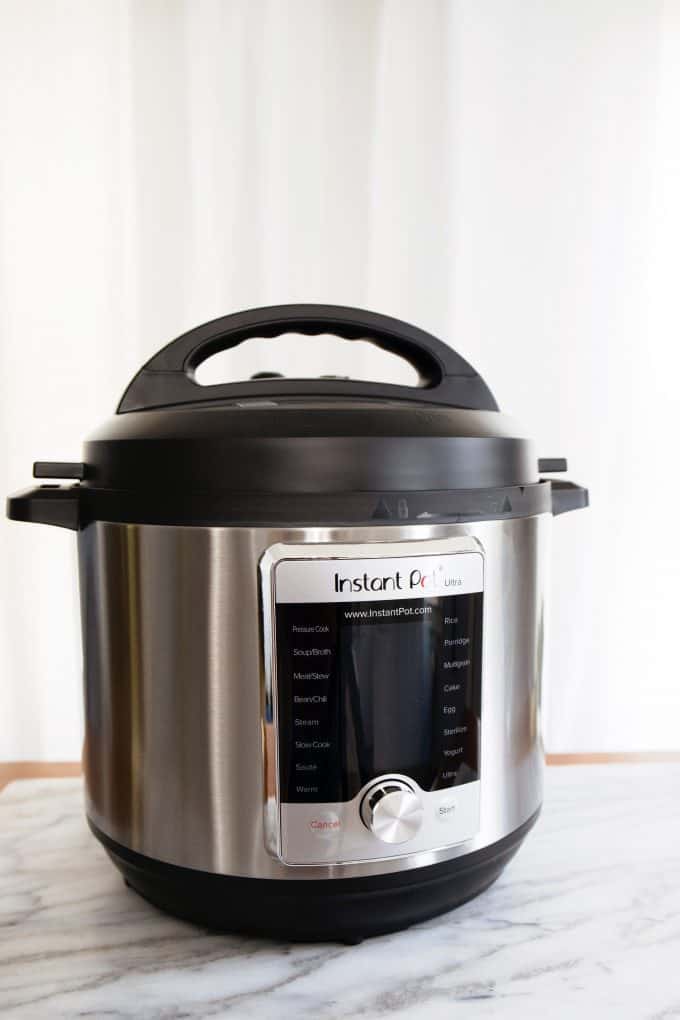 If you're looking for new meatless ideas to try in your Instant Pot or pressure cooker, I've rounded up 30 vegan recipes! All of these dishes are easy, healthy, and delicious!
Tips for Instant Pot Recipes
Be sure you're using the appropriate sized container for the recipe. Most of these recipes work in a 6qt or 8qt size Instant Pot, but it's always a good idea to double-check the sizes.
Check on the style of release. Some recipes require a quick-release and some allow the Instant Pot to depressurize more slowly. For recipes that include ingredients like pasta, it's important to use the right type of release.
Many of these recipes can be prepared and frozen, so the Instant Pot makes it easy to meal prep. You can have tasty vegan recipes stocked in your freezer at all times!
Vegan Instant Pot Soup
This Moroccan lentil soup is packed with flavorful spices like turmeric and cumin, and the lentils make this soup super satisfying and filling!
Instant Pot Vegetable Soup is a great way to make use of your pressure cooker! The soup is heart-healthy, full of flavor, and ready in under 30 minutes! Plus, the entire recipe is made in the Instant Pot, so clean up is a breeze.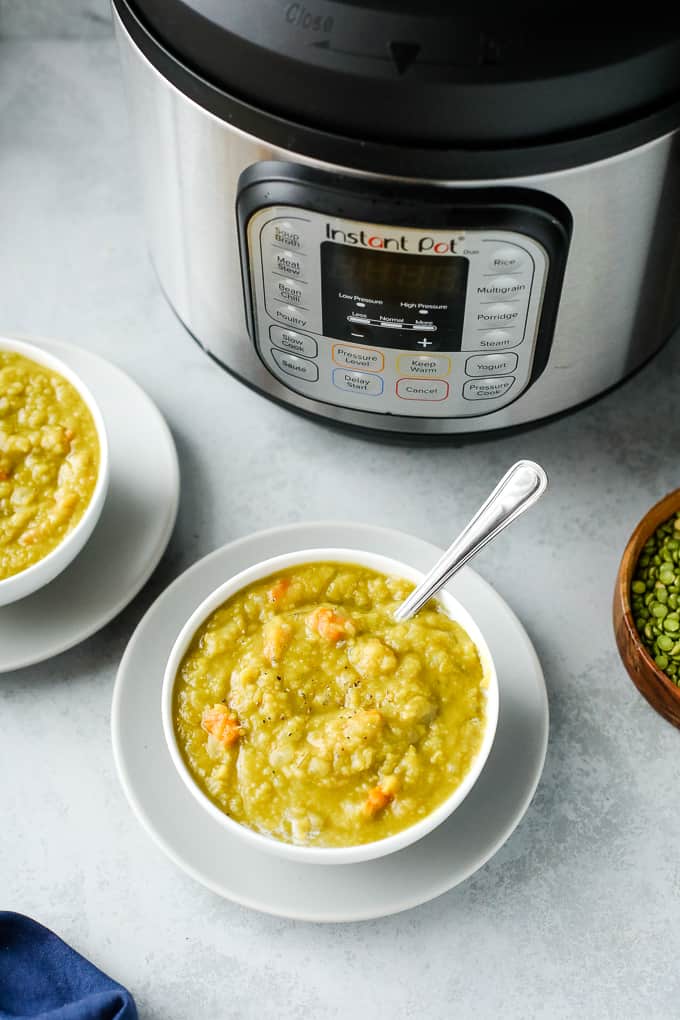 Vegan Split Pea Soup is a tasty, budget-friendly meal that only requires a handful of pantry staples. This is easy to prepare and you can freeze the leftovers.
This Instant Pot Red Lentil Soup is packed with flavor and filled with plenty of plant-based protein to keep you satisfied. You can whip up this recipe in just minutes!
This Instant Pot Vegan Butternut Squash Soup is ready in a flash! Smooth & creamy with a hint of sweetness, this is a great side dish or make-ahead lunch option!
This Tomato Basil Soup is thick and creamy thanks to a secret ingredient! This soup is so creamy, rich & flavorful; no one would guess it's vegan!
This White Bean Kale Soup is ready in 30 and made with cannellini beans, everyday vegetables, lots of fresh kale, and pantry seasonings. It's budget-friendly, nutrition-packed comfort food. White bean and kale soup is a great way to get ALL the fiber in one meal!
Minestrone Soup is a hearty soup loaded with vegetables and tender pasta. Everything cooks together for an easy and delicious meal!
Instant Pot Thai Peanut Chickpea Soup is peanutty, savory, and packed with big, bold flavor! This chunky, brothy soup is true comfort food for the soul. It's filled with delicious flavors, it's warming and perfectly wholesome.
Vegan Instant Pot Vegan Quinoa/Rice Recipes
This easy Cuban black beans and rice is one of my favorite weeknight meals because everything cooks together at once! Plus, dried beans make this recipe budget-friendly!
This vegan Thai Green Curry with Quinoa with fresh vegetables can also be made gluten-free. You can most of the preparation over the weekends and then prepare a quick fresh meal during weeknights, even with a tight schedule.
This Vegetarian Quinoa Recipe is made with Mexican seasoning, beans, and vegetables to create a deliciously healthy protein and fiber-rich dish. This gluten-free and vegan Mexican quinoa is a one-pot-meal that is good for any time at home or on-the-go meals as it tastes great at room temperature.
A handful of pantry staples come together to create a hearty Quinoa and Chickpea stew that is easy to make in an Instant Pot!
This delicious and quick Cilantro Lime Instant Pot Quinoa is easy to make and is the perfect side dish for your favorite Southwest or Thai entree!
Jeera Rice is one of the oldest recipes for flavored Indian rice. It is nothing but fluffy rice steam cooked with cumin and other spices.
This healthy Vegetable Quinoa Pilaf recipe is filled with colorful vegetables and can be served with homemade or vegan yogurt. Naturally high in protein and gluten-free. This Easy Quinoa Pilaf is excellent for lunch or dinner and can be made in advance.
Learn how to make perfect rice in the Instant Pot! This easy method works with all long-grain varieties, including white basmati rice.
Vegan Instant Pot Vegan Curry
Mung Bean and Coconut Curry is packed with Indian flavors, coconut milk, cilantro, and lime. It's incredibly easy and can be made in the Instant Pot or on the stovetop. If you're looking for a delicious moong dal recipe, this is the one!
This super simple Instant Pot Coconut Curry Chickpea recipe is not only quick and easy, but it is also vegan and packed with tons of protein!
This easy Instant pot recipe for Chickpea and Spinach Curry, also known as Chana Saag, is excellent for a light and healthy everyday family meals. This gluten-free, vegan, and soy-free recipe only needs very basic and simple ingredients.
This Instant Pot Pumpkin Curry is so rich, warming, and delicious! Made so easy in the Instant Pot, this family-friendly recipe is healthy and filling.
Instant Pot Aloo Gobi is an easy and versatile curry to make for a quick dinner. This curry is vegan, gluten-free, and loaded with the goodness of vegetables. It is best paired with hot Rotis or simple jeera rice.
This easy Instant Pot Brown Lentil Curry is a hearty meal that will give you and your loved ones the boost of filling nutrition they need to power through the day. Packed with filling, wholesome ingredients, this whole masoor dal recipe is both good and good for you.
Butternut Squash and Chickpea Curry with Spinach is a healthy, vegan, and quick curry recipe. It comes together in minutes, and you can make a complete meal out of it by pairing it with white or brown rice. Did I mention it is really delicious as well?
This comforting and hearty Sweet Potato and Lentil Stew makes a perfect weeknight dinner. It's gluten-free, vegan, and easy to prepare!
Instant Pot Vegetable Recipes
Easy Roasted Sweet and Spicy Instant Pot Cauliflower makes the perfect side dish to accompany any meal. It's naturally gluten-free, vegan, and great for meal prep.
This Instant Pot Corn on the Cob recipe is so simple to make. Just two simple ingredients are all that's needed to get sweet, tasty, perfectly cooked corn on the cob.
This easy Vegan Roasted Red Pepper Sauce is the kind of sauce you'll want to lick straight out of a bowl. It's robust, sweet, and smoky and spicy but not too spicy. Totally kid-approved!
Instant Pot Mashed Sweet Potatoes recipe is an easy and quick side dish that is savory, filling, and full of nutrients. It is a good variation from the classical potatoes mash, and perfect for any meal!
A meatless twist on a take out classic, this Instant Pot Kung Pao Chickpeas Recipe is the perfect combination of sweet, salty, and spicy! The rice is made in one pot, so everything cooks together.
This Instant Pot Vegetable Dal cooks quickly in the Instant Pot. Serve it with rice for a high protein comfort meal.
Instant Pot Beet Salad is a super flavorful and versatile dish that is truly quick and easy to prepare. Cooking beets in Instant Pot is so simple; you'll never want to make them any other way!
This is Vegan Butternut Squash Mac and Cheese made in the instant pot. This one-pot method has all the easy steps that you would want to know for a quick pasta dinner.
Where to Buy an Instant Pot
You can easily order an Instant Pot on Amazon. If you're just starting out, I'd recommend buying the Instant Pot Duo 7-in-1 in the 6qt size. It has plenty of room for a medium-sized family and it comes with functions for everything from slow cooking to yogurt making.
If you have a larger family, you may want to consider an 8qt or 10qt size to be sure you can double recipes easily.
To turn your Instant Pot into an air fryer, you can by this lid adapter to transform your pot! This is a great way to get the most out of your Instant Pot without having to buy a second appliance.
The Best Instant Pot Cookbooks for Vegan Recipes
If you're looking for cookbooks to add to your collection, here are a few to get you started!
Vegan Under Pressure by Jill Nussinow
The Vegan Instant Pot Cookbook by Nisha Vora
The Ultimate Vegan Cookbook for Your Instant Pot by Kathy HEster
What's your favorite Instant Pot recipe?