Applesauce Smoothie
This sweet and creamy applesauce smoothie is so delicious and easy to make! With just a few ingredients, you can make a tasty, healthy smoothie that tastes like apple pie!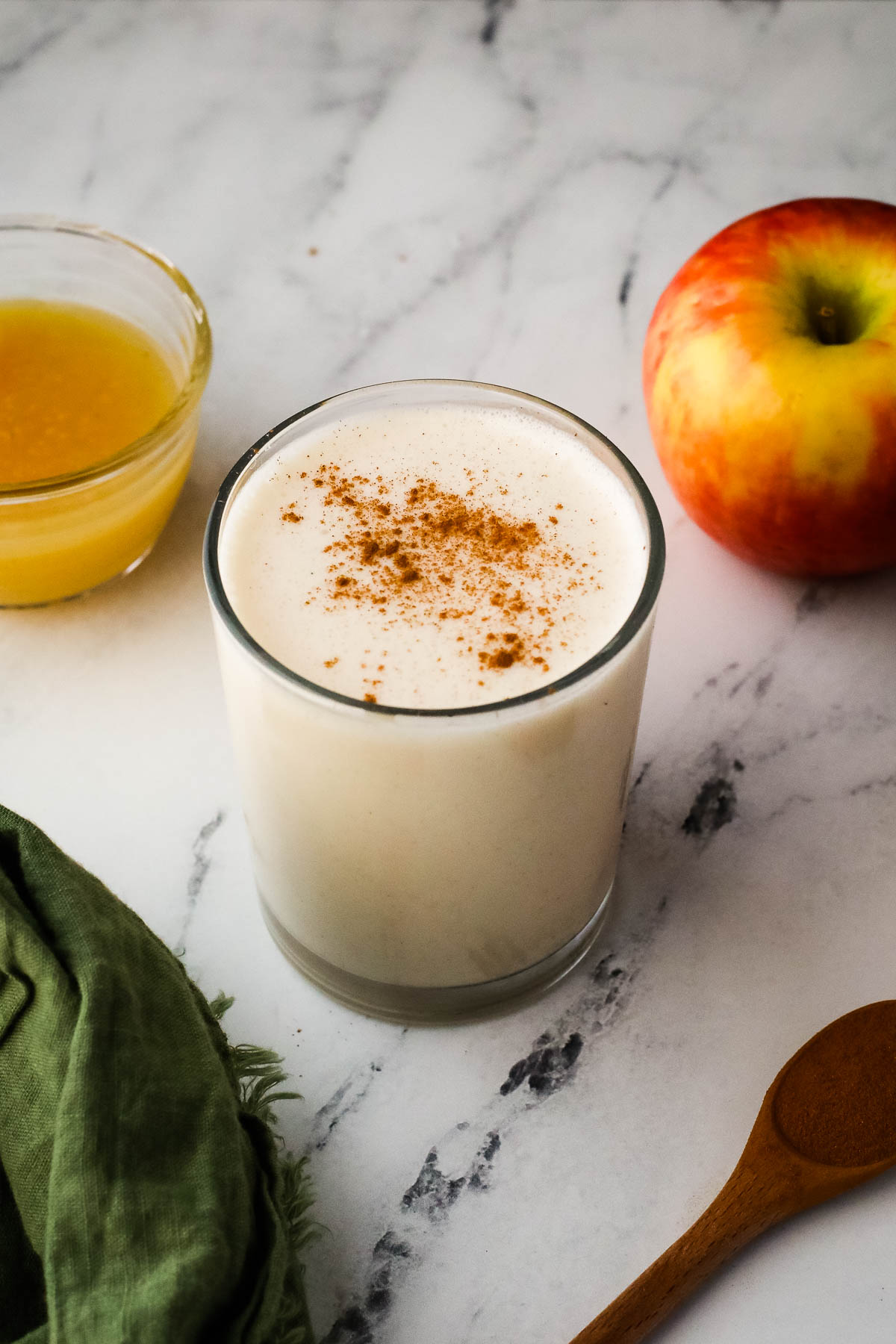 As the mom of a picky toddler, I'm always looking for new foods that he might be willing to try. I hadn't been able to get him to drink a smoothie, but I started thinking about how much he loves applesauce and wondered if an applesauce smoothie could be the thing to turn him into a smoothie lover. On a whim, I made a quick smoothie using applesauce and Greek yogurt, and I was shocked at how delicious it was! I was immediately hooked on this applesauce smoothie recipe!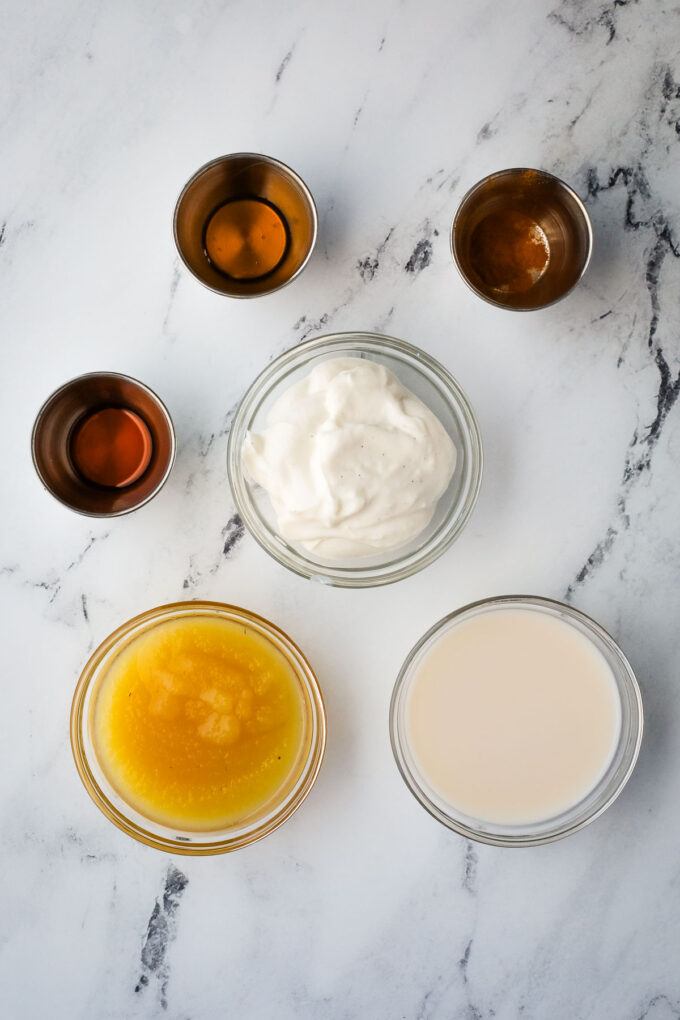 Ingredients and Substitutions
Applesauce– I recommend using unsweetened plain applesauce. If you do have sweetened applesauce, just skip the added sweetener and use plain Greek yogurt.
Yogurt– I've made this with plain Greek yogurt and vanilla Greek yogurt. Either one is delicious, just be sure to adjust the sweetener. It works just fine with whole milk yogurt or fat-free yogurt. It just depends on your preferences.
Milk– I use almond milk for myself, but I often use dairy milk for my toddler. You can use any kind of milk you like.
Sweetener– I typically add a little honey or maple syrup to my son's smoothie, but I like to use stevia in mine. Sometimes I don't need any added sweetener at all, depending on my yogurt.
Vanilla– If you don't have vanilla extract you can skip it, but it does add a nice little hint of flavor.
Cinnamon– I like cinnamon, but if you have apple pie spice, you can swap that for the cinnamon! It tastes even more like a sippable apple pie!
How to Make a Thick Smoothie
If you want to make a spoonable smoothie, you could freeze the applesauce in an ice cube tray overnight and use just a small amount of almond milk. For more ways to create a spoonable smoothie, follow my tips for super thick smoothies!
Are Smoothies Healthy?
Smoothies are a great, healthy meal to add to your diet! I would recommend switching up your smoothies so you can get a range of nutrients in your diet, but smoothies are definitely a great option for an everyday meal or snack! Check out this list of meal replacement smoothies or try one of these fruit-free smoothies for something new!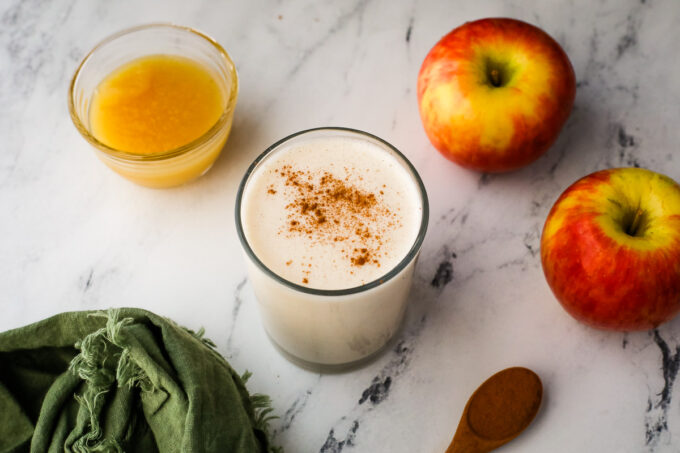 How to Add More Protein to Your Smoothie
If you want to add more protein beyond the Greek yogurt, you can add in some protein powder! I think whey protein has the best creamy texture, but whey doesn't always make my stomach feel great. I try to stick to plant-based protein when possible, and I love the Tone It Up protein from Target! You can use any brand of protein powder you like, but I recommend sticking to a vanilla flavor or unflavored protein powder for this applesauce smoothie recipe!
If you want to add protein, but you don't want to use protein powder, you could add chia seeds or hemp seeds for a little boost of protein and healthy fat. Or you could add additional Greek yogurt. You could also add a scoop of peanut flour like PB2 if you don't mind a little peanut flavor in your smoothie!
My Favorite Blenders
For the creamiest smoothies, I recommend a high-powered blender, like a Vitamix or Blendtec. They can pulverize anything from almonds to ice. I know that might not fit into your budget, so if you're looking for a more affordable option, check out this Kitchen Aid blender. I've had it for years, and it's surprisingly strong for the price. Since this recipe isn't super thick, you can also use a bullet-style blender. I have a Nutribullet that works great for this recipe!
Frequently Asked Questions
Can I make this recipe vegan? Yes! Just use dairy-free yogurt. I do recommend adding a little protein powder or another protein source since most vegan yogurt doesn't have as much protein as Greek yogurt.
Can I make this recipe in advance? You could make it a few hours in advance and keep it in an insulated tumbler or store it in the fridge, but I do think it tastes best when it's enjoyed immediately.
Can I double the recipe? Absolutely! In fact, doubling the recipe can make it easier to blend if you don't have a powerful blender.
More Smoothie Recipes
Print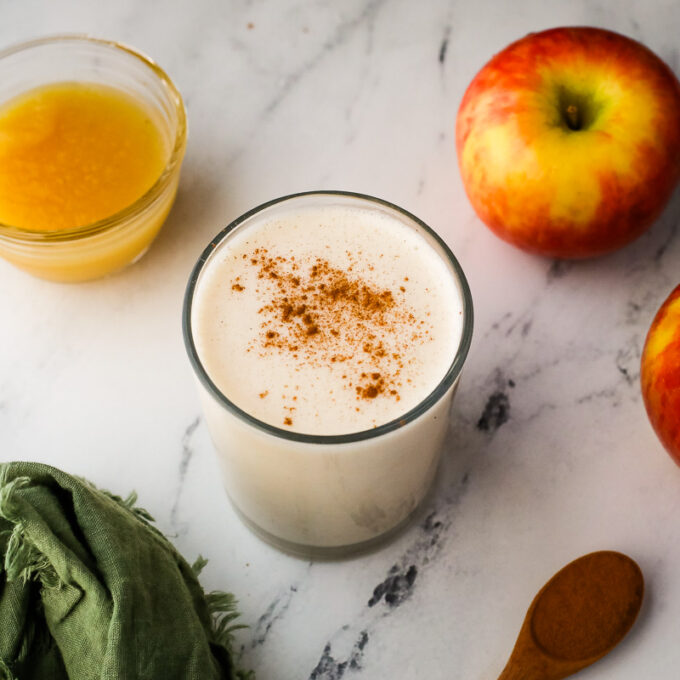 Applesauce Smoothie
Author:
Prep Time: 5 minutes
Cook Time: 0 minutes
Total Time: 5 minutes
Yield: 1 1x
Category: Breakfast
Method: Blended
Cuisine: American
Diet: Vegetarian
---
Description
This sweet and creamy applesauce smoothie is so delicious and easy to make! With just a few ingredients, you can make a tasty, healthy drink that tastes like apple pie!
---
1/2 cup applesauce
1/2 cup Greek yogurt
1/2 cup almond milk
2 teaspoons honey or maple syrup
1 teaspoon vanilla
1/4 teaspoon cinnamon
1/4 cup ice cubes
---
Instructions
Add all the ingredients to a blender and blend until smooth. Adjust sweetener to taste, if needed.