Instant Pot Pumpkin Steel Cut Oats
These pumpkin steel cut oats are made in the Instant Pot for a quick and easy breakfast! These oats taste like pumpkin pie but they're a healthy way to start the day!
I've been loving steel cut oatmeal and making them in the Instant Pot is a quick and easy way to prepare them. While I normally bake my steel cut oats, making them in the Instant Pot is a nice way to speed up the cooking if I'm short on time. Simply add all the ingredients to the Instant Pot and press start! It's a healthy breakfast that really keeps me full. Plus, it's easy to customize it based on your tastes and preferences.
Ingredients & Substitutions
Oats — Be sure to use steel cut oats. Regular oats can't be substituted in this recipe. But if you're looking for a tasty way to use rolled oats, try my vegan baked oatmeal!
Sweetener — Feel free to swap honey, agave, brown rice syrup, or another sticky sweetener for the maple syrup. Keep in mind that honey is not considered vegan. Another option is to cook the oatmeal without any sweetener and then add sweetener to each portion.
Pumpkin — Make sure to use pumpkin puree, not pumpkin pie filling. The only ingredient in the can should be pumpkin.
Pumpkin pie spice — If you don't have pumpkin pie spice, I have a simple recipe for making your own.
Milk — I typically make this recipe with almond milk but you can use any type of milk you prefer.
What are steel cut oats?
Steel cut oats are the least-processed version of oats. They have a little more texture and flavor than rolled or quick oats, but they also take the longest to cook. I don't typically use these oats for a quick bowl of oatmeal in the morning because of their longer cook time, but thanks to the Instant Pot, these oats can be ready in about 20 minutes from start to finish.
Benefits of Oats
Oats are a fantastic choice if you need a healthy breakfast that will give you energy and keep you full until lunchtime! They're a whole grain, meaning they're a good source of protein and fiber. This combination of nutrients is what makes a bowl of oatmeal so satisfying.
Oats are also a great budget-friendly breakfast. A container of steel cut oats only costs a couple of dollars and will last a long time! You can find steel cut oats at most major grocery stores and I've even found them at Aldi, Target, and Trader Joe's
How to Make Pumpkin Pie Spice
I typically buy pre-made pumpkin pie spice, but you can make your own if you have a full spice rack in your kitchen! To make your own, combine:
2 tablespoons cinnamon
1 teaspoon ground ginger
1/2 teaspoon ground nutmeg
1/2 teaspoon ground allspice
Mix together all spices and keep in a sealed container. You'll need one teaspoon of pumpkin pie spice mix for this recipe.
How to Make Pumpkin Oatmeal in an Instant Pot
Variations and Additions
I like to top my oats with chopped walnuts or pecans, but you could also add a drizzle of maple syrup or even a scoop of almond butter. To add more healthy fat and fiber, you could mix in a tablespoon of chia seeds or ground flax seeds.
How to Reheat and Store Leftovers
Once the steel cut oats have cooled, transfer them to an airtight container in the refrigerator. They will stay fresh for up to 5 days. You can also store them in the freezer for up to 3 months! I recommend dividing the oatmeal into individual portions before freezing. When you're ready to enjoy, microwave the individual portions for 20-30 seconds or until heated through. Top with an extra drizzle of maple syrup if you like and enjoy!
Frequently Asked Questions
Can I make this with less sugar? Yes! I recommend making the recipe without any sweetener and then adding sweetener to taste with each portion. Sometimes I sweeten my oats with stevia, but I want to use maple syrup for my toddler. So in those cases, I just make the oatmeal without any sweetener and then I add it to our individual bowls.
Are steel cut oats gluten-free? Yes, but sometimes they're processed in a facility with other grains, so check the package if you have an allergy.
Is this recipe vegan? Yes! This recipe doesn't require any dairy or eggs, so it's vegan.
Can I freeze this recipe? Yes. I recommend dividing it into individual portions before freezing, so it's easy to thaw one bowl at a time.
What size Instant Pot do I need? I have a 6-quart Instant Pot, but this recipe should work in most pressure cookers.
More Oatmeal Recipes
Print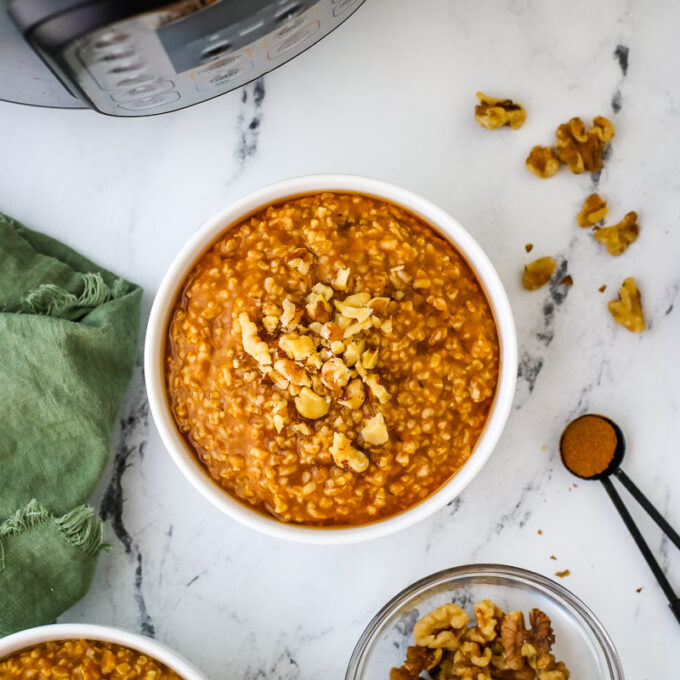 Instant Pot Steel Cut Pumpkin Oatmeal
Author:
Prep Time: 5 minutes
Time to Pressurize and Depressurize: 10 minutes
Cook Time: 4 minutes
Total Time: 19 minutes
Yield: Serves 4
Category: Breakfast
Method: Instant Pot
Cuisine: American
Diet: Vegan
---
Description
These pumpkin steel cut oats are made in the Instant Pot for a quick and easy breakfast! These oats taste like pumpkin pie but they're a healthy way to start the day!
---
1 cup steel cut oats
3 cups water
1/2 cup pumpkin puree
1/2 teaspoon salt
1 teaspoon vanilla
1 teaspoon pumpkin pie spice
1/4 cup maple syrup
1/4 cup chopped walnuts or almond butter for topping (optional)
---
Instructions
Add all the ingredients to the Instant Pot.
Close the lid and ensure the value is in the sealing position.
Press "Pressure Cook" and set the time to 4 minutes.
After 4 minutes, let the pressure naturally release for 8 minutes. Then move the valve to release any remaining pressure.
Give the oatmeal a stir. It will continue to thicken as it cools.
---
Keywords: instant pot pumpkin steel cut oats