Pumpkin Steel Cut Oats
These pumpkin steel cut oats are baked in the oven for an easy, hands-off breakfast recipe that is great for weekly meal prep! Mix it up in the pan and bake it until set. It's delicious!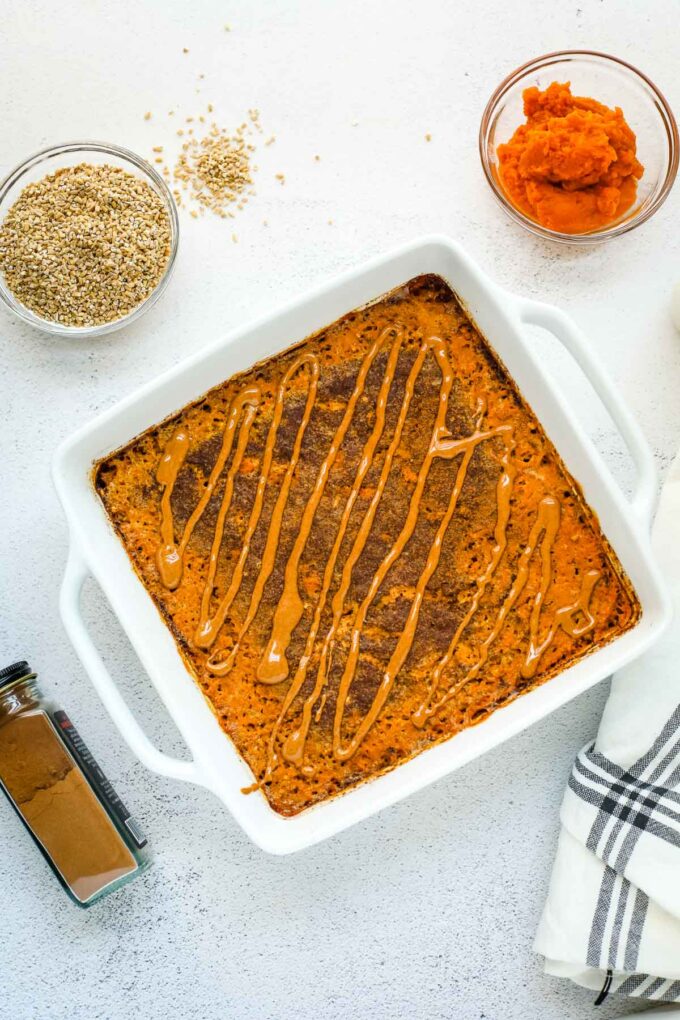 Why I Love This Recipe
I love making baked steel cut oats because it's an easy way to prepare breakfast for the week ahead. The oats have a hearty, chewy texture that makes them super satisfying and even my toddler likes these oats!
If you love pumpkin, this recipe is a must-make. The maple syrup and pumpkin pie spice give the base a sweetly spiced flavor, and the pumpkin helps create a rich and creamy texture. Plus, it's an easy way to sneak some veggies into your breakfast!
Just mix the ingredients, bake for a little under an hour, then store in the fridge to enjoy a quick breakfast throughout the week. When you're ready to enjoy them, simply microwave a square for 30 seconds. That's it!
What are steel cut oats?
Steel cut oats are the least-processed version of oats. They have a little more texture and chewiness than rolled or quick oats. They also take the longest to cook, but that's what makes them great for baked oatmeal!
Old fashioned oats, also known as rolled oats, have been steamed or flattened ahead of time. This allows them to cook faster compared to steel cut oats. Quick oats or instant oats are rolled oats that have been processed even further so they'll cook more quickly.
Steel cut oats, on the other hand, are neither steamed nor flattened ahead of time. The advantage of using steel cut oats is that they retain the most nutritional value! And when they're baked, I think they have the best texture and flavor.
Ingredients & Substitution Ideas
Fruit — If you're not a pumpkin fan, try this banana baked steel cut oats recipe instead. I love the way the slices caramelize on top!
Sweetener — Feel free to swap honey or another sticky sweetener for the maple syrup.
Milk —You can use any kind of milk. I like to make this recipe with almond milk, but feel free to use whatever you have on hand whether that's dairy milk, coconut milk, or soy milk.
Vegan-friendly — For a plant-based breakfast, use applesauce instead of the egg!
Benefits of Oats
Oats are a whole grain, meaning they're a good source of protein and fiber. This combination is what makes a bowl of oatmeal so satisfying. In addition to the health benefits, I also love that oats are budget-friendly. They last a long time in the pantry, and they're very inexpensive. You can find them near the regular oats at most grocery stores.
Can you cook steel cut oats without soaking them?
Some recipes call for soaking steel cut oats, so they cook faster, but that's not necessary for this recipe. This recipe doesn't require any soaking, so you can get this in the oven in no time.
How to Reheat and Store Leftovers
Once the baked oats have cooled, cut them into squares and store them in an airtight container in the refrigerator. They will stay fresh for up to 5 days. You can also store them in the freezer for up to 3 months!
When you're ready to enjoy, microwave the individual squares for 20-30 seconds or until heated through. Top with an extra drizzle of maple syrup if you like, and enjoy!
How to Make Baked Steel Cut Oatmeal
Oatmeal Toppings
I added a drizzle of almond butter on top, and I love the flavor and texture this adds to the oatmeal! But you could also top it with additional maple syrup or chopped pecans.
More Oatmeal Recipes
Print
Pumpkin Steel Cut Oats
Author:
Prep Time: 5 minutes
Cook Time: 50 minutes
Total Time: 55 minutes
Yield: Serves 4
Category: Breakfast
Method: Oven
Cuisine: American
Diet: Vegetarian
---
Description
These pumpkin steel cut oats are baked in the oven for an easy, hands-off breakfast recipe that is great for weekly meal prep! Mix it up in the pan and bake it until set. It's delicious!
---
3/4 cup steel cut oats
1 teaspoon baking powder
1 teaspoon pumpkin pie spice
1/2 teaspoon salt
1/2 cup pumpkin pureè
2 cups unsweetened almond milk
1 egg
1/4 cup maple syrup
Almond butter for topping (optional)
---
Instructions
Preheat oven to 375 degrees.
Spray an 8×8 baking sheet with nonstick spray.
In the baking dish, combine the oats, baking powder, cinnamon, and salt.
Add the pumpkin pureè, almond milk, maple syrup, and egg. Whisk until the egg is combined.
Bake for 50-55 minutes until set.
Top with almond butter, if desired.
Keywords: Pumpkin Steel Cut Oats