Quinoa and Avocado Bowl
These quinoa and avocado bowls are filled with a rainbow of veggies and plenty of flavor! This is an easy, prep-friendly recipe that is perfect for a quick lunch or dinner!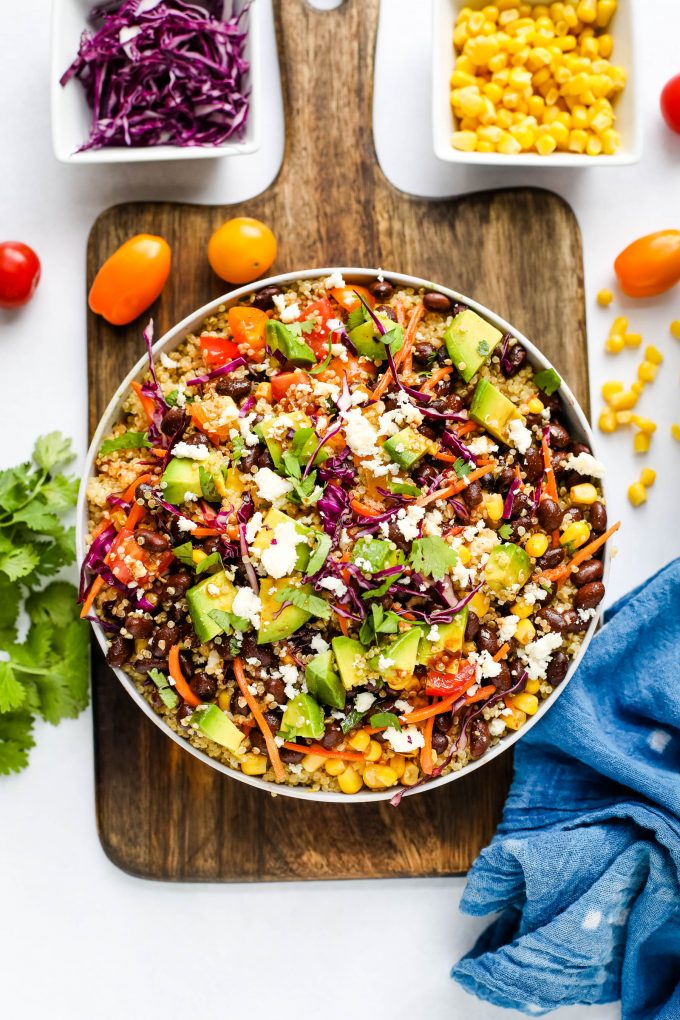 If you're wondering what is a quinoa bowl, it's typically a bowl with quinoa as the base ingredient and then a variety of toppings to add plenty of texture and flavor. These trendy bowls started popping up everywhere a few years ago and I love them! Most quinoa bowl recipes are pretty flexible, so it's an easy way to use up whatever leftover vegetables you have on hand!
Ingredients for a Quinoa and Avocado Bowl
If you're wondering what to put in a quinoa bowl, here are my suggestions! If you don't have all of these ingredients, don't worry! This recipe is pretty flexible.
Quinoa– Technically, quinoa is a seed but it cooks like a grain! I like to make quinoa in a rice cooker with vegetable broth for perfectly fluffy quinoa every time!
Avocado– This is essential! It adds healthy fat and tons of flavor to this simple bowl
Tomato– I like Roma tomatoes or cherry tomatoes but you can use any kind of you like! Simply chop into bite-sized pieces and you'll be ready to go.
Corn– I typically use canned or frozen corn but you can also use fresh corn! Simply cook the corn on the cob, remove it from the cob and add it to the bowl!
Feta or Queso Fresco– A little crumbled cheese adds a delicious salty flavor. To keep this recipe vegan, skip the cheese and add a pinch of salt!
Black Beans– I use canned beans, drained and rinsed. Rinsing them will also help lower the sodium content of this recipe.
Cabbage & Carrots– Shredded cabbage and carrots add a nice crunch, but you can skip them if you don't have them!
Lime– Fresh limes are great but I also typically keep lime juice in the fridge.
Cilantro– Don't try to substitute dried cilantro, as it doesn't compare to fresh! If you don't have cilantro, try fresh parsley instead.
Even if you're missing a few ingredients, it will still taste amazing. Even if you don't have quinoa, you could make this bowl with brown rice as the base instead! I do think the avocado is the star of the show but even if you don't have any avocado, this bowl will still have plenty of flavor!
Chipotle Lime Vinaigrette
I added a recipe for a simple vinaigrette if you want a little spicy flavor to this bowl. I don't think it's necessary but it's easy to make and it's a nice way to add a little kick! I always keep a jar of adobo sauce in my fridge for things like this! If you don't want to make the dressing, try adding a squeeze of lime and a drizzle of olive oil to your bowl instead.
Benefits of Quinoa
Quinoa is a complete source of protein, meaning it contains all the essential amino acids your body needs. There's a reason this little seed is considered a superfood! Since it lasts a long time in the pantry, it's a great thing to keep on hand for meals like this. You can also use it as a substitute for rice in a lot of recipes!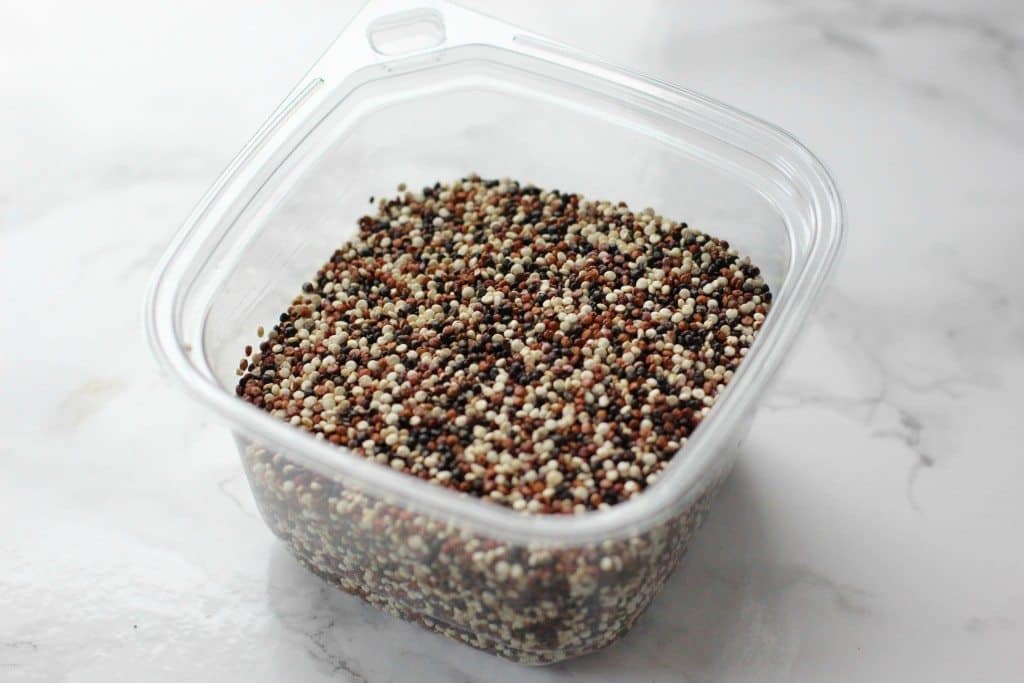 How to Make Quinoa
It's important to rinse the quinoa if it's not pre-rinsed. This helps remove a bitter coating on the quinoa that contains saponins. Rinsing the quinoa helps remove the bitter flavor. You can make quinoa on the stovetop, as the package will typically suggest, but you can also make quinoa in an Instant Pot or you can cook quinoa in a rice cooker! In a recipe like this, I like to cook it in a little vegetable broth for added flavor.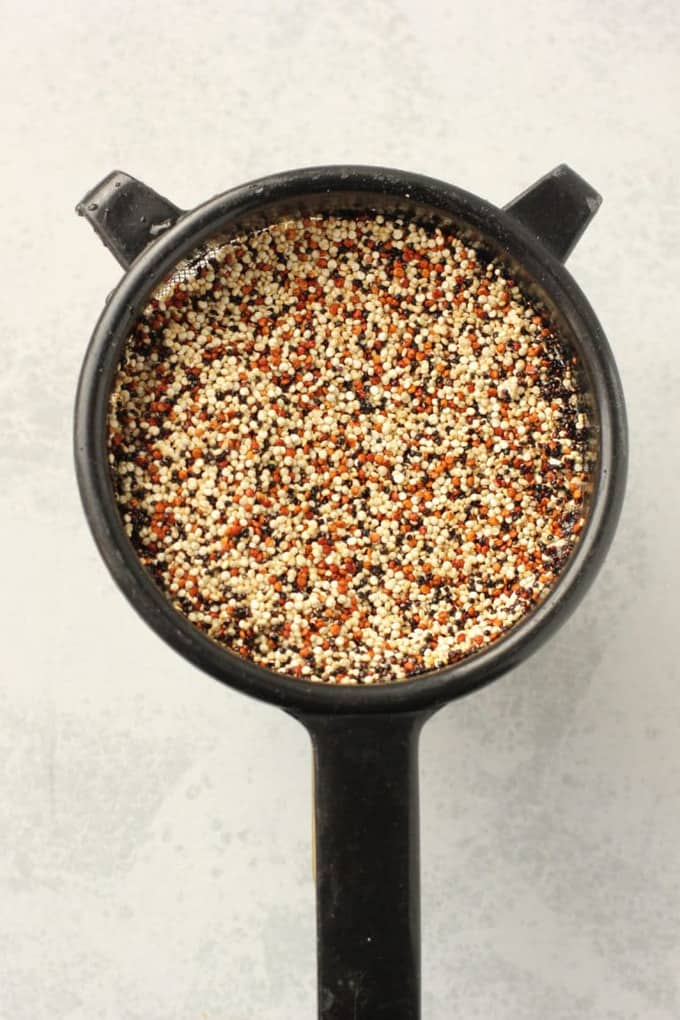 Print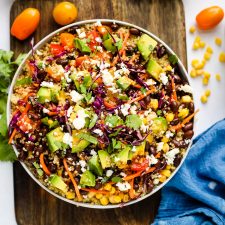 Quinoa and Avocado Bowl
Author:
Prep Time: 10 mins
Cook Time: 15 mins
Total Time: 25 mins
Yield: 4 1x
Category: Dinner
Method: Stovetop
Cuisine: Vegetarian
---
Description
These quinoa and avocado bowls are filled with a rainbow of veggies and plenty of flavor! This is an easy, prep-friendly recipe that is perfect for a quick lunch or dinner!
---
1 cup dry quinoa, rinsed (or 3 cups cooked)
1 cup vegetable broth
1 cup water
1 avocado, pitted, peeled, and chopped
1/2 cup chopped tomatoes
1/2 cup fresh (or frozen) sweet corn
1/4 cup crumbled feta cheese or queso fresco
1 15oz can black beans (rinsed & drained)
1/4 cup shredded cabbage
1/4 cup shredded carrots
Fresh cilantro for garnish
Salt and pepper to taste
Optional Vinaigrette
1 teaspoon honey
2 teaspoons apple cider vinegar
1 tablespoon adobo sauce
1 tablespoon lime juice
---
Instructions
Cook the quinoa in the water and vegetable broth according to package directions.
Add the cooked quinoa to the bottom of the bowls.
Top with avocado, tomatoes, cheese, beans, corn, cabbage, and carrots. (Note: You can heat the beans and corn before adding to the bowl if desired. Simply warm in the microwave for 30-45 seconds.)
If using the dressing, whisk together the honey, apple cider vinegar, adobo sauce, and lime juice. Drizzle over the bowl.
Garnish with cilantro and add salt and pepper to taste.
---
Notes
This bowl can be served warm or cold. It's a great recipe to pack for lunch!
Keywords: quinoa and avocado bowl
Looking for more quinoa bowl recipes? I love it in this quinoa vegetable soup! Or you can try this fall harvest quinoa bowl with sweet potatoes and chickpeas!
If you have a few extra avocados to use, here are a few great ways to use them up!
Have you tried making a quinoa bowl?