Creamy Jalapeño Dip
This creamy jalapeño dip is perfectly used as a dip for veggies or drizzled on your favorite tacos or veggie burgers! You can make it as mild or as spicy as you like!
I got hooked on this creamy cilantro sauce, and I decided to create a version that had a little spicy kick to it. It was a small tweak, but it creates a big flavor! If you're a spice lover, this one is for you. This sauce makes a great vegetable dip, but it's also delicious on roasted vegetables, as a sandwich spread, drizzled over tacos, or spread on a veggie burger.
Ingredients
Cilantro– Fresh cilantro is a must. That's what really brings a lot of flavor to this recipe.
Mayonnaise– If you want to make this recipe vegan, you can use Veganaise instead.
Jalapeño– I recommend tasting the jalapeño to see how spicy it is, as the spice levels can vary a lot. For a spicier flavor, add the seeds and the pith. For a less spicy flavor, use just the green part of the pepper.
Lime juice- This adds a bright, zingy flavor to the dip.
Tips for Cooking with Jalapeños
Look for peppers that are firm to the touch and free of blemishes or soft spots. Consider the size of the pepper. Smaller jalapeños tend to be spicier than larger ones, so choose smaller peppers if you want a spicier dip or recipe. Avoid jalapeños that are soft or shriveled, as they are likely past their prime and may not have the best flavor.
Remember to handle jalapeños with care, as the oils from the peppers can irritate your skin and eyes. It is a good idea to wear gloves when handling jalapeños or to wash your hands thoroughly after handling them.
How to Make Jalapeño Dip
This simple dip can be blended in a food processor or blender. Keep in mind that it makes a small batch so if you have a very large food processor, you may want to double the recipe to make it easier to blend. Just hit the 2x button below to double the recipe.
If you don't have a food processor or blender, you can whisk together the mayonnaise and lime juice then finely mince the jalapeño and cilantro and stir it in. The dip won't be as smooth but it'll be just as tasty!
Ways to Use Jalapeño Dip
Here are a few ways you can use this jalapeño dip recipe:
As a party dip: Serve jalapeño dip with a variety of dippers such as chips, crackers, or vegetables for a tasty appetizer at a party or gathering.
As a topping for sandwiches or burgers: Use jalapeño dip as a condiment on sandwiches or veggie burgers for an extra spicy kick.
As a topping for nachos: Use jalapeño dip as a topping for nachos along with cheese, beans, and other toppings for a delicious and spicy twist on this classic dish.
As a dip for fries: Use jalapeño dip as a dip for fries or sweet potato fries for a spicy and flavorful alternative to ketchup or other traditional dips.
Frequently Asked Questions
How should I store leftover dip? It is best to store the leftover dip in an airtight container in the refrigerator. This will help to keep it fresh and prevent it from developing any unwanted odors or flavors.
Can I freeze this recipe? No, I would not recommend freezing this sauce. Creamy sauces tend to separate when frozen.
Can I make this recipe vegan? Yes! Simply use vegan mayo like Veganaise.
Can I make it spicier? Absolutely! You can add an additional jalapeño if desired. I recommend tasting the jalapeños first, as some are spicier than others.
More Dips and Sauces
Print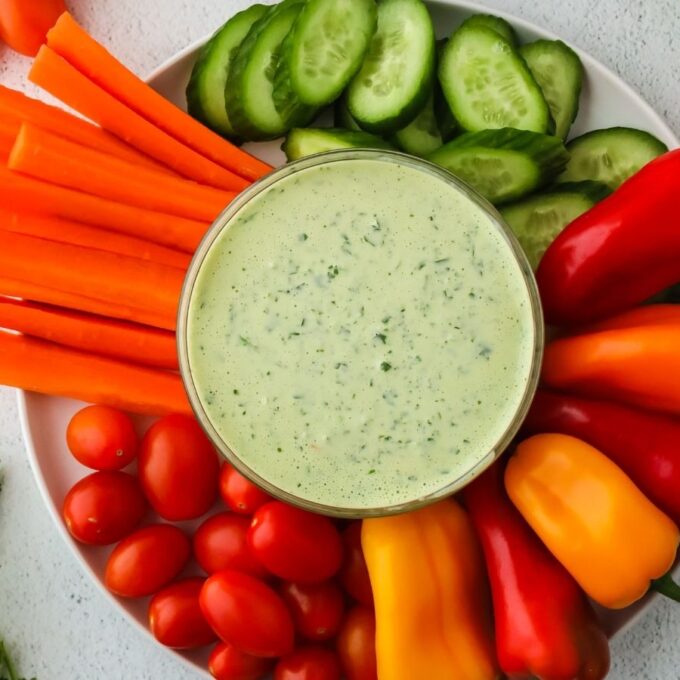 Creamy Jalapeño Dip
Author:
Prep Time: 5 minutes
Cook Time: 0 minutes
Total Time: 5 minutes
Yield: 1/2 cup 1x
Category: Sauce
Method: Blended
Cuisine: American
Diet: Vegetarian
---
Description
This creamy jalapeño dip is perfectly used as a dip for veggies or drizzled on your favorite tacos or veggie burgers! You can make it mild or spicy depending on how you like it!
---
1 cup loosely packed cilantro leaves
1 small jalapeño, seeded (or leave the seeds in for more heat!)
1/4 cup mayonnaise
Juice from 1 lime
---
Instructions
Add everything to a blender or food processor and blend until smooth.
Store in the fridge and enjoy with veggies!
---