Dutch Oven Baked Risotto
This creamy baked risotto is made in the oven for a hands-free risotto recipe that doesn't require stirring! It's a great meatless meal, perfect for a dinner party!
Is there anything better than a warm bowl of creamy risotto? How about a creamy risotto that doesn't require constant stirring? This Dutch Oven Risotto is baked in the oven for an easy meal!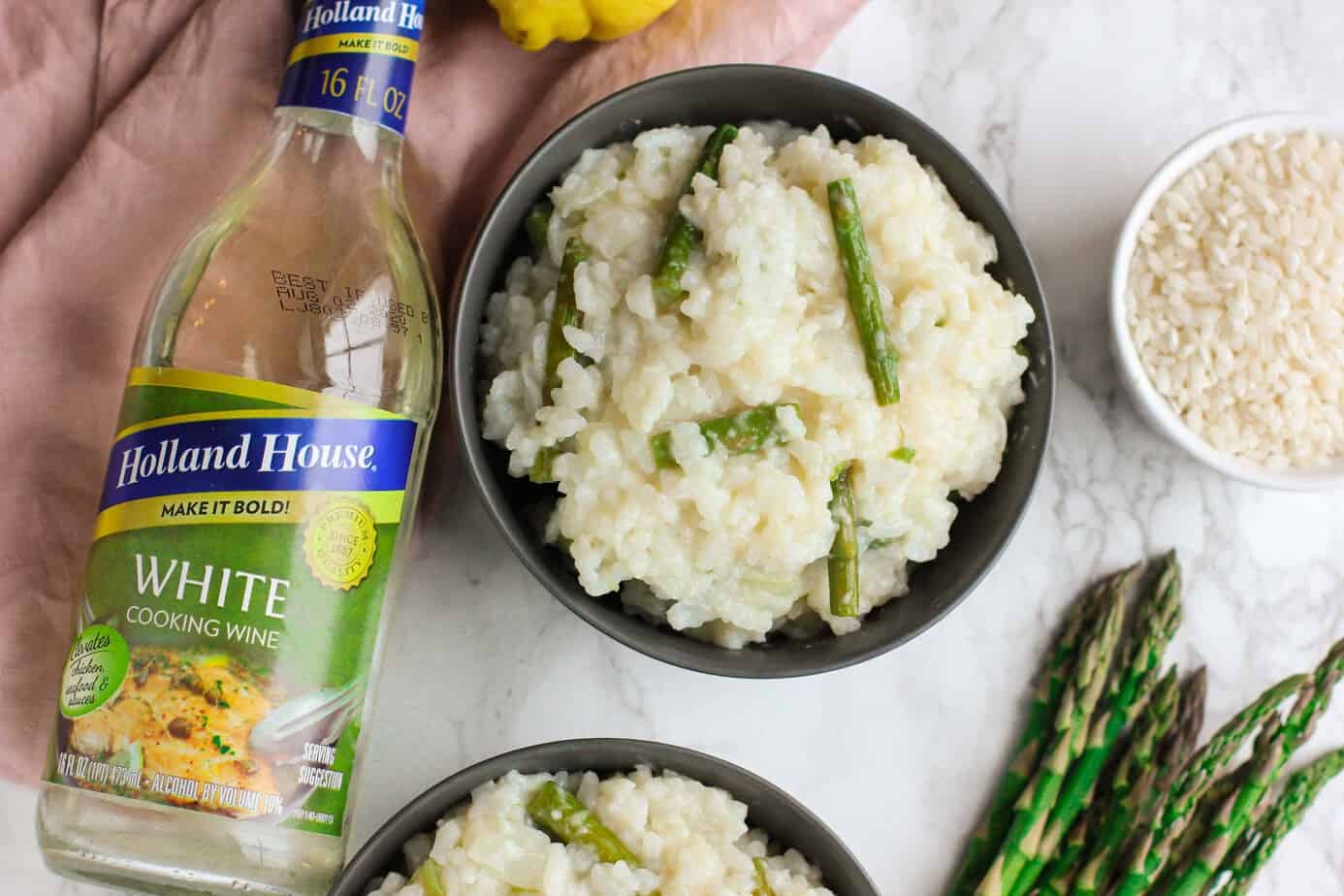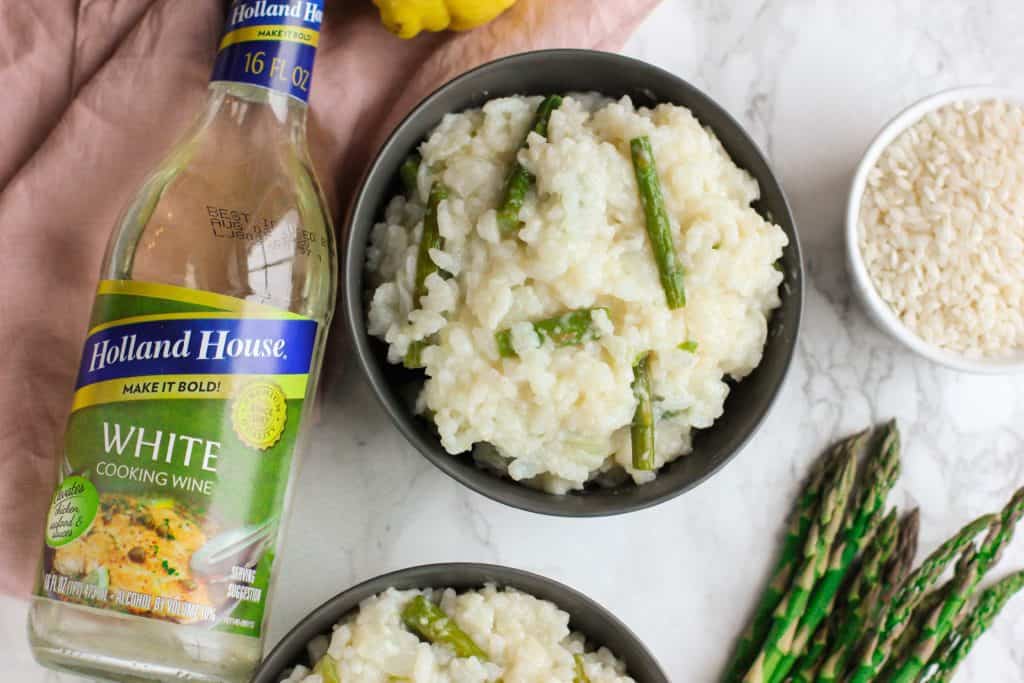 Let's be honest, I'm lazy. As much as I love risotto, I can't stand spending the whole evening at the stove, stirring and stirring. So I started testing other methods for an easier risotto and I landed on this Dutch Oven Baked Risotto that is perfect.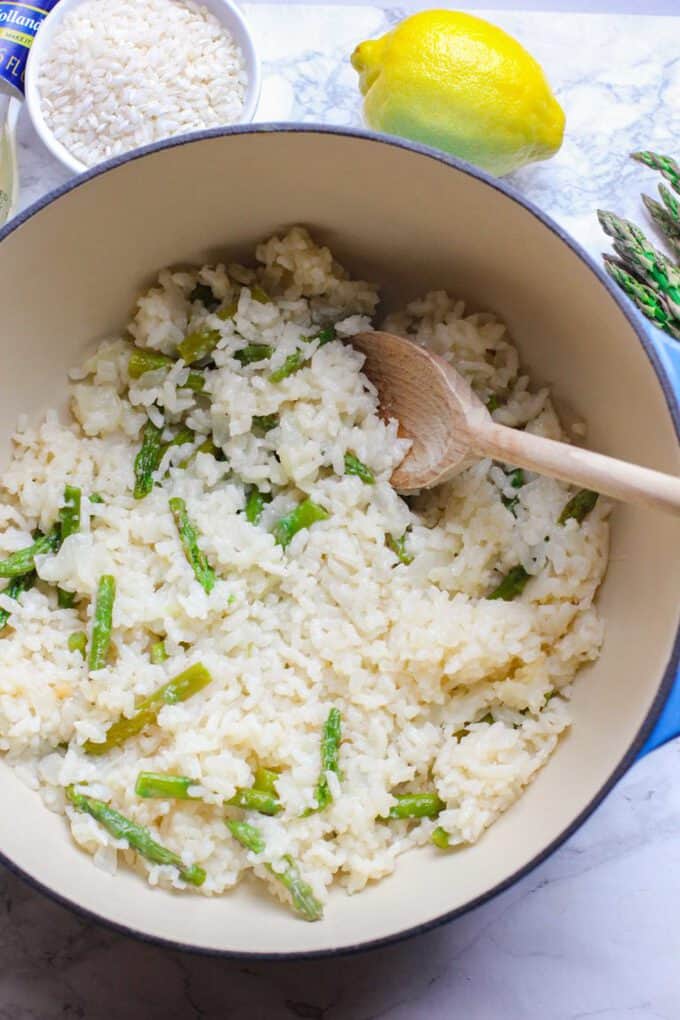 I know the holiday season calls for comfort food and entertaining so this no-stir risotto is an easy way to prepare dinner for a crowd without being stuck at the stove! It's a delicious weeknight family dinner or food for a crowd!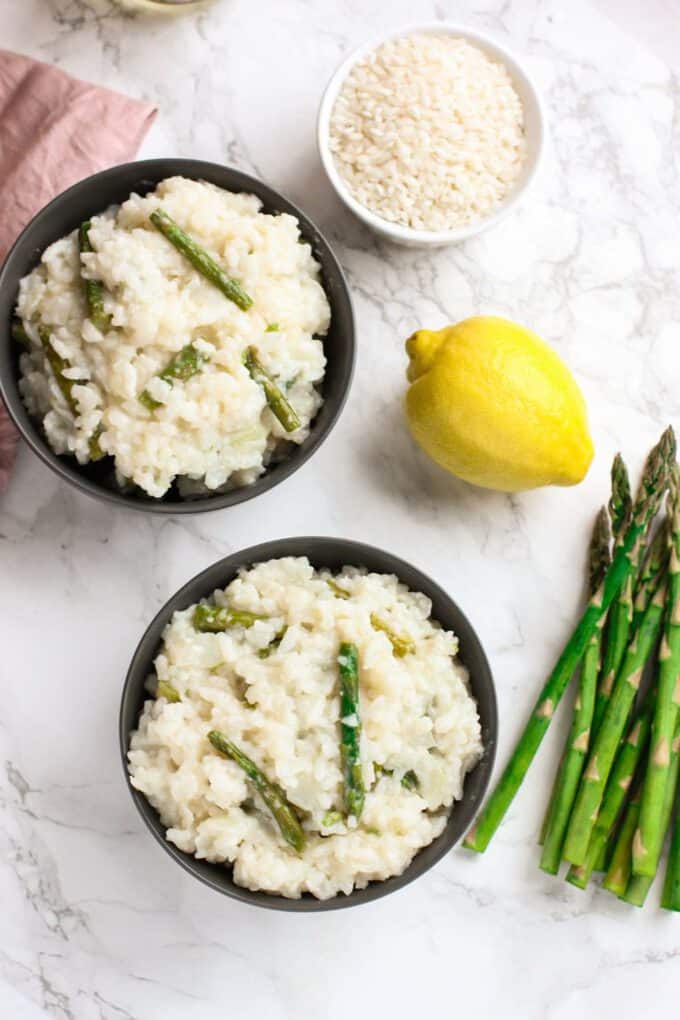 Follow these tips for perfect dutch oven baked risotto:
Use a Dutch oven, which can easily be transferred from the stovetop to the oven.
Don't forget to take out an oven rack, if necessary, before preheating your oven. You want the pot of risotto to be centered in the oven.
Using a sheet of aluminum foil between the top of the pot and the lid helps keep the steam trapped inside the pot.
If you don't have asparagus, you can use peas instead. If using canned peas, simply stir them in when you remove the risotto from the oven. Frozen peas should be thawed first.
Use a low sodium vegetable broth and add salt to taste. If your broth is too salty, your whole risotto might be too salty.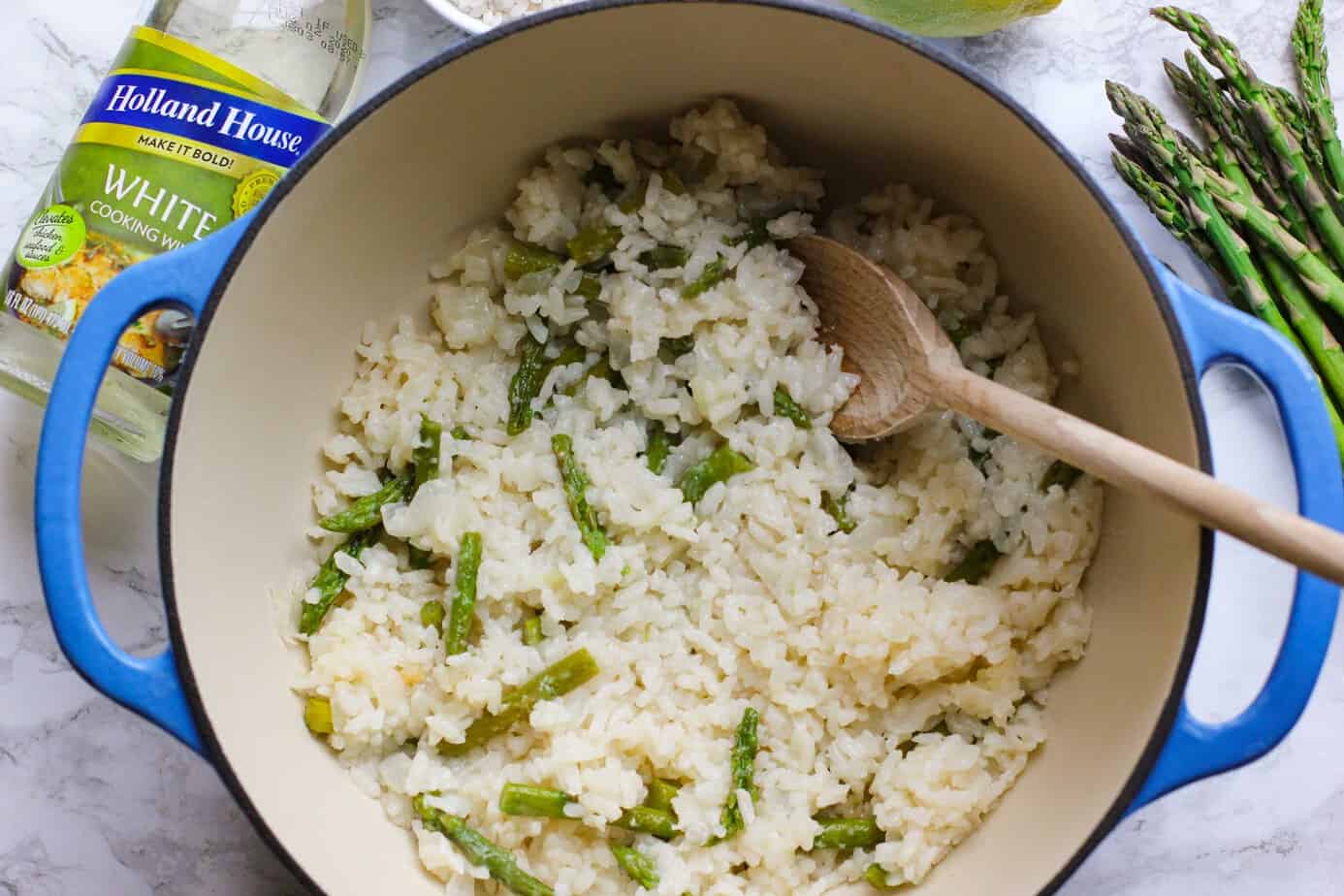 Print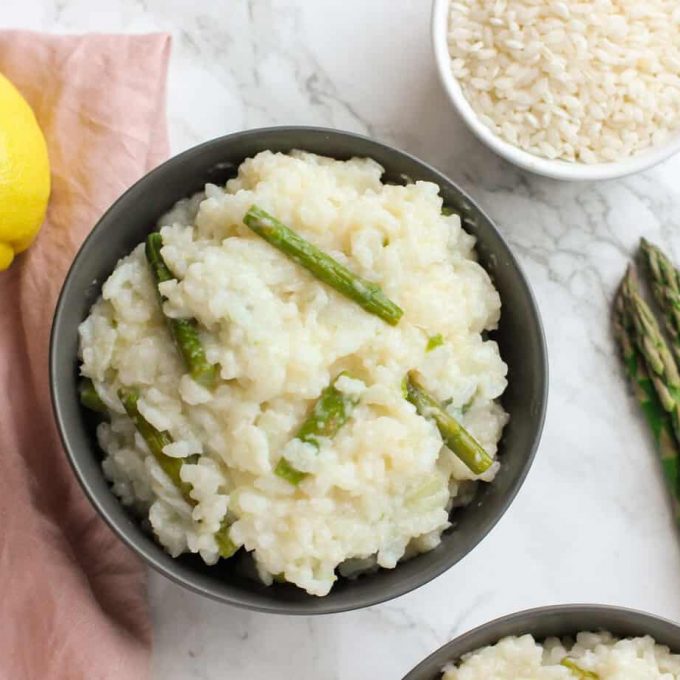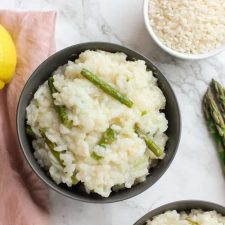 No Stir Dutch Oven Risotto
Author:
Prep Time: 15 Minutes
Cook Time: 35 Minutes
Total Time: 50 minutes
Yield: 6 Servings 1x
Category: Dinner
Method: Oven
Cuisine: Risotto
---
Description
Craving risotto but don't want to spend the whole evening at the stove? Try this baked Dutch oven risotto! It's a hands-off recipe that comes together with just 15 minutes if prep! It's perfect for dinner party!
---
5 cups low sodium vegetable broth
3 ½ tablespoons butter
1 large yellow onion, minced
4 cloves garlic
2 cups Arborio rice
½ cup white cooking wine
1 lb fresh asparagus
1 ¼ cup parmesan cheese
1 tablespoon lemon juice
⅛ teaspoon of lemon zest
Salt and pepper to taste
---
Instructions
Remove the top baking rack from the oven so the Dutch oven can be positioned in the middle of the oven.
Preheat the oven to 400 degrees.
Wrap the top of the Dutch oven lid in foil.
In a large pot, heat the vegetable broth over low heat.
In a large Dutch oven, heat the butter over low-medium heat.
Add the onion and stir until evenly coated with butter. Continue to cook over medium heat for 6 minutes, until the onion is translucent.
Add the rice, and continue to cook for 2 minutes.
Add the garlic and cook for 30 seconds.
Add the Holland House White Cooking Wine and continue to cook for 2-3 minutes until the wine is absorbed.
Add the warmed broth, stir, and then cover with the foil-sealed lid. The foil will help trap all the moisture in the oven.
Bake for 18-22 minutes. While the risotto is in the oven, use the pot that the broth cooked in to bring 6 cups of water to a boil.
Fill a large bowl of ice water.
Add the asparagus to the pot of boiling water and cook for 2 minutes until the asparagus is bright green.
Remove the asparagus from the pot and plunge into a large bowl of ice water. This will stop the cooking process so the asparagus doesn't get soggy.
Chop the asparagus into 1-inch pieces.
When you remove the Dutch oven, the risotto will still have a bit of broth visible in the pot. It should not be dry. Add the parmesan cheese and stir for 2-3 minutes until the risotto becomes creamy.
Add the lemon juice, lemon zest, and asparagus and serve immediately.
---
Keywords: dutch oven risotto
There are quite a few steps in this recipe but you can prepare it from start to finish in about 45 minutes. While the risotto is cooking in the oven, you can prepare the asparagus and clean up any tools used during the preparations. Overall, this recipe comes together pretty easily!
How to Reheat Dutch Oven Risotto
If you're reheating this risotto, you can either heat it in the Dutch oven or transfer it to a microwave-safe bowl and reheat. Since risotto can thicken once it's cooled, you may need to add a splash of broth to return it to a creamy consistency.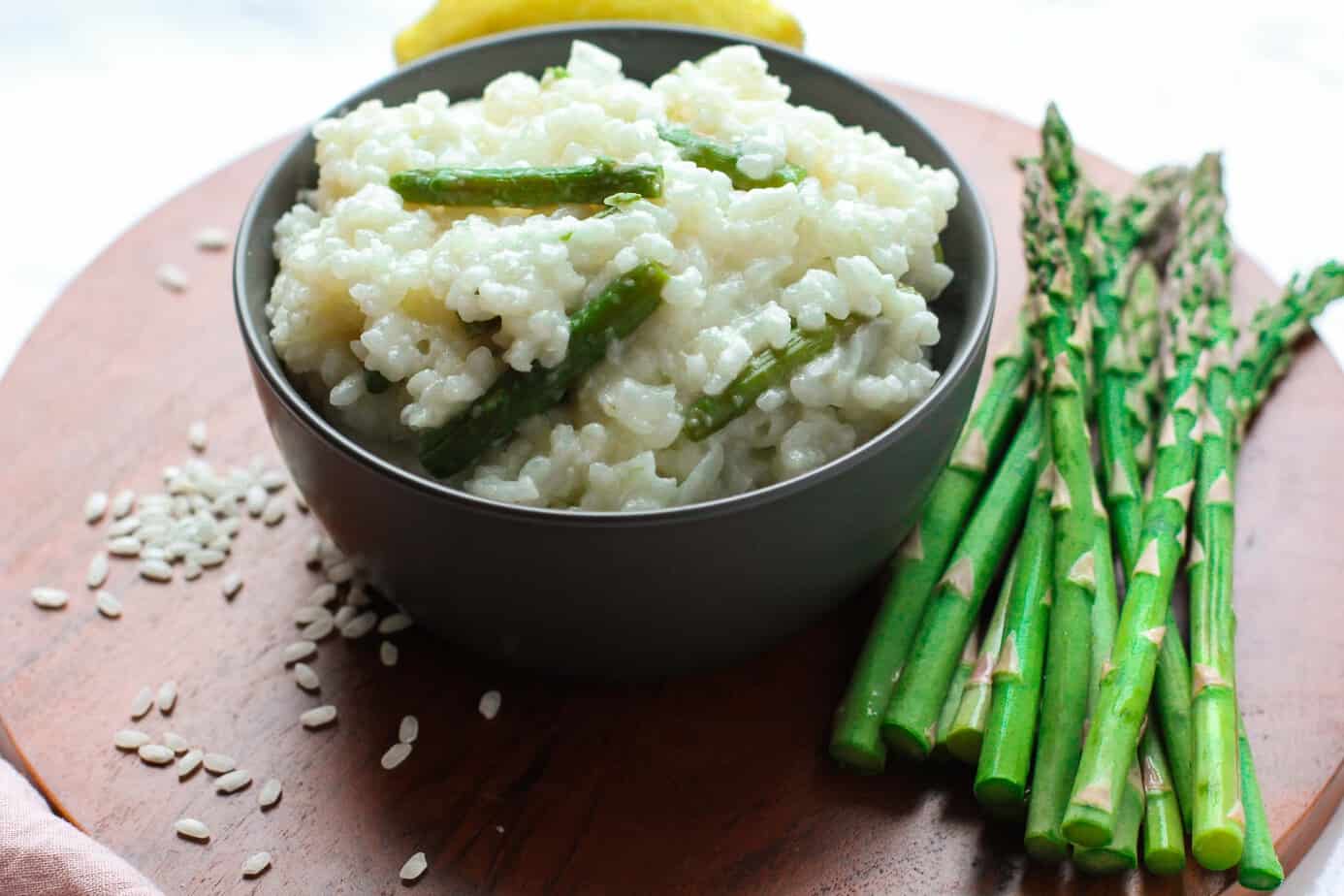 What to Serve with Dutch Oven Risotto
Pair this risotto with a simple salad or a side of vegetables! Try this lemon kale salad for a quick and easy side dish. If you love Brussels sprouts, try this shaved Brussels sprout salad with Parmesan and pine nuts.
What's your favorite comfort food recipe?
This is a sponsored post written by me on behalf of Holland House. As always, all opinions are my own!