No-Boil Baked Ziti
This no-boil baked ziti recipe is only 5 ingredients but it's cheesy and delicious! You can have this tasty meal in the oven in 5 minutes, so it's a great recipe for busy days!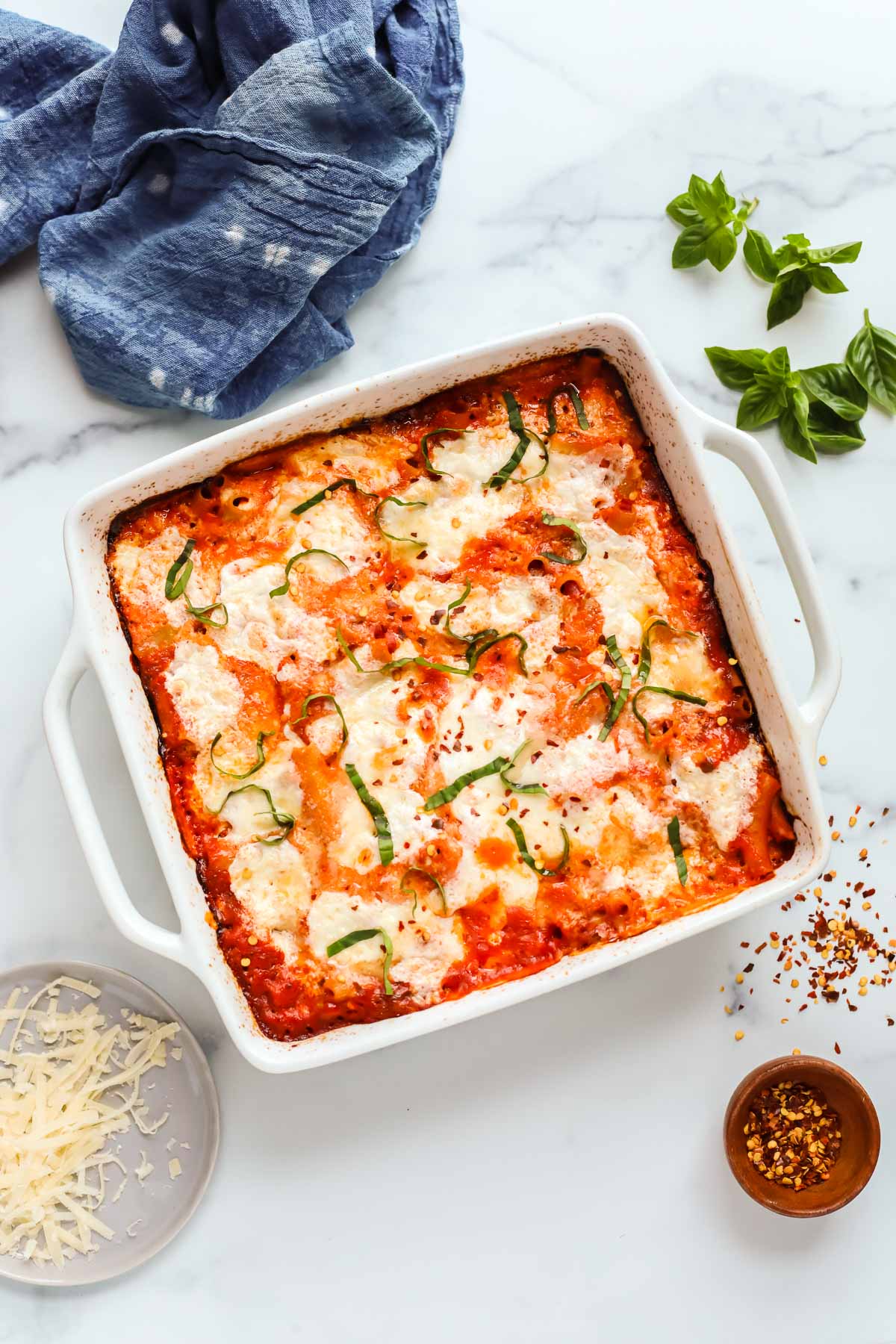 You know I love easy recipes and this one might be one of the easiest recipes on my blog! This baked ziti recipe is just a handful of ingredients and it all cooks together in one pan. That's right, there's no need to boil the noodles! Simply stir them up with the sauce, add your cheese, and bake. I'm wondering why I've spent so much of my life boiling pasta before baking when I could have just baked it right in the sauce. Live and learn, right? Let's not waste any more time at the stove!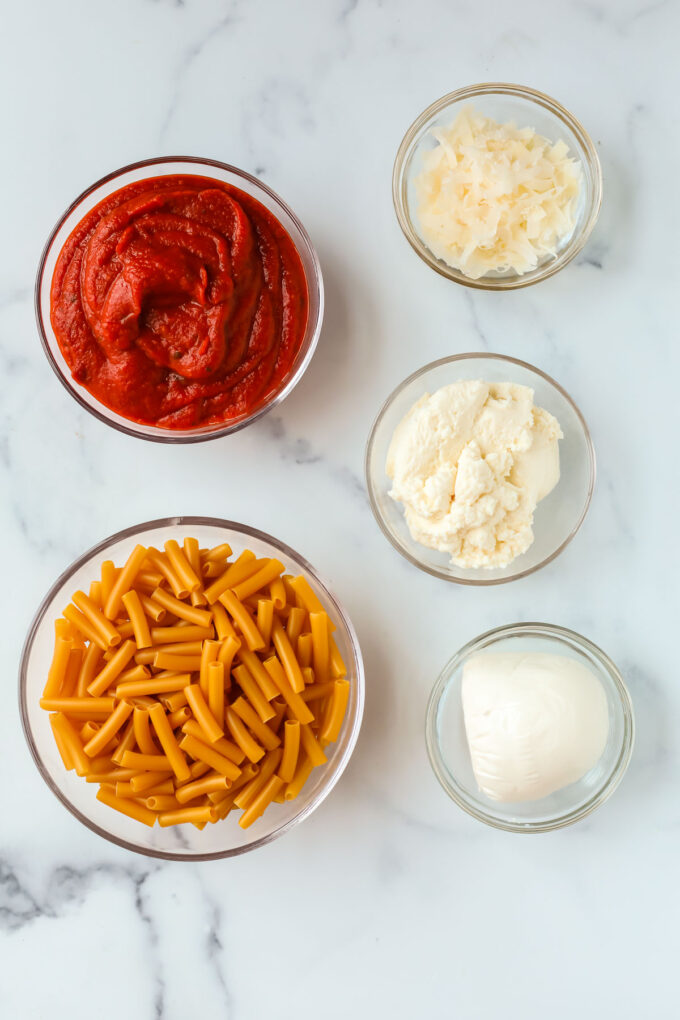 Ingredients & Substitutions
Pasta- I've tested this recipe with regular ziti noodles, Barilla's protein pasta, and Banza's chickpea noodles. All of them worked with minor adjustments, as noted below.
Sauce- I recommend a high-quality marinara sauce like Rao's Tomato Basil or Barilla's Vero Gusto sauce.
Ricotta- I used whole milk ricotta, but you can use part-skim if you want to make this lower in fat.
Mozzarella– I used fresh mozzarella but shredded mozzarella works fine, too.
Parmesan– Freshly grated Parmesan cheese makes a difference! Get the real stuff, not the kind in the can.
Adjusted Cooking Times for Different Pasta
I tested this recipe with traditional pasta, whole wheat pasta, and chickpea pasta. It worked great with all of them but I did make a few adjustments:
Traditional pasta & whole wheat pasta– You can make the recipe exactly as written. Bake tightly covered for 40 minutes, then remove the foil and continue to bake for 10 minutes.
Chickpea pasta– Cover tightly and bake for 30 minutes, then carefully remove the foil and bake for an additional 10 minutes or until cheese is melted and bubbly. The chickpea pasta cooks faster than traditional pasta, so you want to reduce the cooking time in order to prevent soggy pasta. Keep in mind that no matter how you cook it, chickpea pasta does have a slightly softer texture than traditional pasta. But I think it's still delicious in this recipe.
How to Make No-Boil Baked Ziti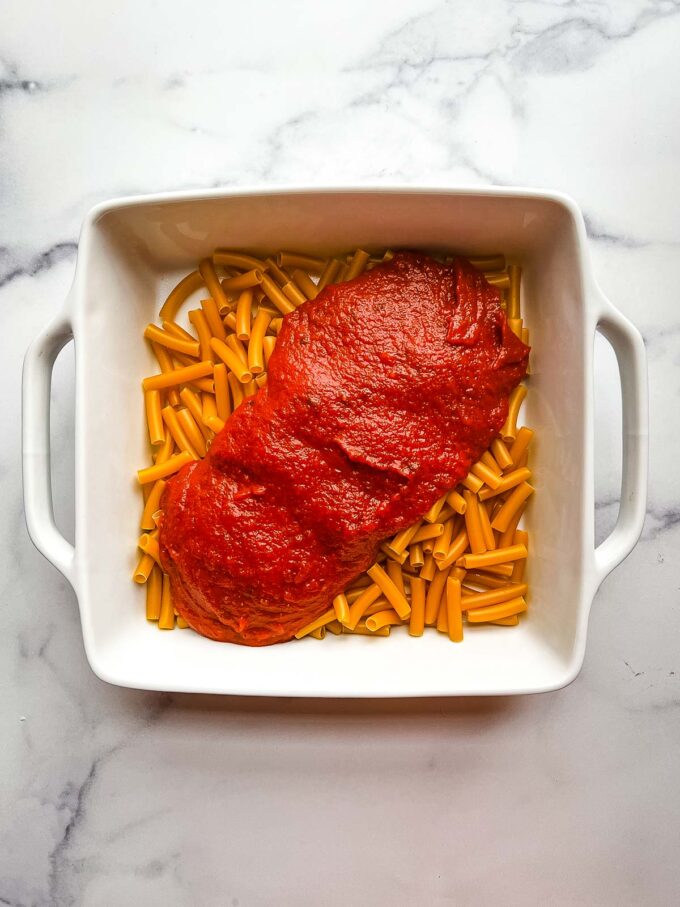 Combine the pasta and sauce in the bottom of a baking dish. Stir to ensure the noodles are completely submerged in the sauce.
Stir in 1/2 cup of the mozzarella cheese.
Dollop the ricotta all over the pan.
Sprinkle with remaining mozzarella and Parmesan. Cover tightly with foil.
Bake until pasta is tender.
Frequently Asked Questions
Do I need to add water? No, the pasta will absorb the moisture from the sauce.
Can I add vegetables? You could add some chopped spinach if you like! I don't recommend adding other vegetables which could change the moisture content of the dish.
Can I make this fat-free? If you want to reduce the fat, you can use part-skim ricotta and low fat mozzarella cheese. But I don't recommend using fat-free cheeses which don't have much flavor.
Can I make this gluten-free? Yes! You can use chickpea pasta which is gluten-free. Be sure to adjust the cooking time as noted in the recipe.
The Best Pasta Sauce for Ziti
Since this recipe is made with just a few ingredients, it's really important to use high-quality products. I recommend a high-quality marinara sauce like Rao's tomato basil or Barilla's Vero Gusto sauce. If you want to take things up a notch, try making my meatless spaghetti sauce recipe! The quality of your sauce will have a big impact on the flavor of your dish!
How to Reheat Leftovers
This baked ziti reheats well, so don't worry if you have leftovers! Store any leftovers in the refrigerator in an airtight container. To reheat, remove each portion onto a microwave-safe dish and reheat on 50% power for 2-3 minutes or until heated through. I do not recommend freezing leftovers.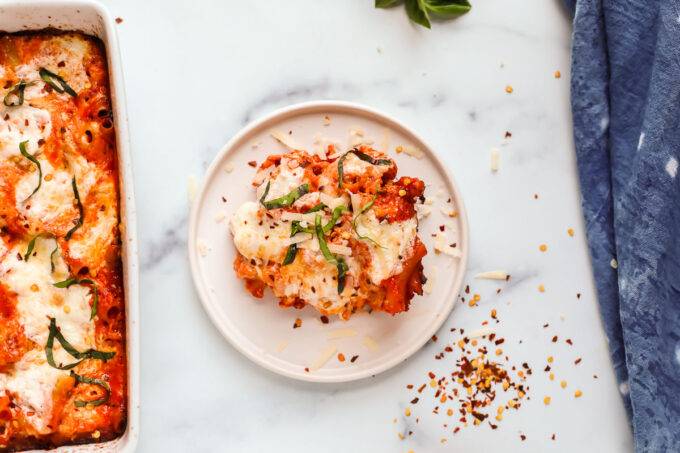 What to Serve with Ziti
Looking for the perfect side dish to pair with this pasta recipe? Check out my list of side dishes to serve with pasta! Any of those are a great option to pair with baked ziti. You could also serve your pasta with a loaf of sourdough bread or just about any salad!
Print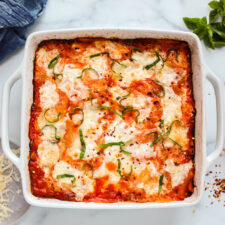 No Boil Baked Ziti
Author:
Prep Time: 5 minutes
Cook Time: 55 minutes
Total Time: 1 hour
Yield: Serves 4
Category: Dinner
Method: Oven
Cuisine: American
Diet: Vegetarian
---
Description
This 5 ingredient no-boil baked ziti recipe is cheesy and delicious! You can have this in the oven in 5 minutes, so it's a great recipe for busy days!
---
8oz ziti or penne pasta
1 24oz jar marinara sauce
4oz fresh mozzarella cheese, torn into pieces (or about 1 cup shredded)
8oz whole milk ricotta cheese
1oz shredded Parmesan cheese
---
Instructions
Preheat the oven to 400 degrees.
Spray a 8×8 casserole dish with non-stick spray. Spray a sheet of aluminum foil with non-stick spray and set aside.
Combine the pasta and sauce in the baking dish. Stir to ensure the pasta is completely submerged in the sauce.
Stir in half of the mozzarella cheese.
Dollop the ricotta all over the pan.
Sprinkle with remaining mozzarella and Parmesan.
Cover tightly with the prepared aluminum foil and bake for 45 minutes. (For chickpea pasta, bake for 30 minutes.)
Uncover and continue to bake for 10-15 minutes or until pasta is al dente. (For chickpea pasta, bake for 5-10 minutes.)
Keywords: no boil baked ziti