Vegetarian Sheet Pan Recipes
These tasty vegetarian sheet pan recipes are perfect for busy nights! Everything cooks together on one pan, so it's easy to prepare and fast to clean-up.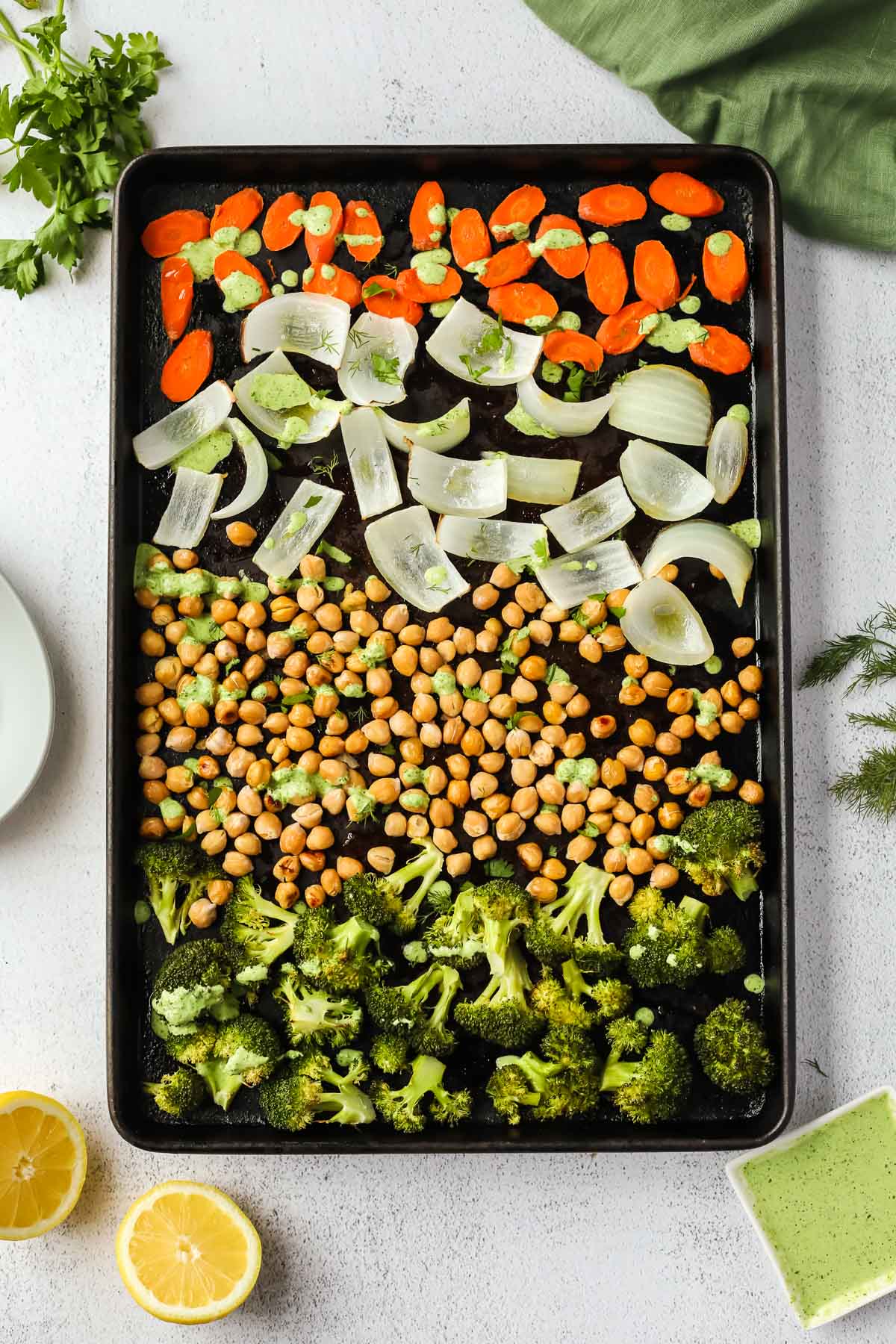 I love sheet pan recipes but it can be hard to find vegetarian ideas. Luckily, I was able to ask some of my fellow blogger friends to share some of their favorite sheet pan recipes in addition to the recipes I have on my site and we've pulled together a great list of vegetarian sheet pan meals! Before we dive in, here are a few general tips for sheet pan meals.
Sheet Pan Meal Tips
Try to cut your vegetables into similar-sized pieces so everything cooks at the same rate. If you're working with different types of vegetables (like peppers and sweet potatoes) pay close attention to the recipe details. Typically you'll want to cut things like potatoes and winter squash into smaller pieces so they cook at the same rate as softer vegetables like peppers or green beans.
Don't forget to add a sauce! Many of these recipes recommend a sauce and it's a great way to elevate your meal! From a simple cilantro sauce to a tasty aioli, sauces can also be a great way to change up leftovers.
Invest in a high quality sheet pan. I like the large Nordic Ware rimmed baking sheets. They're large enough to spread out a lot of vegetables and they don't warp in the oven.
For easy clean-up, line your baking sheets with parchment paper or a silicone baking mat. Not only does this make it easy to clean, it also helps prevent vegetables from sticking to the pan.
15 Vegetarian Sheet Pan Recipes
This sheet pan edamame with vegetables has all your favorite stir- fry flavors, but it's made in the oven! It's a high protein recipe that is completely plant-based!
This sheet pan gnocchi with vegetables is a deliciously simple dinner idea! Everything cooks together on one sheet pan, and you can add any additional vegetables you like!
These sheet pan fajitas are made in the oven for a simple dinner recipe filled with vegetables! Baked pinto beans and melted cheese turn a rainbow of vegetables into a hearty meal!
This vegetarian sheet pan dinner is made with sweet Vidalia onions, roasted broccoli, tender carrots, and crispy chickpeas. The creamy herb sauce takes this easy dinner to the next level!
Chickpeas, red potatoes, and asparagus are a delicious combination for an easy sheet pan dinner! With simple seasonings of dill and lemon, this dish is healthy, simple, and full of flavor!
Crispy halloumi and roasted vegetables are a tasty combination for an easy sheet pan dinner recipe! This salty cheese gets deliciously crispy in the oven and a rainbow of vegetables makes this hearty meal perfectly healthy!
Photo Credit: www.runningtothekitchen.com
This baked BBQ Tofu is combined with broccoli, peppers, sweet potatoes, BBQ dry rub, and your favorite BBQ sauce for the ultimate vegetarian sheet pan dinner!
Photo Credit: www.eatingbyelaine.com
Use the most delicious, homemade blend of spices to season bell peppers, red onion, cauliflower, and chickpeas for Vegan Sheet Pan Shawarma Bowls! It's a one-pan dinner with veggies, plant-based protein, and all of the warming shawarma flavor!
Photo Credit: sixhungryfeet.com
A tray of roasted vegetables combined with a homemade Cilantro Dressing made from fresh ingredients is the perfect option for an easy weekday meal for the whole family. Healthy, vegetarian, and gluten-free.
Photo Credit: thesassyfoodie.com
Fried rice is the perfect side to "fakeaway" nights - otherwise known as homemade takeout. Crisp rice, salty soy sauce, zesty garlic, and the surprise sweetness or pineapple make this fried rice absolutely perfect! This sheet pan pineapple fried rice is a fuss-free way to use up leftover jasmine rice, with no fuss or supervision.
Photo Credit: www.peelwithzeal.com
This hearty salad is perfect for heartier appetites. It's loaded with roasted sweet potato, kale, and spiced walnuts—it's everything you need in a salad!
Photo Credit: oohlalaitsvegan.com
These healthy, sheet pan harvest bowls are made with earthy quinoa, savory roasted vegetables, a drizzle of olive oil, maple syrup, and a hint of sage and smoked paprika. Easy to prepare, this vegan harvest bowl recipe is perfect for meal prepping, especially if you are crazy-busy and don't want to spend a lot of time cooking.
Photo Credit: www.happyveggiekitchen.com
Photo Credit: www.jcookingodyssey.com
A focaccia base is topped with a delicious tomato sauce and loaded with cheese and fragrant Sicilian style herbs. Pizza night just became a lot more fun!
Photo Credit: asimplepalate.com
Learn how to make roasted tomato soup with fresh summer tomatoes! All the ingredients are roasted on one pan to make things super simple. No dairy or cream is required and every bite is full of rich, fresh flavor!