Mediterranean Veggie Sandwich
This Mediterranean veggie sandwich is filled with fresh veggies, creamy hummus, and salty feta for a delicious meal that you can assemble in just a few minutes! It's perfect for a hearty, healthy lunch!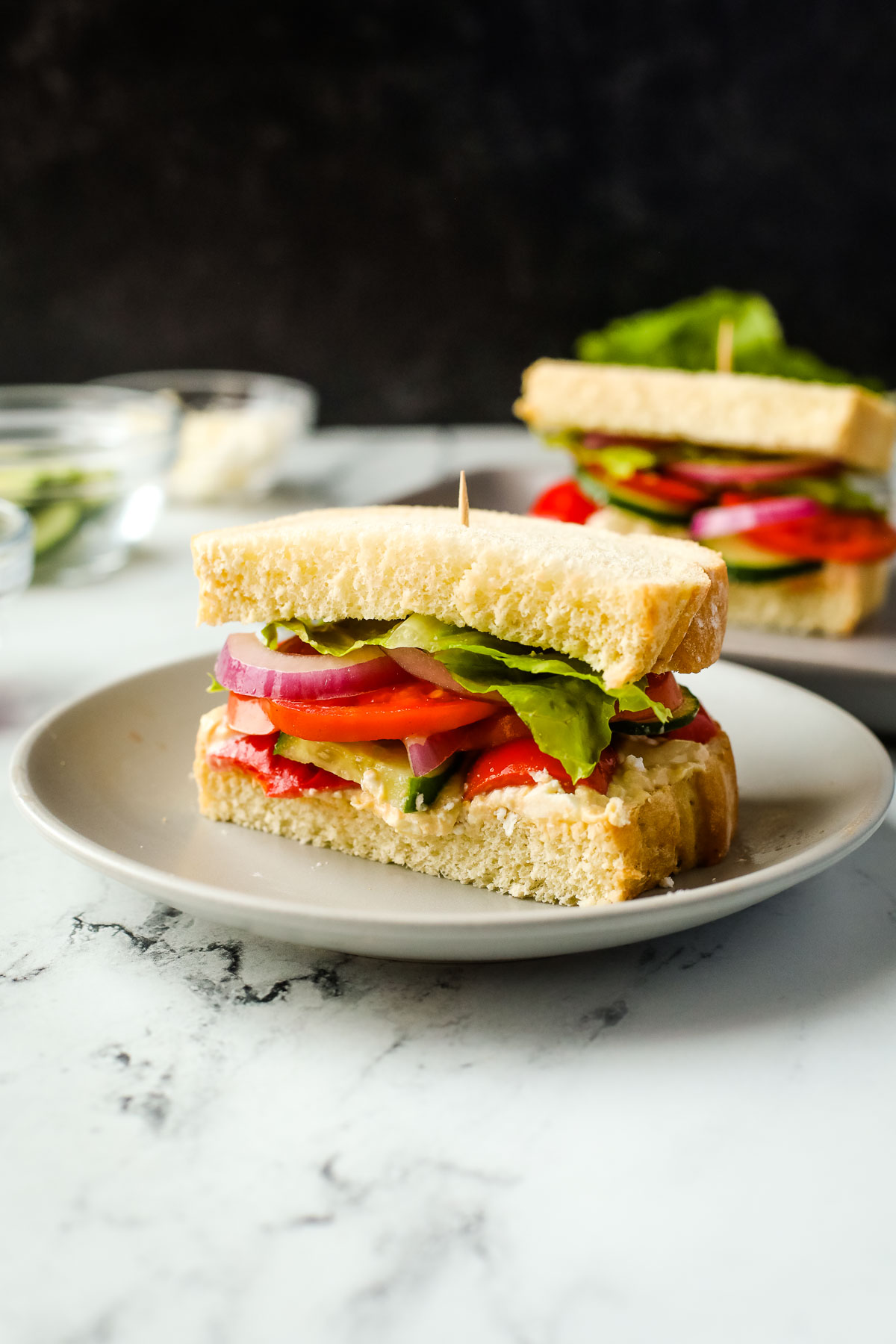 I love the Mediterranean veggie sandwich from Panera Bread, and I figured it wouldn't be too hard to recreate at home. I was right! It's easy to assemble and I found a few tricks to make it taste just like the sandwich from your favorite fast casual spot. In fact, if you pair this with a bowl of my broccoli cheddar soup or my modern Greek salad copycat recipe, you'll get the full experience!
You might be wondering, "What is in the veggie sandwich at Panera?" and it's a pretty simple list of ingredients! In fact, you might have most of these ingredients in your fridge right now. So save yourself a few bucks and make this tasty sandwich at home!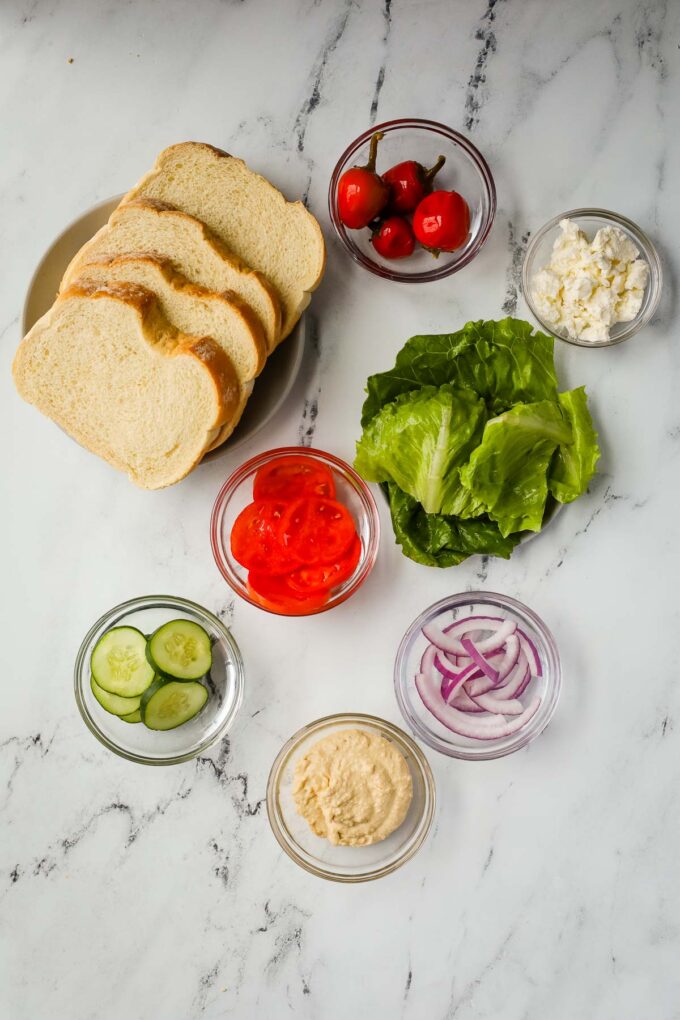 Ingredients and Substitutions
Bread– The bread at Panera is a hearty tomato basil bread with a sweet crust. I recommend buying a thick sandwich bread with a chewy crust. For the most authentic flavor, you can brush the crust with just a tiny bit of honey to provide the same sweetness that you'd taste at Panera bread.
Pickled cherry peppers- These sweet, slightly spicy peppers are sold with pickled vegetables. Technically the Panera version uses Peppadew peppers but those were really hard to find. Pickled cherry peppers were a nearly identical substitute! Another option would be roasted red peppers.
Red onion– If you don't like the flavor of raw onion, soak the onion slices in water for a few minutes to tame the flavor.
Greens– I used a little romaine lettuce but any leafy green lettuce will work fine. To make it more similar to Panera, use emerald greens.
Hummus– I used a simple herb hummus but any neutral hummus is fine.
Feta– Crumbled feta adds salty flavor. You could substitute it for goat cheese, if you like.
Tomato– Thick tomato slices were so good in this sandwich. You can substitute for chopped cherry tomatoes, if needed.
Cucumber– Crunchy cucumber adds texture. You could substitute with thinly sliced raw zucchini.
Salt and pepper– A sprinkle of salt and pepper enhances the overall flavor.
What are Pickled Cherry Peppers?
Cherry peppers are small, slightly hot peppers. They're often confused with pimento peppers, but cherry peppers are spicier. These peppers are often pickled and used in antipasto platters. I found that their taste was similar to the Peppadew peppers found at Panera bread. If you can't find pickled cherry peppers at your local grocery store, feel free to use roasted red peppers.
Is the Mediterranean Veggie Sandwich at Panera vegan?
No, the Panera veggie sandwich is not vegan. But for this Panera copycat recipe, you could skip the feta cheese crumbles and make this recipe vegan. I recommend adding a little extra hummus and an extra pinch of salt. If you wanted to add sweetness to the bread crust, use a tiny bit of maple syrup.
Frequently Asked Questions
Can I make this recipe gluten-free? Yes! Just use gluten-free bread or a gluten-free wrap.
What's the best hummus for this recipe? Any store-bought hummus is fine, but my za'atar hummus is especially tasty in this recipe.
Is this recipe healthy? Yes! This healthy sandwich is loaded with vegetables which are a good source of fiber, vitamins, and minerals. The hummus and feta add a little fat and protein to help keep you full. You can use whole wheat bread for even more protein and fiber.
How to Make a Mediterranean Veggie Sandwich
More Sandwich Recipes
Print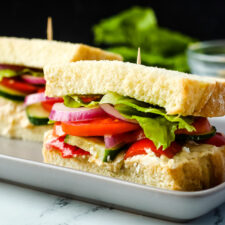 Mediterranean Veggie Sandwich
Author:
Prep Time: 10 minutes
Cook Time: 0 minutes
Total Time: 10 minutes
Yield: 2 sandwiches 1x
Category: Dinner
Method: No Cook
Cuisine: American
Diet: Vegetarian
---
Description
This Mediterranean veggie sandwich is filled with fresh veggies, creamy hummus, and salty feta for a delicious meal that you can assemble in just a few minutes! It's perfect for a hearty, healthy lunch!
---
4 slices of thick-cut sandwich bread
1/4 cup hummus
1/4 cup crumbled feta cheese
1/4 cup chopped Peppadew peppers
1/4 cup thinly sliced red onion
1 large romaine lettuce leaf, chopped
1 small tomato, thinly sliced
1/4 cup sliced cucumber
Salt and pepper to taste
Small drizzle of honey (optional)
---
Instructions
Spread a layer of hummus on a slice of bread.
Top with feta, peppers, cucumbers, a sprinkle of salt and pepper, tomatoes, red onion, and lettuce.
Top with the second slice of bread.
If desired, lightly brush the edge of the bread crust with a tiny bit of honey.
Keywords: Panera Mediterranean Veggie Sandwich