Mediterranean Quinoa Bake
This Mediterranean Quinoa Bake is so delicious and flavorful, you'll be surprised at how easy it is! Everything cooks together in one dish for a veggie-packed meal that only takes a few minutes to prepare.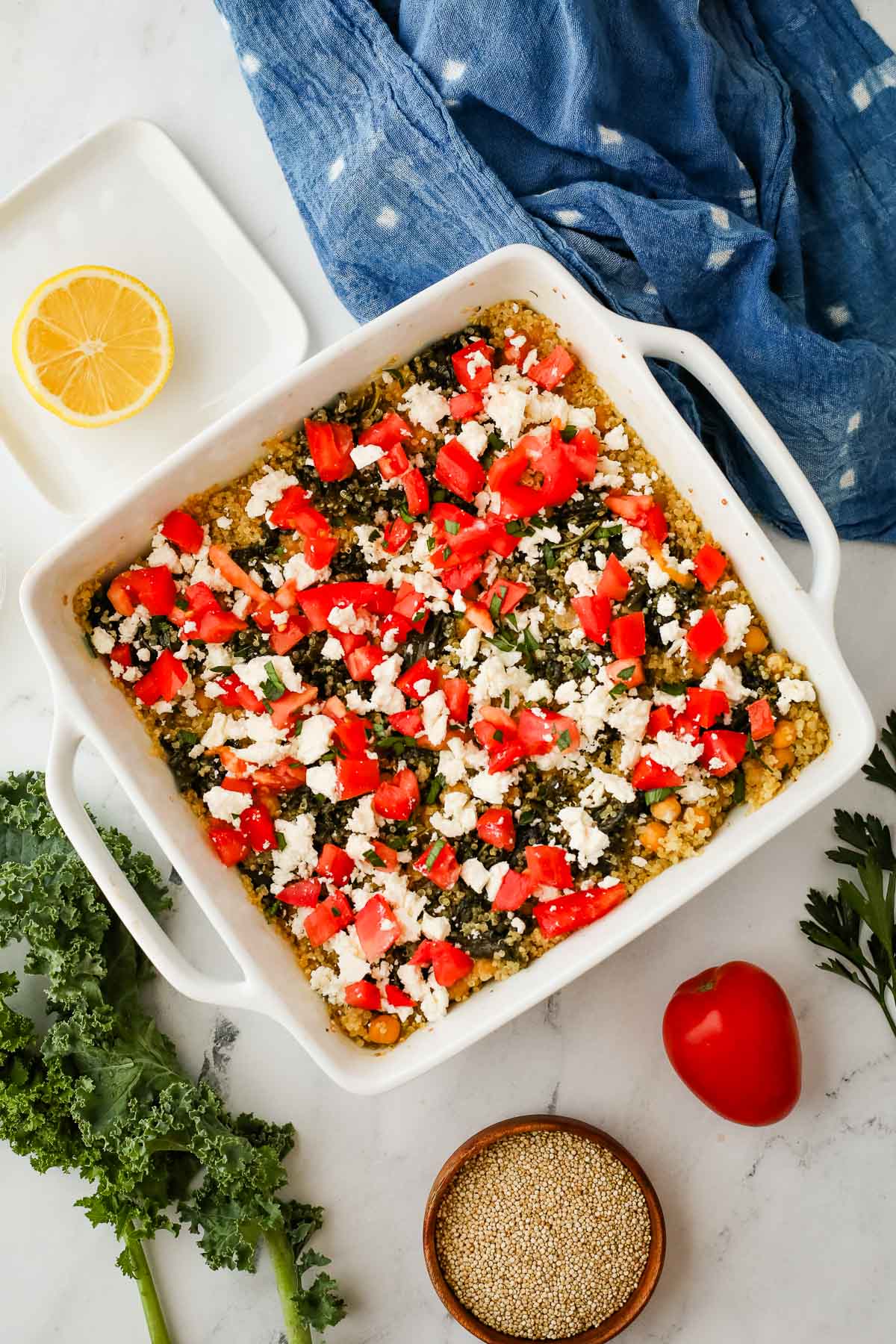 I love baked quinoa and once I discovered that I could make delicious quinoa in the oven, it was a game changer! I love how quick and easy it is to add the ingredients to a baking dish and pop it in the oven. I based this recipe on the America's Test Kitchen baked quinoa, but I gave it my own spin and made it a little healthier. This recipe is extremely easy to prepare, so it's great for busy weeknights!
You can enjoy this as a side dish or a main dish. If you want to make it a little more filling, I recommend serving it with falafel, halloumi, or bread!
Ingredients and Substitutions
Kale– Adds a hearty, leafy green base to the dish, providing fiber, vitamins, and a delightful texture. If you don't have kale, you can use spinach, mustard greens, or Swiss chard.
Quinoa– The star of this dish, quinoa is a protein-packed grain that forms the base of the meal. It's fluffy and slightly nutty, providing essential nutrients.
Vegetable Broth– This adds flavor to the dish while cooking the quinoa. You can use water if you don't have vegetable broth but you'll need to add seasonings like garlic, celery salt, onion powder, salt, and pepper.
Chickpeas– These legumes bring protein and a satisfying, heartiness to the recipe. They pair perfectly with Mediterranean flavors. If needed, you can swap the chickpeas for white beans or cannellini beans.
Olive Oil– A touch of olive oil adds richness and a hint of Mediterranean flavor, while also helping to cook the quinoa and chickpeas. If you wanted to make this recipe oil free, you can skip it.
Lemon– We add both juice and zest for a citrusy brightness to the dish that helps balance the flavors. If you don't have lemon, you can use a splash of red wine vinegar for tanginess.
Oregano-This dried herb infuses the dish with a distinct Mediterranean taste.
Roma tomatoes– Fresh tomatoes add juicy sweetness and a burst of color. Cherry or grape tomatoes can be substituted.
Feta Cheese– The creamy, tangy feta crumbles contribute a rich, salty element to complement the other flavors. You can use a vegan cheese alternative for a dairy-free option, if desired.
Do I Need to Rinse Quinoa?
Most quinoa should be rinsed before cooking. Some bagged varieties will come pre-rinsed but if you're not sure, give it a rinse just to be safe. This removes the bitter outer coating of the quinoa. I place it in a fine-mesh strainer and then run it under cool water. Be sure it's a very fine mesh strainer so the quinoa doesn't fall through. This strainer on Amazon is a great one for quinoa!
How to Make This Mediterranean Quinoa Bake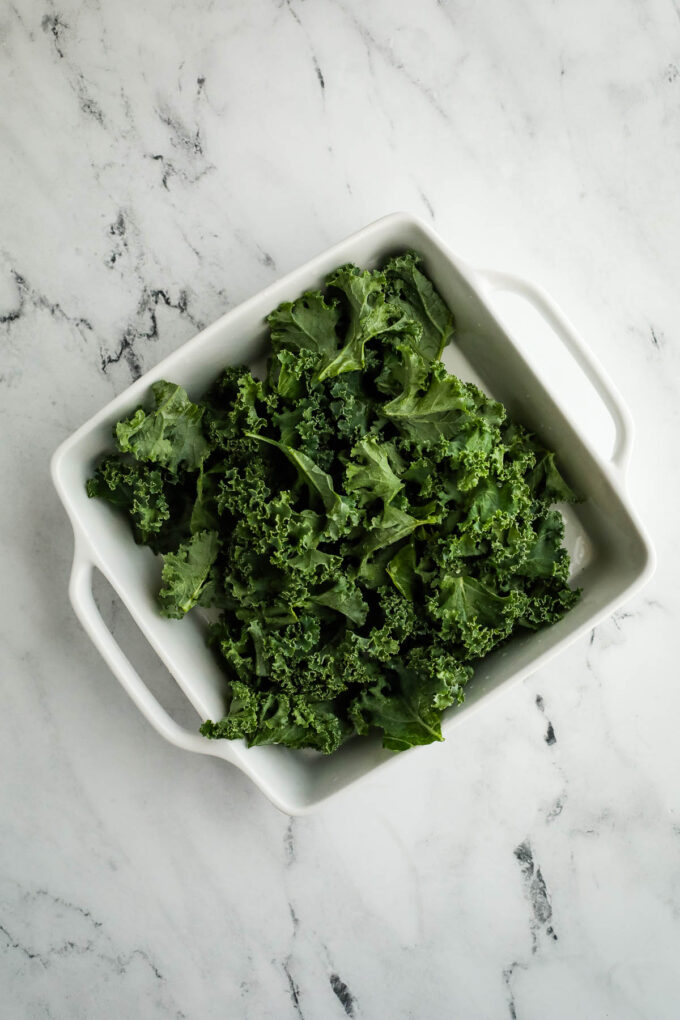 What to Serve with a Quinoa Bake
This recipe is delicious with some fresh pita bread, naan or flatbread. I also drizzled mine with a little zhoug sauce which is also a perfect dip for bread. I also like pairing this recipe with falafel to help round out the meal. If you don't want to make your own, Trader Joe's makes a great frozen falafel option!
Frequently Asked Questions
Do I need to cook the quinoa first? Nope! The quinoa cooks in the oven!
Can I add a sauce to this? I paired mine with a little zhoug sauce but it's also delicious with a dollop of hummus, tzatziki, or cilantro sauce.
Can I freeze leftovers? I wouldn't recommend freezing leftovers, as the feta and tomatoes don't freeze very well in this recipe.
How should I store leftovers? Just keep them in an airtight container in the fridge. You can serve this warm or cold!
Print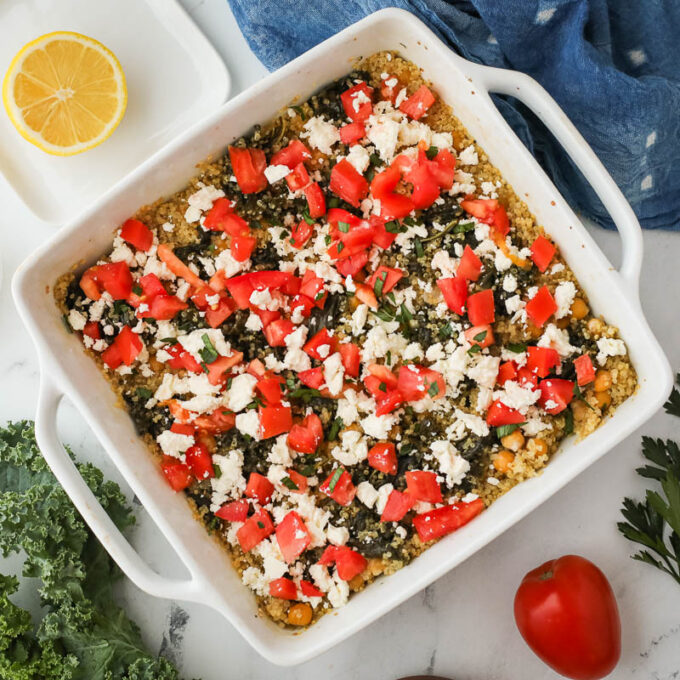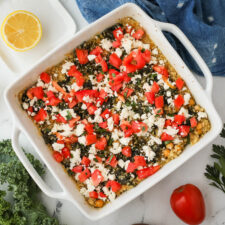 Mediterranean Quinoa Bake
Author:
Prep Time: 5 minutes
Cook Time: 35 minutes
Total Time: 40 minutes
Yield: Serves 4
Category: Dinner
Method: Oven
Cuisine: Mediterranean- Inspired
Diet: Vegetarian
---
Description
This Mediterranean Quinoa Bake is so delicious and flavorful, you'll be surprised at how easy it is! Everything cooks together in one dish for a veggie-packed meal that only takes a few minutes to prepare. 
---
4 cups chopped kale, stems removed
1 cup quinoa, rinsed
1 1/2 cups vegetable broth
1 15oz can chickpeas, drained and rinsed
1 tablespoon olive oil
1 tablespoon lemon juice
1/4 teaspoon oregano
2 Roma tomatoes, chopped
4oz feta, crumbled
Salt and pepper to taste
---
Instructions
Preheat the oven to 450 degrees.
Add the kale to an 8×8 baking dish and with 1 tablespoon of water.
Microwave for 2 minutes until the kale is bright green and slightly wilted.
Add the quinoa, vegetable broth, chickpeas, olive oil, lemon juice, and oregano and stir to combine.
Cover tightly with aluminum foil.
Bake for 35 minutes or until the liquid has been absorbed.
Fluff the quinoa mixture with a fork, then top the quinoa with chopped tomatoes and feta.
Season with salt and pepper to taste.
---
Notes
This recipe can be served warm or cold.
Keywords: Mediterranean Quinoa Bake