Couscous Salad with Chickpeas
This Mediterranean-inspired couscous salad with chickpeas is filled with salty feta, juicy tomatoes, and fresh parsley. It only takes 15 minutes to make, so it's perfect for busy weeknights!
It's here! This is the first recipe in my new 15-minute dinner series! Every Monday, I'll be sharing an easy, healthy, vegetarian recipe that can be made in 15 minutes or less. I know you're busy, but eating healthy doesn't have to be time-consuming! This first recipe definitely proves it. This easy chickpea and couscous dish comes together in less than 15 minutes. You're going to love it!
This recipe takes advantage of summer produce including cucumbers and tomatoes. I make this recipe a lot when my garden is overflowing with produce! It's important to use fresh, ripe vegetables for the best flavor. The fresh parsley is also critical- don't try to substitute dried parsley in its place.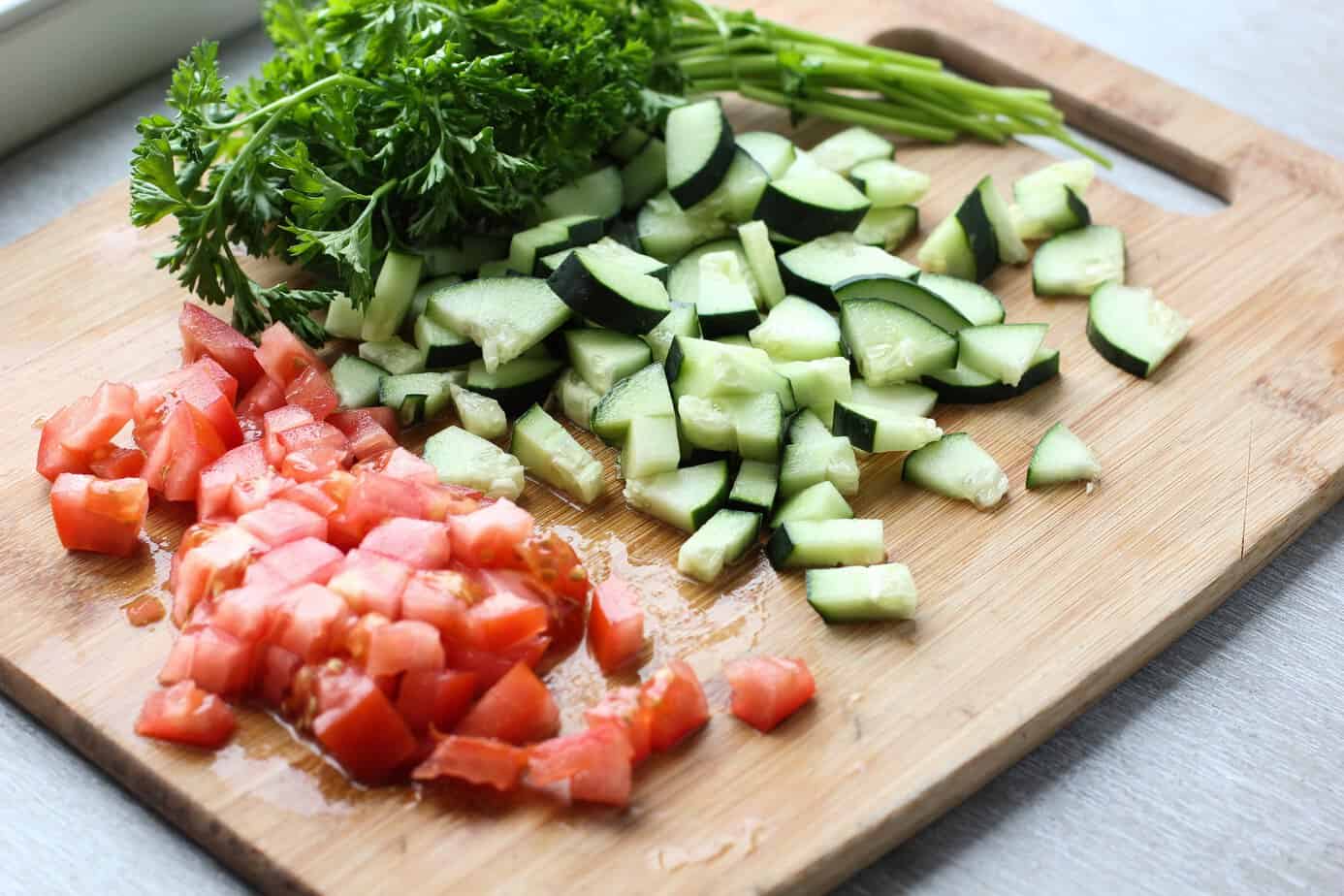 What is couscous?
If you're not familiar with couscous, it's a tiny pasta. Some people think it's a type of grain but it's really just pasta. I try to buy whole-wheat couscous since it has a little more fiber and protein. You can typically find whole wheat couscous at places like Trader Joe's, Whole Foods, and larger grocery stores. But even if you can only find regular couscous, this recipe is packed with so many veggies; there's no need to worry!
How to Cook Couscous
The great thing about couscous is it cooks super fast. To cook 1 cup of couscous, boil 1 ½ cups of water, then add the couscous, cover, and let it sit for a few minutes. Fluff with a fork, and it's ready to go! It's actually really simple to cook and I love how quickly this couscous salad with chickpeas can be prepared.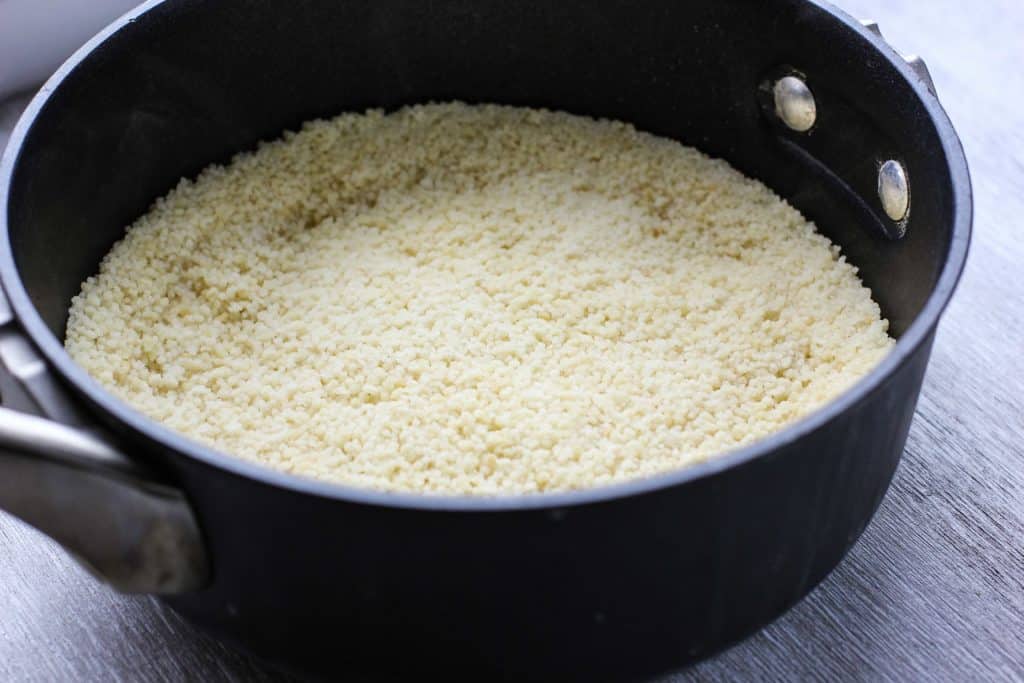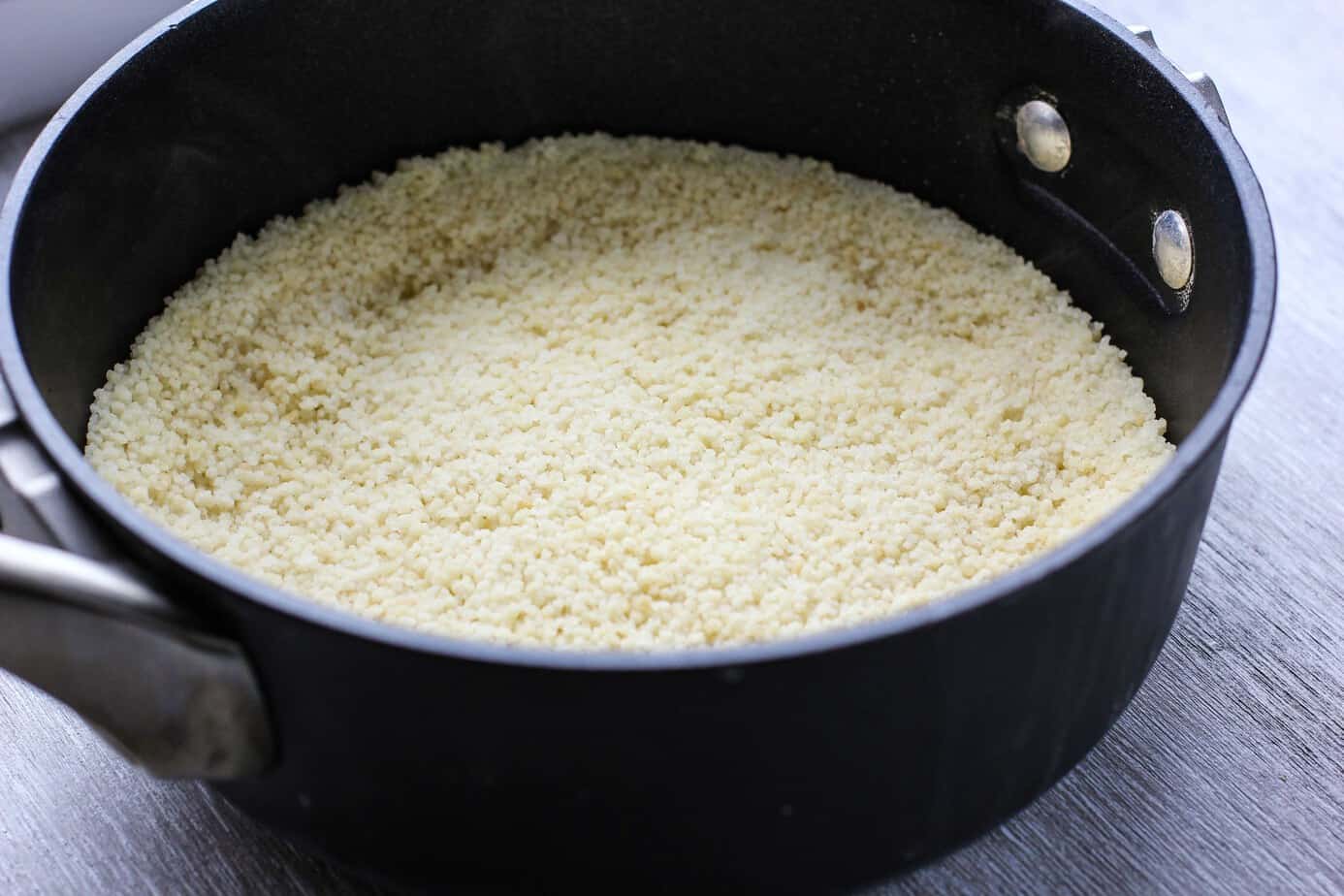 Is couscous gluten free?
No, since couscous is a pasta, it's made from flour. You can use quinoa instead of couscous if you need a gluten-free version of this recipe. It will take a bit longer to cook, but it will still taste delicious! To learn more about quinoa check out this blog pot all about quinoa!
Variations and Substitutions
For a different twist on this salad, try roasting the chickpeas before adding them to the salad. This is a great way to add a crispy, crunchy texture to the salad!
You can substitute cherry tomatoes in this recipe. Simply slice the cherry tomatoes into halves or quarters.
This recipe is also delicious with a sprinkle of sliced almonds or pine nuts on top for a salty crunch.
To add more greens, pile this couscous salad onto a bed of arugula.
Frequently Asked Questions
Can I use dried parsley? No. Be sure to use fresh herbs as dried herbs are not a suitable replacement in this recipe. I used curly parsley but flat parsley can be used.
Is couscous a grain? Couscous is actually just a tiny pasta!
Is couscous healthy? Couscous is nutritionally similar to other pasta shapes. I recommend using whole wheat couscous to add more protein and fiber to this recipe.
Can I make this couscous salad with chickpeas vegan? You can skip the feta if you want to keep this recipe vegan. Just add an extra pinch of salt.
Print
Couscous Salad with Chickpeas
Author:
Prep Time: 10 minutes
Cook Time: 5 minutes
Total Time: 15 minutes
Category: Dinner
Method: Stovetop
Cuisine: Mediterranean
---
Description
This Mediterranean Couscous and Chickpeas is filled with salty feta, juicy tomatoes, and fresh parsley. It only takes 15 minutes to make, so it's perfect for busy weeknights!
---
1 1/2 cups water
1 cup dry couscous
1 15oz can chickpeas, rinsed and drained
1 large cucumber, chopped (about 1 cup)
1 large tomato, chopped (about 1 cup)
1/2 cup chopped curly parsley leaves (about 1/3 bundle, large stems removed)
1/4 cup crumbled feta
1 tablespoon olive oil
Salt to taste
---
Instructions
In a medium sized pot, bring the water to a boil.
Add the couscous, remove from heat, and cover with a lid. Set aside for 5 minutes while the couscous absorbs the water.
While your couscous is cooking you can prep the rest of your ingredients.
Once the couscous has absorbed all the water, fluff with a fork.
In a large bowl, gently toss the cooked couscous with the chickpeas, cucumber, tomato, parsley, feta, olive oil, and salt.
Serve at room temperature or store in the fridge and serve cold.
---
Notes
Flat leaf parsley can be used in place of curly parsley, but I don't recommend trying to substitute dried parsley in this recipe.
Keywords: Couscous with chickpeas
How to Store Leftovers
This recipe can be made in advance and served cold if desired. It can be kept in an airtight container in the fridge for 2-3 days. It makes a great packed lunch. I do not recommend freezing this recipe. If you have leftover couscous, try this easy Spinach and Parmesan Couscous recipe!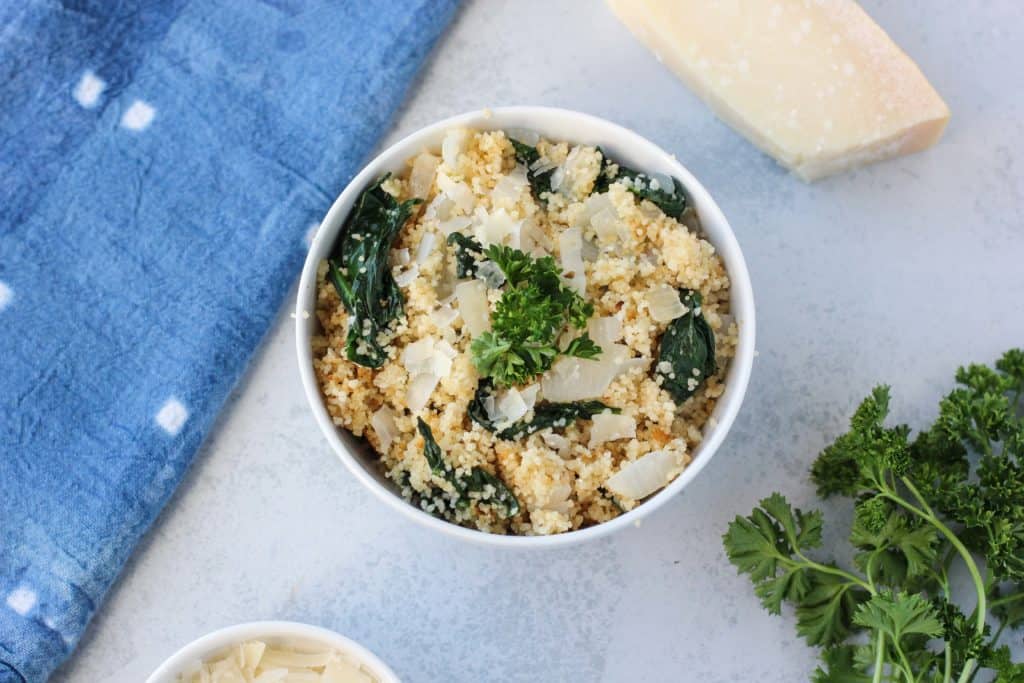 Are you looking for another quick & delicious recipe? Try this 15 minute Parmesan Orzo recipe! Or check out my list of 15 minute recipes on my site!