Spaghetti Squash al Pomodoro
While I'd never give up "real" pasta, I think spaghetti squash is my favorite of the veggie-noodle substitutes. While zucchini noodles are great and I've even given sweet potato noodles a try, they can't beat spaghetti squash. If you've never given it a try, it's an easy one to start with. You don't need a spiralizer or any fancy equipment. Simply slice the squash in half, scoop out the seeds, roast it until soft, and then scrape the noodles out with a fork. That's it!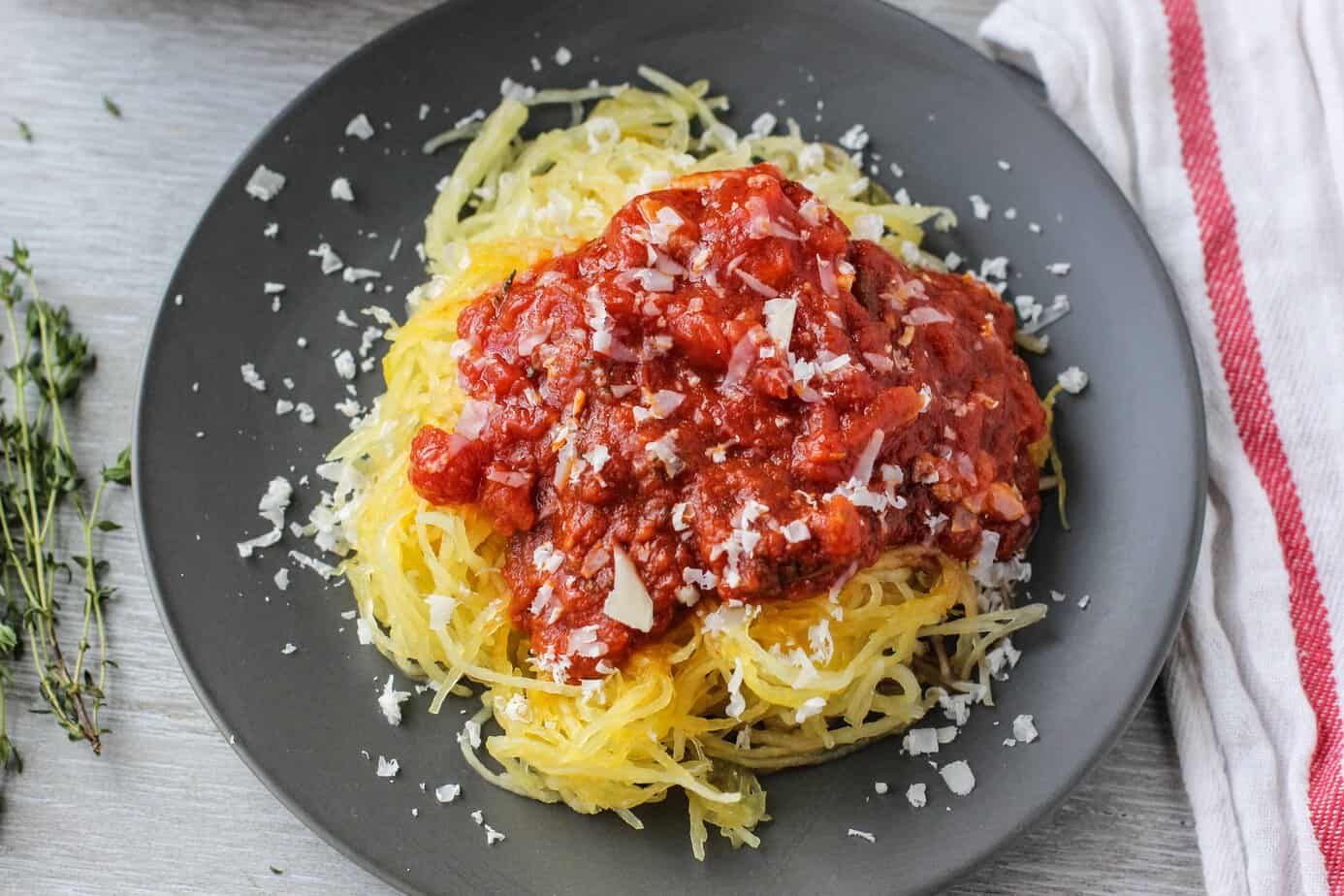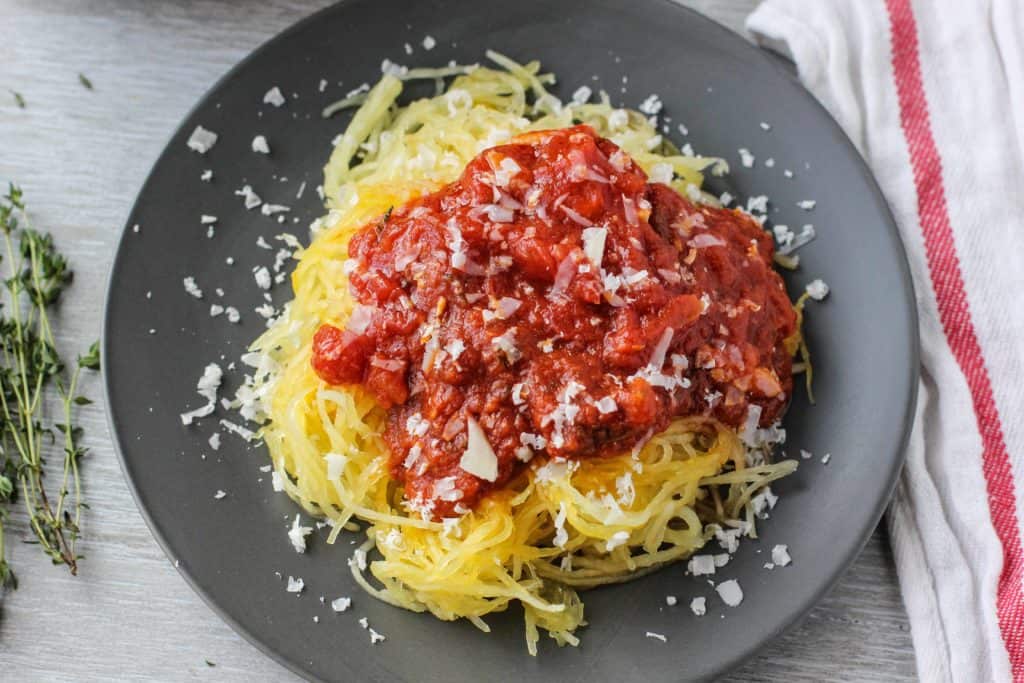 As for the sauce, it's nearly as simple. For years, I've opened jar after jar of pasta sauce, never even thinking about making my own. One of my favorite pasta sauces is so delicious, and yet when I looked at the label, I realized the ingredients were things I already had in my kitchen. This simple Pomodoro sauce is made with just a few pantry staples, but you'll be amazed at the flavor!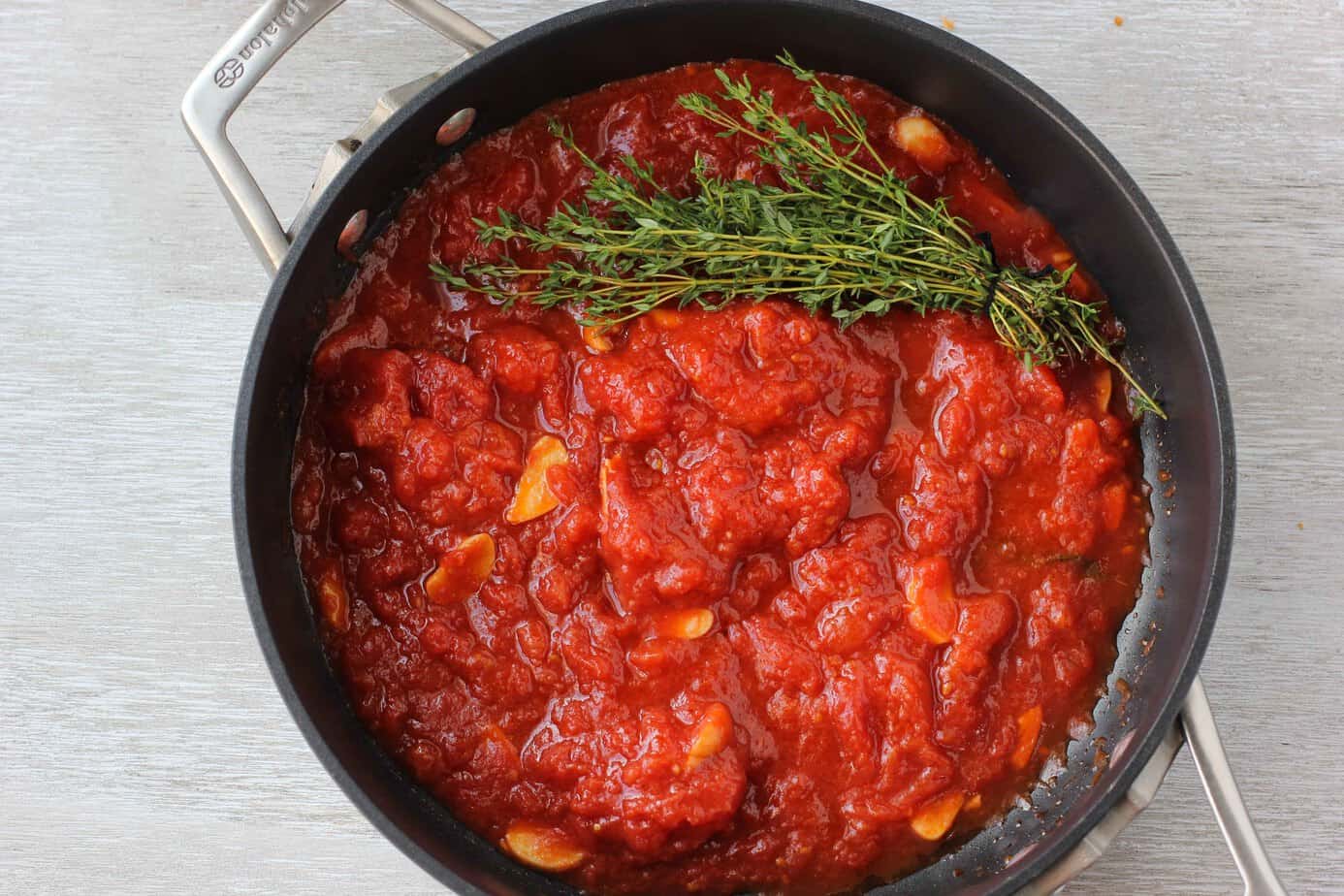 In order to give this Pomodoro sauce a little more depth, I added in a bundle of organic thyme from Shenandoah Growers, a local farm here in Virginia, which I found at Walmart. I've been impressed by the way Walmart has stocked up their produce section to feature local farmers from around Virginia. They're making an effort to make local produce more accessible and it's nice to be able to find things like this thyme from Harrisonburg, VA on the shelves!
Print
Spaghetti Squash al Pomodoro
Author:
Prep Time: 15
Cook Time: 1 hour 5 minutes
Total Time: 1 hour 20 minutes
Yield: 4 1x
Category: Dinner
Method: Baking
Cuisine: Dinner
---
Description
This easy spaghetti squash recipe is topped with a delicious tomato sauce infused with fresh thyme!
---
1 large spaghetti squash (about 3lbs)
¼ cup olive oil
8 cloves garlic, peeled and thinly sliced
1 28oz can whole tomatoes
1 bundle of fresh thyme from Shenandoah Growers
1 oz parmesan cheese (optional)
---
Instructions
Preheat the oven to 400 degrees Fahrenheit.
Slice the spaghetti squash in half and scoop out the seeds using a spoon.
Place the spaghetti squash cut side down on a baking sheet and bake for 30-40 minutes until soft.
While the squash is cooking, make the Pomodoro sauce.
Heat the olive oil and garlic over low heat for 10 minutes.
The garlic should be fragrant but not browned.
Add the tomatoes and cook over medium-low heat for 15-20 minutes until the tomatoes begin to soften.
Add a bundle of thyme to the pot and gently break apart the tomatoes with a wooden spoon.
Cook for another 5 minutes to infuse the sauce with thyme, then set aside.
Once the squash is cooked, let it cool slightly then use a fork to scrape the inside of the squash on to 4 separate plates. The fork will pull the squash into pasta-like strands.
Top with sauce and sprinkle with parmesan cheese, if desired.
---
Keywords: Spaghetti Squash al Pomodoro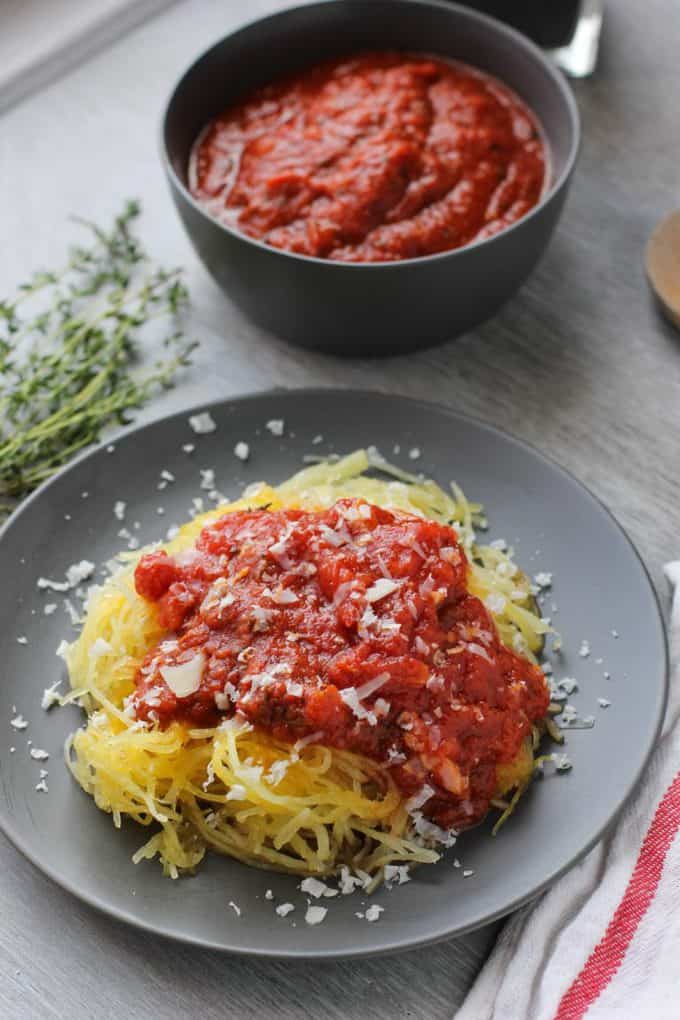 The inspiration for this dish came from Metzger Bar & Butchery, a local restaurant here in Richmond. Alex and I went for dinner and we ended the meal with a strawberry tart made with thyme shortbread, pink peppercorn, and elderflower. Brittany Anderson, the chef, and mastermind behind the restaurant, also used the organic thyme from Shenandoah Growers of Harrisonburg, VA from Walmart. I loved seeing local ingredients on the menu at one of the best restaurants around Richmond! Obviously, it got me thinking about ways to use fresh thyme and I loved how this sauce turned out!
What's your favorite type of pasta sauce?
This is a sponsored conversation written by me on behalf of Walmart. The opinions and text are all mine.