Parmesan Spinach Couscous
This Parmesan spinach couscous is a quick and delicious side dish made with a handful of pantry staples. It can be prepared in just 20 minutes! Serve it as a side dish with your favorite protein or enjoy it as a vegetarian main dish.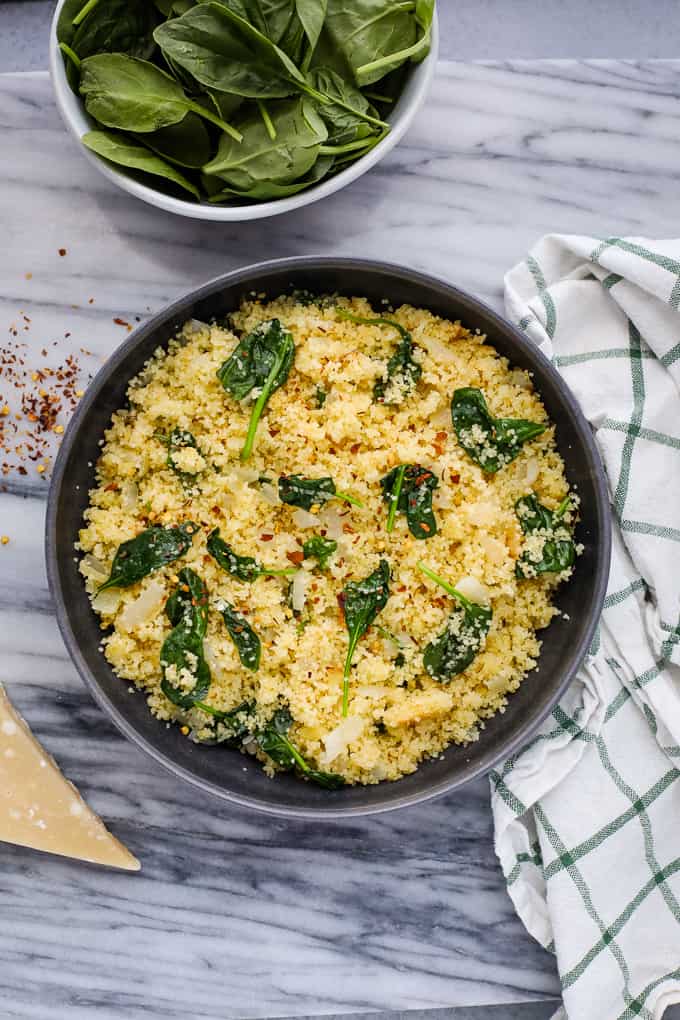 What is Couscous?
Let's talk about couscous! While you might think of it as a grain, couscous is actually a tiny pasta! I love it because it cooks in just a few minutes. Since it's a simple pasta, it works with a variety of flavors. I love the saltiness of the Parmesan cheese and a pinch of red pepper flakes bring just the right amount of spicy flavor.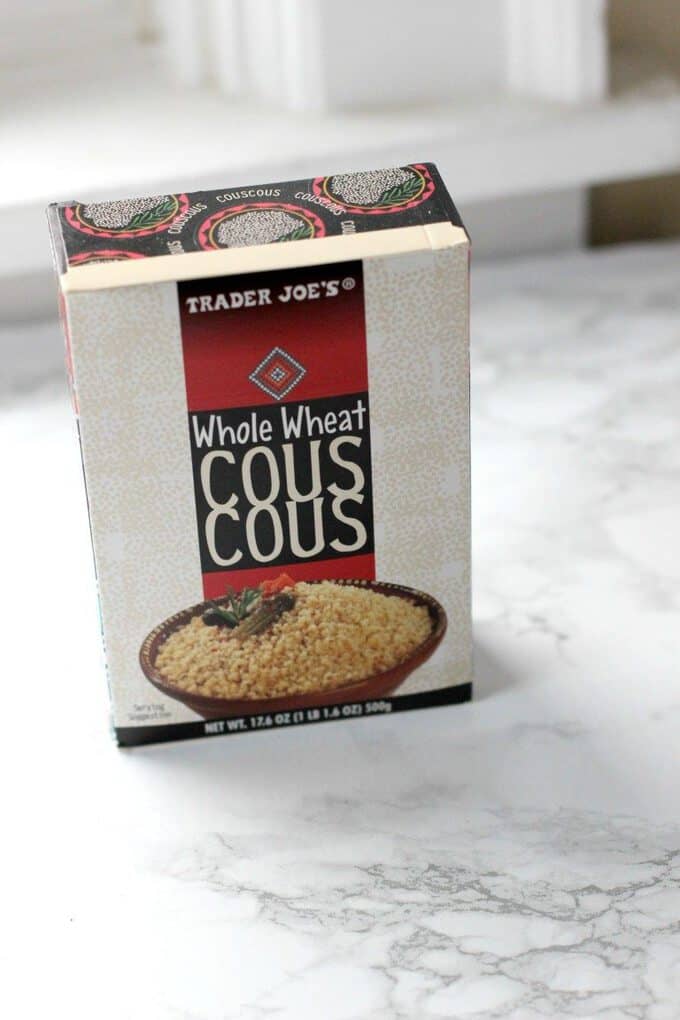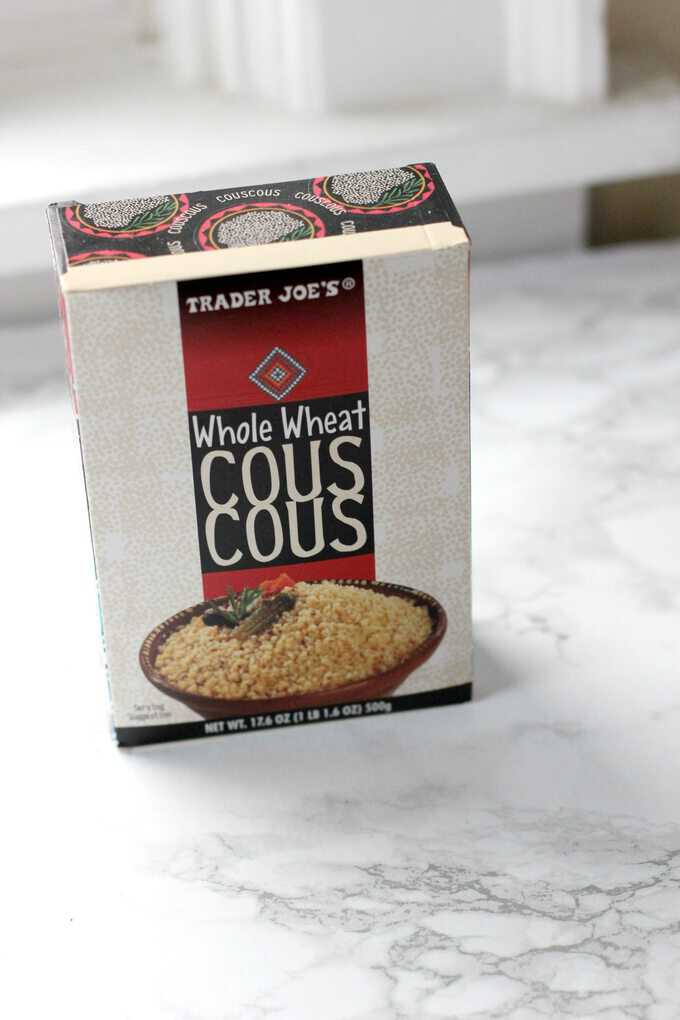 Types of Couscous
There are two common types of couscous. Moroccan couscous is small and cooks very quickly. The grains are slightly bigger than coarsely ground cornmeal. Israeli couscous is larger and takes much longer to cook. For this recipe, you'll want to use Moroccan couscous.
Is Couscous Healthy?
Like any pasta, it's high in carbohydrates, but it can certainly be part of a healthy meal. If you're looking for more protein and fiber, look for whole wheat couscous. This can be a little harder to find, but I typically see it at Trader Joe's! Keep in mind that since couscous is a pasta, it is not gluten-free.
Where to Buy Couscous
I usually buy wholewheat couscous from Trader Joe's and it actually has a substantial amount of protein and fiber which means it'll keep you full and satisfied! You can also get traditional couscous, which is typically sold in the rice section of most grocery stores.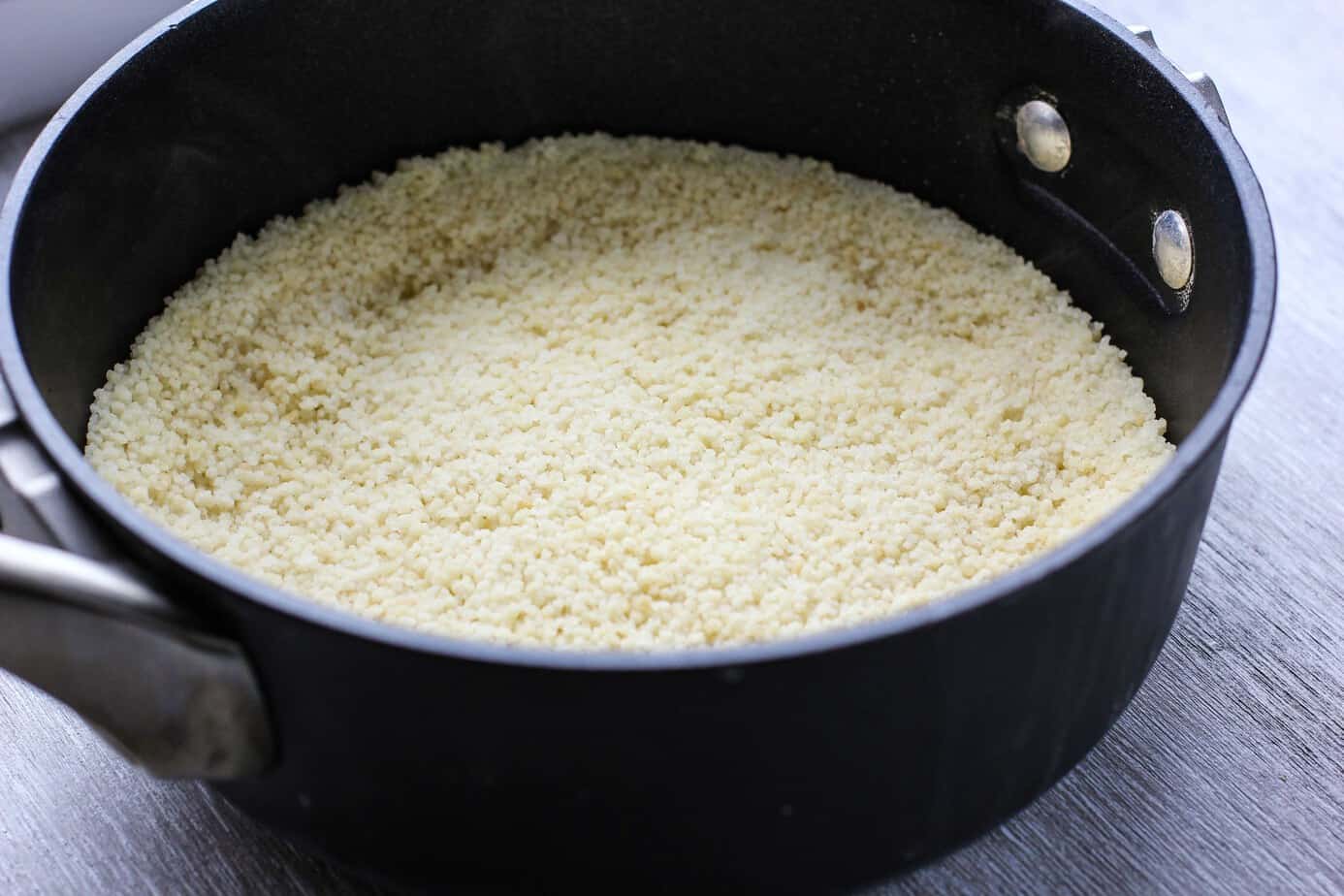 How to Cook Couscous
Cooking couscous is super simple. Once you know the couscous-to-water ratio, you're good to go! If you're making whole wheat Moroccan style couscous, use 1 1/2 cups of water for every 1 cup of dry couscous. If you're making regular Moroccan couscous, reduce the water to 1 cup of water for every 1 cup of dry couscous. Be sure to check package directions, as different brands may call for different amounts of water. Couscous expands a lot after cooking, so one cup of dry couscous will usually make about 4 servings.
To prepare the couscous, bring the water to a boil then add the couscous and remove it from heat. Let it sit, covered, for about 5 minutes until all the water has been absorbed. Simply fluff with a fork and you're ready to serve it!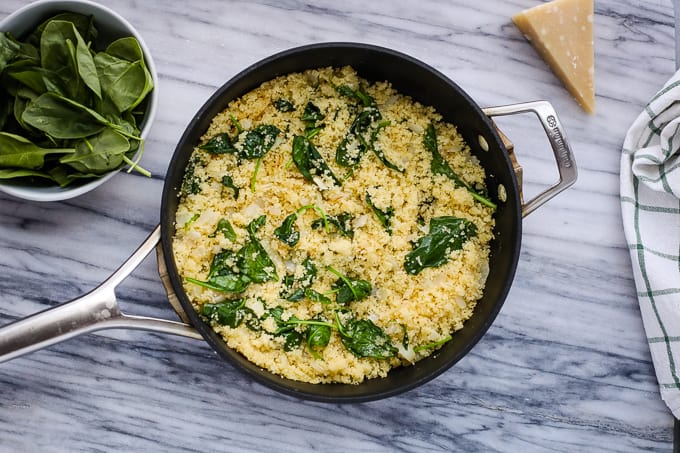 This recipe is an easy way to prepare couscous that gives it a ton of flavor. Be sure to use fresh Parmesan cheese in this recipe. I like to grate it just before serving!
Substitution Ideas
Looking for something other than Parmesan? Substitute Romano cheese, which has an even stronger, saltier flavor. If you're using Romano cheese, you may need to cut back on the salt in this recipe.
This recipe works with regular couscous or wholewheat couscous. I prefer wholewheat for a healthier dish!
Out of spinach? Try another leafy green like kale! Remove the stems and cook for 1-2 additional minutes.
No onions? Try using chopped shallots instead!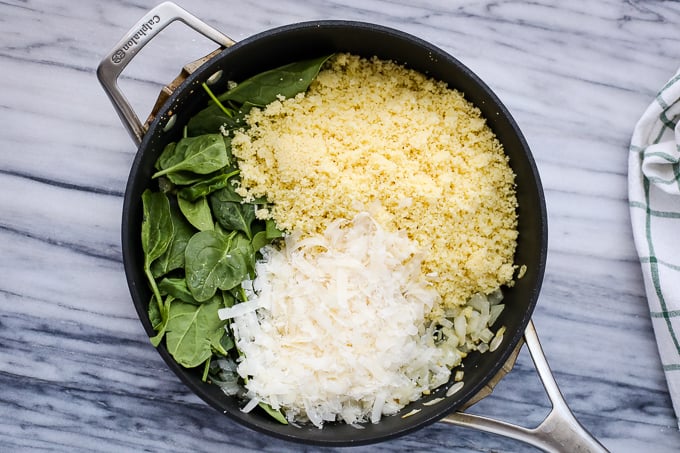 Print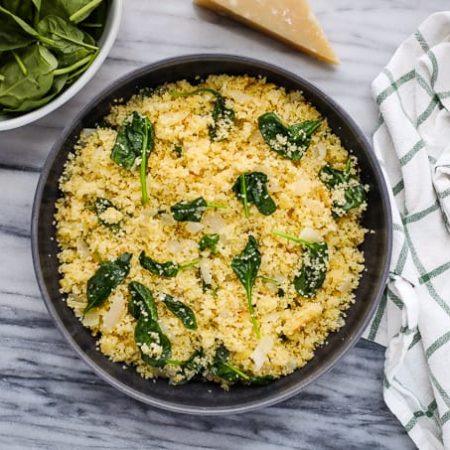 Parmesan Spinach Couscous
Author:
Prep Time: 5 mins
Cook Time: 15 mins
Total Time: 20 minutes
Yield: Serves 4
Category: Dinner
Method: Stovetop
Cuisine: Vegetarian
---
Description
This Parmesan spinach couscous is a quick and delicious side dish made with a handful of pantry staples. It can be prepared in just 20 minutes. Serve it as a side dish with your favorite protein or eat is as a vegetarian main dish!
---
2 tablespoon olive oil, divided
1/2 medium white onion, diced
4 cloves of garlic, minced
1 1/2 cups of dry couscous
2 1/2 cups of water
1 tsp salt
1/2 cup shredded Parmesan cheese (plus more for garnish)
1 cup spinach
---
Instructions
In a large saucepan, heat 1 tablespoon of olive oil and add the onion.
Cook over medium heat for 10 minutes or until the onion is soft and translucent.
Add the garlic and continue to cook for 1 minute until fragrant.
In a separate pot, bring the water to a boil.
Add couscous and remaining tablespoon of olive oil.
Stir then immediately remove from heat and cover.
Let the couscous sit for 5 minutes then fluff with a fork once the water has been absorbed.
Add the couscous, salt, Parmesan cheese, and spinach to the onion and garlic.
Cook for 5 minutes over medium heat, until the spinach wilts slightly.
Add salt to taste and serve immediately. Add additional Parmesan, if desired.
---
Keywords: Parmesan Couscous
This recipe comes together so quickly and easily. I've eaten this as a main dish but you could also serve it with your favorite protein and turn it into a side dish!
The flavors and simplicity of this dish reminded me of this Parmesan orzo pasta. It's another great quick and easy side dish. It's great when you're short on time but still want a flavorful meal.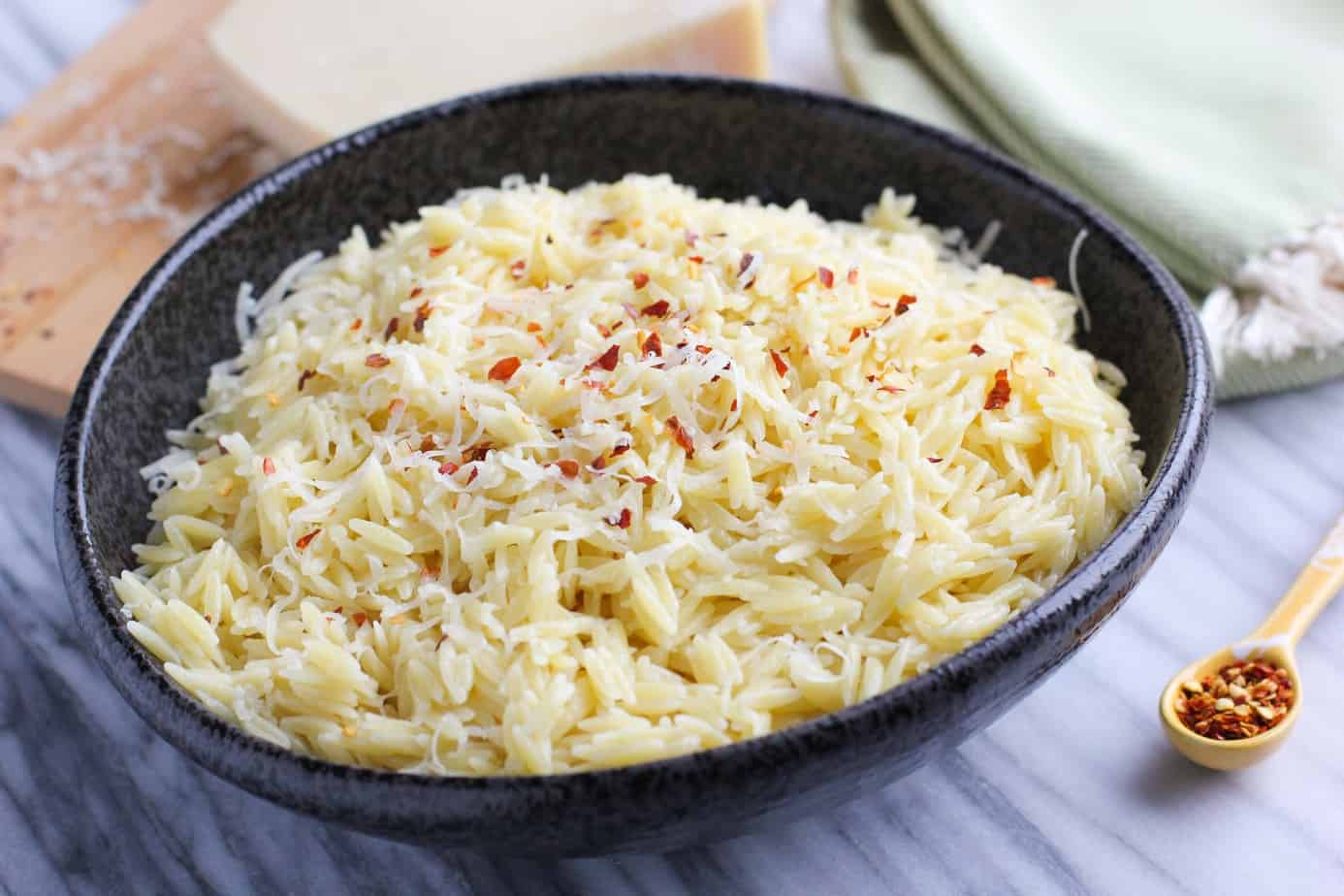 Looking for other ways to enjoy couscous? Try this Mediterranean Style Chickpea Salad!
Have you ever made couscous?
This post was originally published in Feb 2015. Updated July 2020.