Honeydew Sorbet
This honeydew sorbet recipe is so simple! You only need a few ingredients for this healthy summer treat.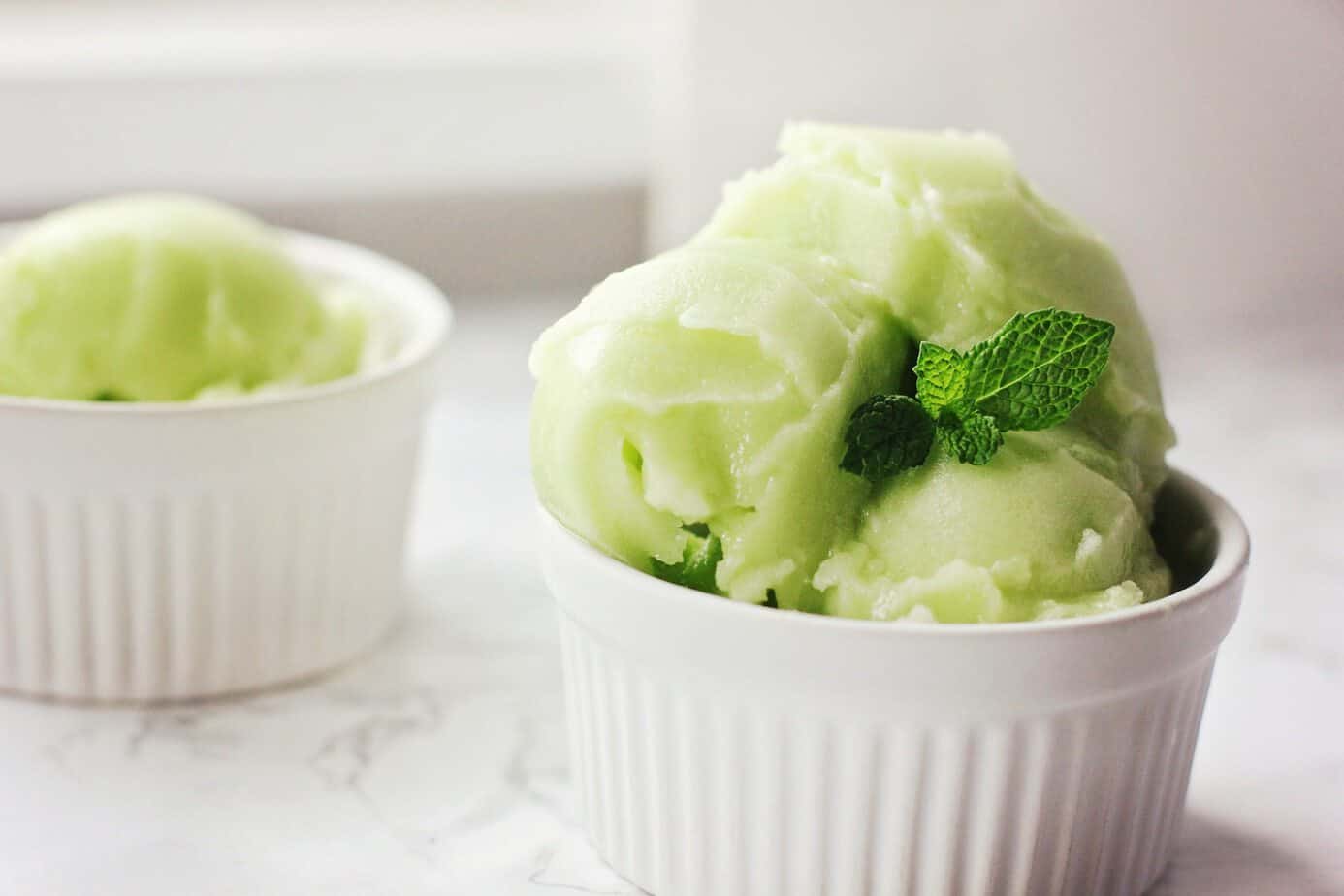 If you're looking for a honeydew melon recipe, this easy sorbet is one of my favorites! It's easy to make with just a few ingredients and as long as you have a powerful blender or food processor, you can make it in minutes!
How to Pick a Honeydew Melon
The first step to making delicious honeydew sorbet is to pick a sweet, ripe melon. To pick a good melon, first inspect the skin for any bruises or blemishes. The melon shouldn't have any overly soft spots or visible dents. The melon should be dull in appearance. A shiny melon is likely an underripe melon. Honeydews should be a pale yellow color on the outside. You also want to find a melon that feels heavy for its size. You may need to pick up a few melons to determine the weight!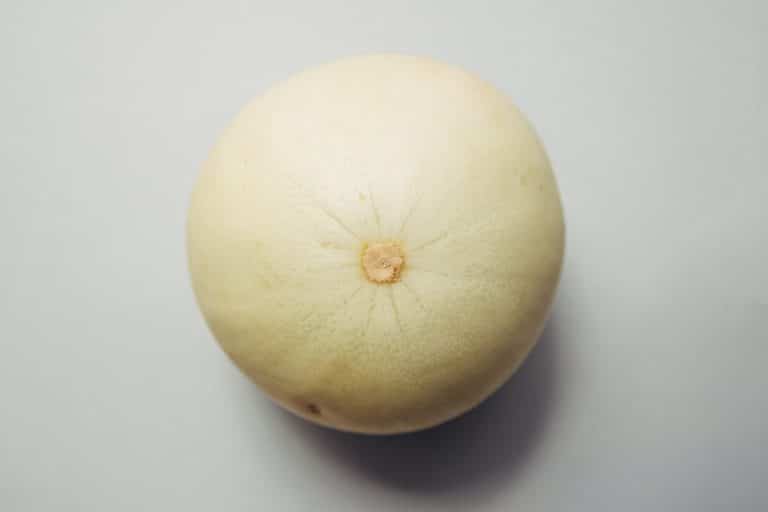 The Best Blender to Make Sorbet
I have a Vitamix which is an incredible blender and it makes it easy to blend rock-hard ingredients like frozen honeydew. But if you don't have a powerful blender, don't worry! You may just need to thaw your honeydew slightly before blending. If you have a high-quality food processor, you can also use that. Check out this post for how to get the best results from your blender.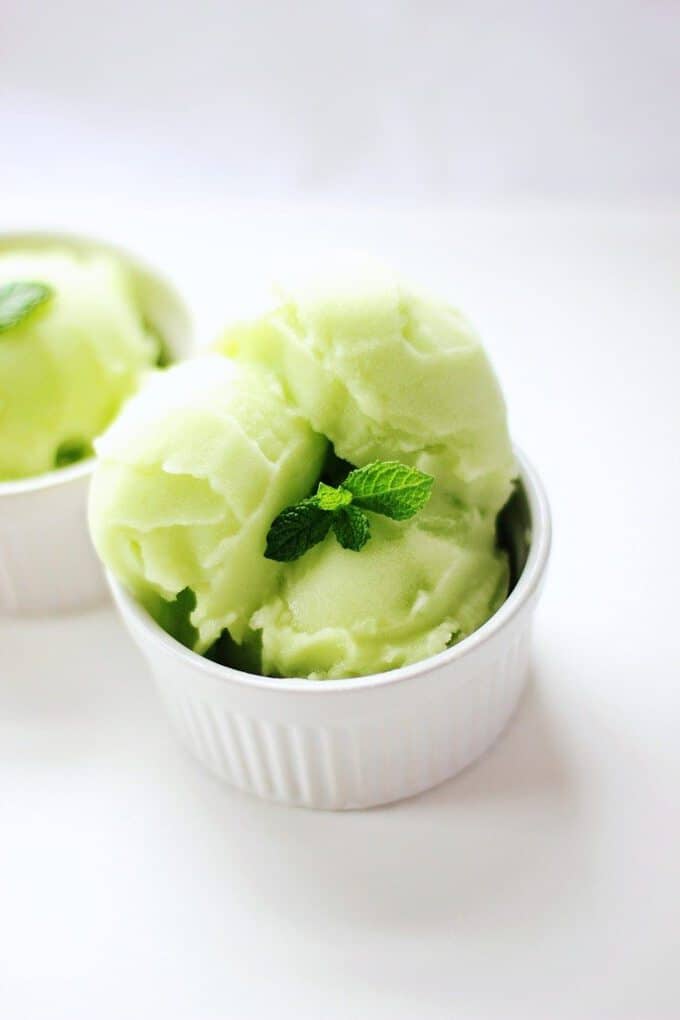 This honeydew sorbet turned out to be easier to make than it was to photograph. (Melting foods are a bit more of a challenge.) But we had a fun time playing around with it and we really enjoyed getting to eat it. This is truly one of those treats that you can feel good about eating because it's basically just fruit. This would be a perfect treat for the whole family!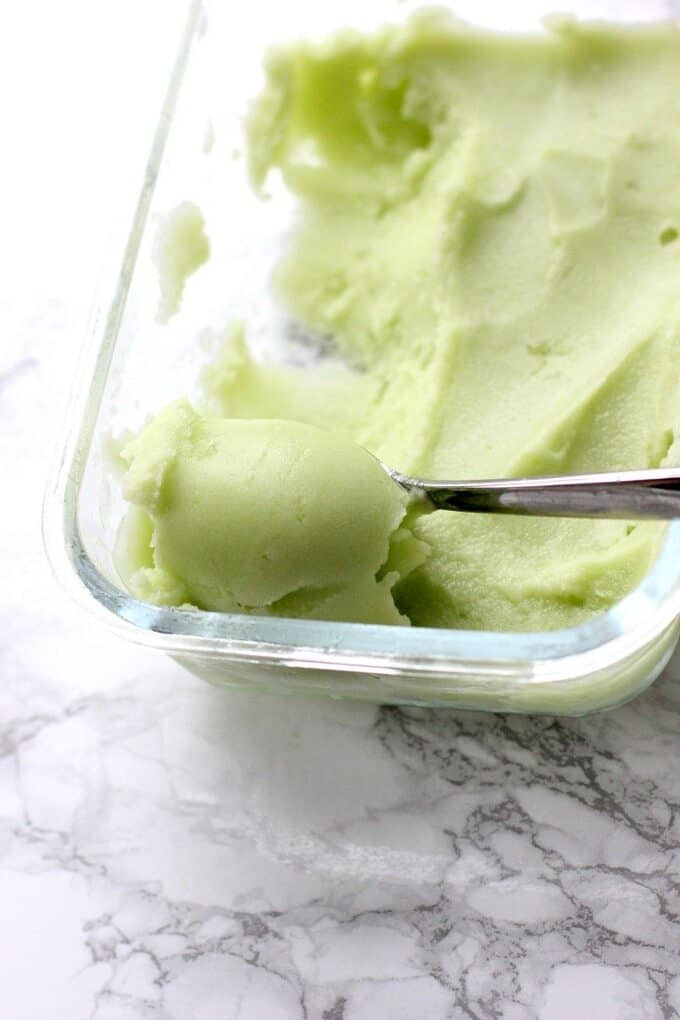 Tips for Making Honeydew Sorbet
Freezing the honeydew on a baking sheet ensures that the pieces don't stick together while they freeze.
If you don't have a powerful blender, be sure your honeydew pieces are no larger than 1″ chunks. You may need to add a little extra liquid to get things moving in the blender.
If you're vegan, you can substitute agave for honey to keep this recipe completely plant-based.
Print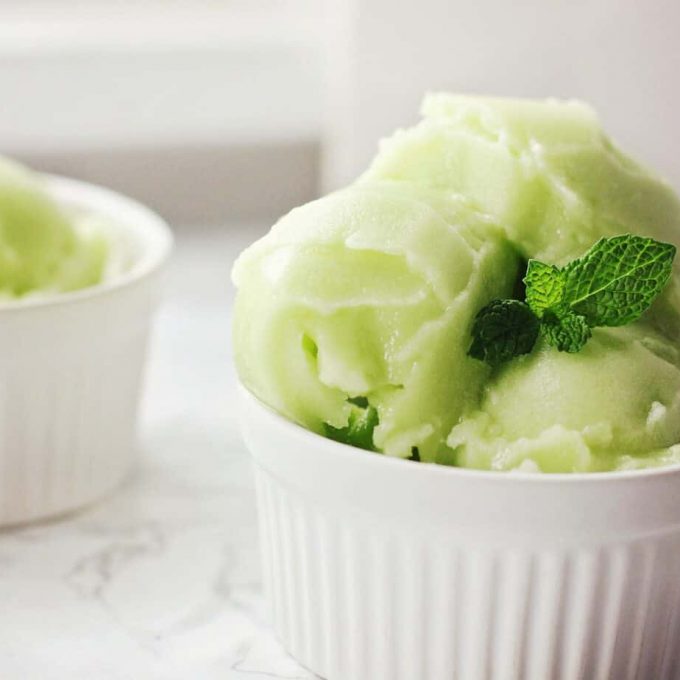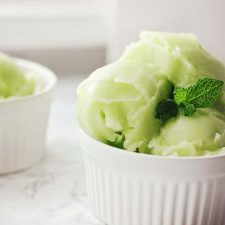 Honeydew Sorbet
Author:
Prep Time: 5 minutes
Cook Time: 0 minutes
Total Time: 35 Minutes
Yield: 4 1x
Category: Dessert
Method: Blender
Cuisine: American
---
Description
This honeydew sorbet recipe is so simple! You only need a few ingredients for this healthy, vegan, & gluten free summer treat.
---
1 honeydew melon
1 tablespoon lemon juice
2 teaspoons maple syrup or honey
---
Instructions
Slice the honeydew into 1″ chunks and spread out on a baking sheet.
Put it in the freezer for 4-6 hours until frozen.
Once frozen, put the chunks in the blender with the lemon juice and sweetener.
You may need to add a couple tablespoons of water to help it to start blending.
If you don't have a high-powered blender, you can make this in a food processor.
Blend until smooth.
Put it back into the freezer for another 30 minutes until it sets.
Scoop & serve!
---
Keywords: Honeydew Sorbet
We used honey because my friend Carin brought me back some orange blossom honey from Charleston and I couldn't wait to use it! But if you want to keep this vegan, you can substitute maple syrup or really any sweetener you like. If you have a really ripe honeydew, you can omit it all together!
Yeah, this summer treat is going to be on repeat over here! I just love frozen treats. I'll always pick ice cream over cake!
Looking for other healthy summer treats? Try this healthy Frozen Yogurt Bark!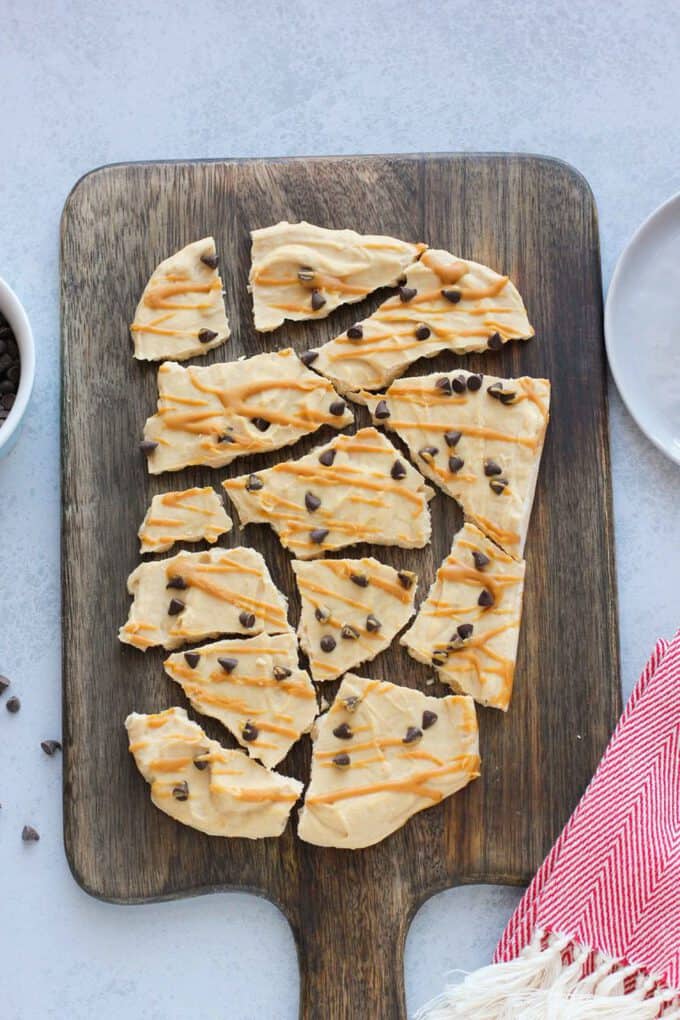 Which would you pick: cake or ice cream?