Healthy Baked Apple Chips
Ok this almost doesn't count as a recipe because it's only ONE ingredient.
But sometimes the best recipes are the simple ones so I couldn't resist sharing with you. I was craving something crunchy but I wanted to keep it healthy so apple chips started calling my name!
If you have a dehydrator (oh, you fancy) then you could certainly use that but if you're like the rest of us, an oven will do just fine.
Print
Healthy Baked Apple Chips
Author:
Prep Time: 5 mins
Cook Time: 2 hours
Total Time: 2 hours 5 mins
Yield: 2 1x
Category: Snack
---
2 fuji, gala, or other red apple
Cooking spray
Cinnamon (optional)
---
Instructions
Preheat the oven to 200
Spray a large baking sheet with non-stick spray
Using a mandoline slicer, or sharp knife, slice the apples into very thin slices.
If you want them super crispy, you want them to be about 1/8″ thick. If you like them a little chewier, you can make them slightly thicker.
Spread onto a single layer and bake for 1 hour.
Flip the apples and continue to cook for 30 minutes to an hour, until crisp.
I tested it a few different ways and decided I liked it best after about an hour and a half when they still had a bit of chewiness. If you want them crispy, just bake until you get the crunch!
If you like a little cinnamon, add it right after you take them out of the oven!
---
We ate some of them straight out of the oven and I packed up the rest to enjoy at work. Apple chips are a little easier to eat at my desk rather than munching on a whole apple, so I might have to do this more often!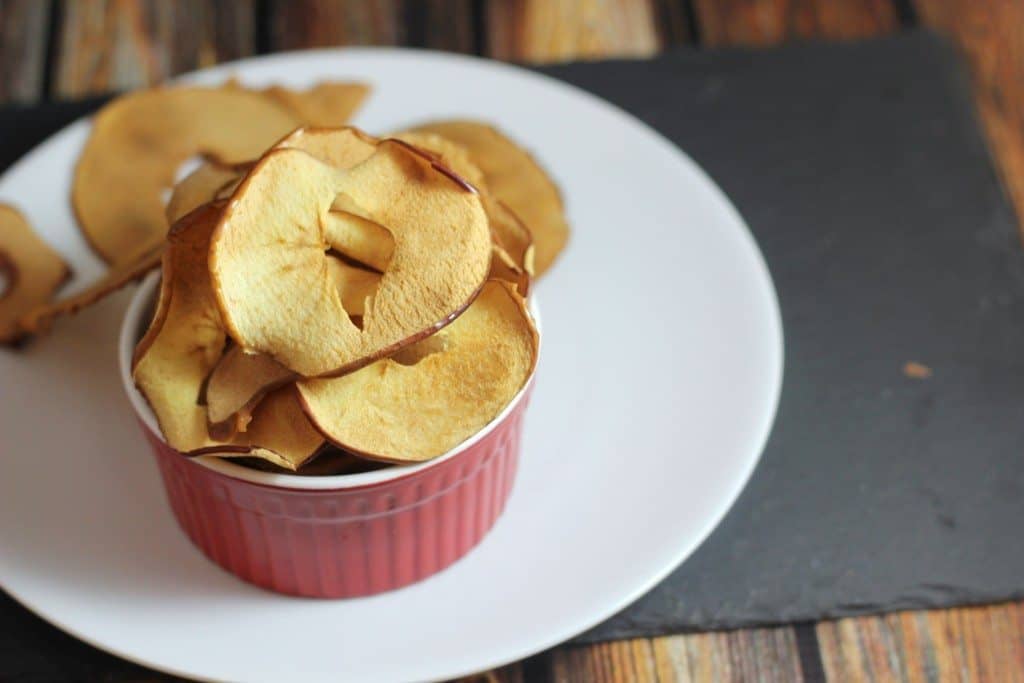 And there you have it! A simple, healthy, ONE ingredient snack! It doesn't get easier than that.
Looking for more snack ideas? Here's a few of my favorites:
What are some of your favorite healthy snacks?