Vegan "Cheesy" Kale Chips
These kale chips have a cheesy flavor but they're completely vegan! These crispy chips are a great way to enjoy leafy greens in a new way!
If you've never tried kale chips, it might sound a little crazy. But baking the kale makes it crispy and crunchy and the seasoning makes these irresistible! Trust me, the whole batch will disappear in minutes!
Ingredients for Vegan Kale Chips
Kale– Curly kale is my favorite type of kale for this recipe. You'll need one large bundle, but you can adjust the recipe based on how many kale chips you want to make.
Nutritional yeast- This is what gives these chips their cheesy flavor. Not sure what it is? Check out this post about Nutritional Yeast Uses & Benefits.
Olive Oil– A little oil helps these chips get crispy.
Tahini– This is a great way to make crispy chips with less oil. Tahini is a creamy paste made from sesame seeds.
Apple Cider Vinegar- This gives the chips a deliciously tangy flavor.
Garlic Powder, Onion Powder, Salt – The seasoning gives these chips extra flavor.
How to Make Kale Chips
Wash the leaves and remove the kale leaves from the stems. Tear the leaves into small pieces. In a large bowl, whisk together the remaining ingredients. Then massage the kale leaves with the seasoning.
Spread the chips in a single layer on a baking sheet. Then bake until light brown and crispy.
Keep a close eye on them because they can burn quickly! These are a perfect snack but make sure to keep them in a plastic or glass container because they crumble easily.
How to Make Kale Chips in an Air Fryer
I love making these chips in the air fryer because it's even faster than the oven! Follow the same steps, but instead of baking them in the oven, cook them in your air fryer at 390 degrees for 3-5 minutes. You'll need to stir them frequently and keep a close eye on them to prevent burning. They cook even faster in an air fryer!
Print
"Cheesy" Kale Chips
Author:
Prep Time: 5 mins
Cook Time: 8 mins
Total Time: 13 mins
Yield: 4 1x
Category: Snack
Method: Baked
Cuisine: Snack
Diet: Vegan
---
Description
These kale chips have a cheesy flavor but they're completely vegan! These crispy chips are a great way to enjoy leafy greens in a new way!
---
1 bunch of kale (around 6 oz including the stems)
2 tablespoons apple cider vinegar
1/3 cup nutritional yeast
1 tablespoon tahini
1 tablespoon olive oil
1/2 teaspoon garlic powder
1/4 teaspoon onion powder
1/4 teaspoon sea salt
---
Instructions
Preheat the oven to 400 degrees.
Wash the kale and remove from stems. Tear into smaller pieces.
In a bowl, combine everything except the kale. Stir until well mixed.
Massage the kale with the nutritional yeast mixture until the kale is evenly coated. Make sure that none of the pieces have too much seasoning on them, or they'll be soggy instead of crispy!
Spread on a lightly greased baking sheet, ensuring that they're not overlapping or stacked.
Bake for 6-8 minutes, checking every few minutes. Be careful because they can go from undercooked to burned very quickly! Every oven is different so be sure to keep an eye on them.
Keywords: vegan kale chips
Looking for more healthy chip recipes? Try one of these delicious recipes!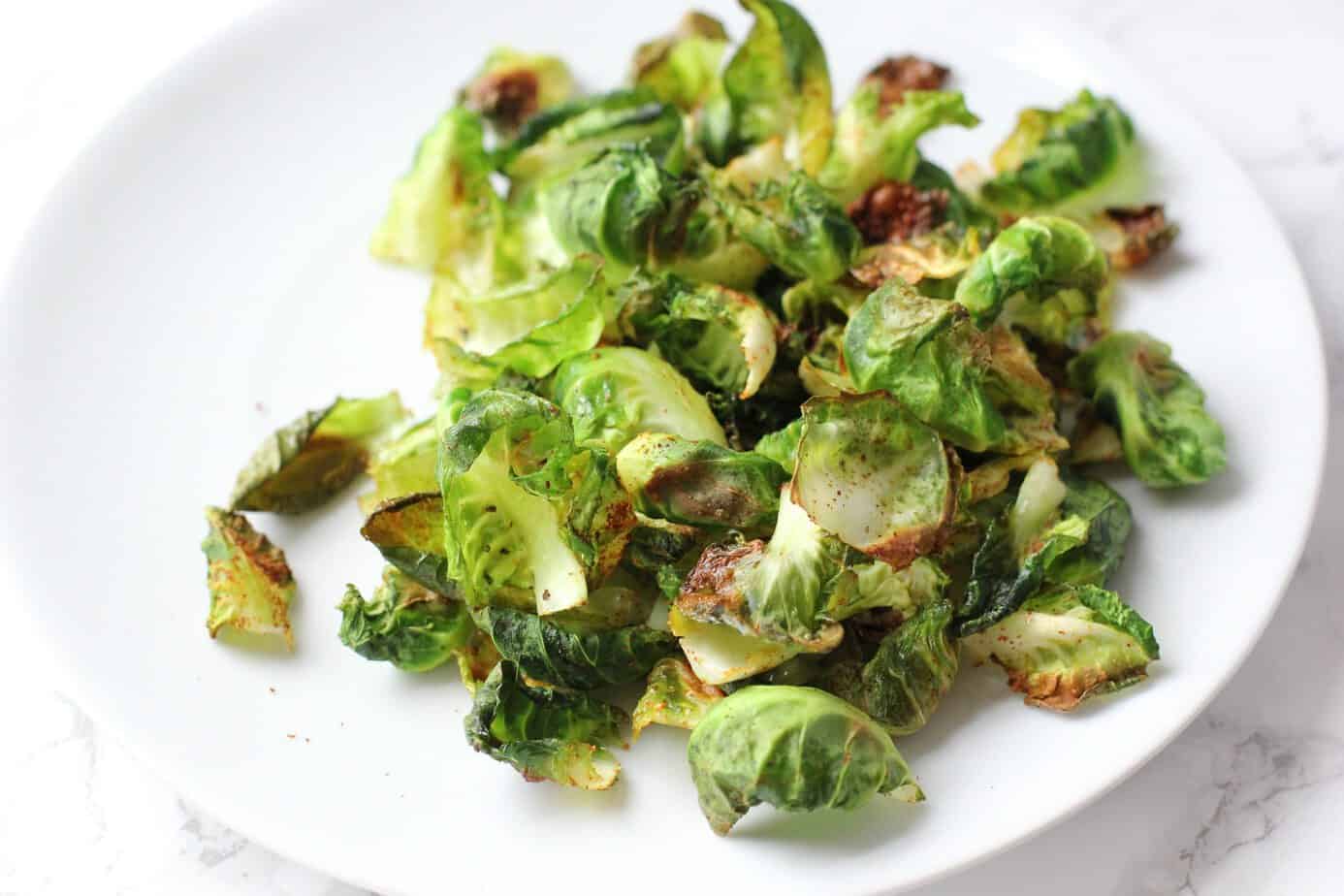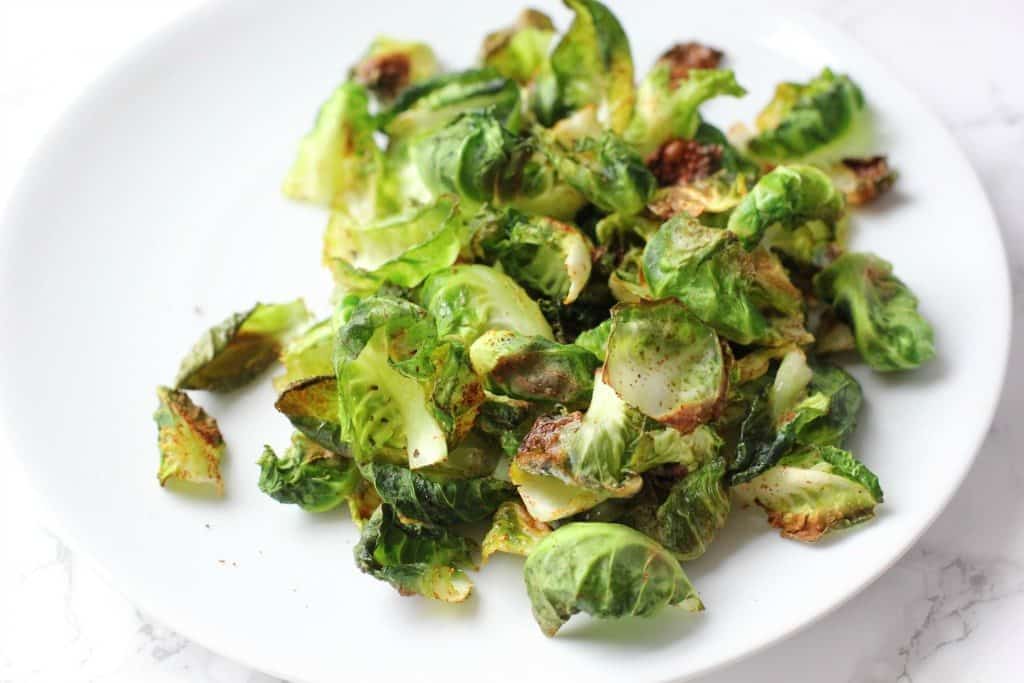 Air Fryer Chickpea Pasta Chips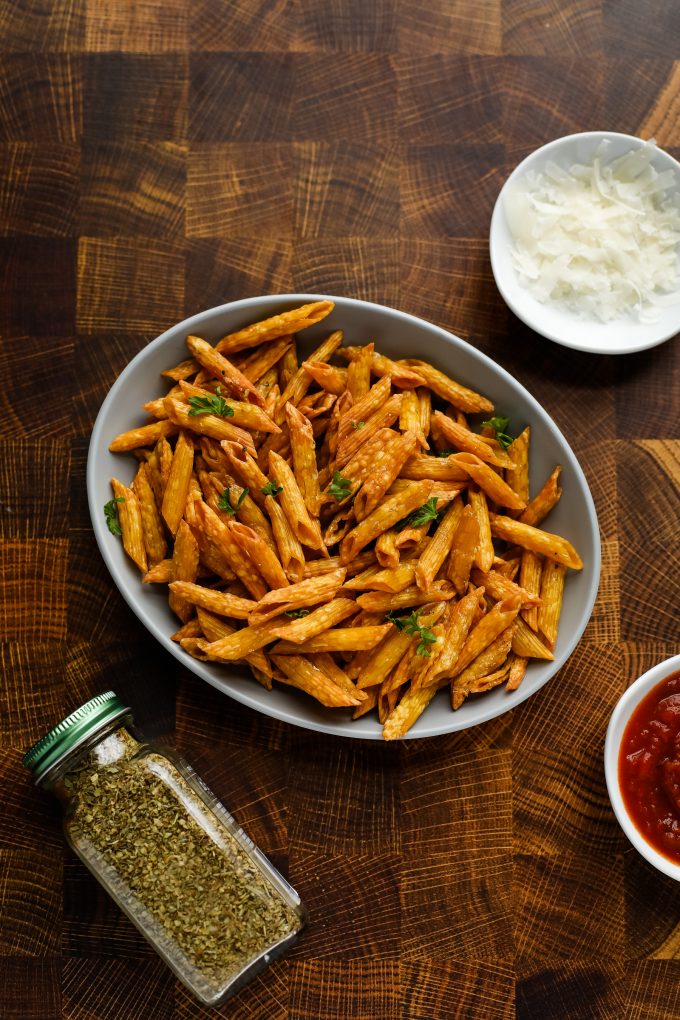 What's your favorite healthy snack?