Vegan "Cheesy" Kale Chips
Happy Monday! After being out of town for a week it feels so good to be home and getting back into the swing of things! I decided I might as well hit the ground running by starting the Tone It Up Bikini Series which kicks off today. I have a few friends who are doing it with me which makes it so much more fun. Cheers to accountability!
It definitely feels like a fresh start since our fridge and pantry were nearly empty. I ordered everything from Relay Foods which made it easy. (If you're in the Virginia/DC/Maryland areas and you haven't tried Relay yet, I highly recommend it! You can even get $3o off your first order here.) I stocked up on tons of fresh veggies, fruits, veggie burgers, tempeh, & beans. I'm planning on making zucchini pasta, stir fries, and burrito bowls in the next few days.
In preparation for some healthy snacking, I made some kale chips yesterday afternoon. I've made lots of different types of kale chips but this particular version is my favorite. Even Alex couldn't stop eating them!
Print
"Cheesy" Kale Chips
Prep Time: 5 mins
Cook Time: 8 mins
Total Time: 13 mins
Yield: 4 1x
---
Description
This vegan kale chips have a cheesy flavor and are packed with vitamins and minerals!
---
1 bunch of kale
2 tbsp apple cider vinegar
1/3 cup nutritional yeast
1 tbsp tahini
2 tbsp olive oil
1/2 tsp garlic powder
1/4 tsp parsley
1/4 tsp onion powder
1/4 tsp sea salt
---
Instructions
Preheat the oven to 400
Wash the kale and remove from stems. Tear into smaller pieces.
In a bowl, combine everything except the kale. Stir until well mixed.
Massage the kale with the nutritional yeast mixture until the kale is evenly coated. Make sure that none of the piece have too much seasoning on them, or they'll be soggy instead of crispy!
Spread on a lightly greased baking sheet, ensuring that they're not overlapping or stacked.
Bake for 6-8 minutes, checking every few minutes. Be careful because they can go from undercooked to burned very quickly! Every oven is different so be sure to keep an eye on them.
---
If you're not sure what Nutritional Yeast is, check out this post which has all the details!
These are a perfect snack but make sure to keep them in a plastic or glass container because they crumble easily!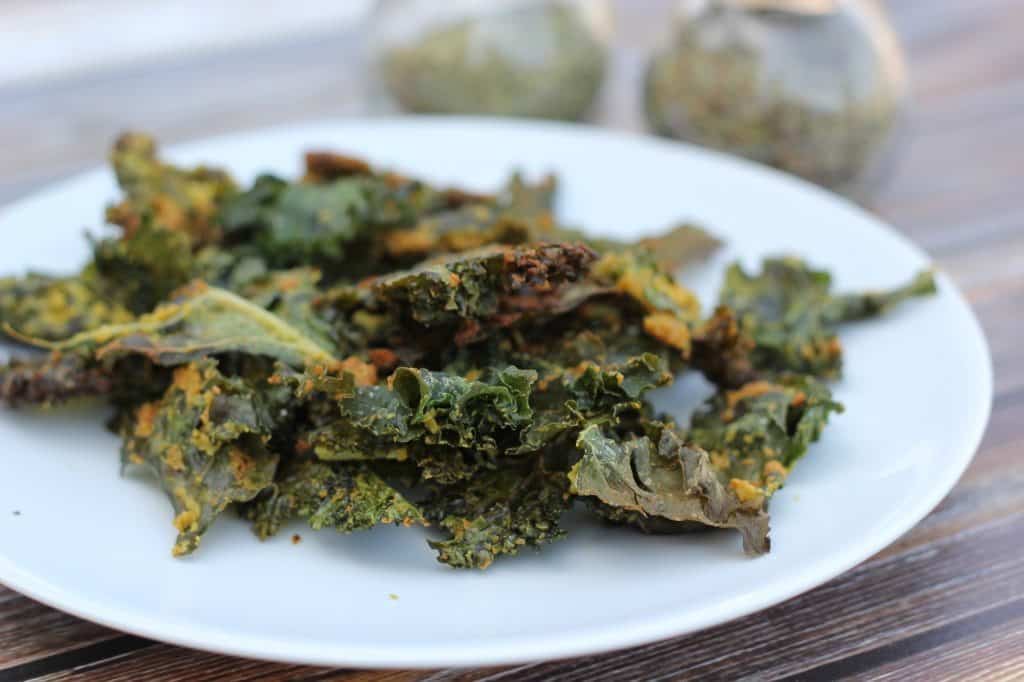 I'll be making lots of "Tone It Up" approved meals over the next couple of months! If you haven't signed up for the Bikini Series yet you can sign up here! (It's free and it's an awesome community of girls!) If you're following along, let me know! The more the merrier.
What's your favorite healthy snack?