Green Salad with Grapes
This leafy green salad is topped with sweet grapes, creamy goat cheese, and homemade candied pecans for a simple, delicious side dish!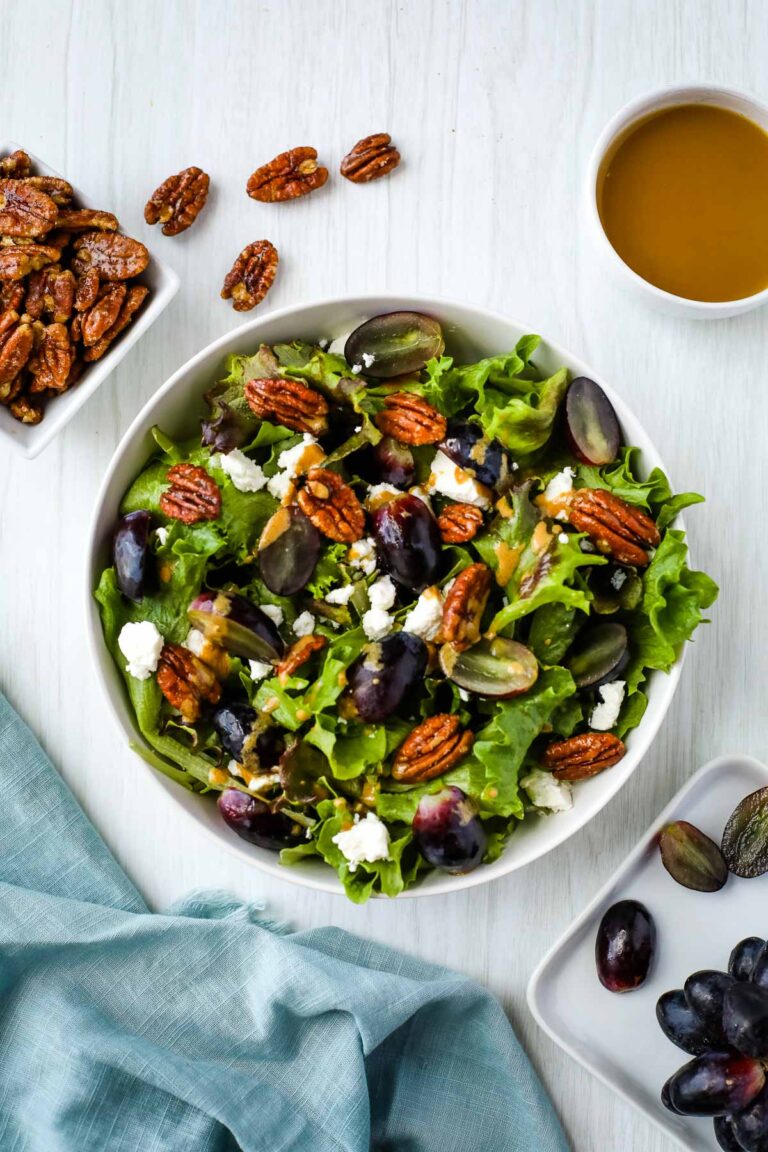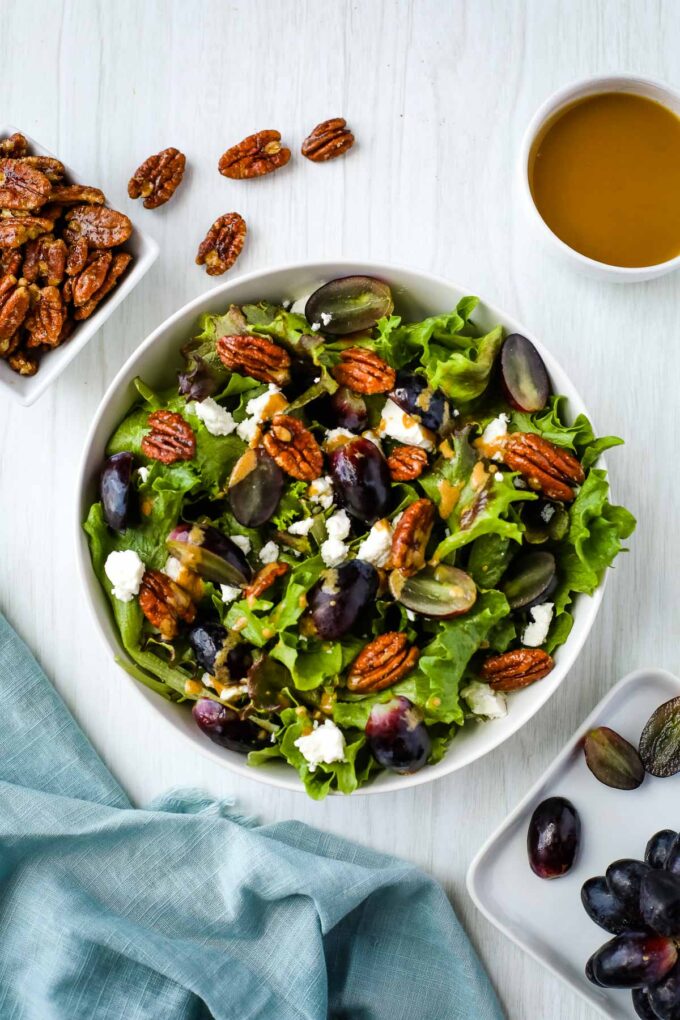 This salad was inspired by the Wine Country salad at Baker's Crust. The only difference is, I didn't add strawberries because I wanted to keep this recipe as simple as possible. Strawberries can add additional sweetness, but since it's the middle of winter, it wasn't the best time to try to find sweet strawberries. Luckily, the grapes add plenty of sweet, juicy flavor to this salad.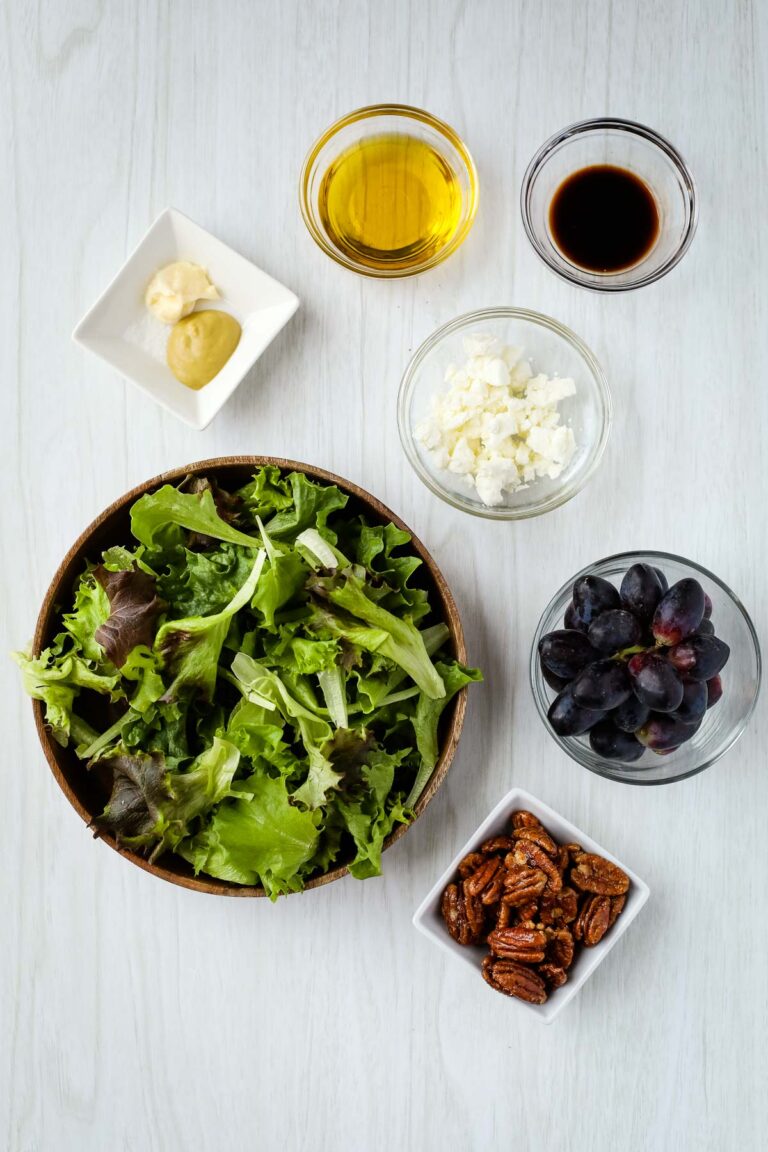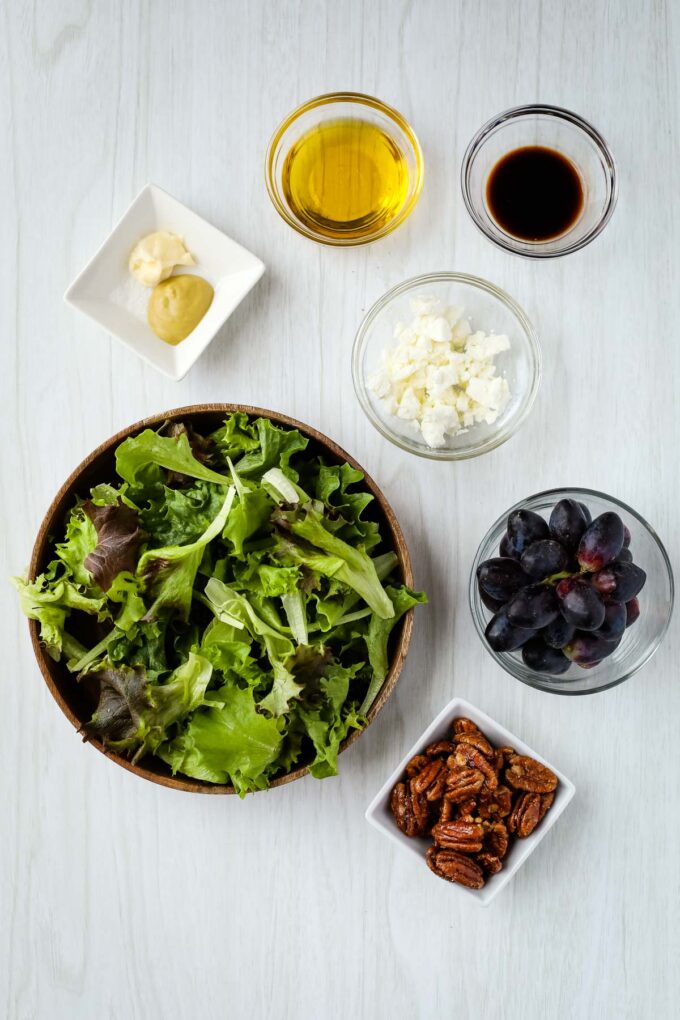 Ingredients
Mixed greens– I used a mix of red and green leaf lettuce which had just the right amount of crunch. You could substitute with any spring mix, spinach, or even romaine.
Grapes– I used black grapes, which are really more of a dark purple color, but red or green grapes would work, too. Just be sure to use seedless grapes.
Goat cheese– I loved the creamy, tangy texture this adds to the salad. Be sure to buy a high-quality goat cheese for the best flavor.
Candied pecans– I made a batch of my candied pecans for this salad but storebought candied pecans are fine, too.
Vinaigrette– I made my simple balsamic vinaigrette for the salad dressing.
What are black grapes?
Black grapes are a type of grape that are dark purple to black in color. Some of the more popular black grape varieties include Thompson seedless, Concord, and Corvina. Their flavor can range from sweet to tart, and the texture can vary from juicy and soft to firm and crunchy. I like to use large, sweet, firm grapes for this salad.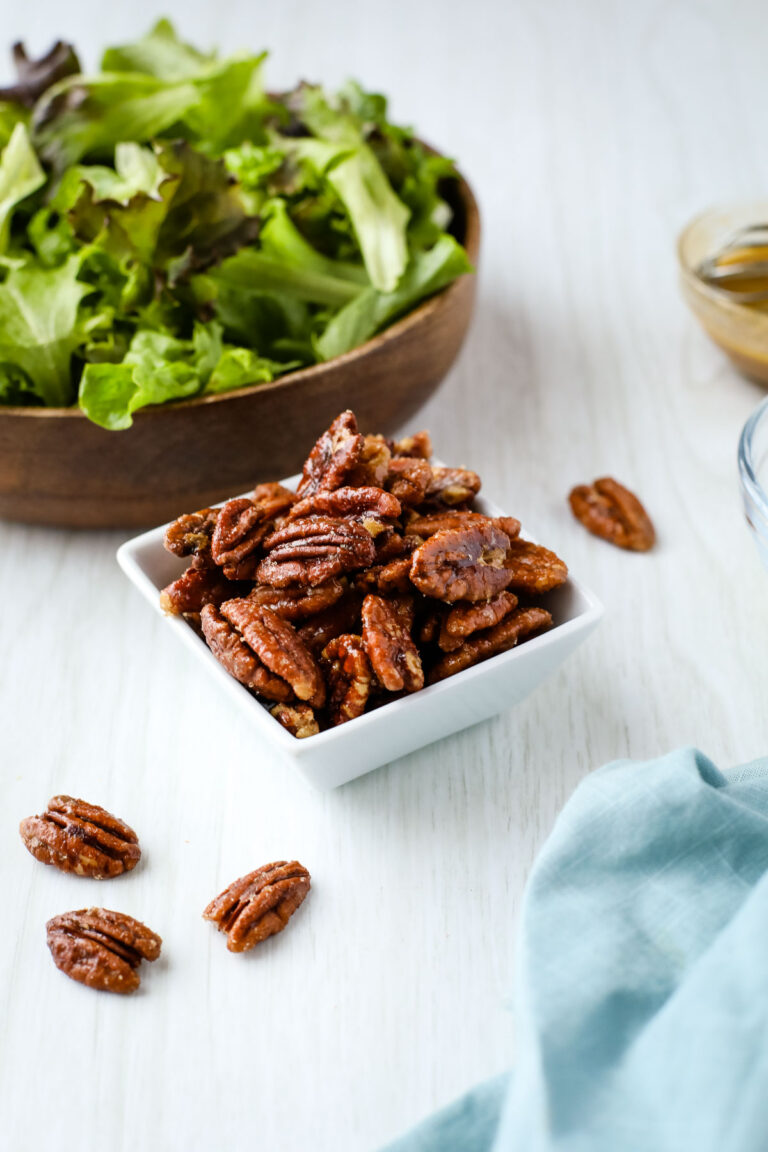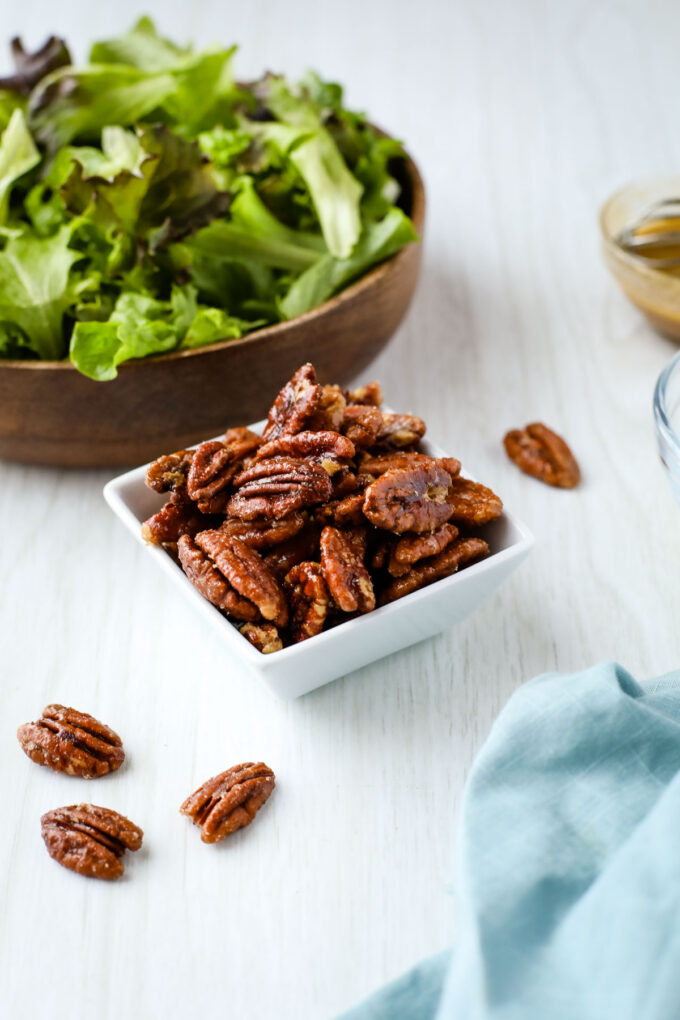 How to Make Candied Pecans
If you want to make candied pecans at home, follow the steps in this candied pecan recipe! It only takes a few minutes and is cheaper than buying them at the store! If you don't like pecans, you could substitute them with candied walnuts. If you don't want to use a candied nut, try roasted almonds or roasted pine nuts, instead for a salty twist.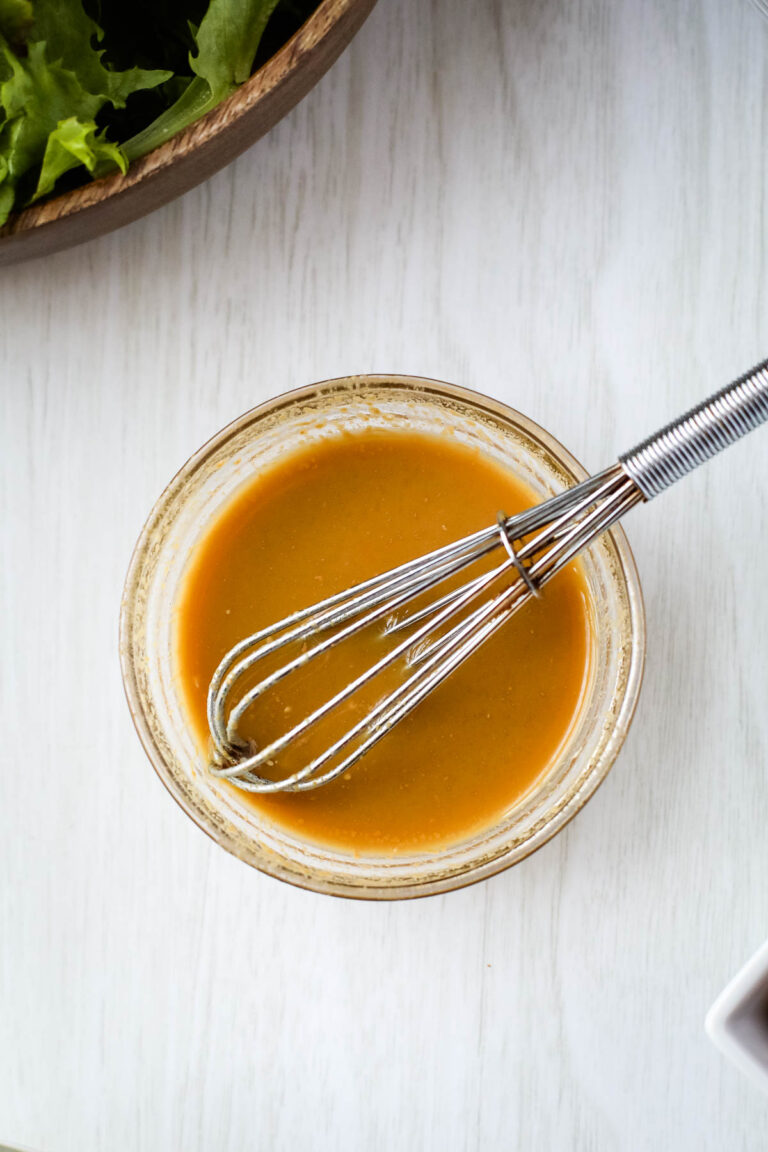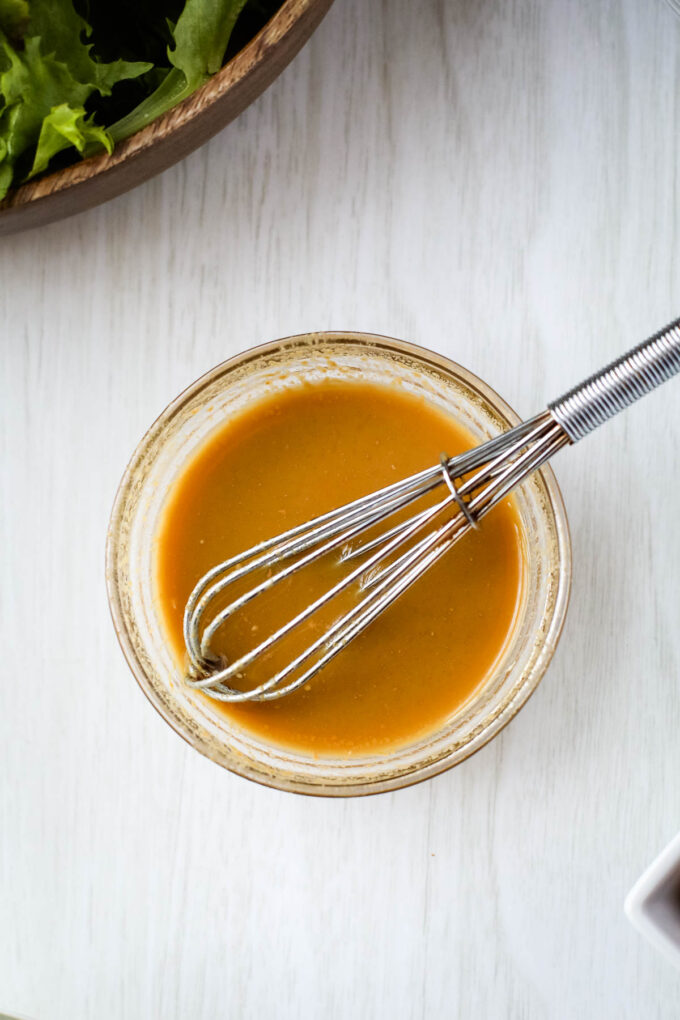 How to Make Vinaigrette
For this recipe, I used my basic balsamic vinaigrette as the dressing. The mayonnaise is optional but it helps emulsify the dressing and prevents the oil and vinegar from separating. I recommend using it for the best flavor.
How to Make Greens Last Longer
If you want to prevent your greens from wilting, add a dry paper towel to the container of greens. This will help absorb any excess moisture and prevent the greens from getting soggy.
Frequently Asked Questions
How should I store leftovers? You can store leftovers in an airtight container in the fridge for up to 2 days. But it's important that you do not add the dressing on before storing it, otherwise the greens will get soggy.
Can I add protein to this salad? Absolutely! If you wanted to make this more of a main dish, top it with your favorite protein or add chickpeas on top to make it more filling.
What should I serve with this salad? If you wanted to enjoy it as a side dish, try pairing it with this butternut squash pasta recipe for a simple, filling dinner!
What should I do with the leftover goat cheese? If you have leftover goat cheese, try my goat cheese pasta recipe!
Print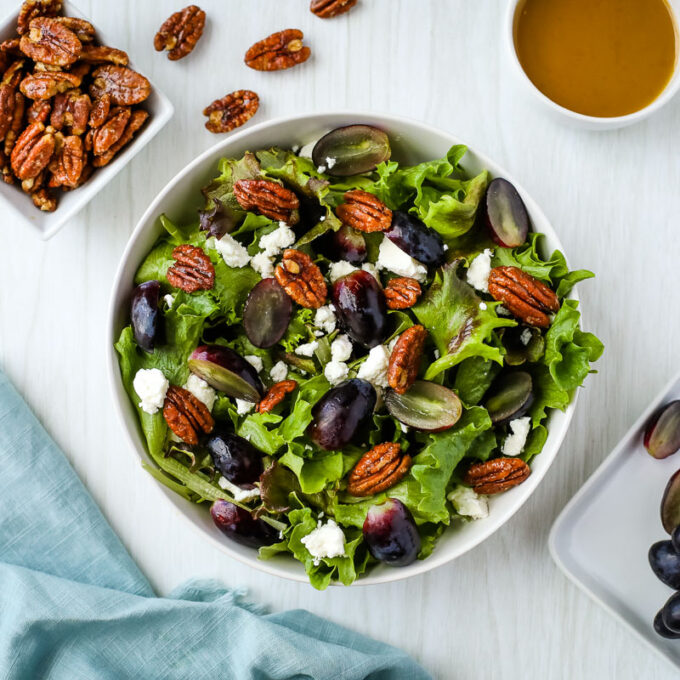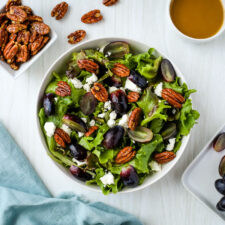 Green Salad with Grapes
Author:
Prep Time: 5 minutes
Cook Time: 0 minutes
Total Time: 5 minutes
Yield: 6 cups 1x
Category: Salad
Method: No Cook
Cuisine: American
Diet: Vegetarian
---
Description
This leafy green salad is topped with sweet grapes, creamy goat cheese, and homemade candied pecans for a simple, delicious side dish!
---
For the salad
6 cups green leaf lettuce or spring mix
1 cup black grapes, sliced in half
4oz goat cheese
1/2 cup candied pecans
For the dressing
3 tablespoons olive oil
1 tablespoon balsamic vinegar
1/2 teaspoon dijon mustard
1/4 teaspoon mayonnaise (optional)
1/4 teaspoon salt
Pinch of black pepper
---
Instructions
In a large bowl, combine the lettuce, grapes, goat cheese, and pecans. For the best results, I recommend tossing the greens with half of the toppings, then add the remaining half on top. This helps distribute the toppings evenly so they don't all fall to the bottom of the serving bowl.
In a small bowl, whisk together the oil, vinegar, mustard, mayonnaise, salt, and pepper.
Drizzle the dressing on top of the salad and toss to coat.
---
Keywords: green salad with grapes, goat cheese salad
More Salad Recipes
Strawberry Goat Cheese Salad– This tasty salad is topped with homemade croutons for an extra, hearty salad!
Warm Kale Salad– If you want to try something a little different, my warm kale salad is a great way to enjoy kale in the winter!
Chopped Salad– If you love chopped salads, this vegan chopped salad is a must-make! It contains a rainbow of veggies and a simple, homemade dressing.