Easy Vegan Falafel Recipe
This easy vegan falafel is made with canned chickpeas and a handful of pantry staples. This recipe only takes a few minutes to prepare!
Traditionally, you're not supposed to make falafel with canned chickpeas. This is definitely not meant to be the most authentic falafel, but it's delicious and it's super quick and easy to make. So if you're having a falafel craving and you don't have time to soak chickpeas, grab a can of chickpeas and give this one a try! While we were stuffing our faces with this homemade falafel Alex said "I feel like I should feel guilty for eating this because it's so good." (But don't worry- it's filled with healthy ingredients!)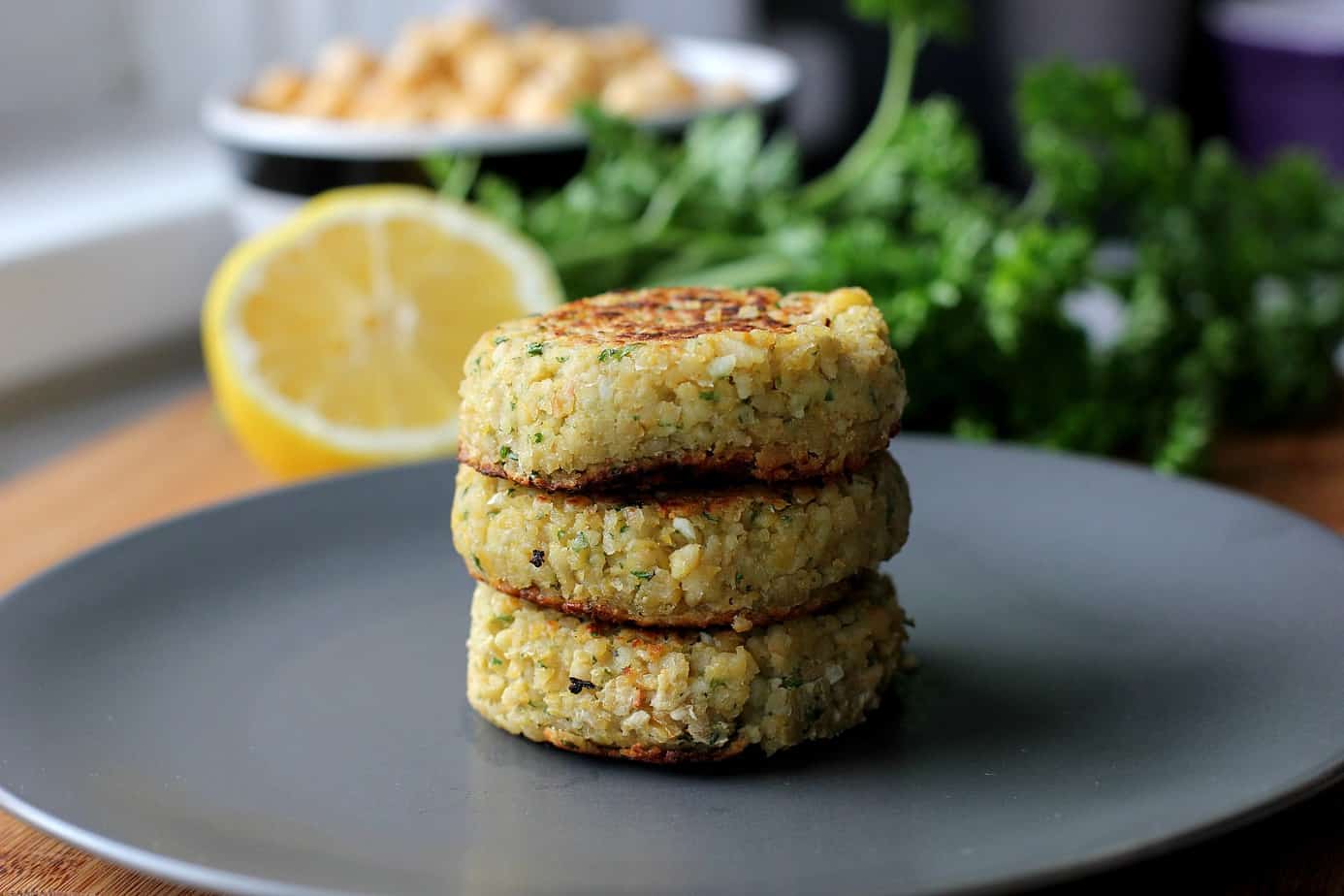 Yeah, this vegan falafel is good. And it's also super easy, requiring just a few ingredients that you probably have sitting in your pantry.
Tips for Easy Vegan Falafel
Make sure you rinse and drain your chickpeas well before using. They don't need to be completely dry but too much liquid can make the falafel mushy.
I wouldn't try to substitute dried parsley for the fresh parsley but if you absolutely have to, add 1 tablespoon of dried parsley.
You can use any neutral oil when pan frying the falafel. It's fine to use olive oil since the heat is relatively low. (Olive oil has a low smoke point.) But you could also use avocado oil or canola oil, depending on what you have available. I also like to use a non-stick pan which cuts down on the amount of oil I need.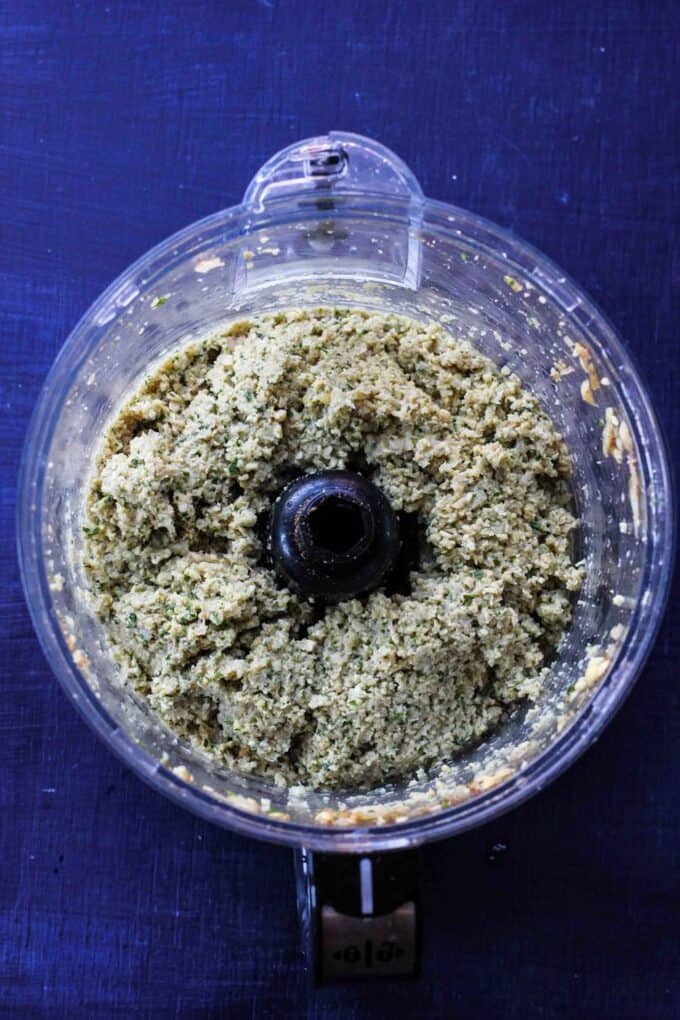 I love that this falafel can be made in a food processor. It comes together so quickly and easily!
You can enjoy this falafel by itself or add it on top of a salad or mixed greens. It's also delicious when turned into a falafel sandwich by tucking it into a pita!
Print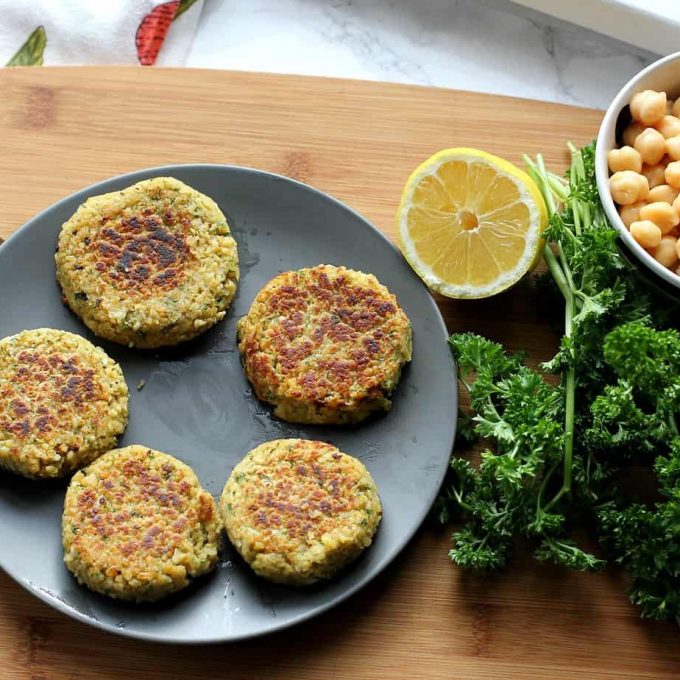 Easy Falafel Recipe
Author:
Prep Time: 10 mins
Cook Time: 10 mins
Total Time: 25 mins
Yield: 2 1x
Category: Dinner
Method: Cooked
Cuisine: Middle Eastern
---
Description
This vegan falafel uses canned chickpeas to make this recipe quick and easy! It makes 6 small patties, enough to serve 2 people as a main dish.
---
1 15-ounce can chickpeas, rinsed and drained (see note)
3 large cloves garlic
1 tablespoon lemon juice
1/2 tsp cumin
1/4 cup curly parsley, stems removed
1/4 teaspoon of salt
1/4 teaspoon za'atar seasoning (optional)
2–4 tablespoons all-purpose flour
2 tbsp olive oil
---
Instructions
Add the chickpeas, garlic, lemon juice, cumin, parsley, salt, za'atar, and 2 tablespoons of flour to the food processor.
Pulse for 10-15 seconds until chunky. If the mixture is too wet, add the additional 2 tablespoons of flour.
Use a 1/4 cup measuring cup to scoop up the mixture and press into patties
Heat 1 tablespoon of olive oil over medium heat in a large skillet.
Gently place the patties into the skillet and cook over medium heat for 4-5 minutes until lightly browned
Flip and continue to cook for 4-5 minutes, adding the additional tablespoon of oil, if necessary.
Remove from pan and place on a paper towel to cool slightly before serving
---
Notes
After rinsing the chickpeas, be sure to drain them well. You don't want any extra liquid in these patties so be sure to drain them until the liquid is gone.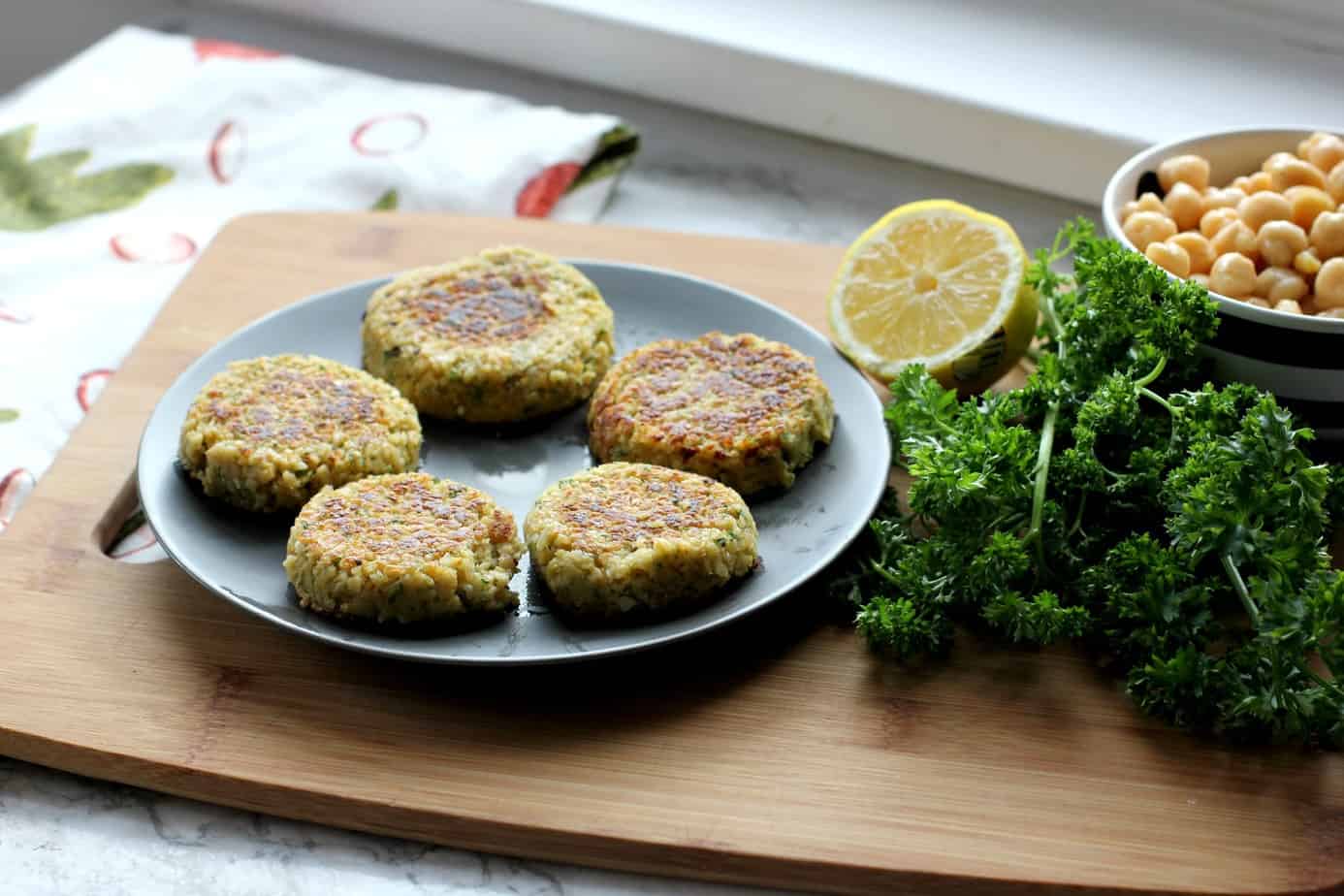 If you're vegan, serve with hummus or enjoy it as-is! If you eat dairy, try it with a scoop of this tzatziki sauce on the side!
Looking for other easy vegan recipes?
Try this easy, one pan ratatouille recipe!
Craving something sweet? Make this vegan granola bark!
Don't forget to pin this vegan falafel so you can make it later!
Have you conquered any new recipes lately?