Fall Harvest Chopped Salad
We're in that weird limbo where the weather is starting to feel like fall but it's still fairly warm out. Since soup weather isn't really in full swing, I thought I'd share my favorite fall flavors in salad form! Since this chopped harvest salad is part of my 15 minute dinner series, you know it comes together quickly! It's bursting with sweet apples, salty feta, and crunchy pepitas. There's something about chopped salads that are just so much better than regular salads. I think it's because you get a combination of flavors in every bite!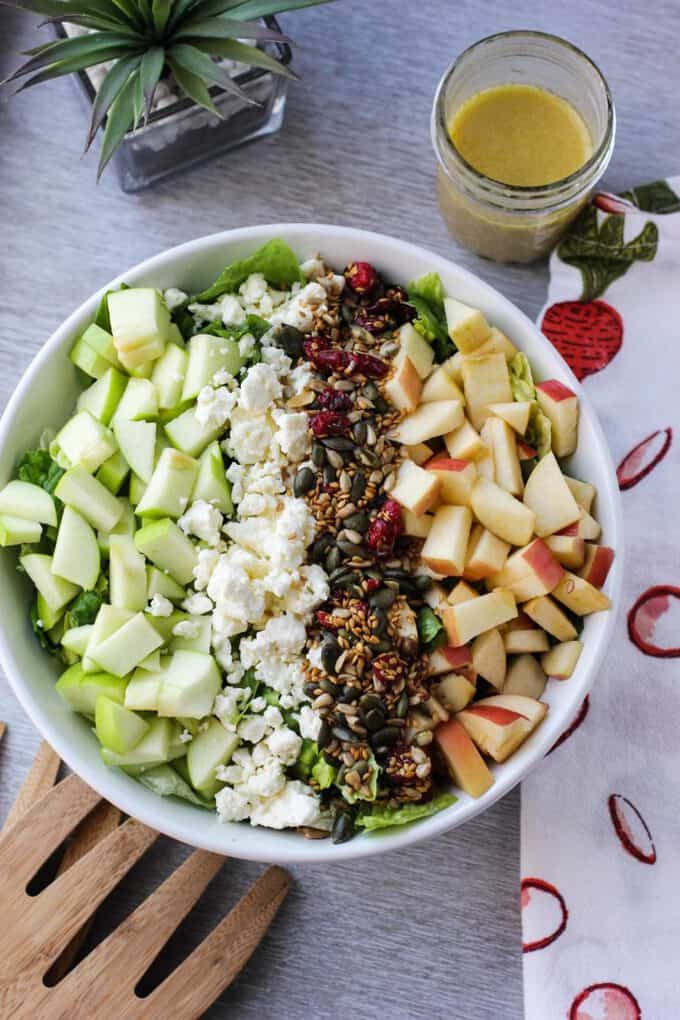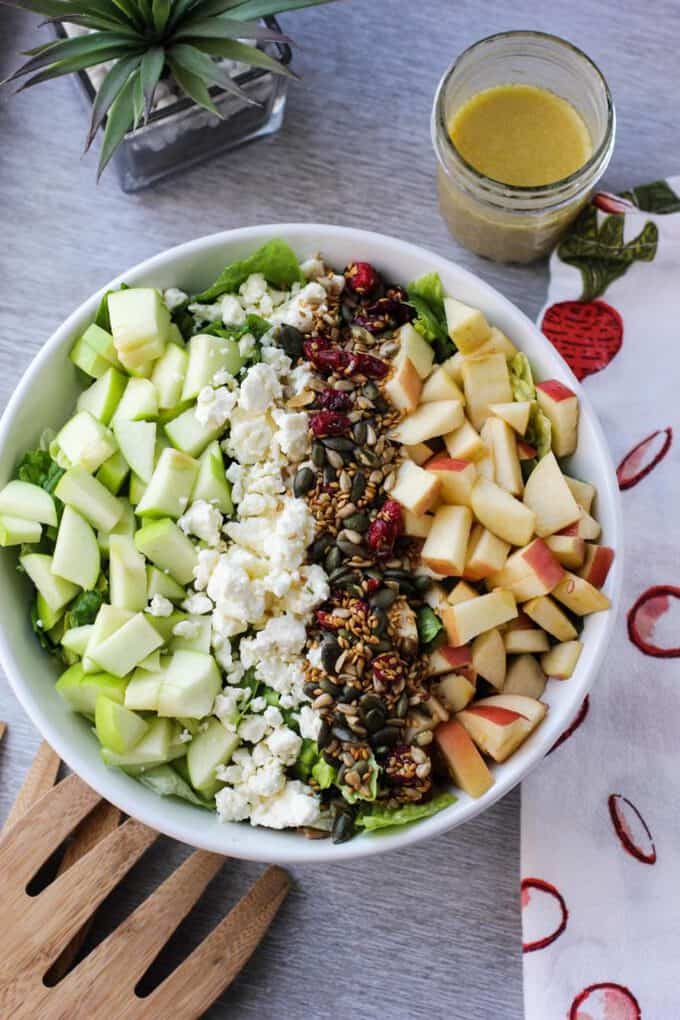 I first made this for a family cookout last month, but I've been making it for quick meals ever since! The dressing is super simple and you can whisk it together ahead of time. I wouldn't recommend making this salad too far in advance but if you do need to prep it a couple of hours early, it's possible.
Tips for making this salad in advance
The dressing can be made a few days in advance and it stores well in the fridge.
If you need to cut the apples ahead of time, toss them in the dressing after chopping. This will help prevent them from browning.
If possible, wait to combine the ingredients until it's time to serve. You don't want the lettuce wilting since romaine should have a nice crunch factor.
I like using apple cider vinegar in the dressing because it adds a lot of flavor without a lot of added fat and calories. Plus, apple cider vinegar has tons of great benefits! My friend Brittany wrote a whole blog post about it so if you're curious about ACV, check out her post!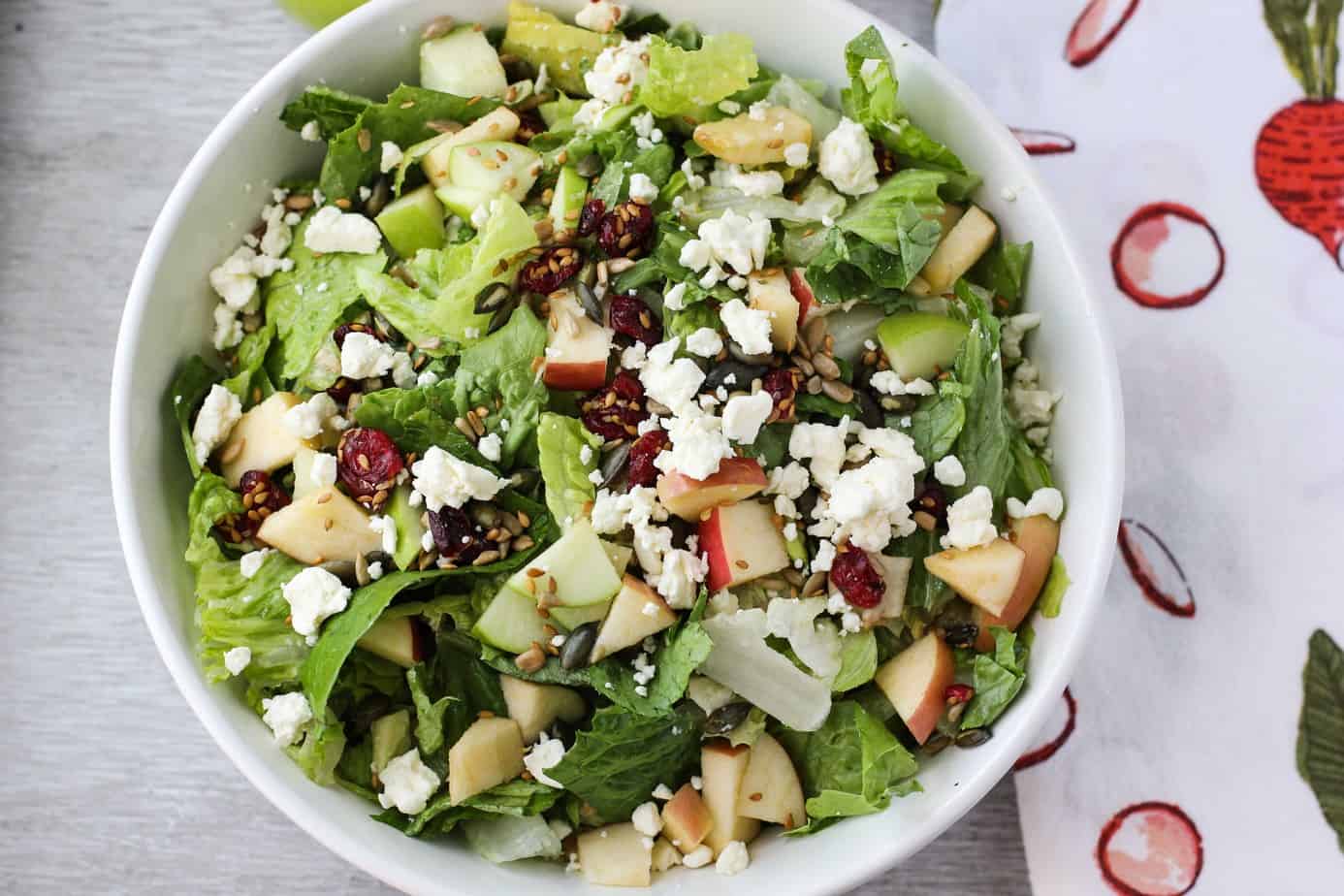 The best types of apples to use
I liked the combination of a tart granny smith apple with a sweeter fuji apple but if you only have one kind of apple, that's totally fine. I'd recommend granny smith for the primary apple since you'll get a bit of sweetness in the salad from the dried cranberries.
Print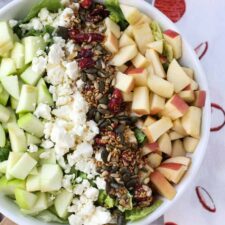 Fall Harvest Chopped Salad
Author:
Prep Time: 15 minutes
Cook Time: 0 minutes
Total Time: 15 minutes
Yield: Serves 2-3 as a main dish or 4-6 as a side dish 1x
Category: Dinner
Method: No cook
Cuisine: Salad
---
Description
This chopped salad contains all your favorite fall flavors from sweet apples and tart cranberries to crunchy pepitas and salty feta. Try this for an easy weeknight dinner!
---
3 tablespoons apple cider vinegar
3 tablespoons olive oil
1 tablespoon maple syrup
1 teaspoon dijon mustard
2 large heads of romaine lettuce, chopped (about 4 cups)
1 small green apple, diced
1 small red apple, diced
¼ cup roasted pumpkin seeds (pepitas)
¼ cup dried unsweetened cranberries
¼ cup feta cheese, crumbled
---
Instructions
Whisk together the apple cider vinegar, olive oil, maple syrup, and dijon mustard. (I like to do this in a mason jar so I can shake it to combine and I have a jar to store any extras!)
Combine the lettuce, apples, pumpkin seeds, cranberries, and feta.
Divide into bowls then drizzle with dressing.
You'll likely have a bit of dressing leftover, depending on how much you like on your salad.
---
Keywords: fall harvest salad
I found this salad to be filling on its own but you could easily pump up the protein. Add a cup of cooked quinoa, a handful of sliced almonds, or even some grilled chicken. (Obviously, that's not my thing, but it could be yours!)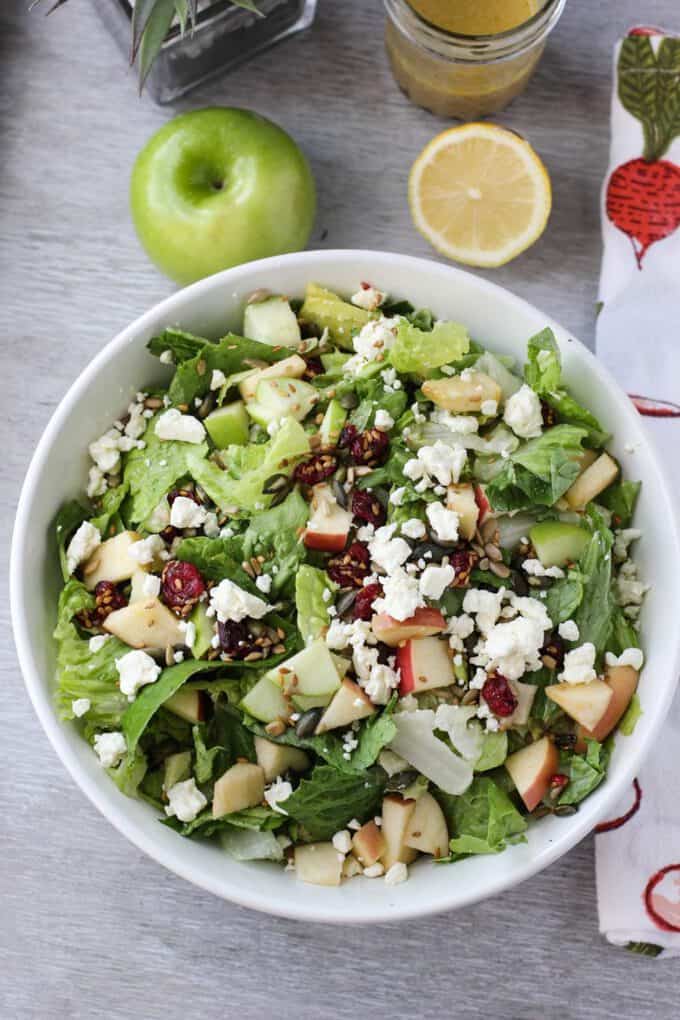 Looking for other salads with fall flavors? Try this butternut squash and wild rice salad!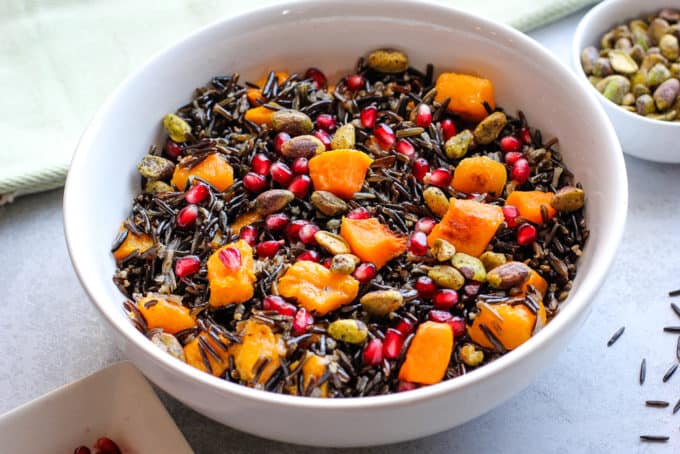 What's your favorite fall dish?