Chocolate Covered Strawberry Smoothie Bowl
If you love chocolate-covered strawberries, this smoothie bowl recipe is for you! Sweet strawberries and cocoa powder come together for a tasty breakfast!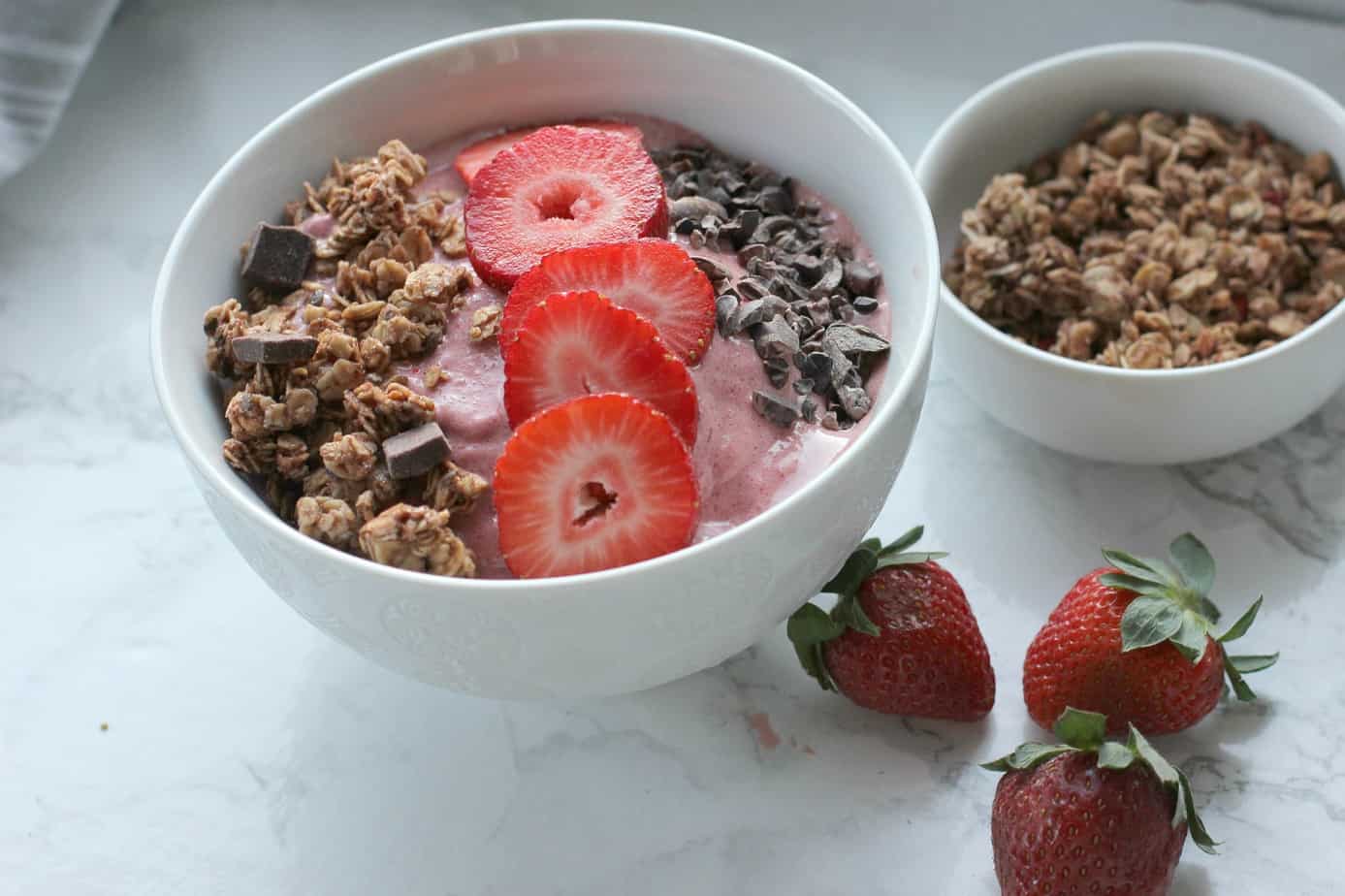 Who else loves sweet treats for breakfast? Lately, I've been on a smoothie bowl kick and I just can't get enough of this strawberry and chocolate combination! This smoothie bowl is easy to make but it reminds me of dessert!
Chocolate Covered Strawberry Smoothie Ingredients
Strawberries– I prefer to use frozen strawberries for the thickest texture.
Ice– A little ice helps create a thick smoothie.
Milk– I used almond milk but you can use any kind of milk you like.
Cocoa powder– A little cocoa powder enhances the chocolate flavor.
Chocolate protein powder- This is optional but if you wanted to add protein to the smoothie, try a chocolate protein powder!
Granola– I love topping this smoothie with crunchy granola and fresh strawberry slices.
The Best Blender for Smoothies
I love my Vitamix but I know they're expensive. I also really love this Kitchen Aid blender, which is a little more budget friendly. For an even cheaper option, a Nutribullet is a great, budget friendly one! If you're having trouble getting a smooth consistency, check out my tips for getting the best results from your blender!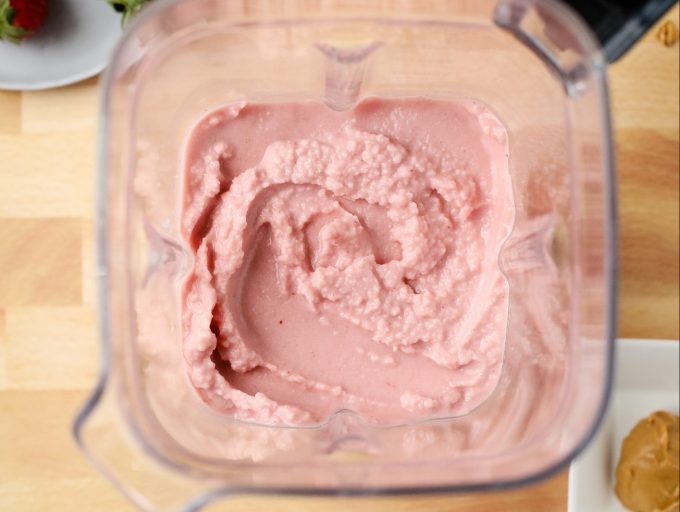 How to Freeze Fresh Fruit
To get a super spoonable, creamy smoothie, I recommend using frozen strawberries. That will give you a thicker consistency! But if you don't have frozen strawberries, you can freeze fresh strawberries. This is also a great trick if you don't have a powerful blender because you can freeze smaller pieces of fruit that are easier to blend.
Chop fresh strawberries and spread them in a single layer on a baking tray. Place them in the freezer on the baking tray, then transfer them to a bag once they're frozen. The smaller pieces will be easier on your blender but you'll still get a good, thick smoothie consistency! For more tips on creating smoothie bowls at home, be sure to check out my tips for a super thick smoothie bowl!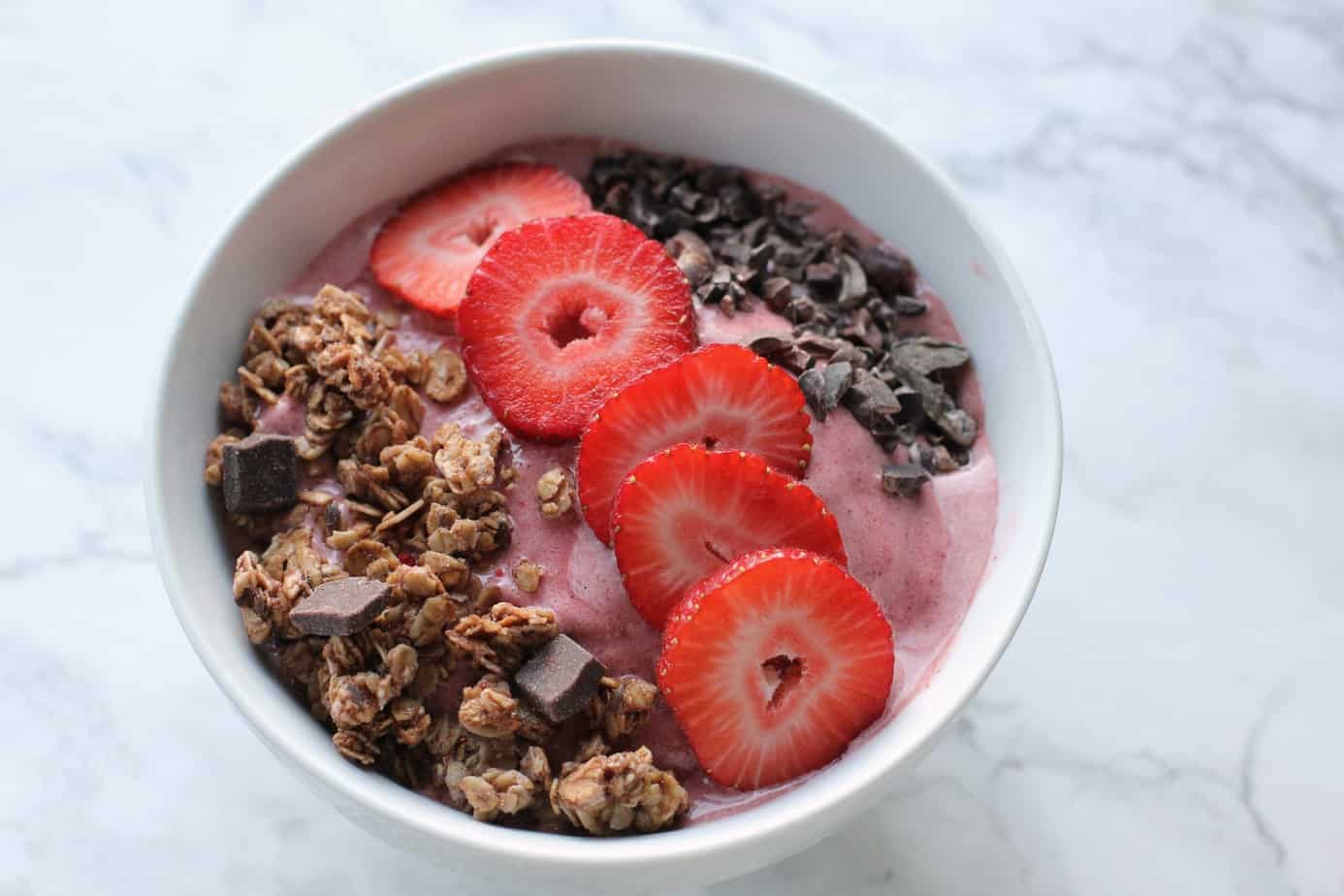 The Best Protein Powder for Smoothies
There are tons of different protein powders on the market. I find that whey protein creates a smooth and creamy consistency, but it bothers my stomach so I've been trying to stick to plant-based proteins. If you've ever had trouble blending protein powder into a smoothie, try this trick: Blend the protein powder and milk first, before adding any other ingredients. This will help create a smooth base. Sometimes when you're blending protein powder and frozen ingredients, it's hard to get it perfectly smooth. By blending the protein powder with the milk, it helps incorporate it so it's not gritty.
Smoothie Bowl Topping Ideas
Obviously, my favorite part of a smoothie bowl is the toppings! Here are some of my favorites. For more ideas, read my other smoothie bowl toppings ideas!
Granola
Fresh strawberries
Cacao nibs
Shredded coconut
Chocolate chips
Peanut butter or almond butter
Print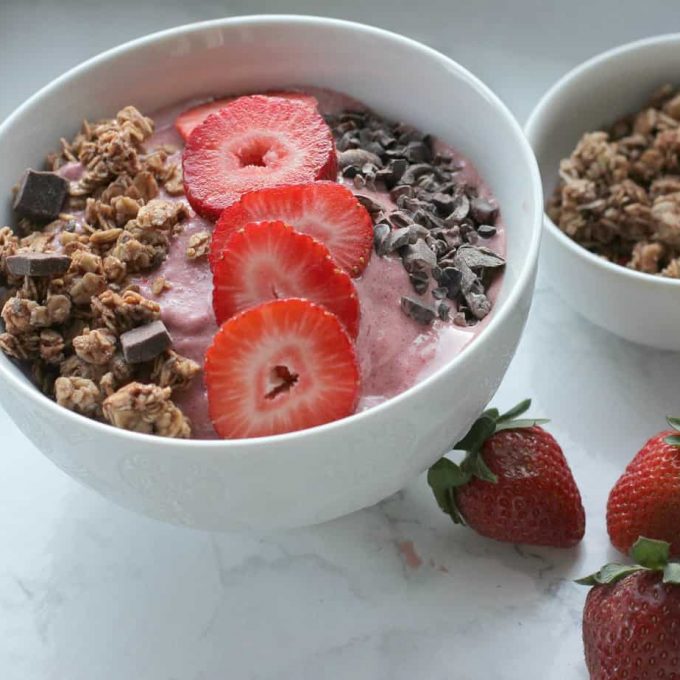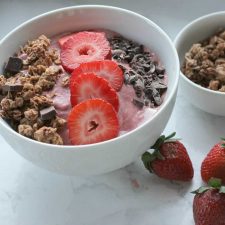 Chocolate Covered Strawberry Smoothie Bowl
Author:
Prep Time: 5 mins
Cook Time: 0 minutes
Total Time: 5 minutes
Yield: 1 1x
Category: Breakfast
Method: Blender
Cuisine: Breakfast
Diet: Vegan
---
Description
This chocolate covered strawberry smoothie bowl tastes like dessert but it's healthy enough for breakfast!
---
1/2 cup chocolate almond milk (or regular)
1 tablespoon cocoa powder
1 tablespoon chocolate protein powder (optional, or add more cocoa)
1 cup frozen strawberries (or fresh if you have it!)
1 cup ice
1/4 cup granola
Cacao nibs, fresh strawberries, (optional for topping)
---
Instructions
Blend the almond milk, cocoa powder, and protein powder (if using) until smooth.
Add the ice and frozen strawberries and continue to blend.
If you like it extra sweet, you can add a little stevia or sweetener.
Pour it into a bowl and top with granola, cacao nibs, more strawberries and/or chia seeds.
---
Keywords: strawberry smoothie
More Smoothie Bowl Recipes
What's your favorite kind of smoothie bowl topping?