Chocolate Avocado Muffins
What's the secret to these healthy, whole wheat chocolate muffins? Avocado! The healthy fat makes these muffins irresistibly moist but still healthy enough for breakfast!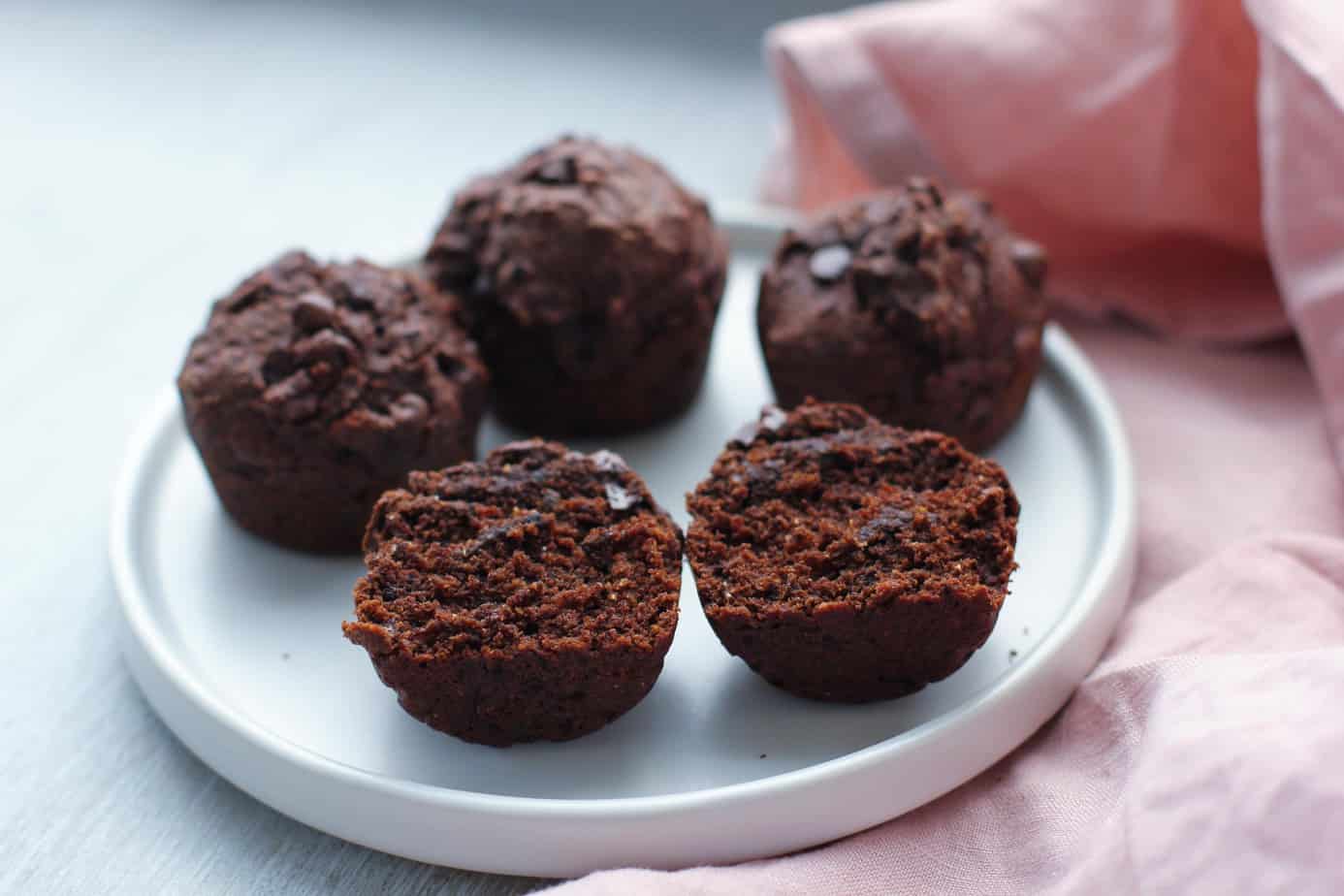 Avocados are so finicky. They're hard as a rock and then you blink and they've gone bad. Yesterday I found myself with 2 ripe avocados that desperately need to be used. One went to good use as an accompaniment with our quesadillas but the other had a different destiny. This one would find its place in a muffin recipe. Yes, this is an avocado muffin recipe.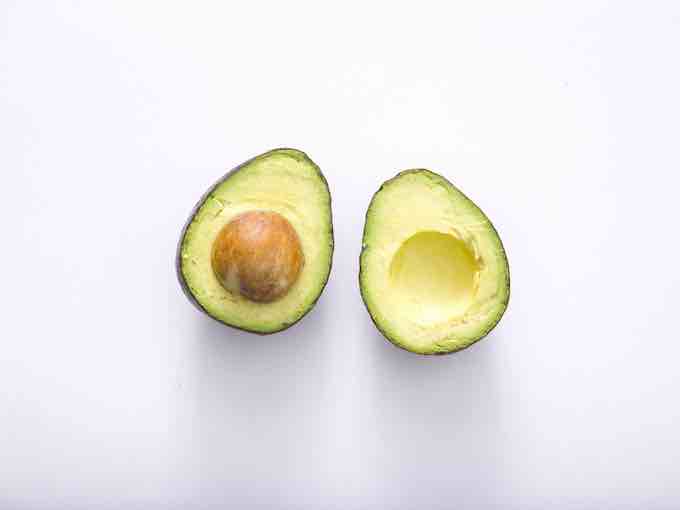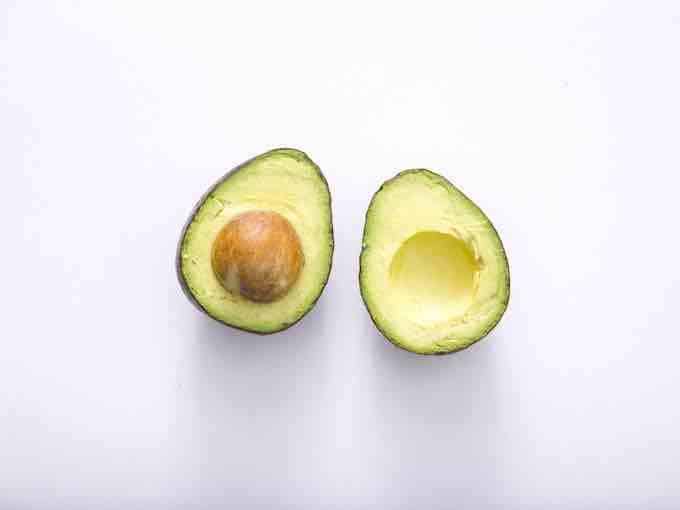 How to Bake with Avocados
Since avocados are high in fat, they're a great substitute for butter or oil. I even use them in my chocolate avocado cookies! They add plenty of moisture and fat to these muffins, and it's healthy fat you can feel good about! To bake with avocado, slice the avocado in half, remove the pit, and scoop the avocado flesh into a bowl. Mash it first, to make it easy to measure. In this particular recipe, you'll need a medium-sized avocado, which is about 5 ounces, just over 1/2 cup.
Mix the dry ingredients first. Then add the avocado and liquid ingredients into a blender or food processor.
Blend until the liquid ingredients are smooth, with no lumps. Then mix the wet ingredients with the dry ingredients.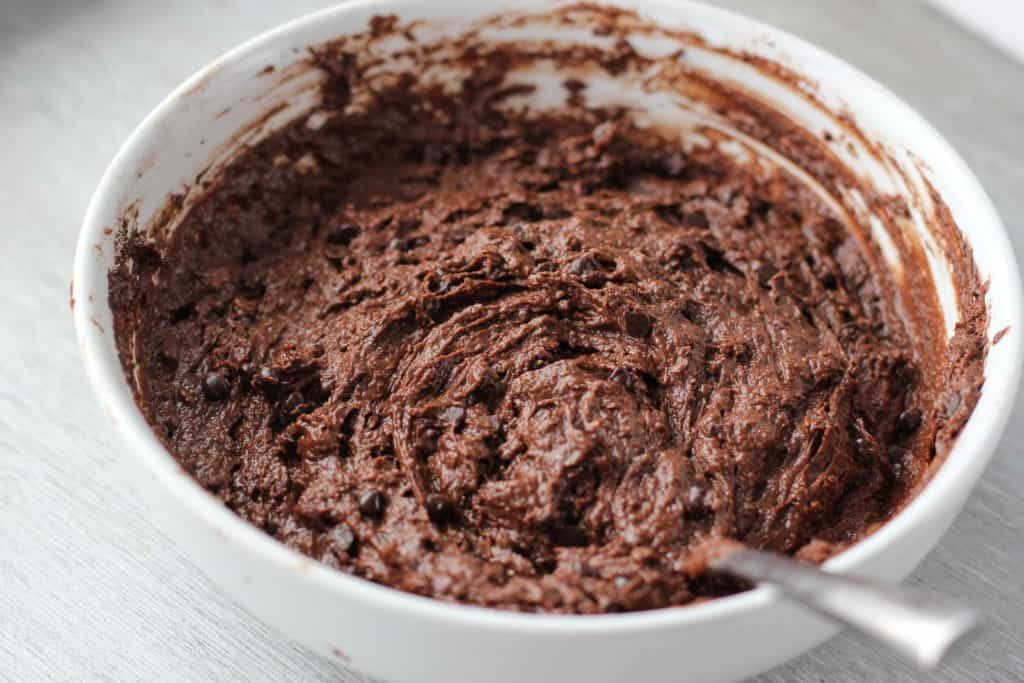 Drop the batter by the spoonful into a mini muffin tin and get baking! Not only are these muffins made with avocado but they're also made with whole wheat pastry flour, so you get a nice dose of fiber in there. And this recipe doesn't require any eggs or butter so these muffins are vegan!
Tips for Making Chocolate Avocado Muffins
Be sure your avocado is soft and ripe. If it's a rock-hard avocado, it's going to be tough to blend.
If you want to keep these totally vegan, be sure to use dairy-free chocolate chips.
Whole wheat pastry flour will produce a lighter muffin compared to regular whole wheat flour. If you can't find whole wheat pastry flour, feel free to substitute all-purpose flour.
Print
Vegan Chocolate Avocado Muffin Recipe
Author:
Prep Time: 10 mins
Cook Time: 15 mins
Total Time: 25 mins
Yield: 20 1x
Category: Breakfast or Snack
Method: Baking
Cuisine: American
Diet: Vegan
---
Description
What's the secret to these healthy, wholewheat chocolate muffins? Avocado! The healthy fat makes these muffins irresistibly moist but still healthy enough for breakfast!
---
1 1/2 cups wholewheat pastry flour
1/2 cup cocoa powder
1 teaspoon baking powder
3/4 teaspoon baking soda
1/2 teaspoon salt
1 ripe avocado, peeled and pitted
1/2 cup agave nectar
3/4 cup almond milk
1/3 cup coconut oil, melted
1 teaspoon vanilla
1/3 cup mini dark chocolate chips
---
Instructions
Preheat the oven to 350 degrees.
Combine the pastry flour, cocoa, baking soda, baking powder, and salt. Set aside.
In a food processor, blend the avocado with the agave, almond milk, coconut oil, and vanilla.
Add the wet ingredients to the dry ingredients and stir until combined.
It might be a bit lumpy but just make sure you don't have dry pockets of flour.
Stir in the chocolate chips.
Spoon the mixture into a mini muffin tin. Mine made about 20 mini muffins.
Bake for 14-16 minutes, or until a toothpick comes out clean. Do not over bake or they'll dry out and be more crumbly rather than fudgey.
---
Keywords: Avocado muffins
If you still have too many avocados, try making this creamy green smoothie or try this avocado feta dip.
More Vegan Muffin Recipes