Cheesy Cauliflower Soup
This cheesy cauliflower soup is thick and creamy but secretly loaded with vegetables! It's a hearty soup that is filled with healthy ingredients!
I made this Broccoli Cheddar Soup over and over again this past winter and it's one of my favorites, but I realized that I shouldn't let broccoli have all the fun! I used that soup as the inspiration for this one and I have to say, I love how this turned out! I was able to use less milk and less cheddar and still achieve super creamy results by using a little trick: blending some of the soup and stirring it back into the pot. This creates a super thick base without needing lots of cheese.
Cheesy Cauliflower Soup Ingredients
Butter– I recommend using butter but you can use vegan butter like Earth Balance or Miyoko's, if needed.
Carrots, Celery, & Onion– These chopped veggies are the typical base of a mirepoix and they add lots of vegetables and flavor to this soup.
Garlic– Fresh garlic adds a deeper flavor to this soup. You can substitute with garlic powder, if needed.
Smoked paprika– I like the deeper flavor that smoked paprika adds, but you can use regular paprika if that's what you have.
Flour– This helps thicken the soup and make it taste extra rich.
Broth– I recommend a "chicken-style" broth which has more flavor than a typical vegetable broth, but is still made without meat.
Milk– I used whole milk but any kind of milk is fine.
Cheese– I like sharp cheddar. I recommend shredding a block of cheese rather than buying pre-shredded cheese. Pre-shredded cheese contains anti-caking agents so it doesn't melt a smoothly.
Substitutions & Variations
If you wanted to make this vegan, substitute vegan butter and vegan cheese. For the milk, I recommend using a creamy substitute like Ripple's plant-based half and half.
You can switch up the toppings to customize each bowl. Top it with homemade croutons or add a splash of hot sauce. Sprinkle green onions for a fresh flavor or add a dollop of sour cream.
The Best Cheese for Cauliflower Soup
For this recipe, I used sharp cheddar cheese. Sharp cheddar has a lot of flavor so you get a big flavor boost without needing to add a lot of cheese. I strongly recommend buying a block of cheese and shredding it with a cheese grater, rather than buying pre-shredded cheese. Pre-shredded cheese typically includes anti-caking agents to prevent it from sticking together, but that also prevents it from melting into the soup. (If you've ever noticed shredded cheese feeling slightly "powdery" that's the anti-caking agent.) For the best results, shred a block of cheese.
How to Blend Hot Soup
Be careful when transferring hot soup! Let the soup cool slightly before trying to transfer it to a blender. Don't attempt to pour boiling soup since it could splash and burn you!
Let the steam escape. After you've safely transferred it to a traditional blender, be sure to use the vent in the lid of the blender to allow steam to escape while blending. Cover with a kitchen towel to prevent splatters.
Do NOT try to blend hot soup in a bullet style blender. These blenders must be airtight before blending and hot soup can literally explode. If you want to use a bullet blender to blend soup, it must be cold or room temperature.
What to Serve With Cauliflower Soup
If you want to serve this soup as a main dish, I recommend pairing it with a salad like this chopped vegetable salad and a slice of sourdough bread. If you wanted to serve this as a side dish, try it paired with this chipotle black bean burger or enjoy it with a plate of this butternut squash and sage pasta!
More Cauliflower Recipes
Print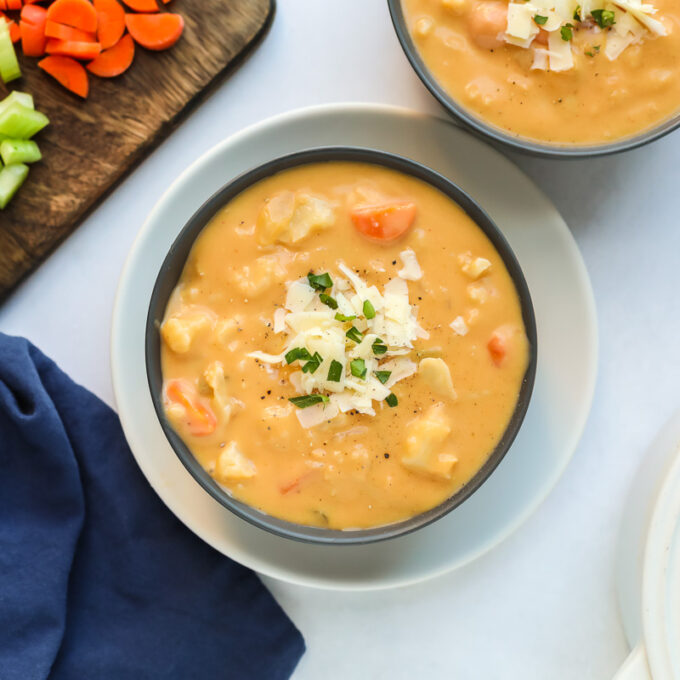 Cheesy Cauliflower Soup
Author:
Prep Time: 10 minutes
Cook Time: 30 minutes
Total Time: 40 minutes
Yield: 8 cups 1x
Category: Soup
Method: Stovetop
Cuisine: American
Diet: Vegetarian
---
Description
This cheesy cauliflower soup is thick and creamy but secretly loaded with vegetables! It's a hearty soup that is filled with healthy ingredients!
---
2 tablespoons butter
3/4 cup chopped carrots
3/4 cup chopped celery
1 small yellow onion, chopped
2 cloves garlic, minced
1/2 teaspoon smoked paprika
3 tablespoons all-purpose flour
4 cups vegetable broth
1 small head cauliflower (about 4 cups chopped)
1/2 cup whole milk
1/2 cup shredded sharp cheddar cheese
---
Instructions
Add the butter to a large pot or dutch oven and heat over medium-low heat until melted.
Add the carrots, celery, and onion and continue to cook over medium-low heat for 8 minutes until vegetables are softened.
Add garlic and paprika and continue to cook for 1 minute.
Add flour and continue to cook for 2 minutes.
Add broth and cauliflower and simmer for 20 minutes or until cauliflower is softened.
Remove from heat.
Carefully transfer 2 cups of soup to a blender and blend until smooth. (See blog post for tips on blending hot soup.)
Add the blended soup back to the pot and add the milk and cheese. Stir until cheese is melted.
Keywords: cheesy cauliflower soup