Cake Mix Blueberry Muffins
Did you know you can make tasty blueberry muffins with just 4 ingredients? The secret is boxed cake mix! These are the perfect muffin when you need something quick and easy.
I've always loved blueberry muffins and now that we have a toddler at home, I find myself making muffins all the time! These cake mix muffins are the perfect option when I'm short on time and I need something quick and easy. They're made with just four ingredients: Cake Mix, Bananas, Eggs, and Blueberries.
What's really great about these muffins is that you can change them to fit what you like. You can replace the blueberries with things like chocolate chips, nuts, or anything else you love. You can also try using different types of cake mix and fruits to make all sorts of yummy muffins for different times.
Looking for more sweet berry recipes? Try my Vegan Raspberry Muffins, Stovetop Blueberry Crisp, or this Strawberry Jello Cheesecake!
Here's what you'll need:
Cake Mix: The foundation of our muffins starts with a cake mix. You can use white, vanilla, or spice cake mix. I prefer spice cake mix!
Bananas: Bananas are not only a fantastic source of natural sweetness, but they also add moisture to your muffins. As they bake, the bananas infuse the batter with a sweet flavor that will have your kitchen smelling heavenly.
Eggs: Eggs play a crucial role in binding the ingredients together and providing structure to your muffins. They contribute to the overall richness of the batter and help achieve that perfect rise during baking.
Blueberries: Bursting with antioxidants and vibrant color, blueberries add a delightful burst of flavor to every bite. You can use fresh or frozen blueberries.
How to Make Cake Mix Muffins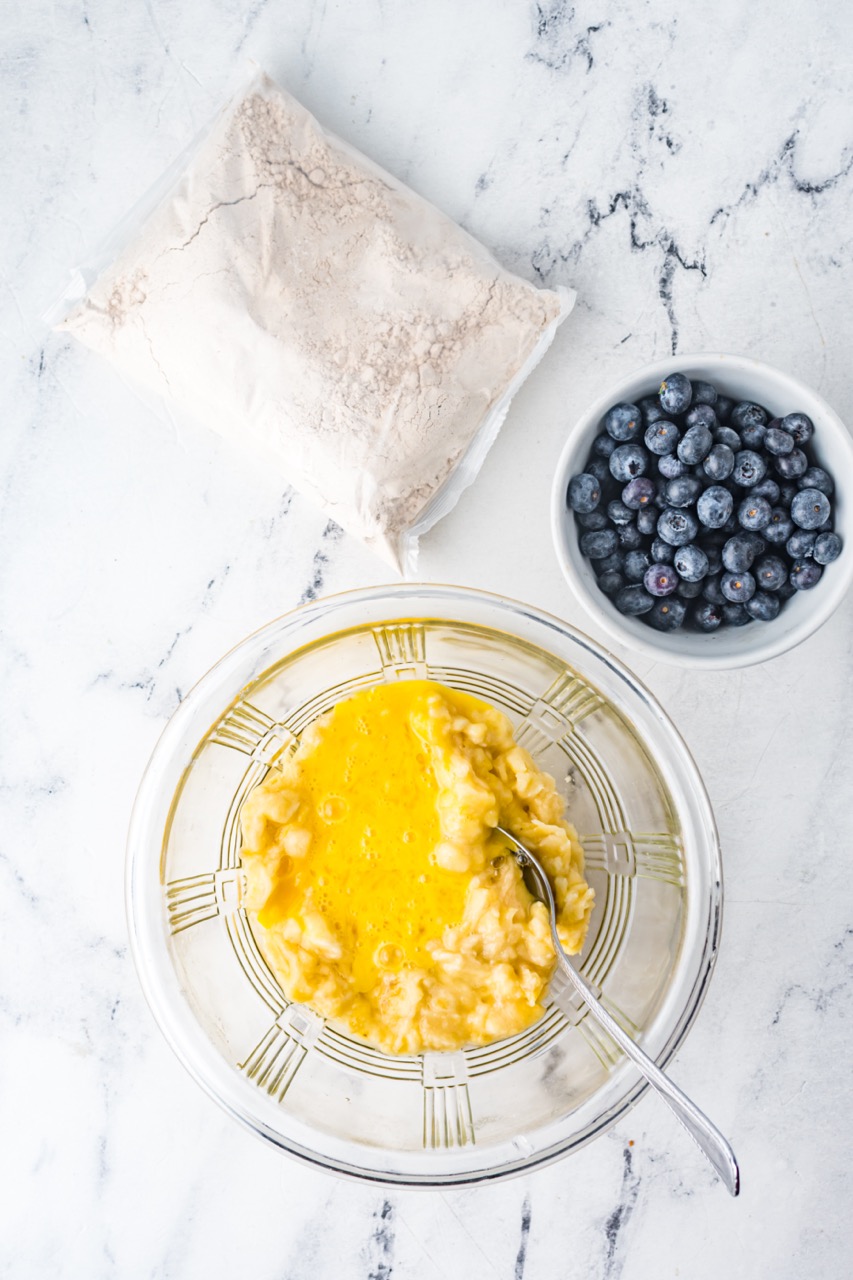 Tips for the Best Muffins
Overripe bananas are best for this recipe. They add the most sweetness to these muffins.
Do not over mix the batter or the muffins can become dry.
Once you remove the muffins from the oven, transfer them to a baking rack to cool.
I recommend using an oven thermometer to ensure even baking.
Variations and Substitutions
Think of these cake mix muffins as a blank slate for all your favorite muffin varieties! Add chocolate chips to turn these into bakery style dessert muffins! Or swap the blueberries for raspberries for a different twist. Add chopped walnuts or pecans for a nutty crunch. Add cinnamon and sugar on top for a streusel effect!
How to Store Muffins
To keep your blueberry muffins fresh, let them cool down completely before storage. You can use an airtight container or resealable plastic bag to keep them at room temperature for 1-2 days. If you need more time, refrigerate them in an airtight container, but be aware that they might dry out a bit faster. For longer storage, individually wrap the muffins and freeze them in a resealable freezer bag. When you're ready to enjoy them, thaw frozen muffins at room temperature or gently reheat using a microwave or oven.
Print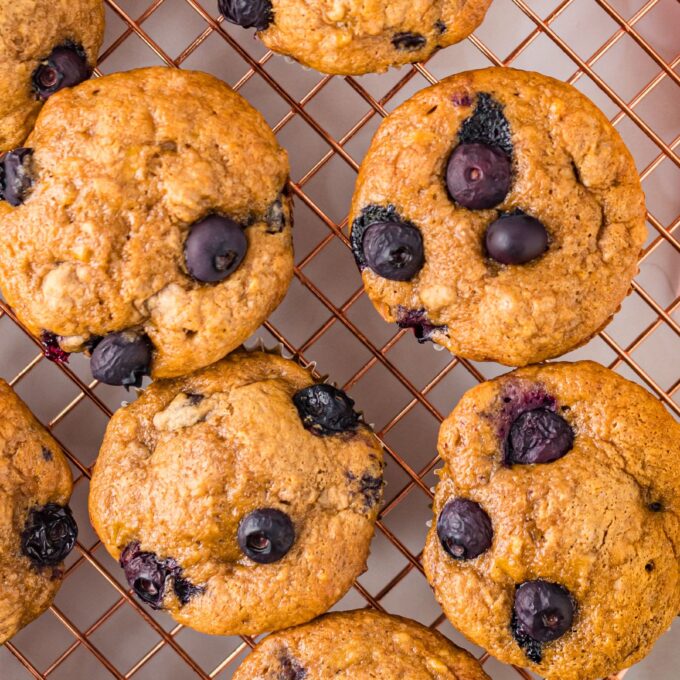 Cake Mix Blueberry Muffins
Author:
Prep Time: 10 minutes
Cook Time: 20 minutes
Total Time: 30 minutes
Yield: 12 muffins 1x
Category: Breakfast
Method: Oven
Cuisine: American
---
Description
Did you know you can make tasty blueberry muffins with just 4 ingredients? The secret is boxed cake mix! These are the perfect muffin when you need something quick and easy.
---
4 whole ripe bananas, mashed
1 (15oz) box vanilla cake mix or spice cake mix
2 large eggs, lightly beaten
1 cup fresh or frozen blueberries
---
Instructions
Preheat the oven to 350 degrees, then line muffin tins with cupcake liners and spray with nonstick cooking spray.
In a large mixing bowl, mash the bananas until mostly smooth.
Stir in the cake mix and eggs and mix till combined.
Gently fold in the blueberries.
Fill the liners evenly to the top. Add a few extra blueberries on top if you wish.
Place the muffins in the oven and bake till a toothpick inserted comes out clean, 19-21 minutes.
Remove them from the oven and allow them to cool.
---
Keywords: cake mix muffins, cake mix blueberry muffins