Gluten Free No Bake Cookies
These no-bake cookies are full of chewy oats and delicious chocolatey flavor. These cookies are gluten-free, vegan, and nut-free. If you're looking for a no-bake cookie recipe without peanut butter, this is your answer!
No-bake cookies were one of my favorite treats to make as a kid. I loved watching the melty chocolate harden and seeing them transform into cookies before my eyes. Plus, I loved that these were quick to make which meant dessert wasn't far behind!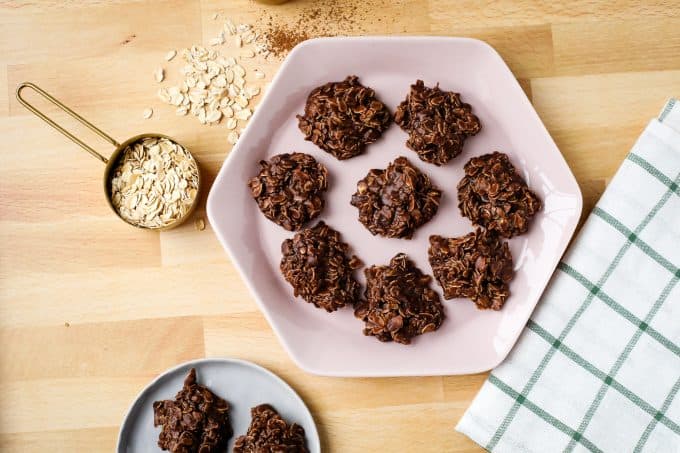 These gluten-free no-bake cookies are like little drops of chewy, chocolatey, fudge-y deliciousness.
How to Make No Bake Cookies Without Peanut Butter
Many no-bake cookie recipes call for peanut butter, but these no-bake cookies are made without any nuts or nut butter. The coconut oil adds plenty of creaminess and holds these cookies together without the need for peanut butter.
How to Make No Bake Cookies Without Milk
These no-bake cookies are made with soy milk, so they're vegan and nut-free. If you prefer to use a different type of milk, you can make these with skim milk or almond milk.
Print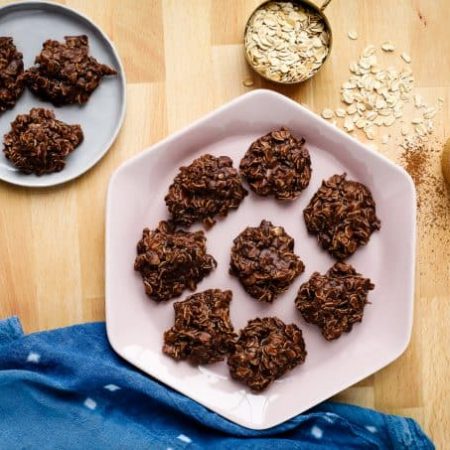 Gluten Free No Bake Cookies
Author:
Prep Time: 10 mins
Cook Time: 1 min
Total Time: 11 mins
Yield: 16 cookies 1x
Category: Gluten Free
Cuisine: Dessert
---
Description
Easy, simple, no bake cookies without peanut butter or butter!
---
1 cup sugar
1/2 cup coconut oil
1/4 cup cocoa powder
1/4 cup almond milk
1/4 tsp salt
1 1/2 cup gluten free rolled oats
---
Instructions
Bring the sugar, coconut oil, cocoa, and almond milk to a boil. Whisk frequently so the sugar doesn't burn. Boil for 1 minute.
Remove from heat and stir in the salt and oats until well combined.
Spread out a sheet of wax paper or parchment paper and scoop the cookies out 1 tablespoon at a time.
Let sit overnight, then store in the fridge. They can be a little fudgey, so keep them cold before eating!
---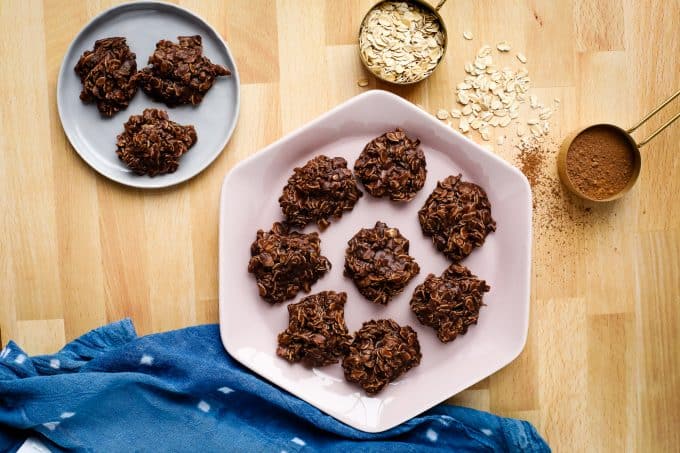 How to Store No Bake Cookies
Keep these cookies chilled in the refrigerator before enjoying them. Coconut oil melts quickly in warm temperatures so keeping them chilled prevents a mess!
What is your favorite type of cookie?