Salads for dinner used to be a fairly frequent occurrence until Alex and I started dating. Many nights I wouldn't really cook dinner. I'd eat some yogurt or a smoothie or a salad. (Or maybe all three.) But once Alex and I started dating, I got in the habit of cooking "real" dinners and salads don't always feel like a "real" dinner. Am I right?
I guess tearing open a bag of Dole and topping it with a bottled dressing just doesn't feel special. But it doesn't have to be that way. I ordered some mixed greens from Relay Foods (save $30 on your first order!) and I wanted to use them up before they started to wilt, so salad was on the menu for dinner. I'd had some goat cheese in the fridge for a bit and while I'd normally use it something like pasta or pizza, we're trying to eat a little lighter this week.
That's where the baked goat cheese comes in.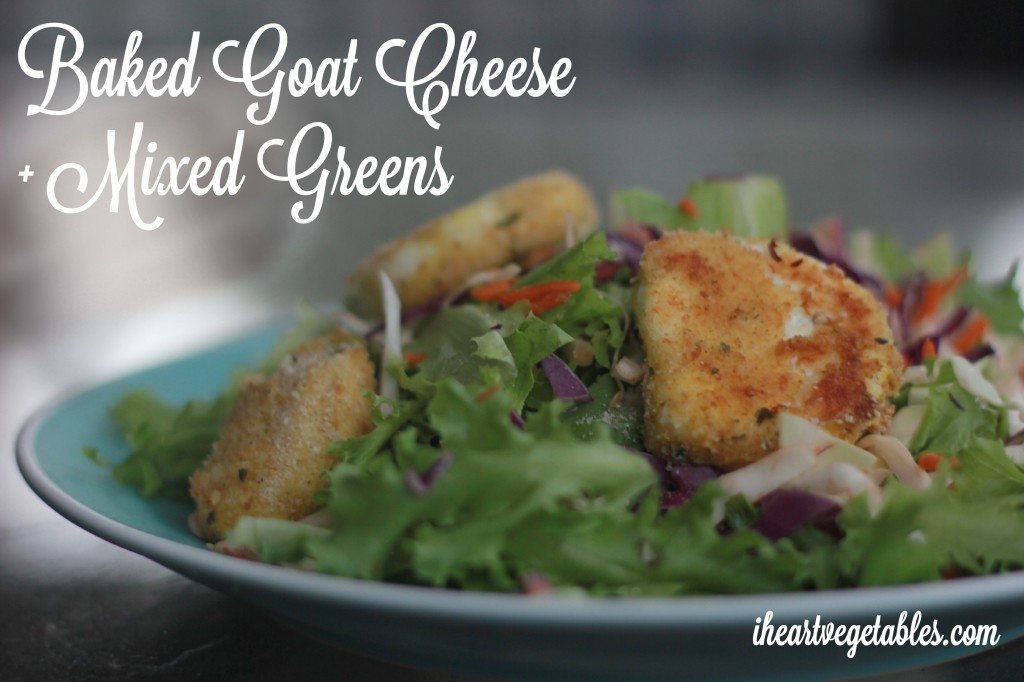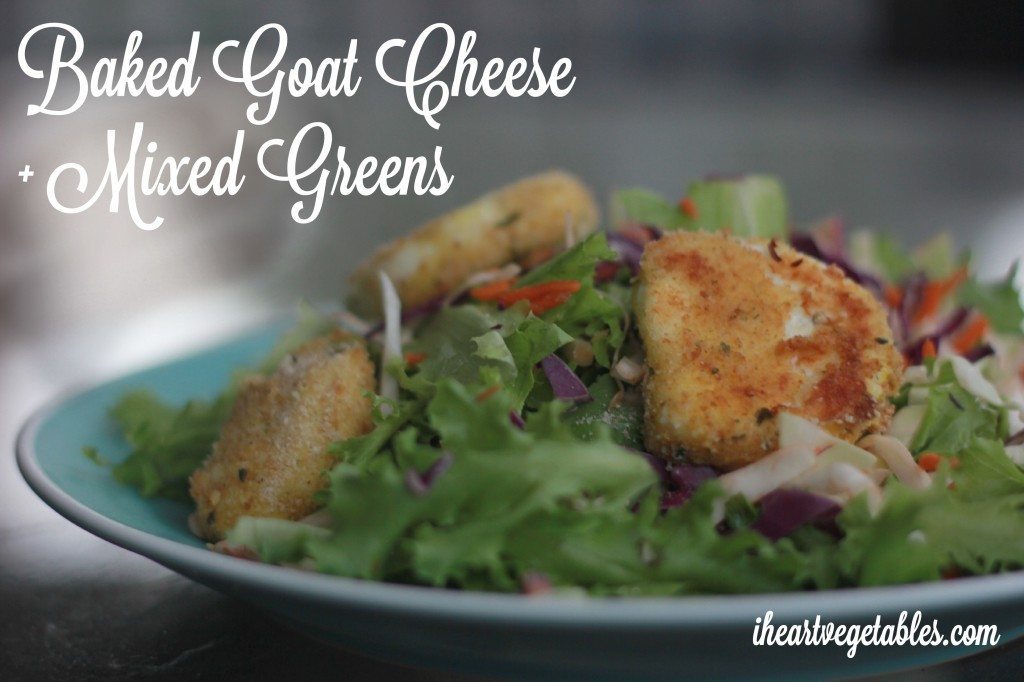 I had seen similar recipes for fried goat cheese but I wanted to keep things healthy, so I decided to bake it instead. This came together pretty quickly and easily. The only tricky part was slicing the goat cheese. A few of my slices broke apart a little bit but I just turned those into little goat cheese bites.

Baked Goat Cheese Salads
Ingredients
3 oz goat cheese
¼ cup flour
1 egg white
¼ cup breadcrumbs
4 cups mixed greens
¼ cup shredded carrots
¼ cup shredded cabbage
4 tbsp balsamic vinaigrette
Instructions
Place the log of goat cheese in the freezer for about 30 minutes.
Preheat the oven to 375.
Remove from freezer and slice into ½ inch rounds.
Coat each round with flour.
Lightly beat the egg white.
Dip the flour-coated cheese into the egg white.
Coat the cheese with breadcrumbs and lay on a greased cookie sheet.
After you've coated them all, pop them in the oven and bake for 15 minutes, flipping once, until golden brown.
Mix up your lettuce, carrots, cabbage, and salad dressing.
Top with goat cheese and serve warm.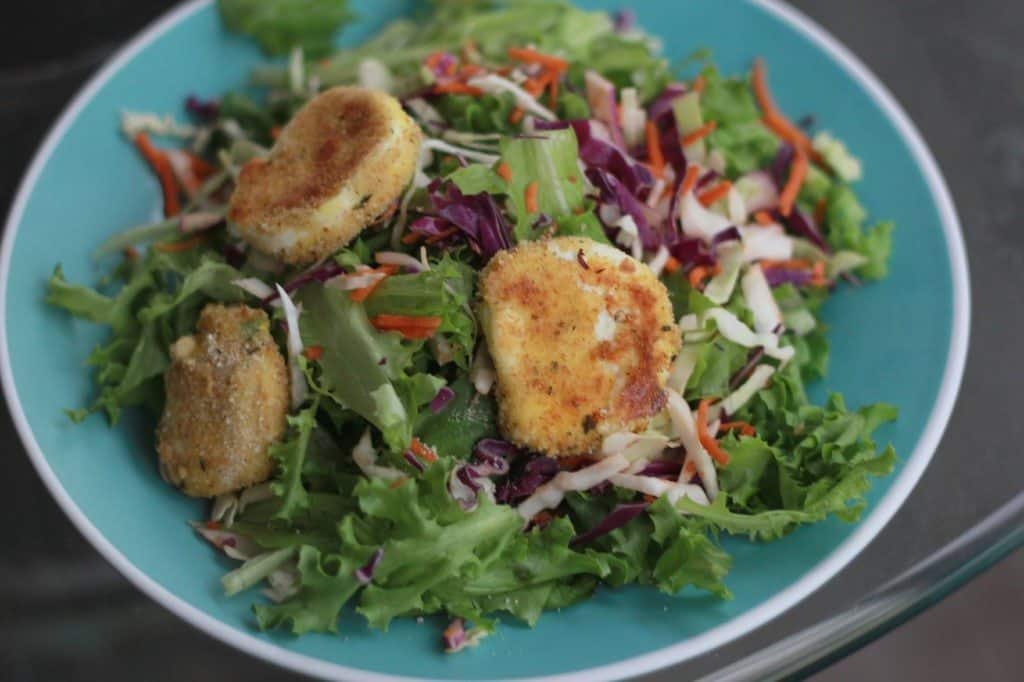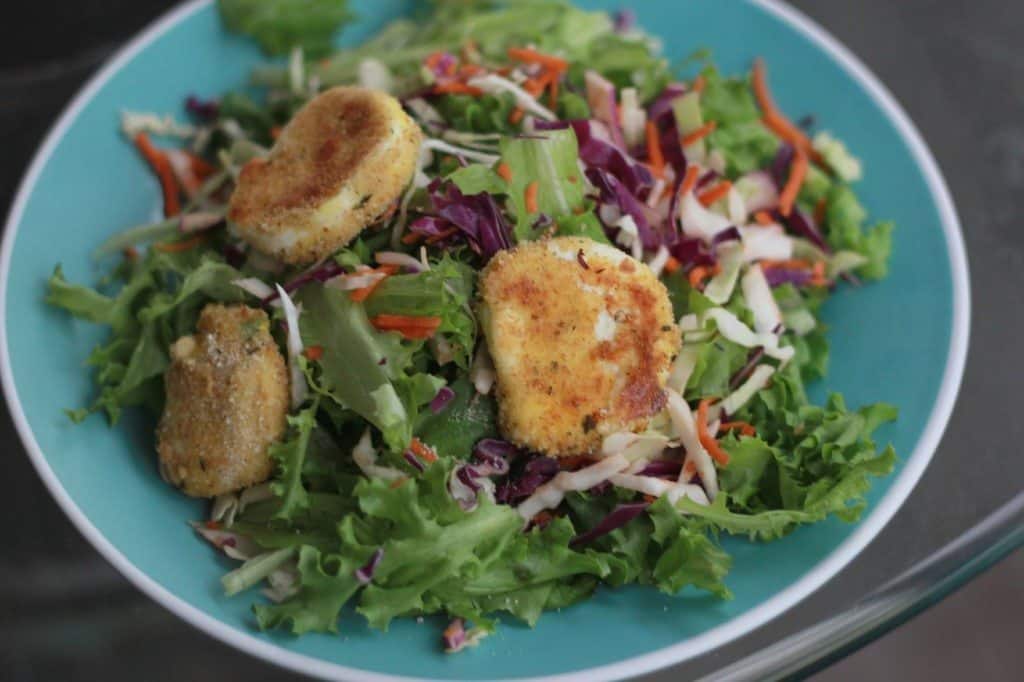 I loved the baked goat cheese on top of the chilled salad. Such a good combination. We just topped our greens with a little bit of Whole Food's Balsamic Vinaigrette. Nothing fancy. We also cooked up some zucchini chips to eat with it, which turned out pretty well.
We're heading to Chicago this weekend, so my goal is to eat up all the produce before we leave. Let me know if you have any Chicago restaurant recommendations for me!
Have you ever baked goat cheese?