Apple Cinnamon Overnight Oats
These apple cinnamon overnight oats are a satisfying and delicious breakfast. You can prepare these oats the night before, so your morning meal has never been easier!
If you love oatmeal, these apple cinnamon overnight oats will quickly become a favorite. I love the combination of sweet apples and creamy oats. If you like my apple cinnamon baked oatmeal, this overnight oat recipe is a great one to try next!
Ingredients & Substitutions
Oats– I use rolled oats, sometimes called old-fashioned oats. They're the best for overnight oats, but you can use quick-cooking oats if needed. Do not use steel-cut oats, which won't soften very well.
Greek yogurt– This is a great way to add protein to the oats. Plus, it creates a creamy texture.
Milk– I used almond milk but any milk works fine.
Salt– A pinch of salt enhances the overall flavor. Don't skip it!
Chia seeds- These seeds help create a thick texture, but if you don't have chia seeds, you can skip them or substitute with ground flax seeds.
Vanilla– A little vanilla extract helps add sweetness and flavor.
Apples- I used Honeycrisp apples but any sweet red apple works great in this recipe.
Sweetener– If you're using plain Greek yogurt, I recommend adding a little maple syrup to help sweeten the oats.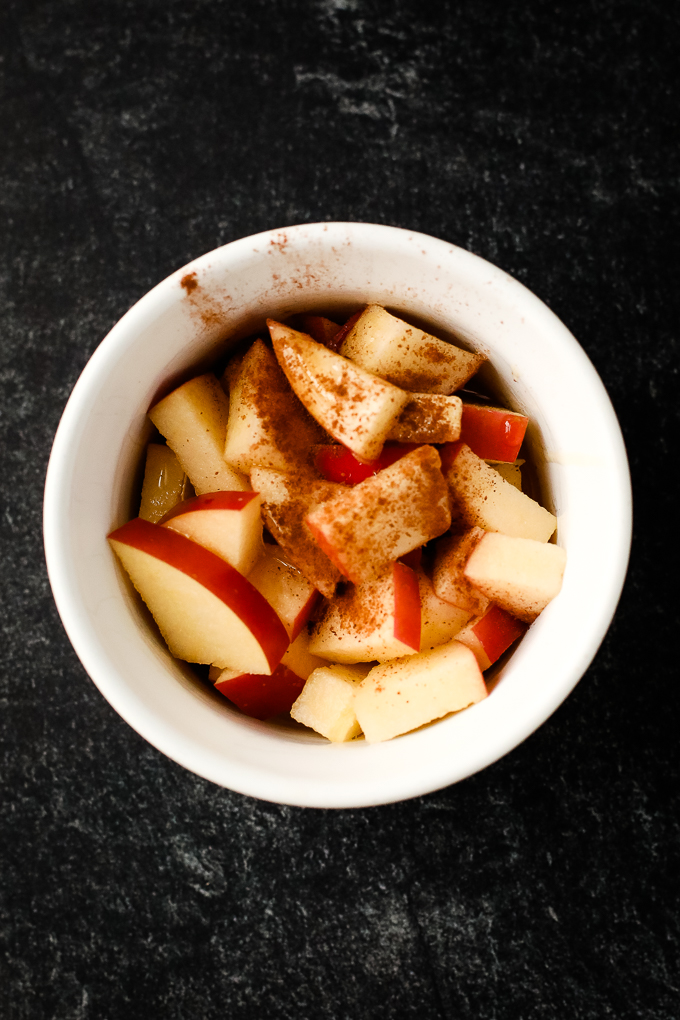 Do I have to use chia seeds to make overnight oats?
You don't have to use chia seeds, but they do help make these oats extra thick. If you don't have any you can use ground flaxseeds to create a similar texture, or you can skip them altogether. When mixed with a liquid, they expand and thicken. They create a puddling-like texture in these overnight oats. You can typically find chia seeds in the organic section of the grocery store near flaxseeds and other seeds. You can also order chia seeds on Amazon. Chia seeds contain fiber, protein, healthy fats, calcium, manganese, and magnesium.
How to Make Overnight Oats
Add the oats, milk, chia seeds, applesauce, yogurt, cinnamon, vanilla, and salt to a jar. Stir until well combined to ensure that the oats are completely submerged in the milk. Let the oats sit in the fridge for 2-3 hours or overnight. You can enjoy them cold or you can warm them in the microwave. Add sweetener to taste, if needed.
Frequently Asked Questions
Do I have to soak my oats overnight? No, the oats will be ready after just a few hours. But they can be soaked overnight, so you can make the oats in advance if you like.
Can I heat up my overnight oats? Yes! You can heat your oats in the microwave if you prefer warm oats. But cooking them isn't necessary.
Can I add other toppings? Yes! I liked adding chopped apples and cinnamon on top but you could top these oats with granola, peanut butter, or strawberries!
Do I have to use a jar? You can use any container with a tight-fitting lid. I recommend using a container that is at least 16 ounces, so you have room to stir the ingredients together.
Can I double the recipe? Yes! Double or triple the recipe and store the leftovers in the fridge. You can even make them in one large jar and scoop out a portion when you're hungry!
Can I use steel cut oats? Unfortunately, no. Steel cut oats don't soften the same way. If you have steel cut oats, try my baked steel cut oatmeal!
Are overnight oats healthy? Yes! These are great for a healthy breakfast. They're a good combination of protein, fat, and carbohydrates so you'll stay satisfied until lunchtime.
Print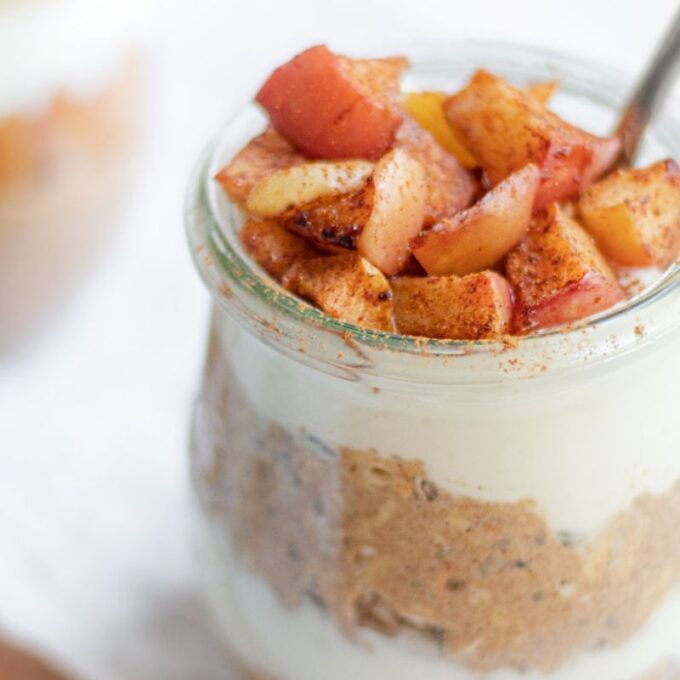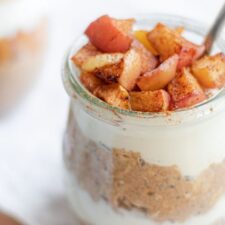 Apple Cinnamon Overnight Oats
Author:
Prep Time: 5 minutes
Chill Time: 3 hours
Cook Time: 0 minutes
Total Time: 3 hours 5 minutes
Yield: About 1 cup 1x
Category: Breakfast
Method: No Cook
Cuisine: American
Diet: Vegetarian
---
Description
These apple cinnamon overnight oats are a satisfying and delicious breakfast. You can prepare these oats the night before, so your morning meal has never been easier!
---
1/2 cup rolled oats (uncooked)
1/3 cup unsweetened applesauce
1/3 cup plain or vanilla Greek yogurt (or dairy-free yogurt)
1–2 tablespoons almond milk or dairy milk
1/2 teaspoon vanilla
1/2 teaspoon cinnamon
1 tablespoon chia seeds
Pinch of salt
Sweetener of choice (optional, see note)
---
Instructions
Combine all of your ingredients in a mason jar, stir really well until all combined, and let sit overnight (or at least a few hours) until the oats have softened.
If desired, top with additional apple pieces or granola.
---
Notes
I recommend adding a little maple syrup or stevia for a sweeter flavor.
Keywords: Apple Cinnamon Overnight Oats
More Oatmeal Recipes
If you love overnight oats, be sure to try my peanut butter overnight oats and my pumpkin overnight oats! If you like fruity recipes, then my berry overnight oats and my strawberry overnight oats were made for you!