A Guide to Flour Alternatives
When I started thinking about doing a post about some of my favorite flours (and flour alternatives) I thought I'd only have a handful to share. But once I started pulling things out of my pantry, I realized I had quite a few flours in there. Some of them are interchangeable and some work best in a few recipes and not so well in others. Some are cheap, some are expensive, and some are harder to find than others. So I thought I'd make you a little guide to the various flours you might see on my blog or across Pinterest. Hopefully this makes it easier for you when you're at the grocery store!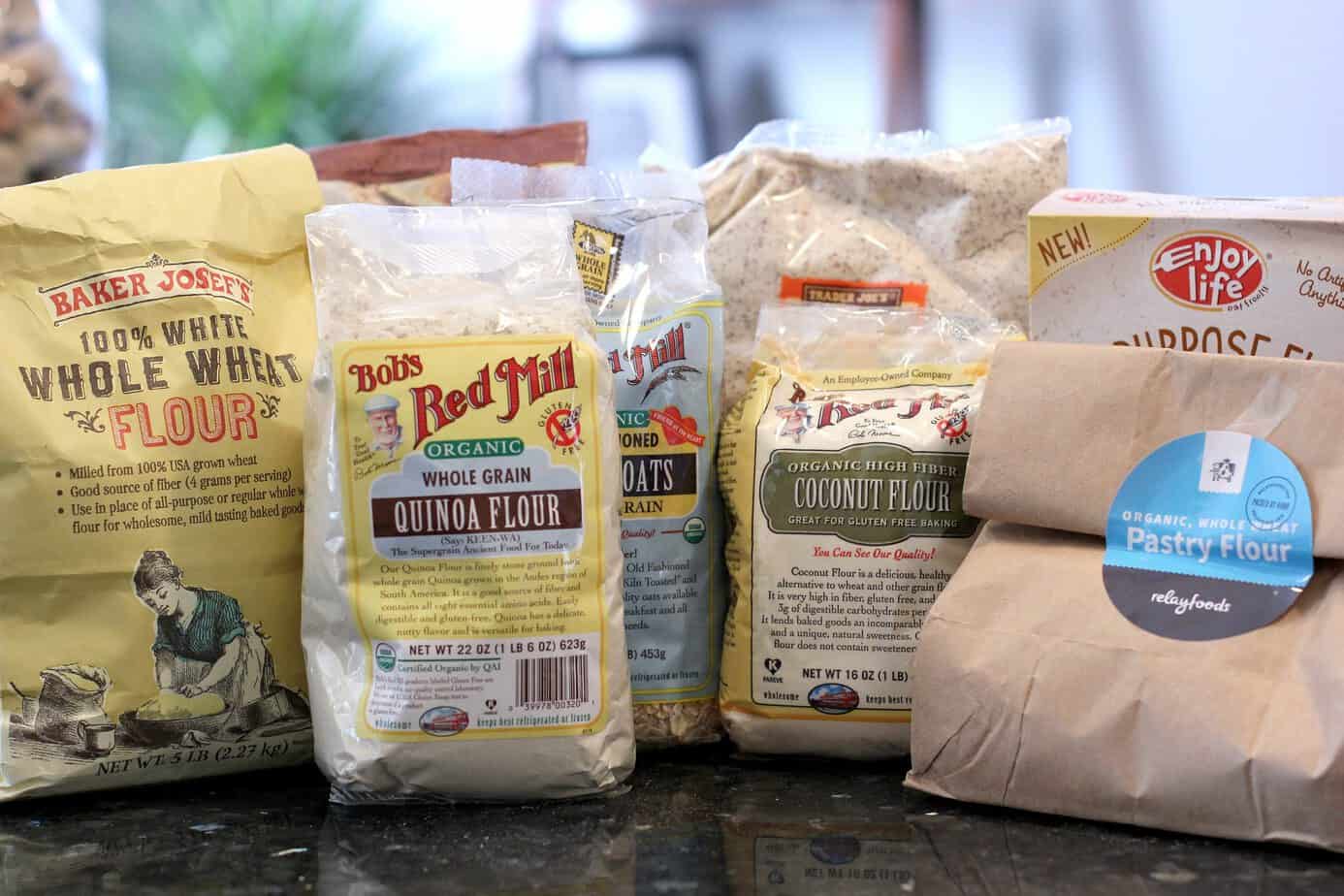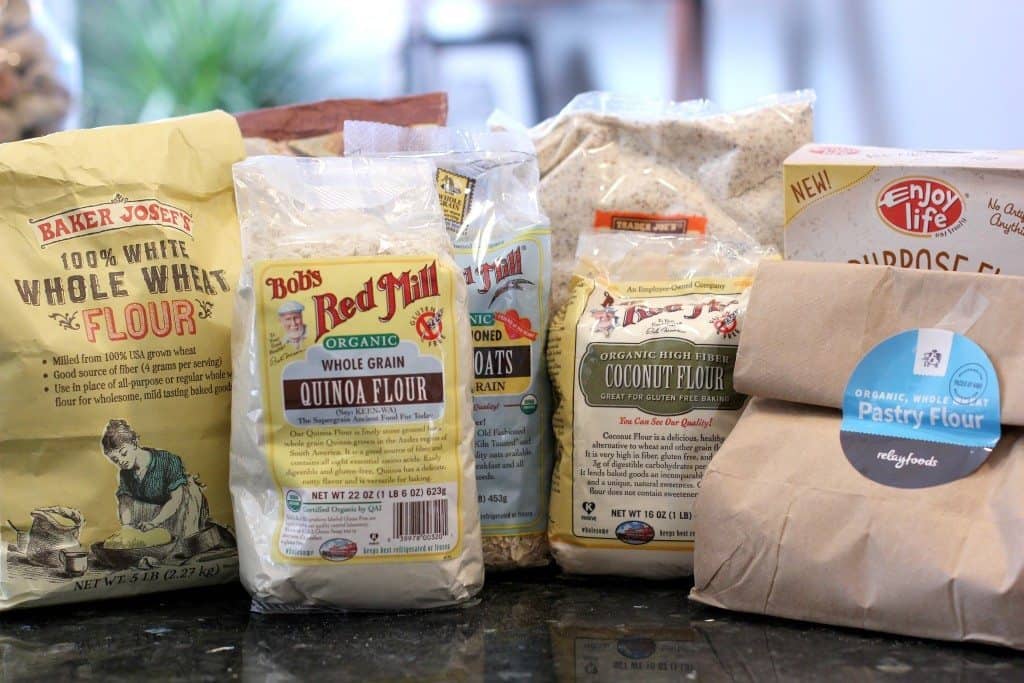 So here's the run down of all the different types of flours I have in my pantry: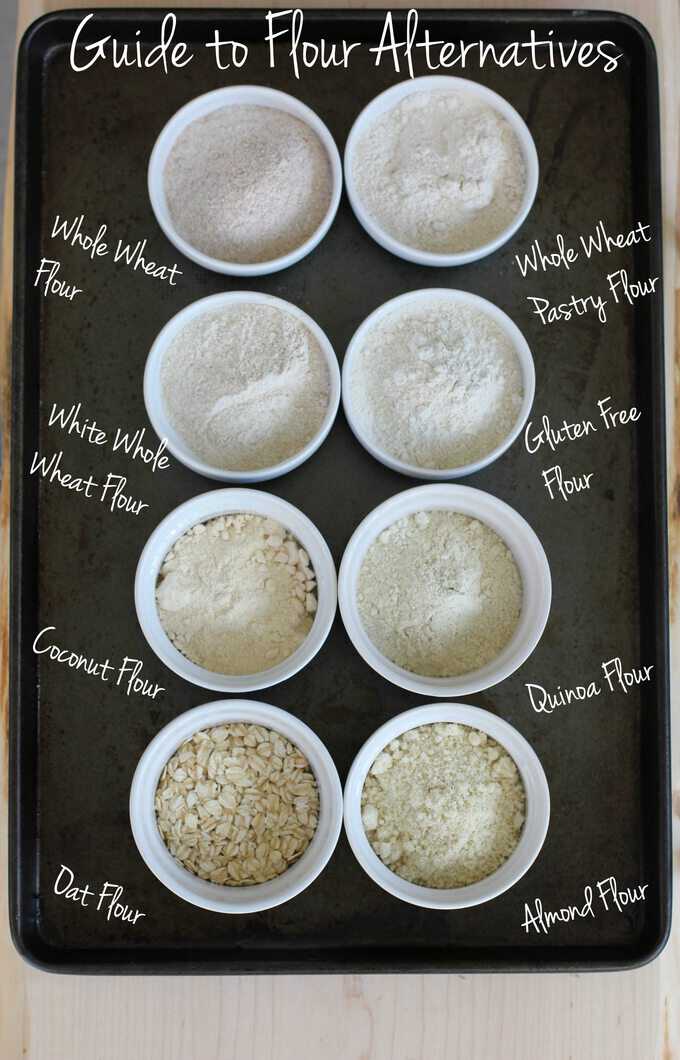 Whole Wheat Flour- You might already have this at home! Whole wheat flour contains the entire kernel of hard red wheat, which is what gives it a darker color than white flour. It's high in nutrients and fiber which is why I love using it in recipes! If you're swapping it out for all-purpose flour start with a half all purpose/half whole wheat blend. If you switch to all whole wheat, it can get sort of chewy and dry.
White Whole Wheat Flour– This has recently become one of my favorite flours. It has the nutrients and fiber of whole wheat flour, but it's an easier swap for all purpose flour. The wheat flavor isn't as strong, so depending on the recipe, you can often swap this 1:1 for all purpose flour. This is the perfect place to start when baking for people who think they hate whole wheat flour. I used it in this whole wheat flatbread recipe and they have a great texture!
Whole Wheat Pastry Flour- This flour comes from soft white wheat. The lower protein content of this flour makes it great for whole grain baked goods. It's pretty similar to white whole what flour, but I think it's a bit better in baked goods. I used it in these chocolate avocado muffins and it was perfect!
Gluten Free Flour: Gluten free flour can be tricky, but I've had a lot of success with Enjoy Life Foods all-purpose flour blend. It's a combination of grains (Millet, Rice, Teff, Buckwheat, Rice Starch, Tapioca Starch, Brown Rice Protein, & Sprouted Brown Rice Protein) and it works well in baked goods or as a general substitute for flour. It measures 1:1 just like regular flour. I've used it in this falafel recipe to keep it vegan.
Coconut Flour– I think this is one of the harder flours to work with. Baked goods tend to get pretty dense, but if you're paleo, this is a popular choice. I've it in a recipe for gluten free protein donuts and it worked fairly well. (Although I prefer this recipe for cinnamon sugar mini protein donuts!) Coconut flour isn't an easy swap but if you play around with it for a bit, it can be a nice gluten free, high fiber flour option.
Quinoa Flour– I've loved playing around with quinoa flour but I'll warn you, it's expensive. I like to keep it real over here so I know not everyone wants to shell out $16 for a bag of flour. It's great for special diets though, since it's gluten free and quinoa is a "complete protein" meaning it contains all the essential amino acids. That's helpful for vegans! It also offers more protein than all purpose flour. If you want to try baking with quinoa flour, try these quinoa chocolate chip cookies!
Oat Flour– Technically, you can buy oat flour but you can also make it pretty easily. I just toss rolled oats in the blender or food processor until I get to a flour-like texture. It can be a great gluten-free "flour" for baked goods, but it will definitely change the texture of the final product. If you want to start by substituting part of the flour in a recipe, start with about 20%.
Almond Flour- Again, this one is on the pricy side, but you can make your own with almonds from the bulk bin, or buy some almond flour (somtimes called "almond meal") from Trader Joe's where it tends to be a bit cheaper. It's a great high protein, gluten free substitute but keep in mind that it's much higher in calories. I love it in these almond flour brownies and these sugar free dark chocolate truffles, but I haven't used it for things like muffins or bread. It tends to be pretty dense.
Who knew there were so many flour options?! If I'm baking for myself, I typically use white whole wheat flour. I personally think it's the easiest substitute and it offers a good amount of protein and fiber. But if you're gluten free or you're following a special diet, there are some great flour alternatives!
What flour alternatives do you have in your pantry? Do you stick with all purpose flour?