Mini Protein Donuts
Have you ever tried protein donuts? I've made a few in the past and, like most recipes with protein powder, they've ended up sort of dry or dense or not quite right. Sometimes they're heavy on the egg and the texture just doesn't work but this protein donut recipe… this one is different.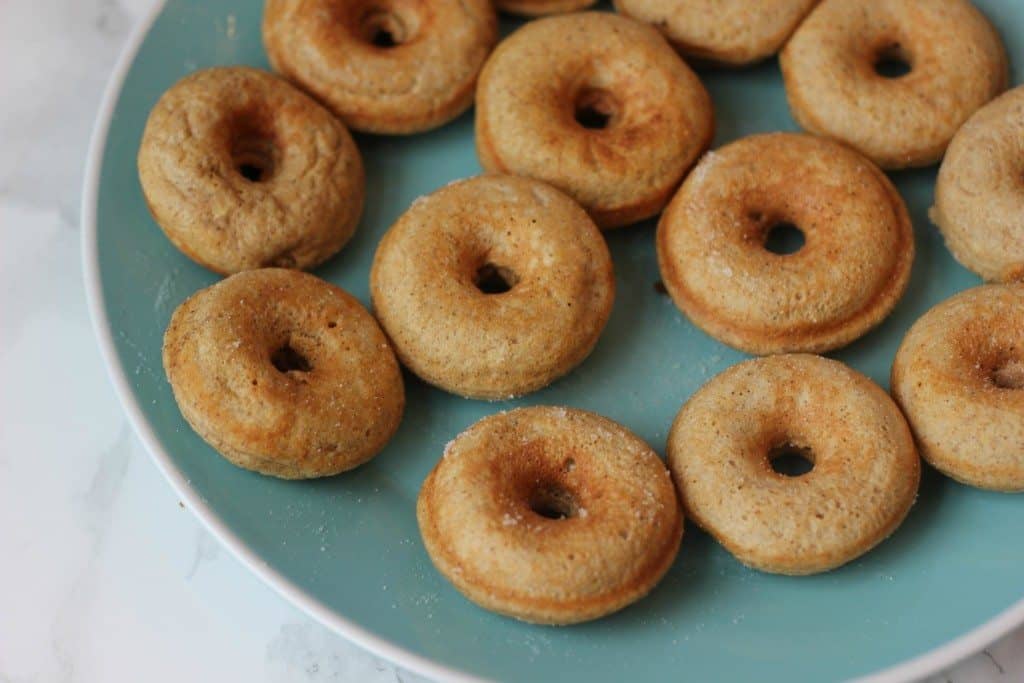 Protein Pancake Mix
I generally try not to post recipes that require a specific ingredient but this one does require Kodiak cakes power cakes mix. This isn't a sponsored post or anything, they just make the perfect mix for this protein donuts recipe! Plus it's easy to find (Target, Amazon, etc.) and it's great for regular pancakes or waffles!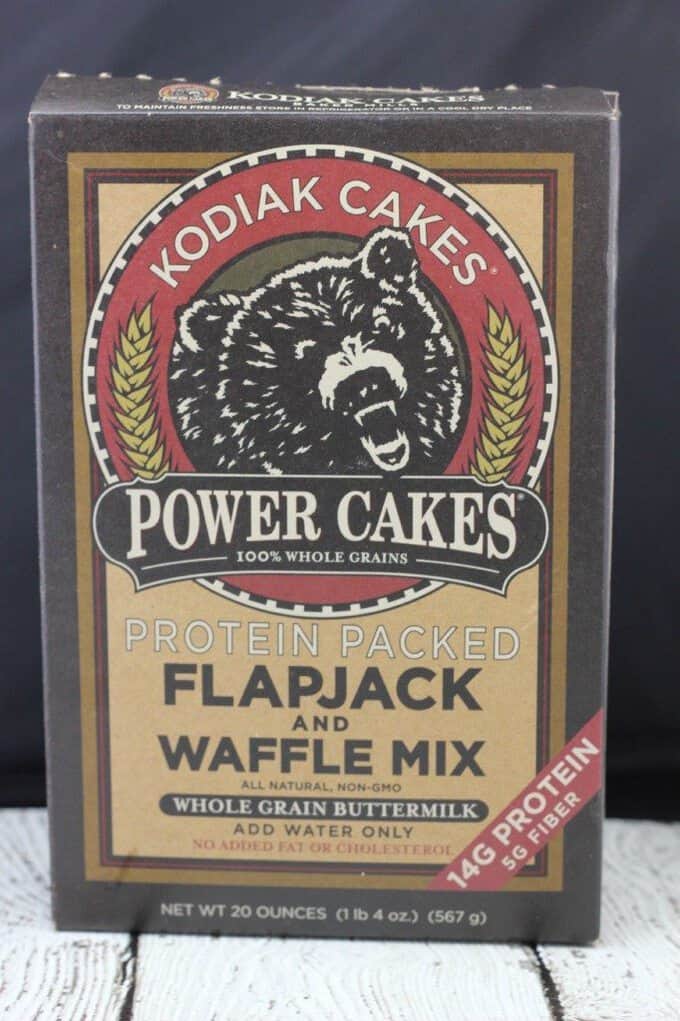 The Best Donut Pan for Protein Donuts
Look for a large, non-stick pan with room for at least 6 donuts, like this one.
If you prefer mini donuts, look for a large non-stick pan with room for 20 donuts, like this one.
I actually have a mini donut maker which is great if I don't feel like heating up the oven! My recipe made about 18 mini protein donuts. Somehow by the end of the day, there were only 4 left. That should give you a good idea of how tasty these were. They're light and fluffy just like a pancake or a muffin!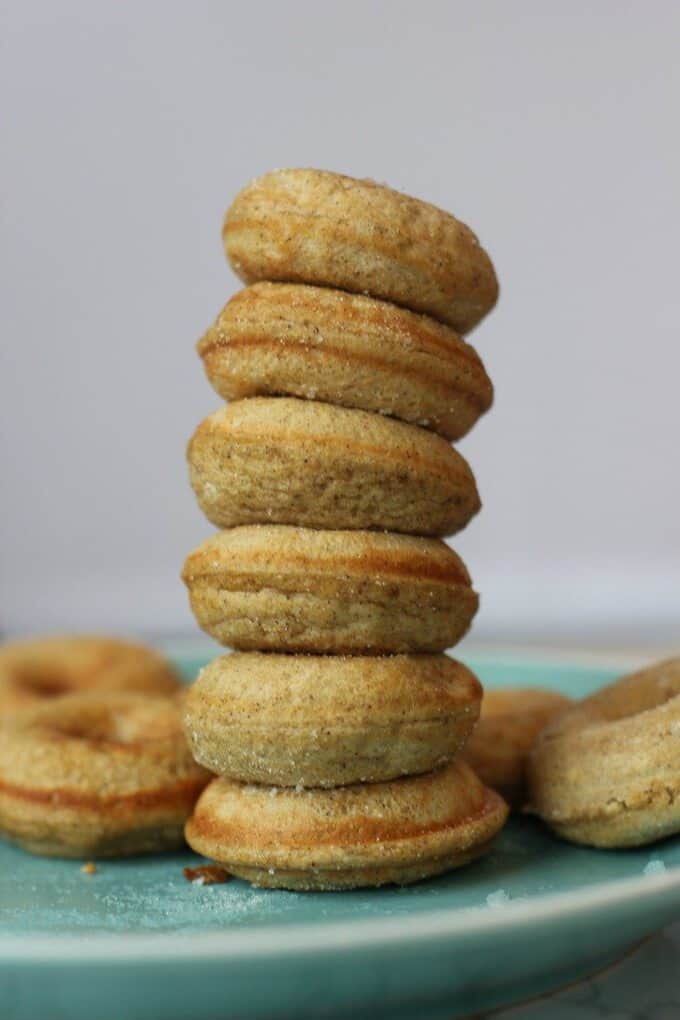 More Protein Packed Recipes
If you're looking for more tasty snacks that can help you add more protein to your plate, there are plenty of ways to do it! Try my brownie batter protein shake for a treat or try this protein fluff recipe for something easy but filling!
Print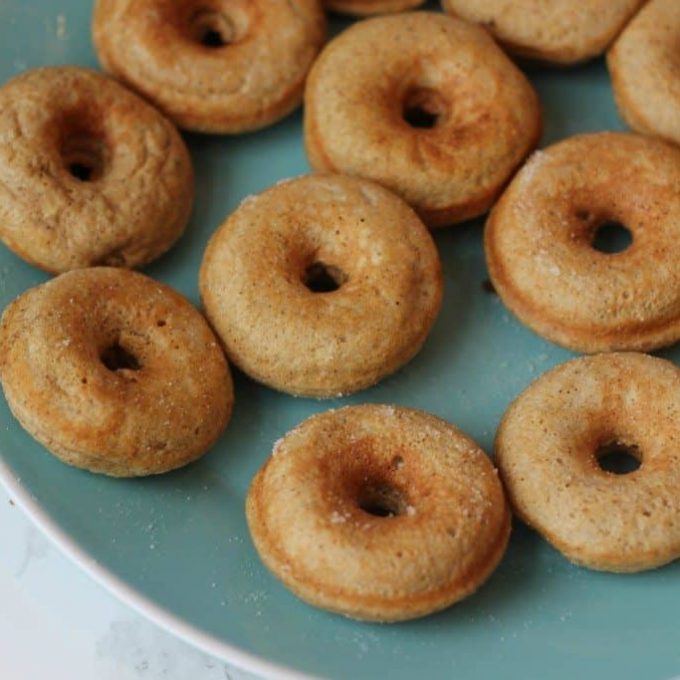 Mini Protein Donuts
Author:
Prep Time: 5 mins
Cook Time: 5 mins
Total Time: 10 minutes
Yield: 16–18 mini donuts 1x
Category: Breakfast
Method: Baking
Cuisine: American
---
Description
This mini protein donut recipe is the perfect on the go snack! You'd never guess that these little donuts are a healthy, protein packed breakfast!
---
1/4 cup coconut sugar
1 tablespoon cinnamon
1 egg
2 tablespoon melted coconut oil
1/2 cup almond milk
1 teaspoon vanilla
Cinnamon & sugar for dusting (optional)
Optional mix-ins: Mini chocolate chips, walnuts, peanut butter, etc.
---
Instructions
Preheat the oven to 350 degrees.
Combine the pancake mix, coconut sugar, and cinnamon.
Stir in the egg until just mixed.
Add in the coconut oil, almond milk, and vanilla.
In a mini donut pan or mini muffin pan, add in about a tablespoon of batter for each donut.
Bake for 9-11 minutes or until lightly browned on the edges.
If you're making these in a regular sized donut pan, bake for 12-14 minutes until lightly browned.
As soon as you take them out of the oven, sprinkle a little extra cinnamon and sugar on top!
---
---
Nutrition
Serving Size: 1
Calories: 50 calories
My plan was to take them to work and have a few as a snack during the 10:30am stomach growling time, but they all got eaten before I could take them in! These little donuts have less than 50 calories each.
Looking for more protein packed snacks? Try these banana bread protein muffins!
Have you ever tried making donuts?