5 Ways to Use Greek Yogurt
This post is sponsored by FAGE.
With Valentine's Day around the corner, can we talk about one of the foods that I love? Greek yogurt. It is always in my fridge. I thought it would be fun to show you a few of my favorite ways to use it! Lately, I've been buying FAGE Total 0% Plain Greek yogurt because it's so versatile. (Don't worry, I love the 2% and 5% varieties as well! You can see how I used FAGE 2% in a bunch of different yogurt bowls here!) I'm obsessed with their yogurt because it's so thick and creamy.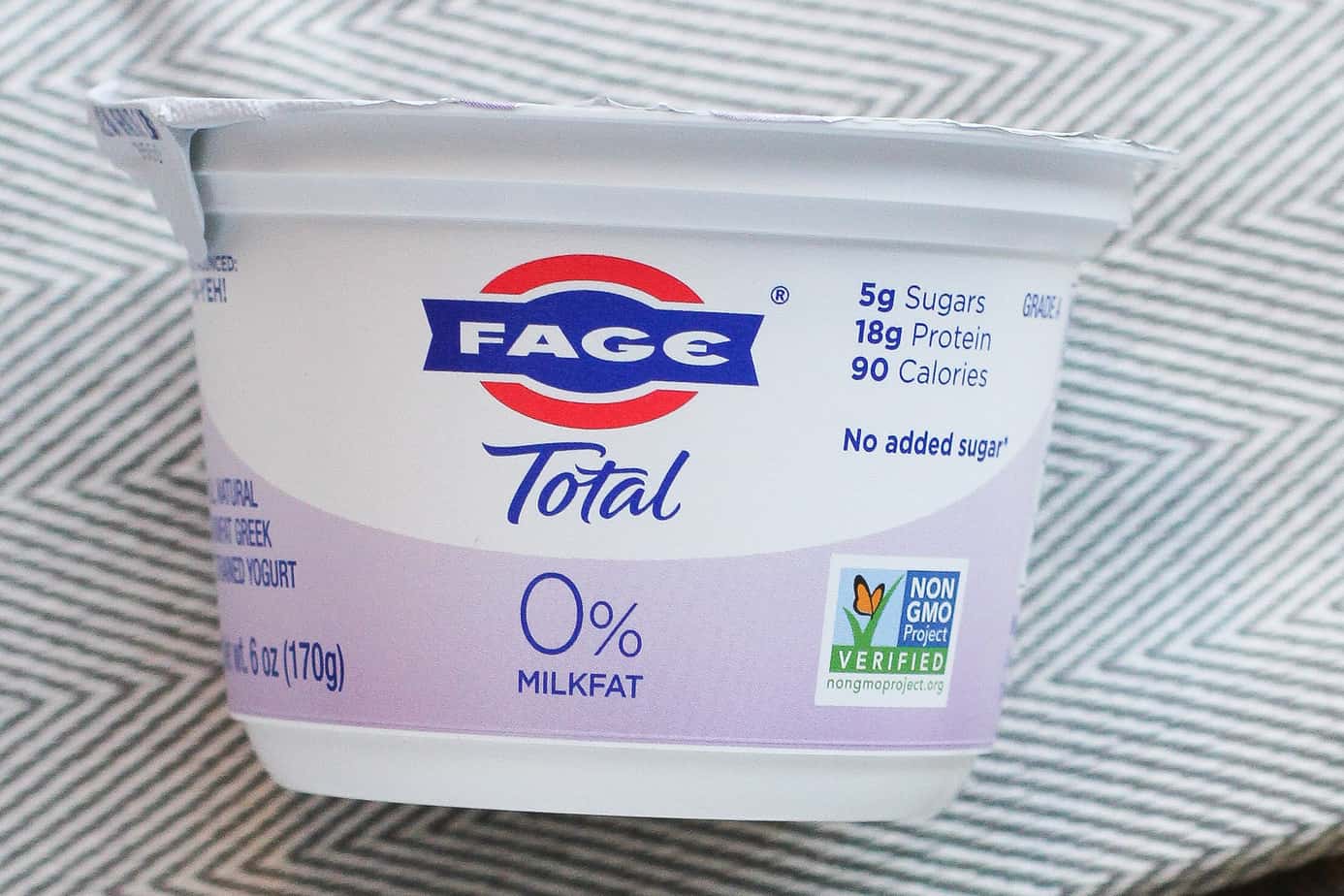 FAGE is my go-to brand because it's made with only milk and live and active cultures, which means lots of probiotics! Since there is no added sugar, it works well in sweet or savory recipes.
While I know yogurt is popular at breakfast, I wanted to give you a few ideas to get you thinking outside the breakfast bowl! It's amazing how yogurt can be a base for so many different desserts, snacks, and recipes! Here are a few of my favorite ways to use FAGE Total 0% Greek yogurt.
1. Easy Tzatziki Sauce
I love this tzatziki sauce on top of falafel but it's also delicious with pita chips or veggies! Unlike most creamy dips, this one is actually good for you. Combine FAGE, cucumber, olive oil, garlic, lemon, and dill, and you have a recipe packed with healthy ingredients. You can make it ahead of time so it's perfect for a party!
2. Easy Frozen Yogurt
This recipe almost doesn't count as a recipe because it's so easy. But I love blending frozen fruit with FAGE Total 0% Plain Greek yogurt. It's a perfect match with frozen mango, strawberries, or blueberries! It literally takes 30 seconds to make and it's so much healthier than the frozen yogurt you can buy at the store! Not only is it lower in sugar, but it's packed with protein! One serving of FAGE Total 0% Plain Greek yogurt is only 90 calories but it contains 18g of protein!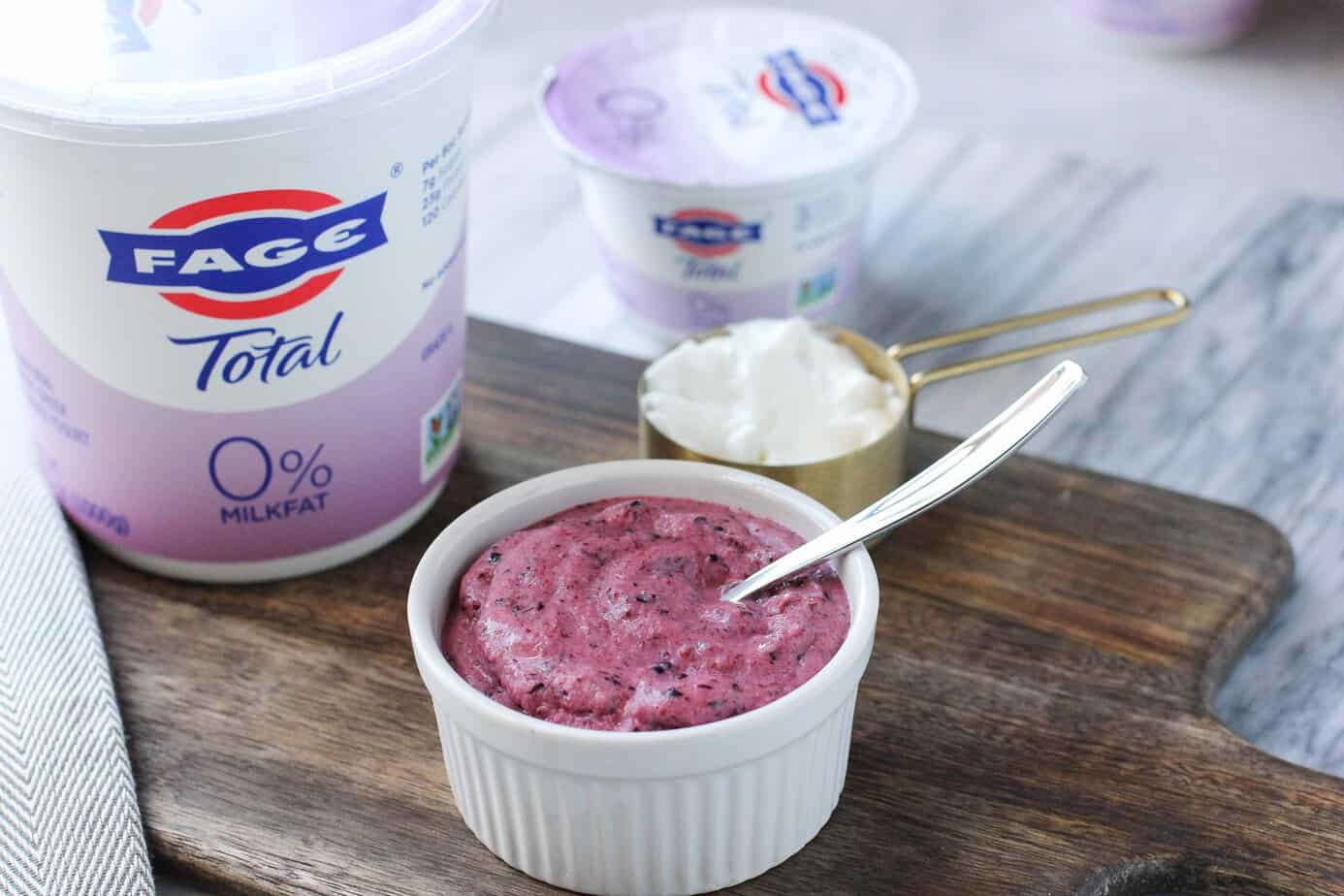 3. Greek Yogurt Onion Dip
I'm hooked on this caramelized onion dip. The sweet onions are so good in this creamy Greek yogurt-based dip.
I love serving this dip with chips or veggies. Trust me, you'll be coming back for seconds! You can make this dip up to a day in advance so it's a great one to make for a party.
4. 2 Ingredient Pizza Crust
This recipe still blows my mind. Did you know you can make pizza crust from scratch with just two ingredients? It's TRUE. This pizza crust is great when you need to make dinner in a flash! What better way to add a little protein to your pizza? All you have to do is combine FAGE Total 0% Plain Greek yogurt with a little self-rising flour! Roll out your dough, choose your toppings, and enjoy pizza night!
5. Greek Yogurt Spinach Dip
I can't even count how many times I've made this spinach dip! It's another great party recipe because you can prepare it ahead of time and simply heat it up in the microwave before serving. Try serving it with bell peppers for an even lighter dish!
Looking for more ideas? Try these easy yogurt bowl recipes! It's amazing how many different toppings pair perfectly with the rich and creamy yogurt! FAGE 0% Greek Yogurt is also Non-GMO Project Verified which means it's truly all-natural Greek yogurt. Keep a carton in your fridge and embrace the recipe possibilities!
What's your favorite way to use Greek yogurt?