Vegan Corn Chowder
This vegan corn chowder is thick and creamy, but it's made without any dairy! If you love the flavors of roasted corn, this recipe will be a new favorite!
Chowder just might be the ultimate comfort food. It's the hardiest of soups and it has that "stick to your ribs" quality that you don't always get from broth-based soups. The problem? They're often loaded with cream and not-so-good for you ingredients. But this vegan corn chowder is different. It's unbelievably thick and creamy, but it's thickened by blending some of the soup with a few corn tortillas. It's like magic.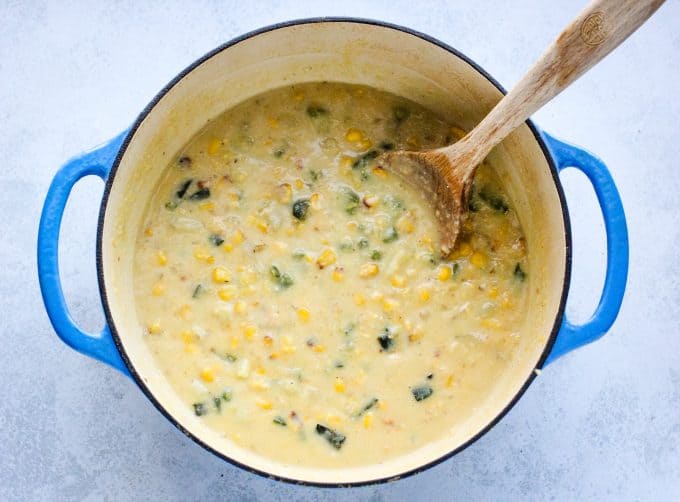 The other trick to this vegan corn chowder is roasting the poblano peppers and the corn in the oven until they're nice and brown. It gives this soup a rich, smoky flavor. You can roast the corn and peppers while you prepare the rest of the ingredients, so this soup comes together pretty quickly.
Vegan Corn Chowder Ingredients
Poblano peppers– These add a smoky, spicy flavor to the dish. Roasting them in the oven helps bring out the flavors.
Corn– You can use fresh or frozen corn for this soup.
Onion– I love the subtle flavor a little onion adds to the base of the soup.
Garlic– You can never have enough garlic!
Vegetable broth- I like using Edward & Son's "not-chicken" Style broth.
Russet potatoes– These help add body and creaminess to this soup.
Non-dairy milk– You can use almond or soy milk, just be sure it's unsweetened.
Corn tortillas– Corn tortillas are the trick to making this soup really thick and creamy. They're also used as a crunchy topping.
The Best Type of Corn for Corn Chowder
Fresh corn will give you a little more flavor and a little more starch which will thicken this soup even more. But I typically used frozen corn in this recipe because that's what I tend to have on hand. Canned corn will work, too. Just make sure you're not using creamed corn.
How to Thicken Corn Chowder
The trick to thickening this soup is blending two cups of the soup with two raw corn tortillas. This may sound a little crazy but trust me. The raw corn tortillas give the soup a boost of corn flavor while also thickening the base. When blending hot liquid, be sure to vent the blender so it doesn't explode. Do not try to blend hot soup in a bullet-style blender.
How to Roast Corn and Poblano Peppers
To roast the corn and poblano peppers, move the oven rack 5″ below the top of the oven. Set the oven to broil. Broil for 10 minutes then stir the corn and flip the peppers. Continue to broil for 5 minutes or until the corn and peppers are browned.
How to Peel Steamed Poblano Peppers
As soon as you take everything out of the oven, use tongs to carefully transfer the peppers to a glass bowl and cover with plastic wrap. This will steam the peppers and make it easier to remove the skin. Let sit for 5 minutes.
Once the peppers have cooled, remove the skin of the pepper. The skin will look like a thin sheet of plastic. If you can't peel it away with your fingers, use the tip of a chef's knife to gently scrape the skin off. In the photo below, you can see the corner of the skin that I've peeled away.
Once you're done roasting the corn and peppers, leave the oven on broil and make the crispy tortilla chips for a topping!
How to Make Crispy Tortilla Chips
You can serve this corn chowder with a variety of toppings but crispy tortilla chips are my personal favorite. To make these, stack four corn tortillas on top of each other and slice into small squares, as shown below.
Once you're done roasting the corn and peppers, spray a baking sheet with non-stick spray. Spread the tortilla pieces into a single layer and spray or drizzle with olive oil and sprinkle with salt. While the oven is still set to broil, bake the tortilla pieces for 1-2 minutes. Keep a close eye on them, since they can burn quickly!
How to Blend Hot Soup
Be careful when transferring hot soup to a blender! Let the soup cool slightly before trying to transfer it. Use a measuring cup to transfer the soup. Don't attempt to pour boiling soup since it could splash and burn you!
Let the steam escape. After you've safely transferred it to a traditional blender, be sure to use the vent in the lid of the blender to allow steam to escape while blending. Cover with a towel to prevent soup from splattering out of the blender.
Do NOT try to blend hot soup in a bullet style blender. These blenders must be airtight before blending and hot soup can literally explode. If you want to use a bullet blender to blend soup, it must be cold or room temperature.
More Soup Recipes
Print
Vegan Corn Chowder
Author:
Prep Time: 15 minutes
Cook Time: 30 minutes
Total Time: 45 minutes
Yield: 6 cups 1x
Category: Soup
Method: Stovetop
Cuisine: Mexican
---
Description
This vegan corn chowder is thick and creamy, but it's made without any dairy! If you love the flavors of roasted corn, this recipe will be a new favorite!
---
2 poblano chiles, stemmed, halved lengthwise, and seeded
4 cups corn (frozen or canned is fine)
1 tablespoon olive oil (divided)
1/2 teaspoon salt (divided)
1 medium yellow onion, diced
3 garlic cloves, minced
5 cups vegetable broth
1 pound russet potatoes, peeled, cut into 1/2-inch chunks
1/4 cup almond or cashew milk (see note)
2 (6-inch) corn tortillas, torn into 1-inch pieces
1 tablespoon minced fresh cilantro
2 tablespoons diced red onion (optional for garnish)
Crispy Tortilla Chips
4 corn tortillas
2 teaspoons olive oil
Salt to taste
---
Instructions
To make corn chowder:
Adjust oven rack 6 inches from broiler element and heat broiler. Line a baking sheet with aluminum foil. Arrange poblanos cut side down, flush against short side of sheet. Spread corn in even layer on remaining portion of sheet next to poblanos.
Drizzle with 1 1/2 teaspoons olive oil. (Or spray with an olive oil spray.) Sprinkle with 1/4 teaspoon salt.
Broil until poblanos are mostly blackened and corn is well browned andtender, 10 to 15 minutes, flipping poblanos and stirring corn halfway through broiling.
Place poblanos in bowl, cover with plastic wrap, and let cool for 5 minutes. Remove skins and cut poblanos into ½-inch pieces; transfer to clean bowl and set aside.
Add remaining 1 1/2 teaspoons of oil to a Dutch oven or large pot. Add onion and ¼ teaspoon salt and cook until onion is softened and beginning to brown, 5 to 7 minutes. Add garlic and cook until fragrant, about 30 seconds.
Add broth, potatoes, roasted corn and poblanos to pot and bring to simmer. Cook at vigorous simmer until potatoes are tender, 15 to 20 minutes. 
Remove from heat and stir in milk.
Add torn pieces of corn tortilla and 2 cups of soup to a blender and blend for 1 minute until smooth.
Add the blended mixture back to the pot of soup and stir until combined.
Top with cilantro, red onion, and toasted tortilla chips. (Instructions for tortilla chips below)
To make tortilla chips:
Stack 4 corn tortillas together.
Cut into 1/2 inch squares.
Toss with olive oil or spread onto a parchment paper lined baking sheet and spray with olive oil.
Sprinkle with salt, then broil for 2-3 minutes, stirring frequently to ensure even browning. Keep a close eye on the chips so they don't burn!
Notes
Adapted from America's Test Kitchen corn chowder recipe
Keywords: vegan corn chowder
Looking for other vegan soup ideas? Try one of the recipes below!
What's your favorite kind of soup?