Mediterranean Lentil Soup
This post is sponsored by Patient First. Enjoy a bowl of this Mediterranean Lentil Soup and follow these tips from Patient First to strengthen your immune system.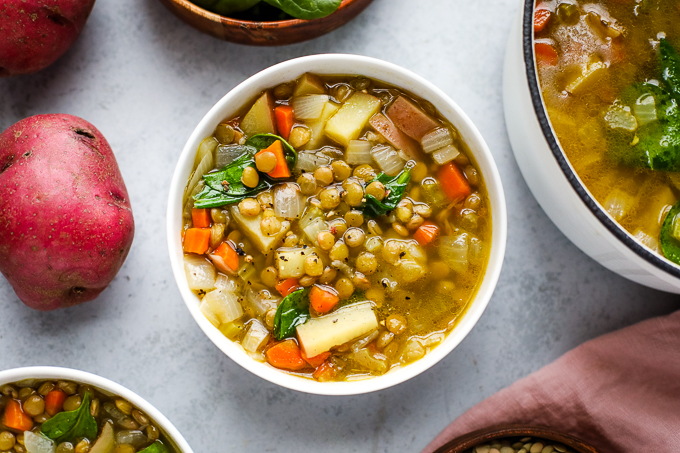 I'm partnering up with Patient First to help you stay healthy and safe all winter long. (You may remember the DIY mishap that led me to Patient First!) Now that we're foster parents, I'm even more thankful that we have a Patient First location just around the corner.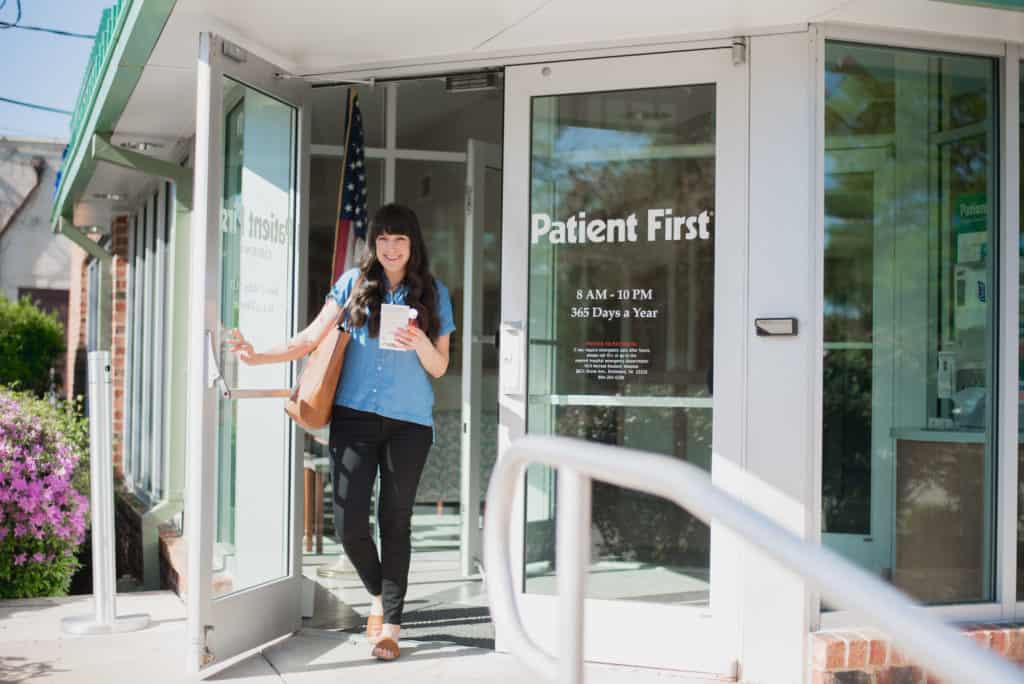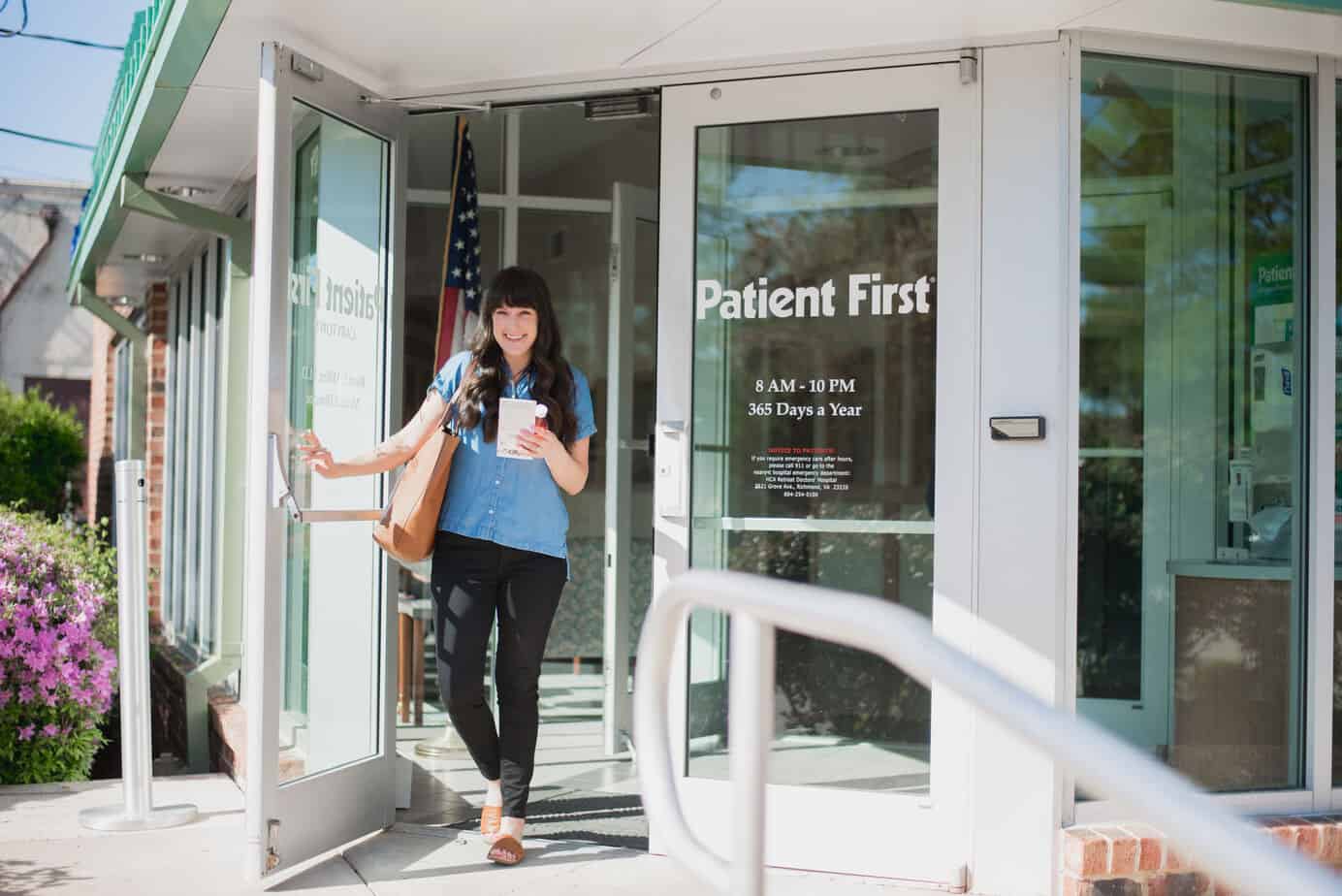 One of my favorite parts of the winter season is enjoying endless bowls of soup. It's an easy way to add lots of vegetables to your diet and Patient First's Dr. Melissa Aquilo agrees," Who doesn't love a healthy soup on a cold winter's day? Especially when made with fresh ingredients, a nutritious soup for lunch or dinner would easily provide energy to hold you over until your next meal."
Since good nutrition is one way to help support your immune system and stay healthy, I wanted to share a tasty soup recipe that is delicious and nutritious. Whether you're a vegan or just enjoying the occasional Meatless Monday, this hearty soup is loaded with protein and fiber.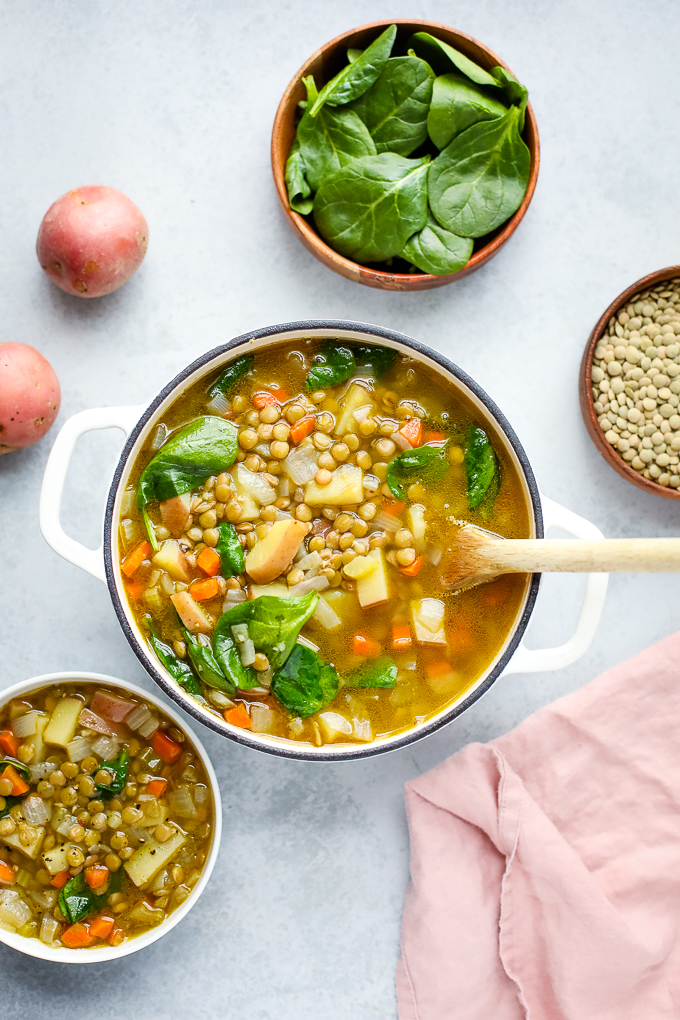 This soup also contains garlic and spinach which are both part of a group of immune boosting foods. Dr. Aquilo reminds us "Not only is it important to take regular preventive cold and flu measures like washing your hands, getting the right nutrition can also help your body get the upper hand on fighting off sick season."
Ready to cozy up with a bowl of this soup? Let's get cooking!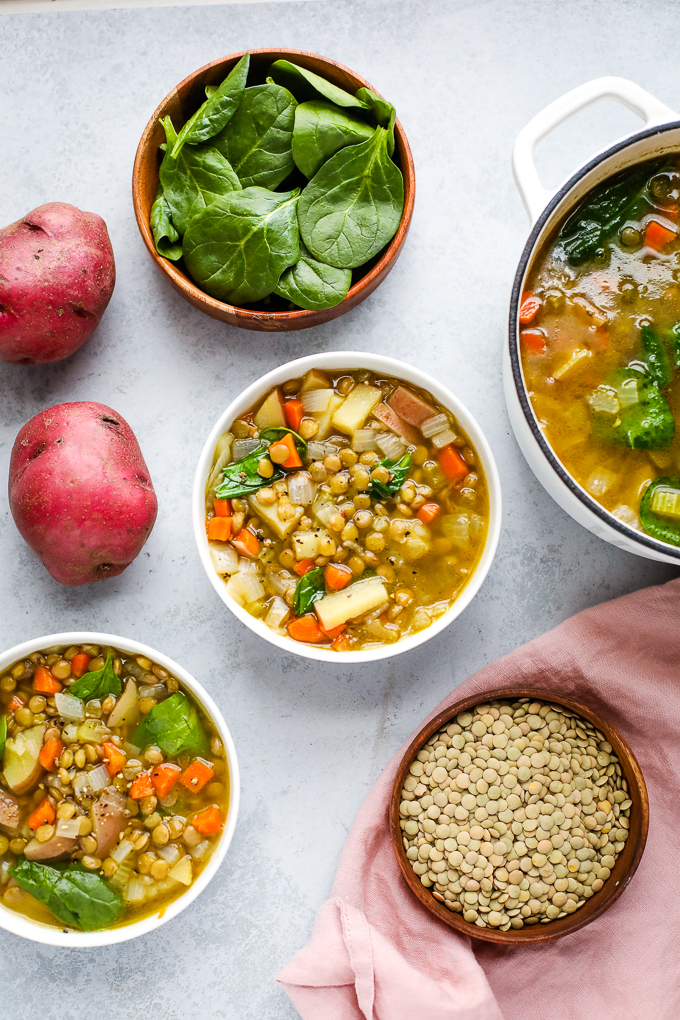 Print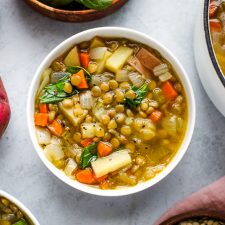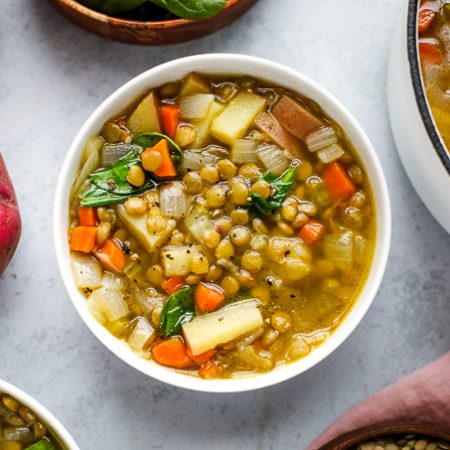 Mediterranean Lentil Soup
Author:
Prep Time: 10 minutes
Cook Time: 45 minutes
Total Time: 55 minutes
Yield: 10 cups 1x
Category: Soup
Method: Stovetop
Cuisine: Mediterranean
Diet: Vegan
---
Description
This Mediterranean Lentil Soup is packed with healthy ingredients like lentils, garlic, and spinach for a tasty recipe that will keep you full and satisfied! On the blog, I'm sharing this yummy recipe, along with tips to help you stay healthy during this winter season.
---
2 tablespoons olive oil
1 yellow onion, diced
3 large carrots, chopped
3 celery stalks, chopped
3 cloves garlic minced
½ teaspoon cumin
½ teaspoon dried thyme
1 bay leaf
6 cups vegetable broth
1 cup brown lentils, rinsed
1lb red potatoes, chopped into 1" pieces
1 cup baby spinach
---
Instructions
In a large In a large pot, add the olive oil, onion, carrots, and celery and sauté over medium heat for 10-12 minutes, stirring frequently.
Add garlic and cumin and continue to cook for 1 minute.
Add the bay leaf, thyme, vegetable broth, lentils, and red potatoes.
Bring to a boil then reduce heat and simmer for 30-35 minutes until the lentils are softened.
Just before serving, stir in spinach until wilted.
Add salt and pepper to taste and serve immediately
Substitution Ideas
Feel free to use green or brown lentils in this recipe.
No spinach? No problem! Try using kale instead! De-stem the kale leaves and tear into small pieces, then stir into the soup at the end of cooking.
How to Store Leftovers
This soup is easy to reheat, so it's a great meal prep option. (Patient First has tons of great meal prep tips here!) Simply reheat the leftover soup on the stove or in the microwave. You can even freeze the leftovers for up to 1 month. It's perfect to keep in the freezer for a busy night!