Vegetarian Sheet Pan Dinner
This post is sponsored by Vidalia onions.
This vegetarian sheet pan dinner is made with sweet Vidalia onions, roasted broccoli, tender carrots, and crispy chickpeas. The creamy herb sauce takes this easy dinner to the next level!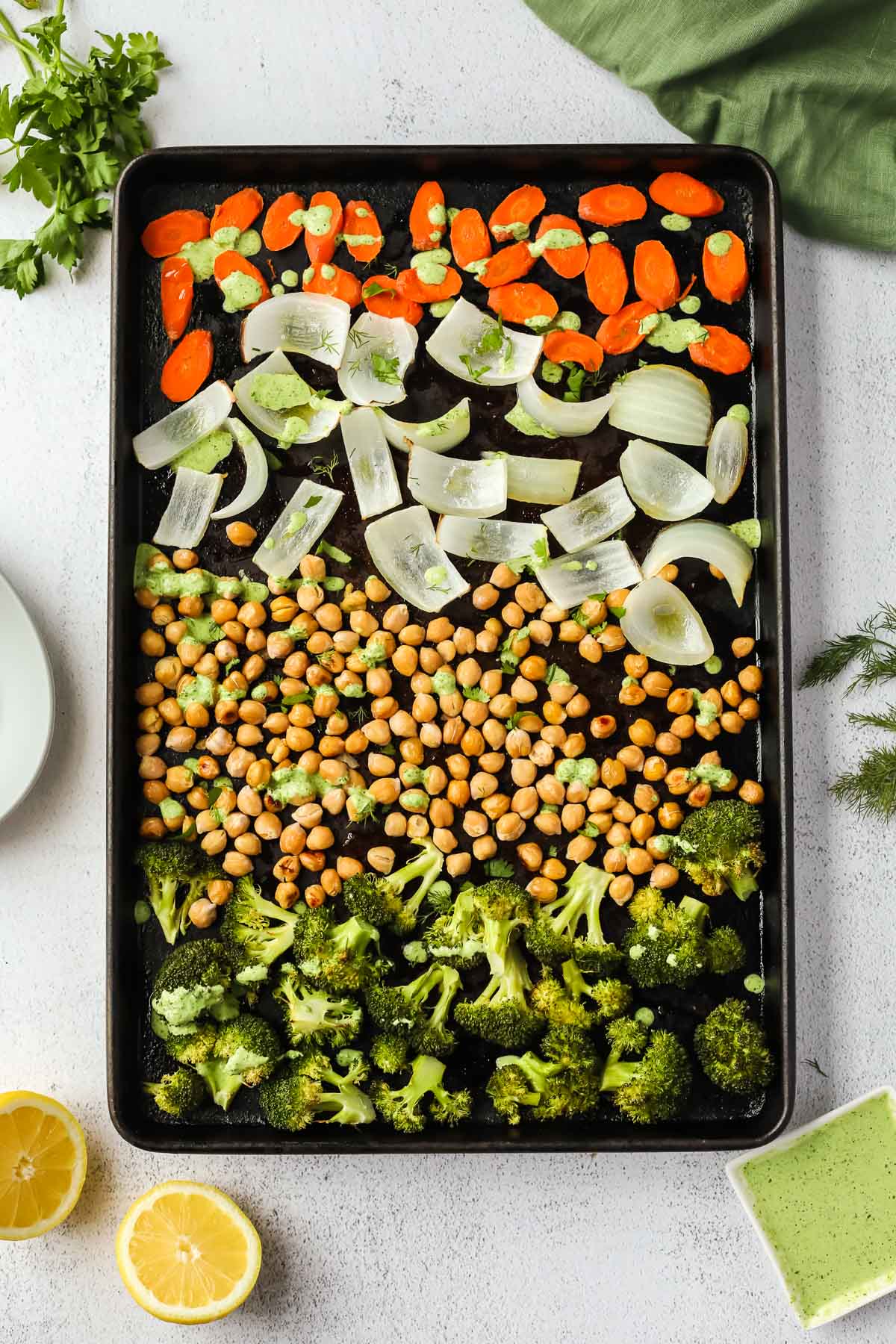 I love making sheet pan meals because it only takes a few minutes to get dinner in the oven and it's an easy way to add a lot of vegetables to our plate. For this recipe, I wanted to shine the spotlight on sweet Vidalia onions. These incredible onions are hand planted, harvested, and cured each season. These sweet and juicy onions are only available from April to August so don't miss out! They're grown in South Georgia but they're available in grocery stores nationwide, so keep your eyes peeled.
I decided to pair them with crispy chickpeas, tender carrots, and roasted broccoli. I just love the way these flavors and textures come together. I also wanted to use some of my favorite herbs to create a delicious sauce and I love the flavor it adds to this meal!
Ingredients & Substitutions
Vidalia Onions– These onions are sweet and crisp with a distinctive flavor. Trust me, once you have a Vidalia onion, you'll be hooked! I can see why they're a favorite among chefs. Its sweet versatility makes it a great pick for anything from soups and salads to stir-fries and sandwiches. I love the way it shines in this sheet pan recipe!
Broccoli– I like the texture and flavor of roasted broccoli but if you don't have any broccoli, try using cauliflower or green beans instead.
Carrots– I used regular carrots but you could also use baby carrots. Simply slice them in half so they roast at the same rate as the rest of the vegetables.
Chickpeas– These add protein and fiber to the recipe and make it really filling! If you don't like chickpeas, you can substitute your favorite protein in its place.
How to Make Creamy Herb Sauce
This creamy herb sauce is addicting and you'll probably want to drizzle it over everything! It's really simple to make and it keeps well in the refrigerator, so I recommend making the full batch. But you can divide the recipe in half if you want to make a smaller serving.
I used cilantro and parsley but you could use all cilantro or all parsley if you only have one or the other. The dill and chives add even more flavor to this tasty dressing. The lemon adds brightness and helps all the flavors come together. Garlic powder is my preference for adding garlic flavor as raw garlic can be a bit too sharp. Add salt to taste. To make this sauce vegan, use vegan mayonnaise.
Tips for Perfectly Roasted Vegetables
Cut the vegetables into evenly sized pieces. This helps ensure that they all cook at the same rate. The Vidalia onions should be cut into large, 2-inch pieces so they don't cook too quickly. The broccoli should be cut into 1-inch pieces and the carrot should be sliced into thin coins.
You can substitute other vegetables, but keep in mind that their baking time may be different. As a general rule root veggies and winter squash take the longest, followed by broccoli, cauliflower, onions, carrots, and brussels sprouts. Softer veggies like bell peppers, asparagus, and green beans cook more quickly. Actual cooking times will depend on how big you slice your vegetables. If you want to speed up the cooking time of a certain vegetable, cut it into smaller pieces.
Don't crowd the baking sheet. This is important! If the vegetables are too crowded or they're stacked on top of each other, the vegetables will steam instead of roast. This will prevent them from browning and you'll end up with soggy vegetables. It's better to use two pans and rotate them halfway through cooking, than to crowd everything onto one pan.
How to Store Leftovers
If you're making a larger batch of these roasted vegetables, store them in an airtight container in the refrigerator. To reheat, spread them onto a baking sheet and reheat at 425 degrees for 4-6 minutes or until heated through. The sauce can also be stored in the refrigerator for up to 4 days.
Frequently Asked Questions
What kind of baking sheet should I use? I recommend a large, rimmed non-stick baking sheet. If your baking sheet is too small to spread the vegetables into a single layer, divide the vegetables onto two baking sheets and rotate the pans halfway through baking.
How do I make sure I'm getting a Vidalia onion? You'll notice that Vidalia onions are a wide, flat shape. But just to be certain, look for the PLU code of 4159 in grocery stores.
Can I use other seasonings? Yes! If you don't want to use the herb dressing, I recommend using a combination of garlic powder, onion powder, salt, and pepper. You can also add a squeeze of lemon juice and a sprinkle of fresh dill for even more flavor.
Print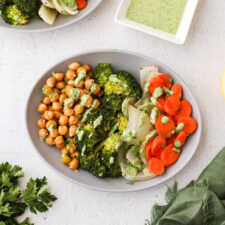 Vegetarian Sheet Pan Dinner
Author:
Prep Time: 15 minutes
Cook Time: 20 minutes
Total Time: 35 minutes
Yield: Serves 2
Category: Dinner
Method: Oven
Cuisine: American
Diet: Vegetarian
---
Description
This vegetarian sheet pan dinner is made with sweet Vidalia onions, roasted broccoli, tender carrots, and crispy chickpeas. The creamy herb sauce takes this easy dinner to the next level!
---
For the vegetables:
1 Vidalia Onion, cut into 2-inch pieces
1 15oz can chickpeas, drained, rinsed, and patted dry
2 large carrots, sliced into thin coins
1 cup chopped broccoli florets
2 teaspoons olive oil
For the sauce (makes about 1 cup)
1/2 cup mayonnaise
1/2 cup loosely packed cilantro
1/2 cup loosely packed parsley
1 tablespoon fresh dill
1 tablespoon chopped chives
1 teaspoon lemon juice
1/4 teaspoon garlic powder
1/4 teaspoon salt
---
Instructions
Preheat the oven to 425 degrees.
On a large baking sheet, spread the onions, chickpeas, carrots, and broccoli into a single layer, being sure not to crowd the pan. If you're using a small sheet pan, you may need to use two sheet pans.
Drizzle with olive oil.
Bake for 15-18 minutes or until the chickpeas are slightly crispy and the vegetables are beginning to brown.
While the vegetables are baking, prepare the sauce.
Add the mayonnaise, cilantro, parsley, dill, chives, lemon juice, garlic powder, and salt into a food processor or blender.
Blend until smooth.
Once the vegetables are cooked, drizzle with a few tablespoons of sauce, to taste. Leftover sauce can be stored in the fridge for up to 4 days.
---
Keywords: vegetarian sheet pan dinner