Sangria Spritzer
This white sangria spritzer recipe is a delightful blend of crisp white wine and tart citrus flavors. This light and refreshing drink is perfect for summer parties!
While I love sangria in all of its forms, I think this white sangria spritzer recipe might be the perfect one for summer! Chilled white wine is the base of this recipe while fresh citrus add a delicious, fruity flavor. A splash of Triple Sec complements the fruit flavors in the sangria, adding depth and complexity to the drink. Then topping it off with plenty of club soda lowers the overall alcohol content of the drink making this a lovely, sippable option.
Looking for other refreshing drinks? Try my ranch water or vegan gin fizz! If you want a non alcoholic option, try my melon auga fresca or this Strawberry Acai Refresher.
What is triple sec?
Triple Sec is an orange-flavored liqueur that adds a citrusy and sweet flavor to sangria. Its name comes from its triple distillation process. It's made from the peels of bitter and sweet oranges, which are steeped in alcohol and then distilled, so it has a strong, sweet citrus flavor with hints of orange peel. The flavor works well in sangria.
Is club soda the same thing as tonic water?
No. Club soda is just sparkling water. There is no added sugar to club soda. Tonic water is carbonated water that has been flavored with quinine. Many types of tonic water also contain sugar or sweeteners. Be sure to use plain club soda in this recipe. I have a Sodastream so I can make sparkling water at home!
Can I make it in advance?
Yes! This recipe is great for a party because you can prepare a pitcher in advance. This recipe makes 8 (6oz) servings so it's a nice one for a group. In fact, it's best to let the sangria sit for at least a few hours before serving. So you can make this in the morning and then serve it up in the evening! Just wait to add the club soda until you're ready to serve it.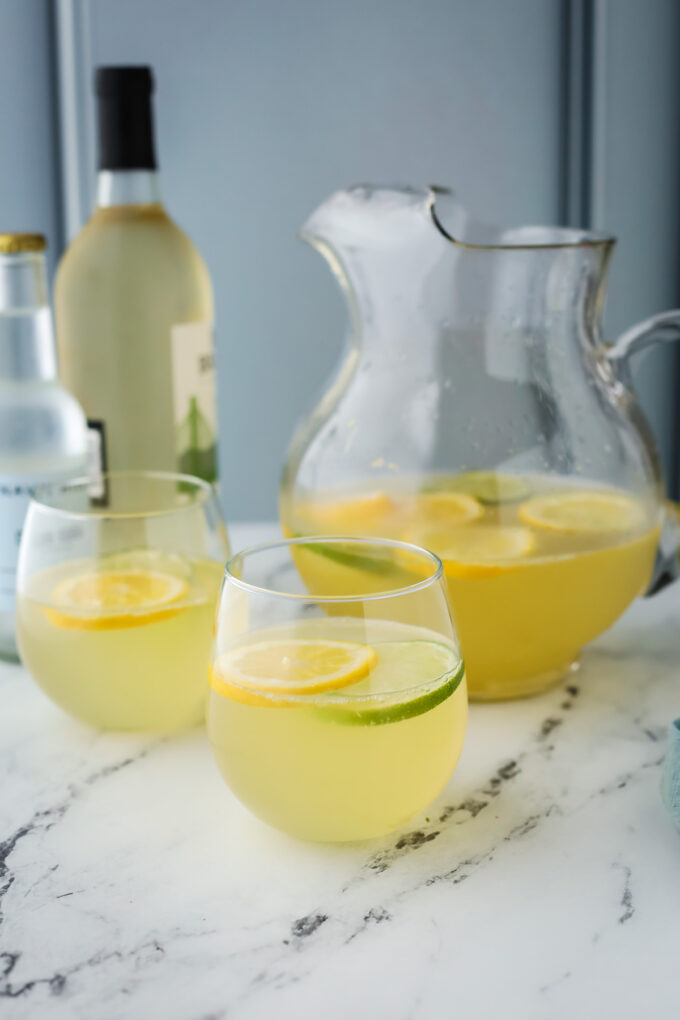 The Best Fruit for Sangria
The best fruit for sangria depends on the type of sangria you're making. For this white sangria, I love the citrus flavors of lemon, lime, and orange. But feel free to switch the fruit! This recipe is also delicious with grapefruit, apples, or strawberries! I do recommend adding orange juice to the sangria, even if you're using different fruits. This helps sweeten the drink and balance the flavors.
The Best Wine for Sangria
I recommend a dry white wine like pinot grigio, sauvignon blanc or chardonnay. You do not need to use expensive wine for this recipe since the citrus helps enhance the flavor. I used Bay Bridge wine which is very inexpensive and it still tastes great!
Substitutions & Variations
If you don't have Triple Sec, you can substitute with Grand Marnier or Cointreau. You can also make this sangria without it.
You can serve this sangria over ice, if you prefer. If you're looking for a red wine sangria, try this citrus sangria recipe! Or if you're looking for other refreshing cocktails, try a Boulevardier cocktail or my vegan gin fizz!
Print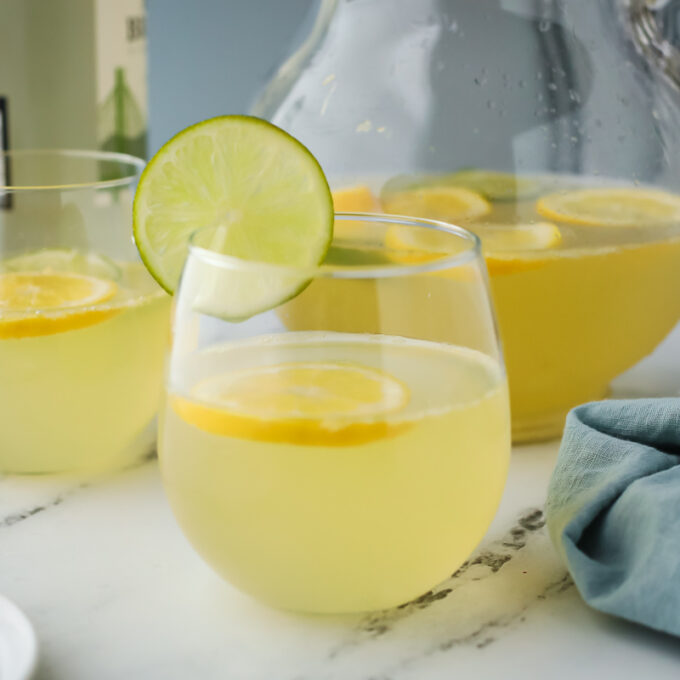 Sparkling Sangria Recipe
Author:
Prep Time: 5 minutes
Chill Time: 2 hours
Cook Time: 0 minutes
Total Time: 2 hours 5 minutes
Yield: 8 (6oz) servings 1x
Category: Drink
Method: No Cook
Cuisine: American
---
Description
This white sangria spritzer recipe is a delightful blend of crisp white wine and tart citrus flavors. This light and refreshing drink is perfect for summer parties!
---
1 (750ml) bottle of pinot grigio
1/4 cup orange juice
1/4 cup Triple Sec
1 lemon, thinly sliced
1 lime, thinly sliced
3 cups (24oz) club soda
---
Instructions
In a large pitcher, combine the wine, orange juice, Triple Sec, lemon, and lime slices.
Let it sit in the fridge for at least 2 hours to allow the flavors to blend.
Add the club soda just before serving.
---