Panko Crusted Asparagus
Tender asparagus spears coated with crunchy panko crumbs are a quick and delicious side dish to pair with your favorite protein. This easy recipe only takes a few minutes to make!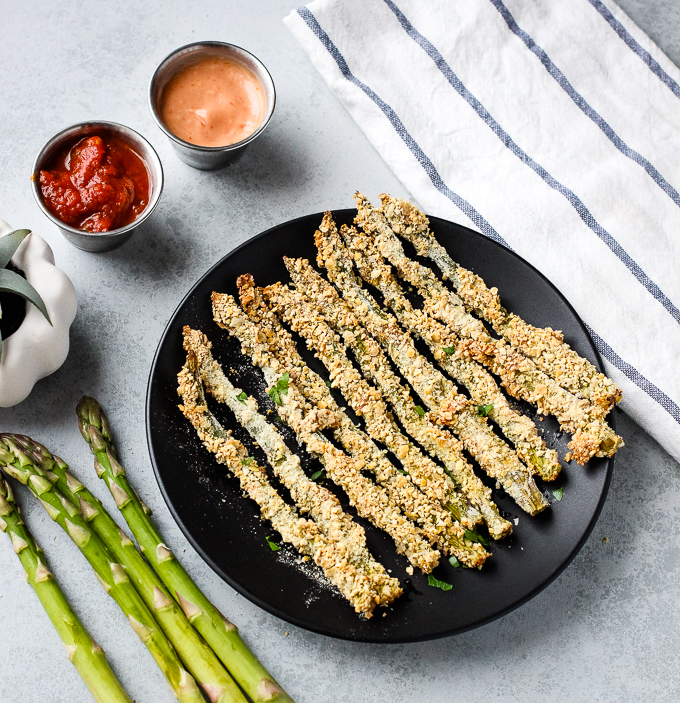 If you're looking for a delicious side dish to serve with dinner, try this asparagus! It's easy to make and these crispy spears are a crowd favorite. You can even make your own panko bread crumbs.
Panko Crusted Asparagus Ingredients
Asparagus– Obviously, you need asparagus! Be sure it's fresh. This recipe won't work with canned or frozen asparagus.
Panko crumbs– I love using panko crumbs which are bigger and crunchier than traditional breadcrumbs.
Garlic powder & onion powder– A little seasoning helps enhance the flavor of the breadcrumbs.
Flour– A coating of flour helps the egg wash stick to the asparagus.
Egg– An egg wash helps the breadcrumbs stick to the asparagus for perfectly crunchy spears.
What's the difference between panko crumbs and bread crumbs?
Panko crumbs are made from white bread with the crusts removed. It's processed into flakes and then dried. Panko crumbs tend to absorb oil more than traditional breadcrumbs and the end result is a crunchier crumb. You can substitute breadcrumbs if that's all you have, but panko crumbs will give you a crunchier result.
Substitution Ideas
For a gluten-free option, use gluten-free panko crumbs or chickpea crumbs. Yes, you can find breadcrumbs made from chickpeas! Check them out on Thrive Market. Also, be sure to substitute gluten-free flour, for all-purpose flour.
When is asparagus in season?
Asparagus is usually in season from February until June, but it usually peaks around April. Asparagus is often available year-round, but it's cheapest and most flavorful when it's in season.
How to Store Fresh Asparagus
When you buy fresh asparagus, store the spears in a large glass jar filled with a couple of inches of water, like fresh flowers. (I use a short, squat drinking glass.) Cover loosely with a plastic bag and keep it in the fridge. This is the best way to keep your asparagus fresh for as long as possible.
How to Make Panko Crusted Asparagus
This panko-crusted asparagus comes together with just a few steps. Trim the woody ends off the bottom of the asparagus spears. Wash and gently pat dry with paper towels. Toss the asparagus in flour until it's lightly coated. Dip into an egg wash, then coat with panko crumbs. Bake for 15 minutes until crispy.
The Best Sauce to Serve with Crispy Asparagus
Try serving this asparagus with a simple aioli. Mix 1/4 cup of mayonnaise with 1 teaspoon lemon juice, 1/4 teaspoon garlic powder, and a pinch of salt and pepper. This asparagus is also delicious with marinara sauce. Or try it with this simple cilantro sauce. If you love cilantro, you'll love this sauce!
How to Store Leftovers
This asparagus is best served immediately, as the leftovers will get soggy. If you do need to reheat this recipe, I recommend reheating it in an air fryer. That's the best way to re-crisp the breadcrumbs. But I'd avoid storing leftovers, if possible. If you want to make a smaller batch, change the "yield" in the recipe guide below to reduce the quantity.
More Asparagus Recipes
Print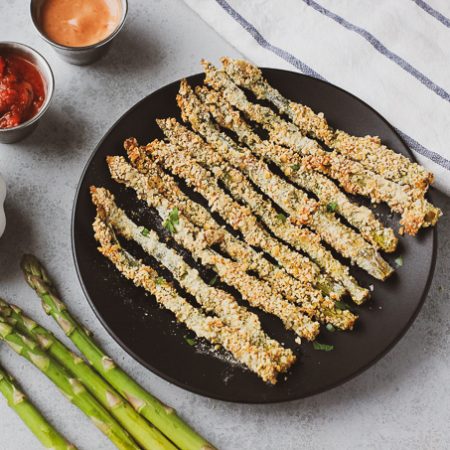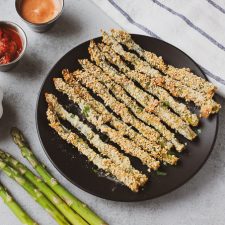 Panko Crusted Asparagus
Author:
Prep Time: 10 minutes
Cook Time: 20 minutes
Total Time: 30 minutes
Yield: 4 1x
Category: Side Dish
Method: Baked
Cuisine: Side Dish
---
Description
Tender asparagus spears coated with crunchy panko crumbs make a quick and delicious dish to pair with your favorite protein. This recipe only takes a few minutes to make!
---
1 cup panko crumbs
½ teaspoon garlic powder
¼ teaspoon salt
1 pound asparagus, ends trimmed
2 tablespoons all-purpose flour
1 egg or 2 egg whites, beaten
Marinara sauce or aioli for dipping
---
Instructions
Preheat the oven to 400 degrees.
Line a baking sheet with parchment paper.
In a shallow dish, combine the panko crumbs, garlic powder, and salt.
Toss the asparagus in the flour until very lightly coated.
Working one at a time, dip the asparagus into the egg and let the excess drip off.
Roll the asparagus into the panko crumbs until coated.
Line the asparagus in a single layer on the baking sheet.
Bake for 15-20 minutes, turning halfway until browned.
Serve with marinara sauce or aioli for dipping.
---
Keywords: panko crusted asparagus
What to Serve with Panko Crusted Asparagus
Looking for a main dish to pair with this asparagus? Here are a few of my favorites!