Vegan Stuffed Pepper Soup
This vegan stuffed pepper soup is packed with protein and filled with flavor! By using textured vegetable protein in place of ground beef, we can create a hearty soup that is completely plant-based.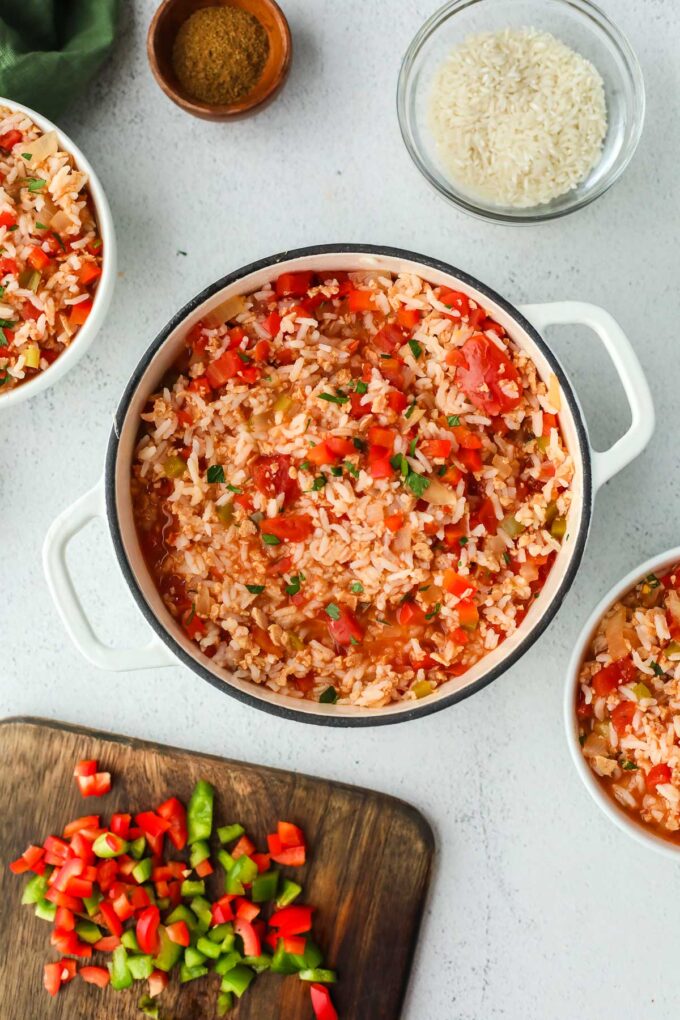 I've always loved stuffed peppers and when I heard about stuffed pepper soup, I knew I had to try it. Most versions require ground beef, but obviously, I wanted to make a vegetarian version. I thought about just skipping the meat but I wanted this soup to be just as filling. I turned to TVP, which stands for Textured Vegetable Protein. It has a similar texture to ground beef and it works perfectly in this soup!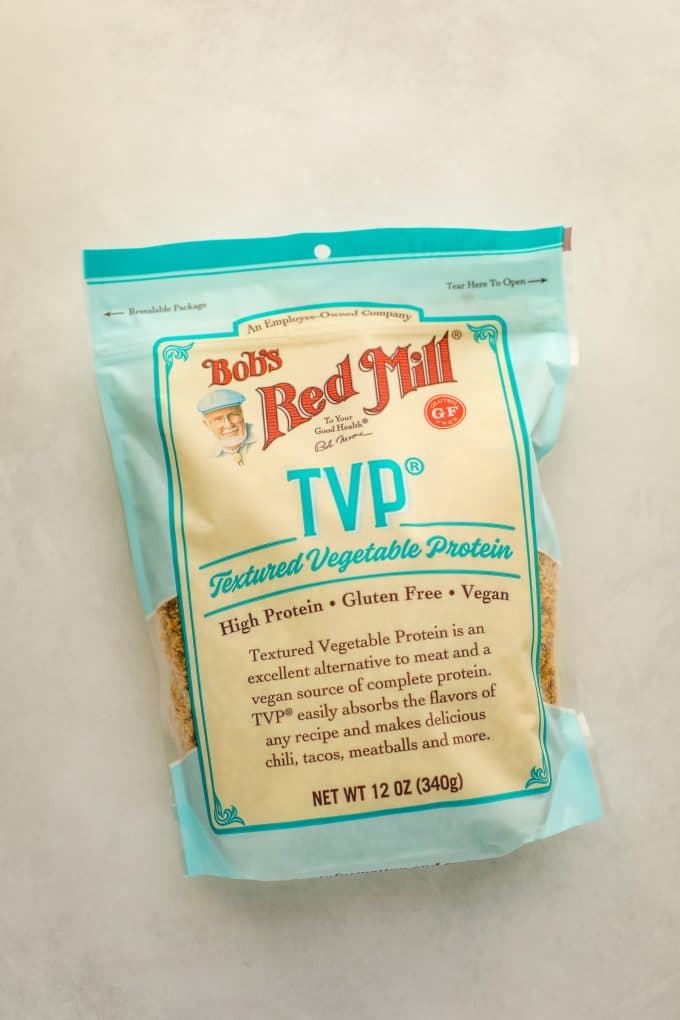 What is TVP?
TVP stands for Textured Vegetable Protein. It's a soy-based protein that comes dried, meaning it's shelf stable and lasts a long time. The texture is quite similar to ground beef. It doesn't really have any flavor on its own but it takes on other flavors really well, kind of like tofu. It's a great source of protein, so it makes this soup extra satisfying.
Where can you buy TVP?
It can be a little hard to find, but I've found it at Whole Foods, local specialty stores, and Amazon. The great thing about TVP is that it is a very inexpensive source of protein and it doesn't expire quickly. Even once it's open, you can keep it in your fridge for months! Not sure what to do with leftover TVP? Try my vegan TVP tacos!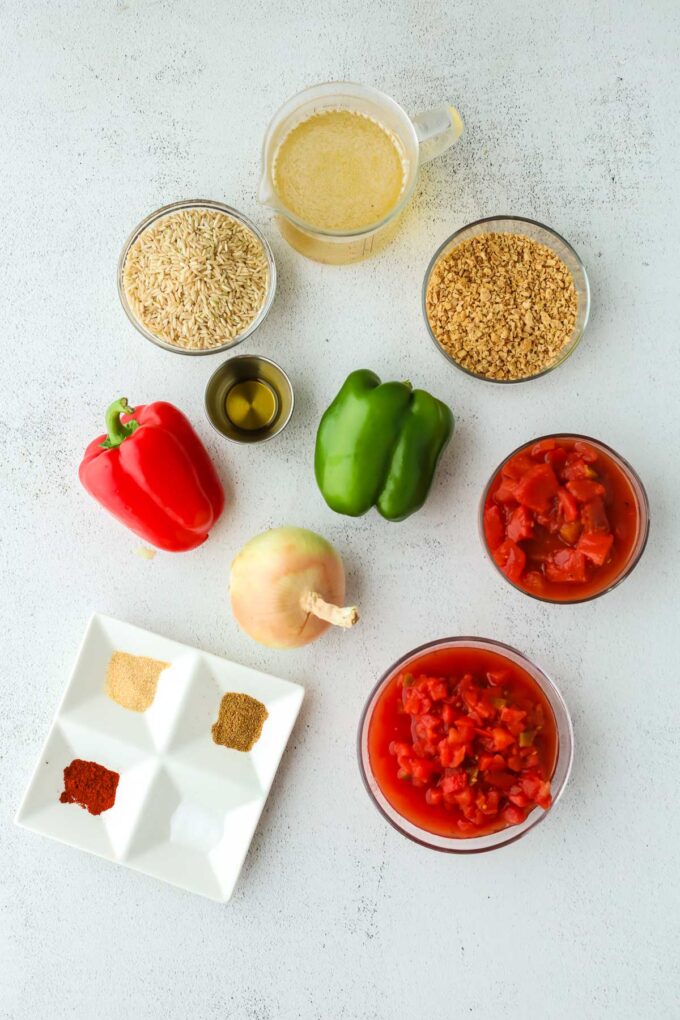 Ingredients & Substitutions
Rice– I used long grain white rice but brown rice works fine, too.
TVP– If you're looking for a substitute for TVP, I'd recommend adding your favorite meat substitute (like Beyond Meat, Boca Crumbles, etc.) or adding 2 cups of cooked brown lentils. Either one will give you a "meaty" flavor and add some protein to this dish.
Bell peppers– I recommend one red and one green bell pepper so you get a variety of flavors. But you could swap in an orange or yellow bell pepper if you like. You could also do two of the same color.
Diced tomatoes– I used two different types of diced tomatoes, fire-roasted, and diced with green chilies. If you don't want any spicy flavor, you can use two cans of fired-roasted diced tomatoes. The green chilies do add a bit of heat.
How to Make Vegan Stuffed Pepper Soup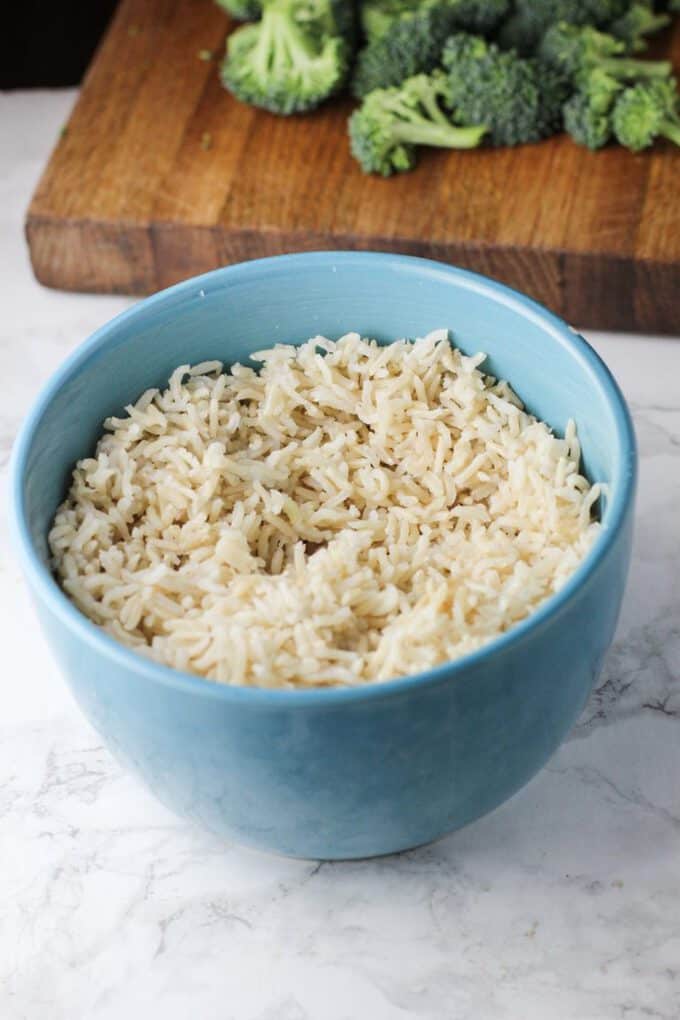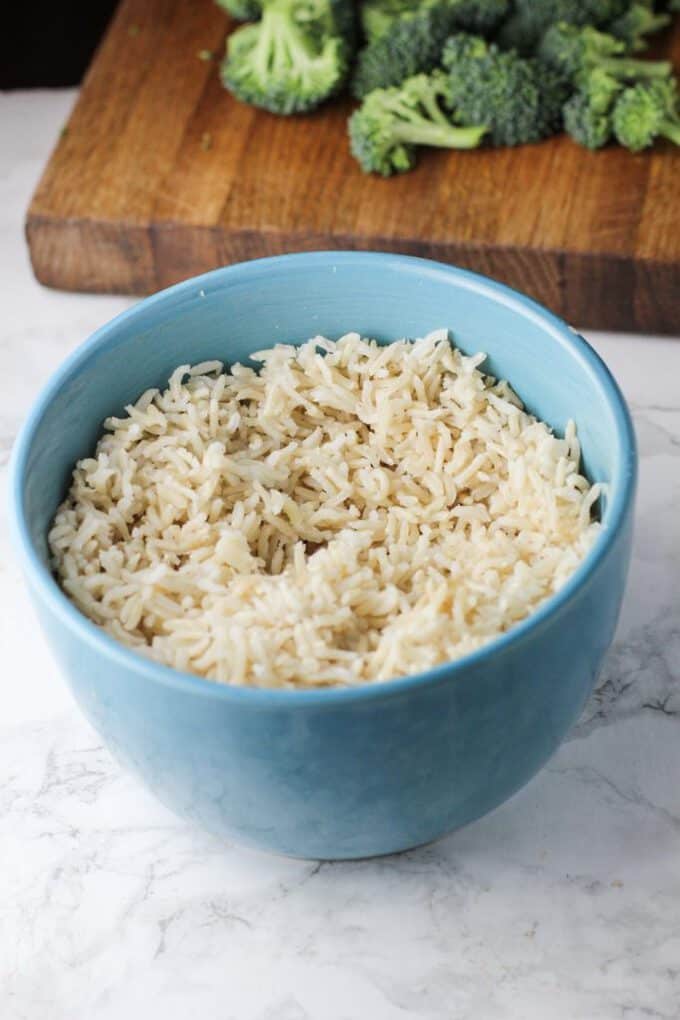 What to Serve with Soup
Looking for the perfect side dish to serve with your soup? Try pairing it with a crusty loaf of bread from Wildgrain or enjoy it with a delicious grilled cheese sandwich. You could also pair this soup with a fun dip like my 5 minute corn salsa! It's perfect with tortilla chips.
How to Store Leftover Soup
This is a great meal prep recipe because it reheats well! This soup can be stored in the fridge for up to 4 days or you can freeze it for up to 1 month. To reheat it, you can microwave it until warm or reheat it on the stovetop.
More Soup Recipes
Print
Vegan Stuffed Pepper Soup
Author:
Prep Time: 15 minutes
Cook Time: 25 minutes
Total Time: 40 minutes
Yield: 10 cups 1x
Category: Soup
Method: Stovetop
Cuisine: American
Diet: Vegan
---
Description
This vegan stuffed pepper soup is packed with protein and filled with flavor! We used textured vegetable protein in place of ground beef for a hearty soup that is completely plant-based.
---
1 cup uncooked white or brown rice
1 cup Textured Vegetable Protein (TVP)
4 cups vegetable broth, divided
1 tablespoon olive oil
1 small yellow onion
1 red bell pepper
1 green bell pepper
1/2 teaspoon garlic powder
1/2 teaspoon cumin
1/2 teaspoon smoked paprika
10oz can diced tomatoes with green chilies
14.5 oz can fire-roasted diced tomatoes
Salt to taste
---
Instructions
Cook rice according to package directions and set aside.
Heat 1 cup of broth until simmering.
Add the broth to the TVP and set it aside.
In a large pot, heat the olive oil over medium heat for 30 seconds
Add the chopped onion and bell pepper and cook for 5 minutes, stirring occasionally.
Add the garlic, paprika, and cumin and cook for 1 minute.
Add the TVP, diced tomatoes, vegetable broth, and oregano and simmer for 15 minutes.
Stir in cooked rice and continue to cook for 10 minutes until heated through.
Generously add salt to taste.
---
Keywords: Vegan Stuffed Pepper Soup