Chocolate Mocha Vegan Muffin Recipe
These chocolate mocha vegan muffins are insanely chocolatey, no one will ever guess they're oil-free and vegan!
The other day, I found myself craving chocolate & espresso… so it seemed like a good day to make chocolate mocha muffins, a delicious treat that just so happens to be vegan. YUM.
I originally came up with this recipe way back in 2010 when I first gave up dairy and eggs. I was learning how to bake vegan treats and these ended up being on repeat! The coffee helps amplify the chocolate flavor and these almost taste like a brownie bite!
Substitution Options
There are plenty of flour options to try with these muffins. My personal favorite is 1/4 cup garbanzo bean flour and 3/4 cup whole wheat flour. It still has a light and fluffy texture but it has a lot more protein and fiber.
If you don't have chickpea flour, you can make these with 100% whole wheat flour or all purpose flour. You can also do a blend of those two if you like. All purpose flour will produce lighter, more tender muffins. But if you want to keep these really healthy, go for whole wheat.
I like using mini chocolate chips in this recipe because it's easier to get a little bit of chocolate into every mini muffin. If you can't find mini chips, feel free to use regular.
I highly recommend baking these as mini muffins rather than larger muffins. It's easier to get them done on the inside while still getting a moist and tender texture. Larger muffins tend to dry out.
To get the perfect texture, combine all your dry ingredients first. Don't worry, you can still do it all in the same bowl. (I hate dirtying more dishes!)
Then gently fold in the applesauce, coffee, and vanilla. You want to mix it until you don't see streaks of flour anymore, but be careful not to overmix. Once everything is combined, you simply drop rounded tablespoons of batter into a mini muffin pan.
It should make about 18 mini muffins. These are perfect for snacking! They taste like dessert but they're healthy enough for a quick breakfast on the go!
Print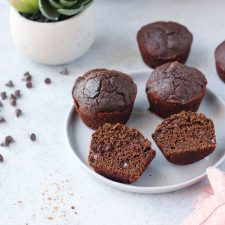 Chocolate Mocha Vegan Muffin Recipe
Author:
Prep Time: 10 mins
Cook Time: 10 minutes
Total Time: 20 minutes
Yield: 8 1x
Category: Breakfast
Method: Baking
Cuisine: American
---
Description
These chocolate mocha vegan muffins are insanely chocolatey, no one will ever guess they're oil-free and vegan! 
---
3/4 cup whole wheat flour
1/4 cup chickpea flour
1/3 cup brown sugar
1/2 cup cocoa powder
1 tsp baking powder
1/2 tsp baking soda
1/8 tsp sea salt
1/3 cup dark chocolate chips
1/3 cup applesauce
3/4 cup coffee, cooled
1 tsp vanilla
---
Instructions
Preheat the oven to 350 degrees.
Spray a mini muffin pan with non-stick spray.
Combine the flour, brown sugar, cocoa powder, baking powder, baking soda, salt, and chocolate chips.
Mix until well combined.
Gently fold in the applesauce, coffee, and vanilla. Mix until just combined and there are no large streaks of dry flour. Be careful not to overmix.
Bake for 10-11 minutes or until a toothpick comes out clean. (You'll have to dodge chocolate chips to do a toothpick test!) Be sure not to overbake or the muffins will be dry.
Let cool for 2 minutes then remove from the muffin tin and let cool on a wire rack.
---
Notes
Note: Store these muffins in an airtight container. Be sure not to overbake.
Make sure your coffee is cooled before mixing into the batter, or it will melt the chocolate chips!
If you use whole wheat flour and chickpea flour, each of these little treats will have a decent amount of fiber. And let me tell you, vegan or not, these can knock out a chocolate craving like nobody's business!
Freezer tip: You can store these muffins in the freezer to make them last longer! To thaw, simply microwave for 10 seconds and enjoy! It makes the chocolate chips nice and melty.
These are healthy enough for breakfast, but delicious enough for dessert 😉
What's your favorite kind of muffin?
This recipe was originally posted in December 2010. Updated March 2019.