Vegan Berry Crumble
This vegan berry crumble is made with oats and whole wheat flour for a healthier take on dessert. You can use fresh or frozen berries, so this recipe is tasty no matter the season!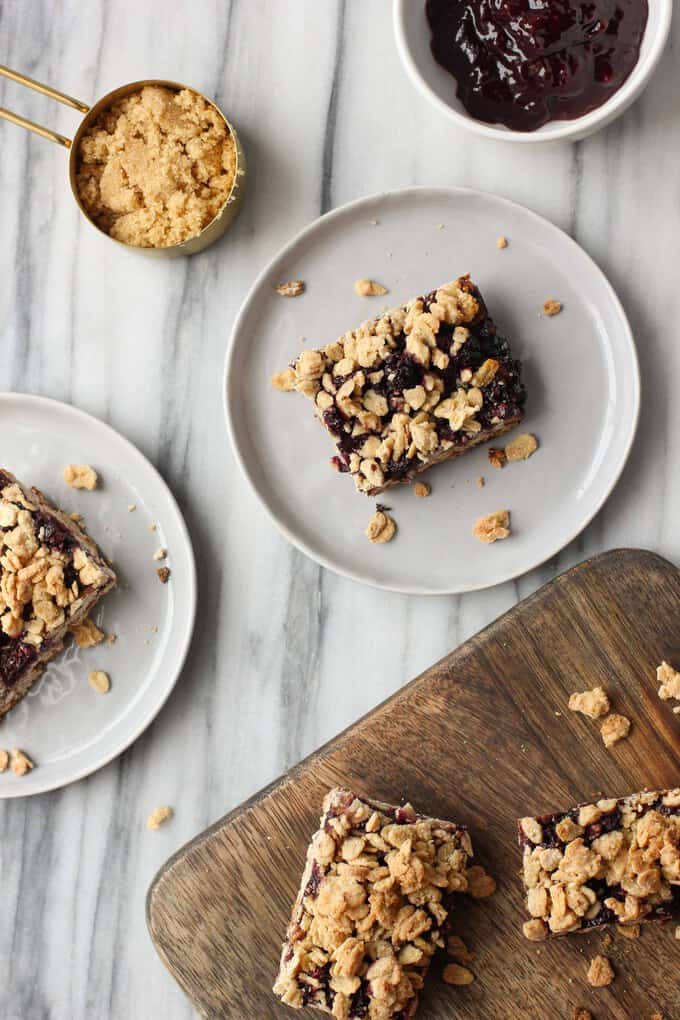 To tell you the truth, this recipe took quite a few tries before I really nailed it. I wanted to make the ingredients list as clean as possible without sacrificing taste or texture. I also wanted to provide a few common substitutions since I know from my own baking experience, I like to use what I have on hand.
I'm pumped to say that this vegan crumble is downright heavenly.
For this recipe, I'm using whole wheat pastry flour. That ingredient typically sparks the question "What is whole wheat pastry flour and how is it different from other flours?" Great question, I'm glad you asked.
What is Whole Wheat Pastry Flour?
Whole wheat pastry flour is milled from a different kind of wheat. It's made from white soft wheat rather than red hard wheat. Don't let the term "white" confuse you. It is still 100% whole wheat flour. But it has a lower protein content than regular whole wheat flour so it has a much better texture for things like baked goods. I like the Bob's Red Mill brand.
Vegan Crumble Substitution Suggestions
If you don't have whole wheat pastry flour, don't stress. You can substitute regular all-purpose flour if you need to. You'll still get a little boost of fiber and whole grains from the oats!
Secondly, I'm using coconut oil in this recipe. If you don't have any, you can use melted butter, but I wanted to keep this recipe vegan so I opted for coconut oil. It does add a subtle coconut flavor which I love but if you absolutely hate coconut, you can substitute butter or a vegan butter like Earth Balance. Just be sure to melt it before mixing it in!
Lastly, let's talk about fruit! I've made this with blackberries or blueberries both fresh or frozen. While fresh blackberries were my favorite, the blueberries did add a bit of extra sweetness. I also liked using frozen wild blueberries because they're smaller than blackberries or conventional blueberries so it was easier to create an even fruit layer.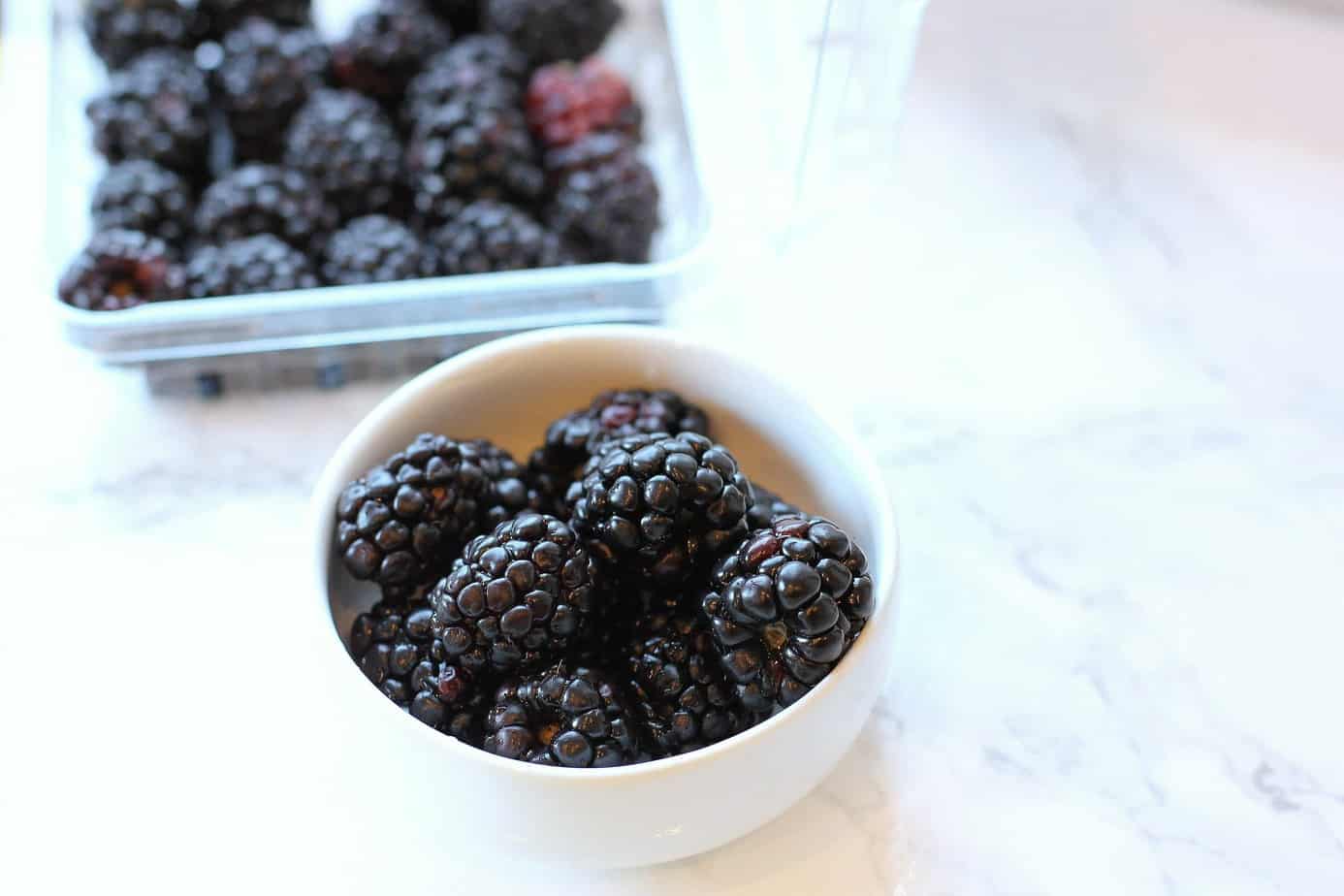 Whether you try blackberries or blueberries, it will be delicious! Ok, let's get baking!
Print
Vegan Berry Crumble
Author:
Prep Time: 20 minutes
Cook Time: 55 minutes
Total Time: 1 hour 15 minutes
Yield: 12 bars 1x
Category: Dessert
Method: Baked
Cuisine: Crumble
Diet: Vegan
---
Description
This vegan berry crumble is made with oats and whole wheat flour for a healthier take on dessert. You can use fresh or frozen berries, so this recipe is tasty no matter the season!
---
1 ½ cups oats
½ cup light brown sugar, packed
¾ cup whole wheat pastry flour
¼ teaspoon baking soda
¼ teaspoon salt
⅓ cup coconut oil, melted
1 ⅓ cup blackberries or blueberries
3 tablespoons of blackberry preserves or jam
½ teaspoon cornstarch
---
Instructions
Preheat the oven to 350 degrees.
Line an 8×8 pan with parchment paper, leaving a couple of inches of overhang on two sides.
In a large bowl, combine the oats, brown sugar, pastry flour, baking soda, and salt.
Mix in the coconut oil until well combined. The mixture should be crumbly but the coconut oil should be evenly distributed.
Press 2 cups of the oat mixture into the bottom of the parchment lined pan. Save the rest of the oat mixture for the topping.
Bake for 20 minutes.
In a small bowl, combine the berries, fruit preserves and cornstarch.
Remove the baked crust from the oven and spread the fruit mixture evenly on top.
Sprinkle with remaining oat mixture.
Bake for another 30-35 minutes until slightly browned on top.
Let cool for 5 minutes then remove from the pan and let cool on a wire rack.
Let cool completely before cutting, about 1 hour.
Slice into 12 bars.
---
Notes
This recipe was adapted from Eating Well.
Feel free to use fresh or frozen berries in this recipe.
Keywords: vegan berry crumble
How to Serve Vegan Crumble
Be sure to let these cool completely before cutting. I like to take the crumble out of the pan by carefully lifting the parchment paper then letting it cool on a wire rack. If you don't have a wire rack, just let it cool on a cutting board. Be gentle with this dish until it is completely cooled! Fair warning, these bars are pretty crumbly. (I guess that's why they call it a crumble!) They'll hold together enough to be cut into bars, but grab a napkin! That said, they're also delightful served in a bowl with a scoop of ice cream. But you probably already knew that, right?
Looking for other healthy dessert recipes? Here are a few of my favorites:
Vegan Chickpea Chocolate Chip Cookies
Healthy Peanut Butter Cookies
What's your favorite type of dessert?