Greek Yogurt for Breakfast & Beyond
This post is sponsored by FAGE; however, all thoughts and opinions are my own
Last month, I shared a few different ways to use FAGE Total Greek yogurt and today I wanted to give you some more ideas about how to incorporate it into every meal!
Breakfast
Greek yogurt bowls are one of my favorite breakfast options because they're so quick and easy! I like using plain FAGE Total 2% Greek yogurt as the base and then adding my own sweetener. Sometimes I'll add a few drops of stevia or a swirl of honey. I also like adding fruit preserves or jam, which gives the yogurt a sweet flavor!
This bowl is FAGE Total 2% Greek yogurt with granola, honey, and blackberry preserves. It's basically like blackberry pie in a bowl! Need some other yogurt bowl ideas?
You could also whip up a batch of Greek yogurt pancakes! The yogurt makes these pancakes extra fluffy!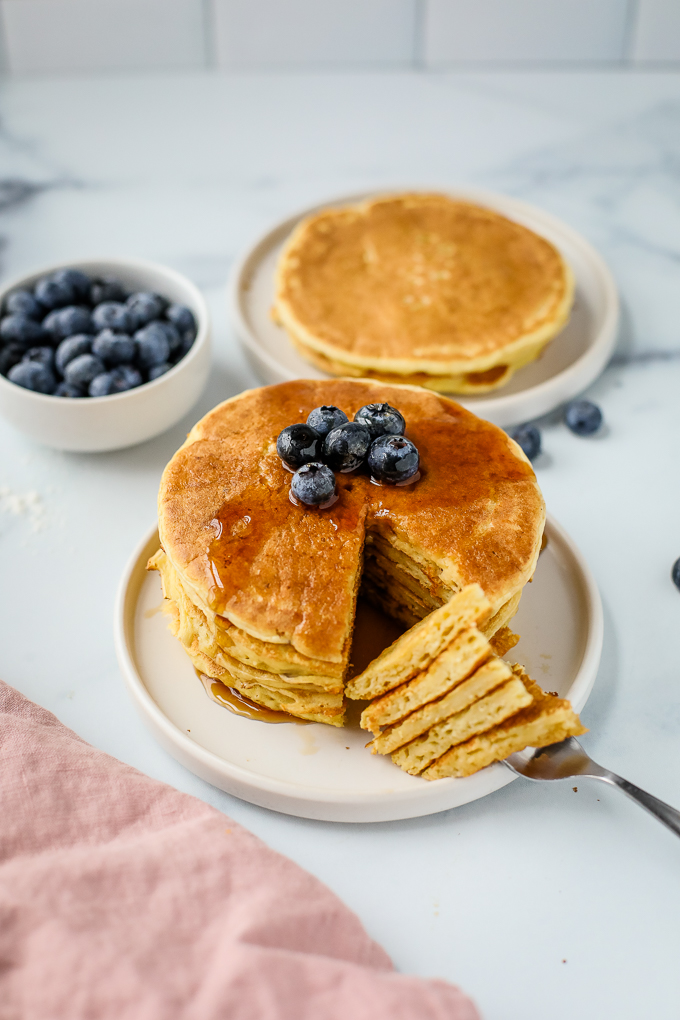 Snack time
These Greek nachos are incredible. They're perfect for a party, easier than regular nachos, and even a little bit healthier! Top whole grain pita chips with tomatoes, feta, cucumbers, olives, red onion, and a homemade Tzatziki sauce with FAGE Total 2% Greek yogurt.
Aren't those pretty? It's a fun dish because it's so colorful and you definitely won't have any leftovers. Trust me, these Greek nachos will disappear quickly!
Lunch or Dinner
This chickpea salad sandwich is a great recipe when you're short on time! Made with chickpeas, fresh herbs, carrots, and FAGE Total 2% Greek yogurt, it comes together with just a few pulses in the food processor. You can even prep a big batch of this chickpea salad ahead of time then whip up a quick sandwich when you're ready! Not feeling the bread? Try this in a lettuce wrap!
It's like a veggie version of a tuna salad sandwich, but with beans in place of the tuna. That might sound crazy, but it's quite delicious. The yogurt gives it just the right about of tang and I love that the carrots add a nice little crunch.
Dessert
Need something sweet to end the day? Try this two-ingredient frozen yogurt! All you need is frozen mango and FAGE Total 2% Greek yogurt!
Simply blend it up and dessert is served! You can try this recipe with any frozen fruit you like, but mango and pineapple are two of my favorites. If you don't have a powerful blender, look for smaller pieces of fruit like diced pineapple or wild blueberries. That will make it easier to blend!
Greek yogurt is one of my pantry staples because I really do use it for breakfast and beyond! For more ideas, check out these recipe ideas from FAGE!
What's your favorite way to use Greek yogurt?