Plated Vegetarian Meal Kit Review
I'm back with my third meal kit review! If you missed my first post, here's the deal: I'm trying all the meal kit delivery options to figure out which one is best for vegetarians. Most of the pros and cons apply whether you're trying the meatless meals or the regular meals, but I'll focus on the vegetarian options. My goal is to try a different one each week and I'll compare them on a few factors. Once I try them all, I'll write a comprehensive summary!
Note: I received a complimentary box from Plated in exchange for an honest review. This is not a sponsored post and as always, I'm sharing my honest opinion. Here we go!
About Plated
Like all meal delivery kits, Plated boasts quality ingredients and delicious recipes. What separates them from the pack is that Plated offers more flexibility than some of the other players. They have thirty meal options each week, although there were only four vegetarian options. You can pick 2, 3, or 4 servings of the recipes. You also have the option of changing your delivery day from week to week, which was a unique feature.
Cost of Plated Vegetarian Meals
All 2-person meal plans are $11.95 per meal and you can pick 2, 3, or 4 nights per week. (Note: if you do a 2-person meal for only 2 nights, there is an additional shipping charge.) Meals for 3 or 4 people are $9.95 per meal. Unfortunately, there isn't a discount for vegetarian meals. Compared to other meal kit services, Plated is on the cheaper side and it offers a lot of flexibility and customization options.
Vegetarian Recipes From Plated
Here are the three recipes we received in our box:
Roasted Cauliflower Pizza– Whole wheat crust topped with roasted cauliflower and a bechamel sauce
Bhindi Masala– A Northern Indian vegetable dish with green beans, sweet potatoes, and okra
Roasted Acorn Squash Farrotto– A risotto-style dish made with whole grain farro and topped with roasted acorn squash and mushrooms
All of these meals made plenty for the two of us but we didn't have any leftovers. The cauliflower pizza was the stand out favorite. The creamy bechamel sauce was delicious and I liked the roasted cauliflower on top of the pizza. This is something I'd definitely make again.
The Bhindi Masala was our least favorite. The roasted veggies were fine but there didn't seem to be enough of the masala sauce to flavor the whole dish. We ended up tossing a lot of the rice and just eating the vegetables with the masala. I wouldn't make this again.
As for the acorn squash farrotto, we both enjoyed the farro part but we didn't love the roasted vegetables. The skin of the acorn squash was a weird texture with the risotto. We ended up eating the risotto with the vegetables on the side rather than as one dish.
Plated Meal Prep
Each of the recipes was simple to prepare. Here's how long it took us to make each dish and how many dishes we had to wash when we were done:
Roasted Cauliflower Pizza– 45 minutes | 1 large baking sheet, 1 small saucepan pan, 1 cutting board
Bhindi Masala– 32 minutes | 1 frying pan, 1 baking sheet, 1 cutting board, rice cooker
Roasted Acorn Squash Farrotto– 43 minutes | 1 large baking sheet, 1 cutting board, 1 small saucepan
The suggested prep time was pretty close to the actual time it took us for each meal. All of the recipe directions were very clear and nothing was challenging to make. I've made farro as risotto before but that might be a new technique for some people and I think it's a delicious way to make farro!
Actual Cost of Plated Meals
Since cost seems to be the main barrier when it comes to these meal kits, I did some research and went to Instacart to see how much it would cost if I were to buy the ingredients on my own and make the recipes that came in my box. (Note: Instacart currently has a partnership with Whole Foods and the prices online are the same as the prices in the store. I didn't take into account any delivery fee or tips in the below prices.)
Cost of ingredients per recipe:
Roasted Cauliflower Pizza- $23.02
Bhindi Masala- $21.51
Acorn Squash Farrotto- $22.51
Total cost of ingredients: $67.04
To order all the ingredients from Instacart, it would cost me $67.04. So if I had an empty pantry and had to start from scratch, buying all these ingredients would cost me about as much as the box. Of course, if I bought all the ingredients from the grocery store, I'd end up with extra ingredients that I could potentially use in other recipes. As I mentioned with HelloFresh and Sun Basket, if your leftover ingredients tend to go to waste, the cost of these meal kits might not be much higher than your grocery bill. Plus, you save yourself a trip to the store.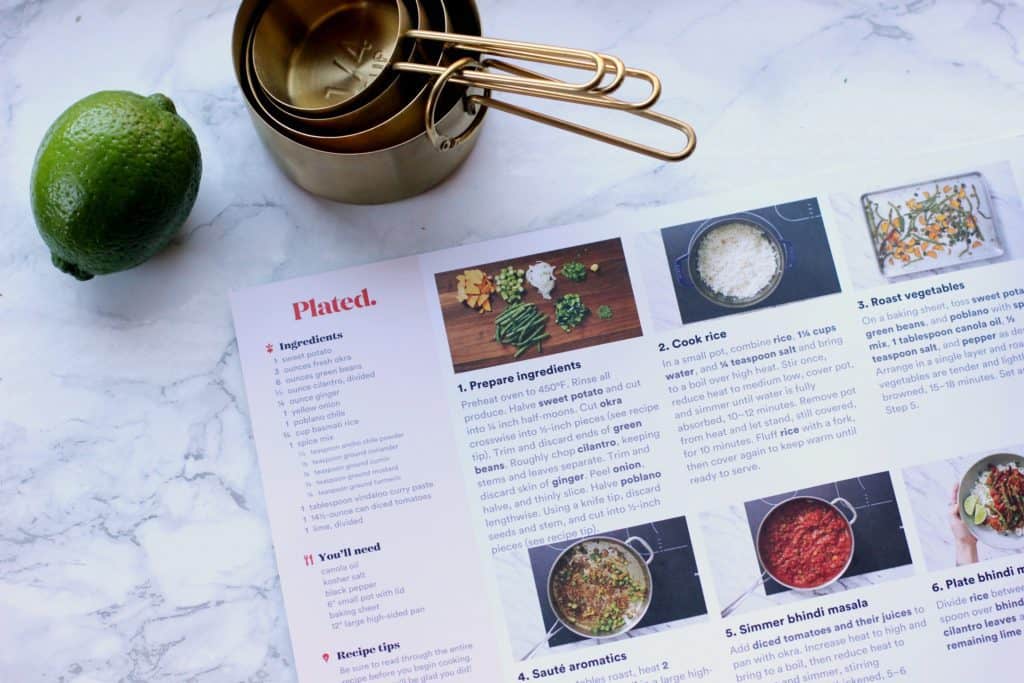 Overall Plated Meal Kit Review
The roasted cauliflower pizza was probably my favorite meal of all the recipes we've tried between HelloFresh, Sun Basket, and Plated, but I didn't love the other two recipes. I think the recipes for all of these boxes can be a little hit or miss since it depends on personal tastes and preferences. Plated seemed to be on-par with HelloFresh. Sun Basket's meals were a little more creative and healthy, but they're also more expensive.
I think one of the biggest benefits of Plated is the flexibility. You could have a box delivered for 4 on Monday the first week and then have a box for 2 ship on Wednesday the following week. I could see this being a benefit for those with unpredictable schedules.
Curious about how it stacks up against others? Check out my review of HelloFresh and Sun Basket!
Have you tried Plated?