HelloFresh Vegetarian Meal Kit Review
The meal kit trend isn't slowing down and it seems like every time I scroll through Facebook, I see an ad for a new meal kit delivery service. I thought it would be fun to try all the meal kit options to figure out which one is the best choice for vegetarians. I think a lot of the pros and cons apply whether you're trying the meatless meals or the regular meals but since this is a vegetarian blog and all… I'll just be filling you in on the vegetarian side. My goal is to try a different one each week and I'll compare them on a few factors. Once I've had a chance to try them all, I'll pull it all together in one (giant) summary- so stay tuned!
We're starting off with HelloFresh. Note: I received a complimentary box from HelloFresh in exchange for an honest review. This is not a sponsored post and as always, I'm sharing my honest thoughts. Here we go!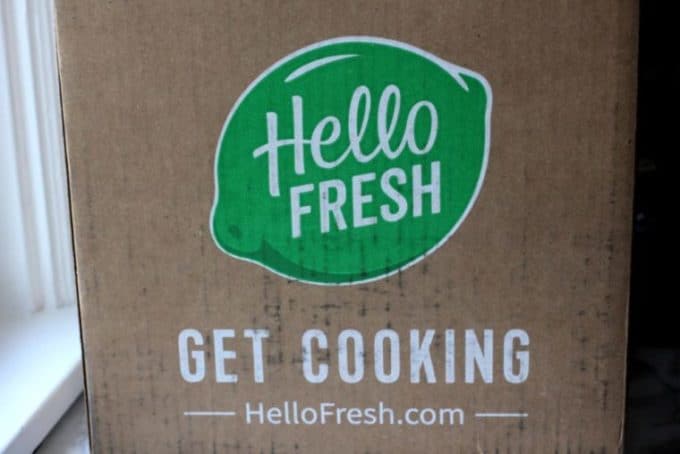 About HelloFresh
HelloFresh actually started in Germany and then launched in the U.S. in 2012. They're one of the bigger players in the space which means they have a few more options than their competitors. They offer delivery on Wednesday, Thursday, and Friday for all customers and in some areas, it's available any day of the week. I noticed that a lot of other meal kits don't give you options for delivery days, so that's a plus for HelloFresh.
Cost of HelloFresh Vegetarian Meals
HelloFresh offers three different meal plans: Classic, Vegetarian, and Family. Both the classic and the vegetarian plans are $9.99 per meal. The family plan serves 4 and is $8.74 per meal. The classic and family boxes give you an option for the number of meals per box and you can pick from up to 8 different recipes. The vegetarian box is always 3 meals and you don't get a choice of recipes. I thought it was kind of a bummer that the vegetarian meals are just as expensive as the regular meals since the ingredients generally cost less and you don't get a variety to choose from. None of the ingredients in our box were particularly exotic or expensive, so $9.99 per meal seemed high. I'll get into the detailed cost breakdown in a bit.
HelloFresh Vegetarian Meal Kit Recipes
The week that we got our box, these were the three recipes:
Pesto Tortelloni Bake– Pretty basic cheese filled pasta that we cooked in pesto and then topped with breadcrumbs and broiled in the oven for a few minutes.
One-Pot Tortilla Soup– This one was also pretty easy and it was a little healthier than the others which was nice. Technically, it had the most calories but a lot of the toppings (cheese, chips, etc.) were optional. We got our box on Tuesday but we didn't make this recipe until Saturday and all the ingredients were still fresh.
Butternut Squash and Sage Risotto– This one was probably my favorite of the bunch because we don't make risotto very often. Alex isn't a big butternut squash fan but he actually liked this one, too. It came with pepitas which were a nice touch!
All of the recipes made plenty for the two of us and we usually had a tiny bit leftover. There weren't enough leftovers for another meal but we usually had a few extra bites that we didn't eat. I wouldn't say HelloFresh has a focus on particularly healthy meals, but they provided all of the nutritional information and each of the dishes were between 600-800 calories each.
HelloFresh Vegetarian Meal Kit Prep
Each of the recipes was simple to prepare. Here's how long it took us to make each dish and how many dishes we had to wash when we were done:
Pesto Tortelloni Bake– 21 minutes to prepare | 1 cutting board, 1 skillet, and 1 casserole dish to wash
One-Pot Tortilla Soup– 25 minutes to prepare | 1 cutting board, 1 pot, and 1 mixing to wash
Butternut Squash and Sage Risotto– 50 minutes to prepare | 1 cutting board, 1 pot, 1 pan to wash
The suggested prep time was pretty close to the actual time it took us for each meal. The risotto was the most time intensive but it wasn't difficult, it just required a lot of hands-on time. None of these recipes were particularly challenging to make. All of these would be good if you wanted to cook at home but you weren't looking to learn any major cooking skills.
Actual Cost of HelloFresh Meals
When I asked friends for meal kit recommendations, it inevitably led to the most common complaint: cost. To be completely honest, I felt the same way. $10 a plate for pasta? It seemed unreasonable. So I did some research and went to Instacart to see how much it would cost if I were to buy the ingredient on my own and make the recipes that came in our meal kit. (Note: Instacart currently has a partnership with Whole Foods and the prices online are the same as the prices in the store. I didn't take into account any delivery fee or tips in the below prices.)
Total Cost of Ingredients:
Tortilla Soup- $15.88
Butternut Squash Risotto- $20.96
Pesto Tortelloni with Asparagus- $12.95
So to order all the ingredients from Instacart, it would cost me $49.79. Granted, I'd end up with extra pumpkin seeds, Parmesan cheese, tortilla chips, and rice, but the price difference wasn't quite as dramatic as I expected. If you're not great at using up leftover ingredients, the cost might not be that high. (Plus, you save yourself a trip to the grocery store.) I'm not saying this is the right route for everyone, but it helps to know what you're paying for.
Overall HelloFresh Meal Kit Review
The meals tasted good and were easy to prepare. If your goal is to skip grocery shopping and make dinner at home, these would get the job done. None of the recipes felt like a standout meal, but they all got the job done for a busy weeknight. We didn't learn any new cooking skills or anything, but if you want straightforward, simple recipes, HelloFresh might be a good place to start. Our box arrived on Tuesday and we prepared the meals on Tuesday, Wednesday, and Saturday. It was nice that none of the recipes had ingredients that needed to be used right away, so we had more flexibility for when we wanted to prepare them. They also seemed like recipes that would be pretty difficult to mess up. If you don't enjoy the process of grocery shopping and meal planning but you want to start cooking at home, I'd definitely give HelloFresh a try.
Would I recommend HelloFresh?
I think I'd lean toward Sun Basket, rather than HelloFresh. Read my full review of Sun Basket, which we've tried multiple times!
Have you tried HelloFresh?