Vegan Sheet Pan Pancakes
These fluffy vegan sheet pan pancakes are a delightful twist on a classic breakfast, and you'll love how easy they are to make. This is also a great make-ahead breakfast recipe for busy mornings!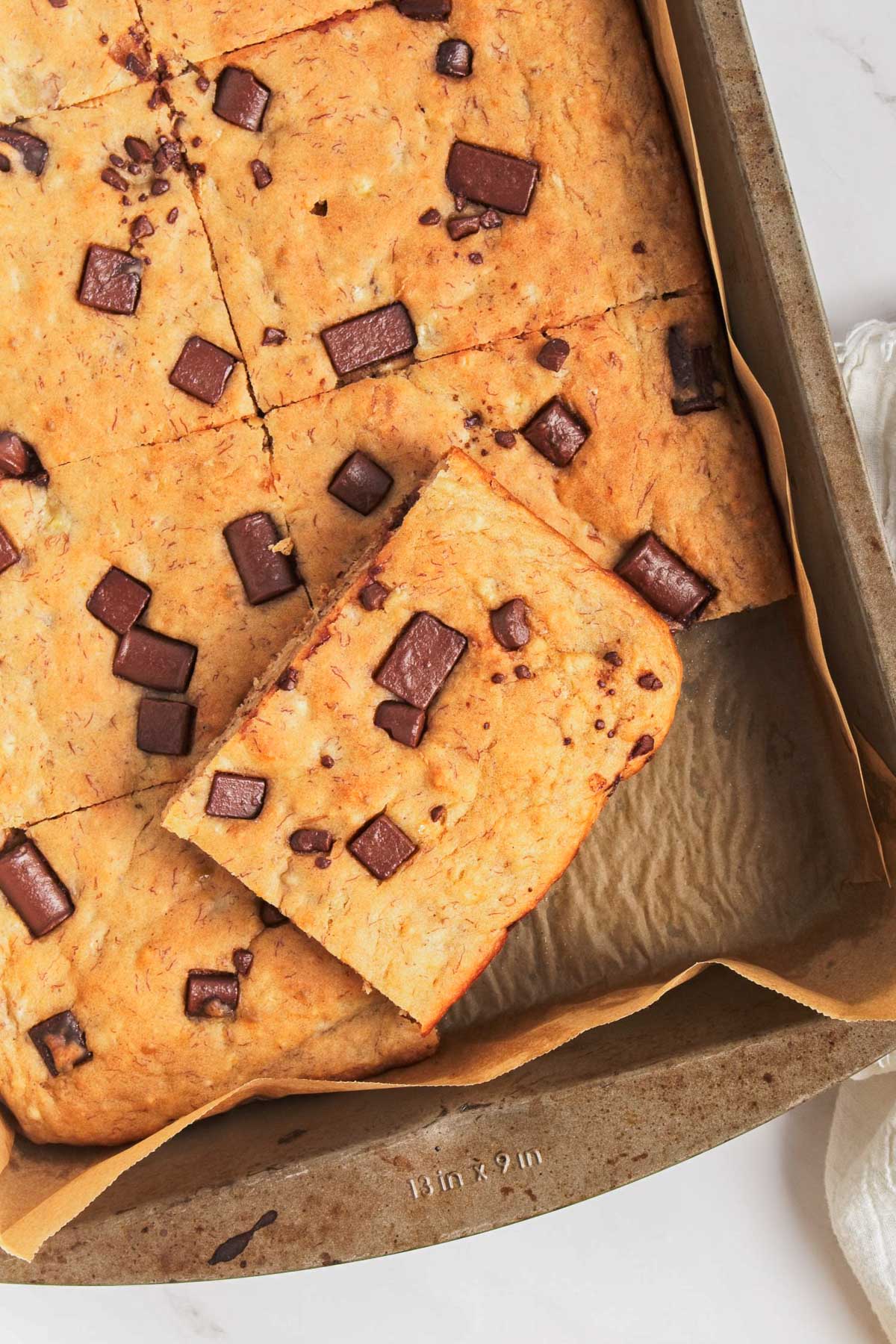 Why I Love Sheet Pan Pancakes
While I love traditional pancakes, sheet pan pancakes might be even better. They're incredibly convenient, especially if you're feeding a crowd. Instead of standing over a hot griddle, you can prepare a large batch all at once, making them perfect for family brunches or gatherings with friends.
I also love how sheet pan pancakes are more consistent in the texture and thickness of the pancakes. You won't have to worry about some pancakes turning out too thick, too thin, or unevenly cooked. This ensures that every bite is just as delicious as the last. You get perfectly fluffy pancakes every time.
Plus, they are easy to customize! I added chocolate chips to mine but you can switch it up with your favorite toppings, like fresh berries, sliced bananas, diced apples, or a drizzle of maple syrup to make them your own.
Ingredients and Substitutions
Flour– I recommend all purpose flour, as I have not tested it with gluten-free flour. You could substitute half whole wheat flour, if you prefer.
Baking Powder- A leavening agent that helps the pancakes rise and become light and airy.
Ground Cinnamon– Adds a warm, comforting flavor and aroma to the pancakes.
Salt- Enhances the overall flavor of the pancakes by balancing the sweetness and other flavors.
Banana– Acts as a natural sweetener and also contributes moisture, making the pancakes tender and soft. Be sure the bananas are very ripe.
Almond Milk- You can substitute oat milk or soymilk, if you prefer.
Coconut Oil or Avocado Oil– Adds richness and moisture to the pancakes while also preventing them from sticking to the pan.
Maple Syrup– Adds sweetness and a subtle maple flavor to the pancakes, enhancing their overall taste. You can substitute with agave, if you prefer.
How to Make Sheet Pan Pancakes
Pancake Mix In Ideas
I added chocolate chips to my sheet pancakes but feel free to get creative! Here are some of my other favorite pancake mix-in ideas:
Blueberries: Fresh or frozen blueberries burst with juicy flavor when cooked into pancakes, creating a delightful contrast with the fluffy batter.
Bananas: banana slices add natural sweetness to your pancakes.
Chopped Nuts: Pecans, walnuts, almonds, or even peanuts can provide a satisfying crunch and nutty flavor to your pancakes.
Strawberries: Sliced strawberries or diced strawberries can bring a refreshing and slightly tart element to your pancakes.
Cinnamon: A sprinkle of ground cinnamon adds warmth and a comforting spice to your pancakes, perfect for a cozy breakfast.
Chopped Apples: Incorporate diced apples, especially varieties like Granny Smith for a slight tartness, to add a fruity and crisp element.
Lemon Zest: Lemon zest and lemon juice add a zingy, citrusy aroma and flavor that pairs wonderfully with blueberries.
Vegan Whipped Cream: Add a dollop of vegan whipped cream on top of the cooked pancakes to add sweetness.
How to Reheat Leftover Pancakes
You can reheat leftovers in the microwave, oven, or toaster oven. To reheat in the microwave, place individual pancakes on a microwave-safe plate with parchment paper or a paper towel to prevent sticking and microwaving in short intervals.
Alternatively, you can warm them in the oven or toaster oven by covering them with foil and reheating at 350 degrees for 3-4 minutes. Keep an eye on the pancakes to avoid overcooking, and remember that the exact time may vary depending on their thickness and size. Once heated, top with your favorite toppings like syrup or fruit, and enjoy!
Print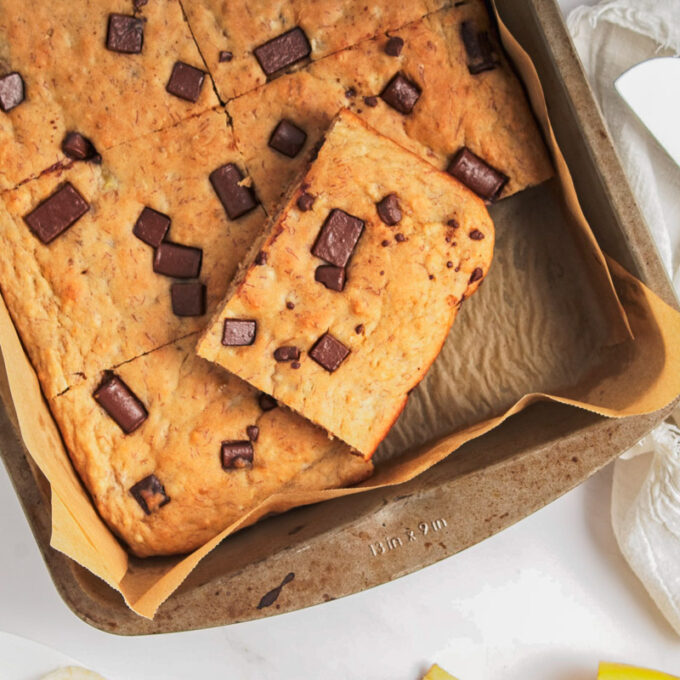 Vegan Sheet Pan Pancakes
Author:
Prep Time: 10 minutes
Cook Time: 15 minutes
Total Time: 25 minutes
Yield: Serves 6
Category: Breakfast
Method: Oven
Cuisine: American
Diet: Vegan
---
Description
These fluffy vegan sheet pan pancakes are a delightful twist on a classic breakfast, and you'll love how easy they are to make. This is also a great make-ahead breakfast recipe for busy mornings!
---
2 cups all-purpose flour
5 teaspoons baking powder
1/2 teaspoon ground cinnamon
1/2 teaspoon salt
1 cup mashed very ripe banana (about 2-3 bananas)
1 cup almond milk
3 tablespoons melted coconut oil or avocado oil
1/4 cup maple syrup
Optional mix-ins: 1/2 cup vegan chocolate chips, frozen fruit, or sliced banana
---
Instructions
Preheat oven to 425°F and spray a 9×13 pan with non-stick spray or line it with parchment paper.
In a medium bowl, whisk the flour, baking powder, cinnamon, and salt.
In a large bowl, combine mashed banana, vegetable oil, and maple syrup. Stir until smooth.
Add the oat milk and stir until well blended.
Add flour mixture and stir until just combined.
Fold in any mix-ins you want to add.
Pour batter into prepared pan and spread until level.
Bake for 20-25 minutes until a skewer inserted in the center comes out clean.
Allow to sit for at least 10 minutes before cutting and serving.
---
Keywords: vegan sheet pan pancakes, vegan pancakes, sheet pancakes
Directions
These are best served the same day but they can be stored in the fridge in a sealed container for up to 3 days. Reheat in the microwave, oven, or on the stovetop.