High Protein Greek Yogurt Bowl Ideas
 This post is sponsored by FAGE; however, all thoughts and opinions are my own.
With the new year underway, I've been looking for ways to add a little extra protein into my routine. I've stepped up my workouts and noticed that I need a bit more protein to stay satisfied, especially in the morning. I've been enjoying some new yogurt bowl combinations, so I thought I'd share my favorites, featuring FAGE Total 0% Plain Greek Yogurt.
When buying yogurt, I prefer plain varieties so I can add my own sweeteners and flavors. FAGE is delicious on its own, but I wanted to share a few ideas to help you shake things up! Even though this 0% yogurt is fat-free, it's still super rich and creamy. I also love that FAGE Total Greek Yogurt is Non-GMO Project Verified and it's protein-rich with no added sugar. Here are three bowls packed with protein for your next breakfast or post-workout meal!
Almond Butter Banana Bowl
For this bowl, I topped my yogurt with sliced banana, a scoop of nut butter, and a sprinkle of my favorite granola. With 1 cup of yogurt, 1 tablespoon of almond butter, half a banana, and a few tablespoons of granola, this bowl has 28g of protein!
Peanut Butter and Jelly Bowl
If you love the classic PB&J, this bowl is for you! 1 cup of yogurt topped with 1 tablespoon of peanut butter and 1 tablespoon of fruit preserves, this bowl has a hearty 26g of protein! Plus, you can cut down on the sugar by using fruit preserves with no added sugar.
Trail Mix Bowl
This trail mix bowl packs plenty of crunch! Plus, it has healthy fats and it's loaded with protein. With 1 cup of yogurt, 1 tablespoon chia seeds, 2 tablespoons of sliced almonds, and 2 teaspoons of flax seeds, this bowl has over 30g of protein!
I love how FAGE Total 0% Plain Greek yogurt is versatile and I can switch up my yogurt bowl toppings so I never get bored! It's an easy way to add more protein to my diet, without much effort.
For more healthy yogurt bowl recipes, check out these yogurt bowl ideas! Or give these Greek Yogurt Pancakes a try for a tasty breakfast!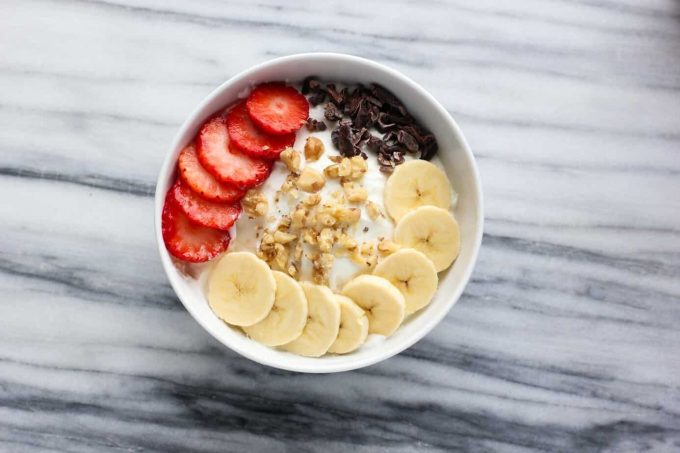 What's your favorite topping to add to your yogurt bowl?