Vegetarian Crockpot Lasagna
Did you know you can make delicious lasagna in a slow cooker? It's true! This easy vegetarian lasagna only requires a few minutes of prep. You don't even need to cook the noodles in advance!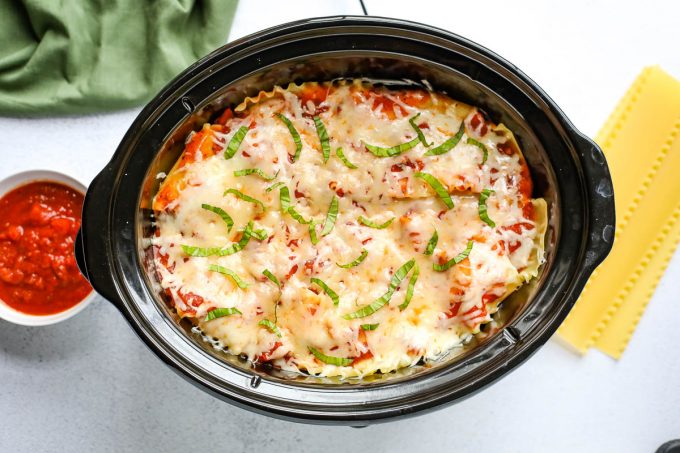 I had a slow cooker for a long time before I really started to use it. It seemed like most recipes weren't vegetarian, or required a lot of steps before adding things into the slow cooker. But lately I've found some really delicious and simple ways to use it to make vegetarian recipes! This Crockpot lasagna is the perfect example of an easy recipe that doesn't require a lot of preparation before you can set it and forget it!
Can You Make Lasagna in a Crockpot?
You may be wondering, "Can I really make lasagna in a Crockpot?" The answer is yes! It's actually a great "set it and forget it" style recipe. Slow cookers can vary in terms of heat and cooking time so the first time you make this, you'll want to keep an eye on the cooking time and adjust as needed.
How to Make Vegetarian Lasagna in a Slow Cooker
Add a little bit of sauce to the bottom of a slower cooker, then top with noodles. Layer with cheese, then top with spinach.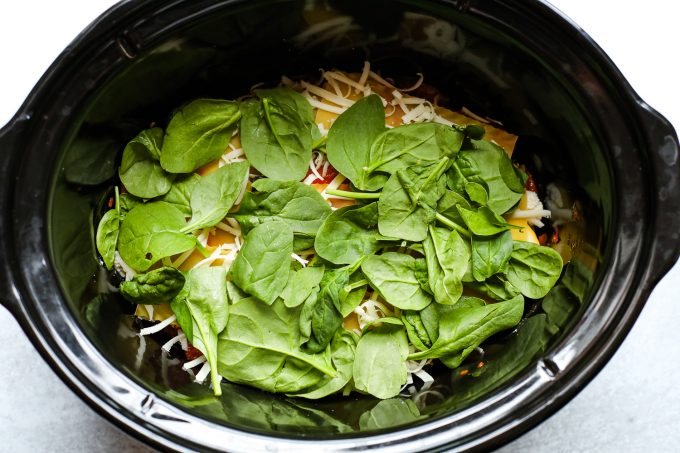 Continue to layer with sauce, noodles, cheese, and vegetables. For the final layer, add noodles, a thin layer of sauce, and cheese.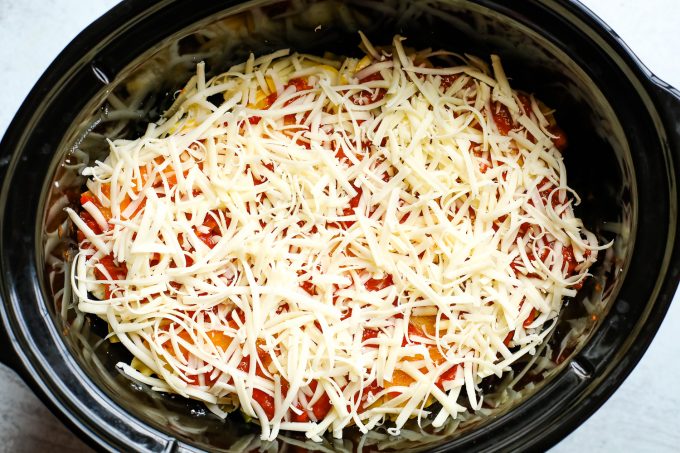 Finishing with a layer of sauce and cheese helps prevent the noodles from drying out.
Let cook on high for 2-3 hours until the noodles are softened. To test this, use a fork to poke one of the noodles at least 2 inches from the edge, to check for tenderness. Once the noodles are softened, turn off the heat and let it sit for 10 minutes. Garnish with fresh basil just before serving.
Tips for Making Slow Cooker Lasagna
Be sure to use traditional lasagna noodles, not pre-cooked or no-boil noodles. Those will get soggy!
With recipes like this that are only a handful of ingredients, using high-quality ingredients is essential. I love Rao's tomato basil sauce for the pasta sauce.
Crockpot times can vary so be sure to keep an eye on this recipe so I recommend checking it after 2 1/2 hours but it may need up to 3 hours.
How to Layer the Ingredients
I thought I'd outline the exact order I layered the ingredients, to make it a little less confusing. It's important to end with noodles topped with sauce and cheese, so the noodles don't dry out. So from the first layer to the last, here's the order:
Sauce
Noodles
Cheese
Vegetable
Sauce
Noodles
Cheese
Vegetable
Noodles
Sauce
Cheese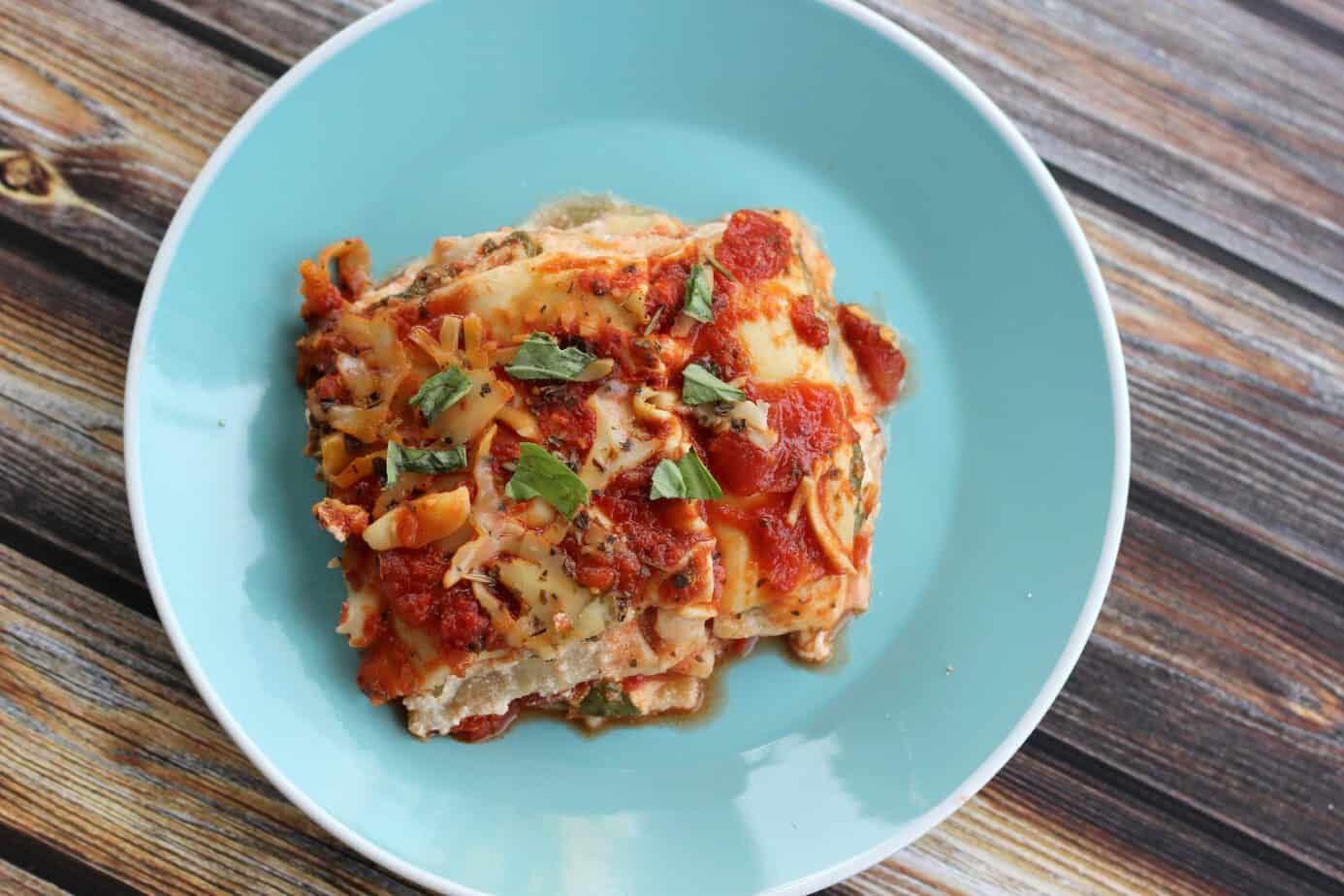 Vegetables to Add to Your Lasagna
You can play around with the vegetables, but it's important to factor in the water content of certain vegetables. Eggplant, for example, should be microwaved for a few minutes to help draw out some of the moisture to prevent soggy lasagna.
Spinach is an easy one that doesn're quire any additional steps. Just add a few handfuls of fresh spinach for each vegetable layer.
I recommend using at least one small zucchini squash or yellow squash, which will add a little moisture to the mix, but not too much to make things soggy.
If you want to add eggplant, dice it into small cubes, add a pinch of salt, and microwave it for 4-5 minutes to help draw out some of the water so your lasagna doesn't end up too soggy.
Print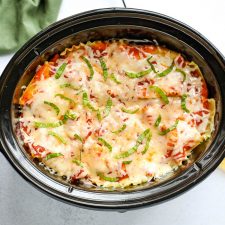 Vegetarian Crock Pot Lasagna
Author:
Prep Time: 10 mins
Cook Time: 3 hours
Total Time: 3 hours 10 minutes
Yield: 6 1x
Category: Vegetarian
Method: Slow Cooker
Cuisine: Italian
---
Description
This vegetarian crockpot lasagna recipe only takes a few minutes to throw together and then you can set it and forget it!
---
12 large lasagna noodles (a 1 lb box of noodles is plenty)
2 cups shredded mozzarella cheese
2 cups ricotta cheese
1/4 cup Parmesan cheese
24 oz jar of pasta sauce
1 cup spinach
1 zucchini or yellow squash, sliced into thin coins
---
Instructions
Spray the inside of the slow cooker with non-stick cooking spray.
In a small bowl, combine 1 cup mozzarella with the ricotta and Parmesan cheese.
Add a thin layer of sauce to the bottom of the slow cooker.
Place a layer of lasagna noodles on top of the sauce. You'll have to break them up to make an even layer. It's ok to overlap the noodles.
Top with 1/3 of the ricotta mixture, then top with a layer of squash.
Top with sauce, then another layer of noodles.
Continue to layer ricotta, spinach, sauce, and noodles.
Add a final layer of ricotta, noodles, sauce, then cheese.
Put the crockpot on high for about 3 hours. Let sit for a few minutes then cut and serve!
---
Keywords: vegetarian crockpot lasagna
More Slow Cooker Recipes
If you're looking for another easy way to make lasagna, try my 3 ingredient ravioli lasagna recipe!