Chickpea and Farro Soup
This chickpea and farro soup is packed with vegetables and full of flavor! It's an easy recipe to make at the start of the week and reheat for a quick lunch or dinner!
This chickpea and farro soup has quickly become one of my favorites. I love how the farro maintains a chewy texture, even in soup. The chickpeas add additional protein and fiber and the tomatoes are an easy way to add some additional vegetables into this soup. If you're not familiar with farro, this is a great recipe to start with!
What is Farro?
Farro is an ancient grain, full of protein, fiber, and other nutrients! The taste is heartier and chewier than brown rice and is sometimes confused with spelt. Because it is a type of wheat, it is not gluten-free. Farro can be found in the bulk bins at certain grocery stores but it's also sold in packages from brands like Bob's Red Mill or Trader Joe's!
Types of Farro
Pearled Farro: This is the most common type of farro and it's the type that we'll use in this recipe. It's a bit less nutritious because the bran is removed, but it has the shortest cook time.
Semi-pearled farro: As the name suggests, this type of farro has had part of the bran removed. It takes a bit longer to cook than pearled farro and it has more of a nutty flavor.
Whole farro: This type of farro includes the whole wheat bran, which makes it the most nutritious but it also takes the longest to cook. This type of farro typically needs to be soaked overnight before cooking.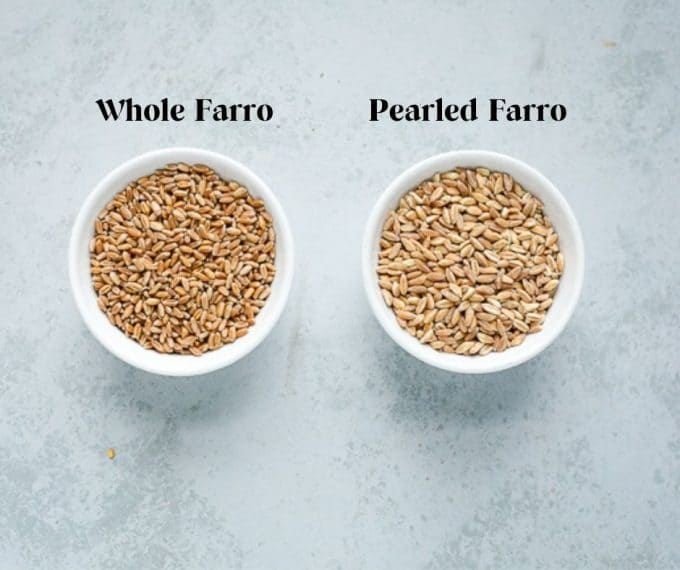 How to Tell if Farro is Pearled
Not sure if your farro is pearled? A package will usually say if it's pearled or partially cooked. But if you don't have the packaging, you can also take a look at the farro and see if it looks split. Whole farro will still be intact. But pearled farro will look puffier and split.
How to Cook Farro
Rinse the farro in a fine-mesh strainer. Bring a large pot of water to a boil and add the farro. Pearled farro will cook in 15 to 20 minutes. Semi-pearled farro typically cooks in 20-30 minutes. Whole farro takes about 40 minutes. For this recipe we'll let the pearled farro cool for about 10 minutes, then we'll let it continue to soften in the soup.
Print
Chickpea and Farro Soup
Author:
Prep Time: 15 minutes
Cook Time: 30 minutes
Total Time: 45 minutes
Yield: 8 cups 1x
Category: Soup
Method: Stovetop
Cuisine: Soup
---
Description
This chickpea and farro soup is packed with vegetables and full of flavor! It's an easy recipe to make at the start of the week and reheat for a quick lunch or dinner!
---
1 cup pearled farro
1 tablespoon olive oil
1 medium white onion, diced
2 large carrots, diced
2 stalks celery, diced
1 teaspoon dried parsley
1/4 teaspoon dried rosemary
1 teaspoon hot smoked paprika
4 cloves garlic, minced
6 cups vegetable broth
1 15oz can chickpeas, rinsed and drained
1 15oz can fire-roasted diced tomatoes
Salt + pepper to taste
Parmesan cheese (optional for topping)
---
Instructions
Bring a large pot of water to a boil
Add the farro and cook for 10 minutes or until softened.
Drain the farro and set aside.
In a separate large pot, add the olive oil and cook over medium heat for 30 seconds.
Add the onion, carrot, and celery and cook for 5 minutes over medium heat, stirring to coat with oil.
Add in the parsley, rosemary, paprika, and garlic and continue cooking until the vegetables are slightly softened.
Add the cooked farro, broth, chickpeas, and tomatoes and bring to a boil.
Simmer for 15-20 minutes until the flavors are combined and the vegetables are softened.
Add salt and pepper to taste and top with parmesan, if desired.
---

How to Store and Reheat Leftover Soup
This soup can be kept in the refrigerator for up to 4 days or the freezer for up to 1 month. To reheat leftovers, warm in the microwave or on the stovetop, adding additional broth as needed to reach your desired consistency.
Looking for other ways to use farro? Try this asparagus and farro salad for an easy, make-ahead recipe!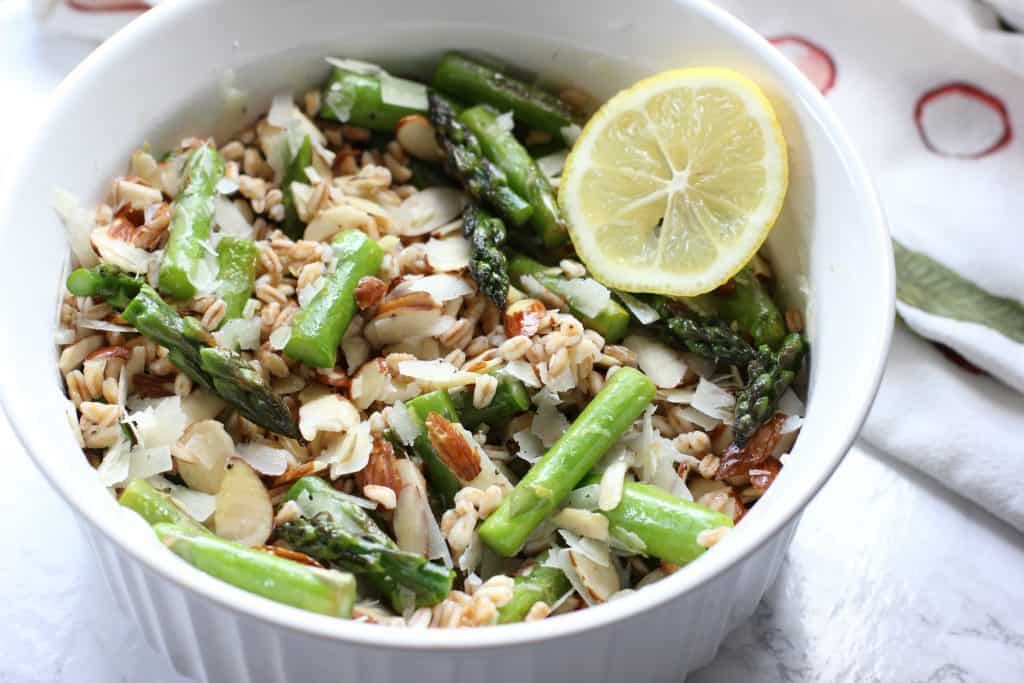 You can also use it to make farro risotto on the stovetop or mushroom farro risotto in the Instant Pot!
Have you ever tried farro?
This post was originally published May 2017. Updated October 2020.