Vegan Pumpkin Chili
Get ready for a cozy, autumn-inspired dish with this vegan pumpkin chili! It's packed with healthy veggies, hearty beans, and velvety pumpkin puree for a satisfying plant-based meal.
This post is sponsored by Patient First. All opinions are my own.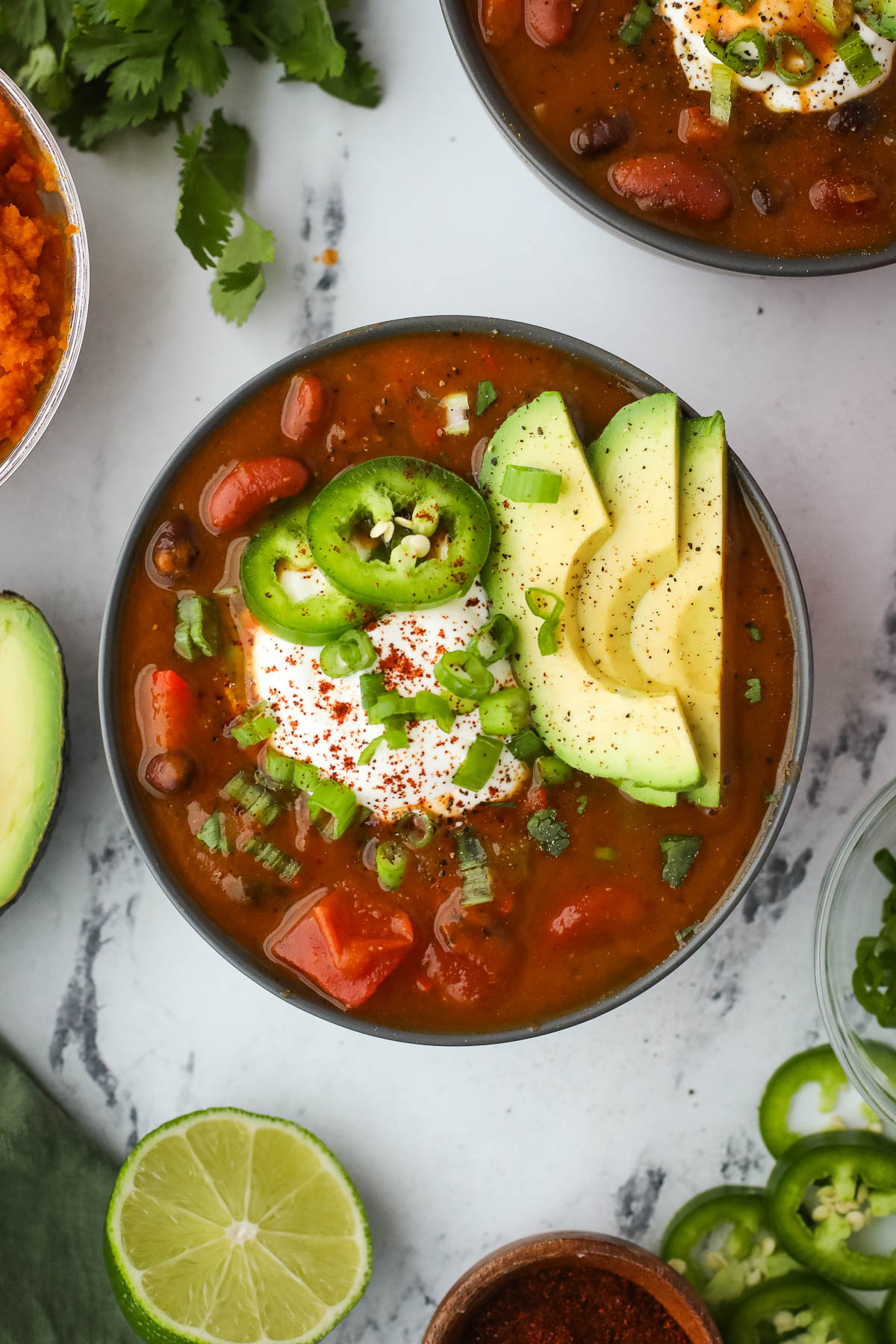 Fall is in the air, and it's the perfect time to make this tasty pumpkin chili! This recipe is a great one to make before trick or treating, and it's the perfect way to sneak in lots of healthy vegetables before enjoying some treats! The beans make this recipe super satisfying and the pumpkin makes this chili extra thick and hearty.
I created this recipe in partnership with Patient First. With the cold and flu season around the corner, it's a great time to get familiar with Patient First! They have convenient locations all across the mid-Atlantic region and they're open 8am – 8pm, year round, no appointment necessary. Now that I have a toddler, it feels like a challenge to escape the germs, so I love knowing I have an urgent care option right down the street!
To help kids get more familiar with the doctor's office, Patient First will be providing free X-rays of Halloween Candy from October 27th – November 3rd from 6 to 8 p.m at all of their neighborhood centers. This digital X-ray image is fun for trick-or-treaters, allowing them to look at the peanuts and other treats inside of their candy. This is also a great way to give kids fun reasons to visit the doctor's office and it may ease some anxiety the next time they take a trip to the doctor's office and it gives me some extra peace of mind after trick or treating with my own toddler!.
So make a bowl of this vegan pumpkin chili, enjoy trick or treating, and then stop by Patient First between 10/27-11/3 to see the x-ray machines!
Why I Love This Recipe
This pumpkin chili is a great recipe for the whole family because it's easy to customize with your favorite toppings! You can keep the flavor of the chili mild, then add your favorite hot sauce. You can keep it plant-based or add sour cream and shredded cheese on top. You can prepare it in advance and reheat the leftovers when you're ready. It might just be the perfect fall meal!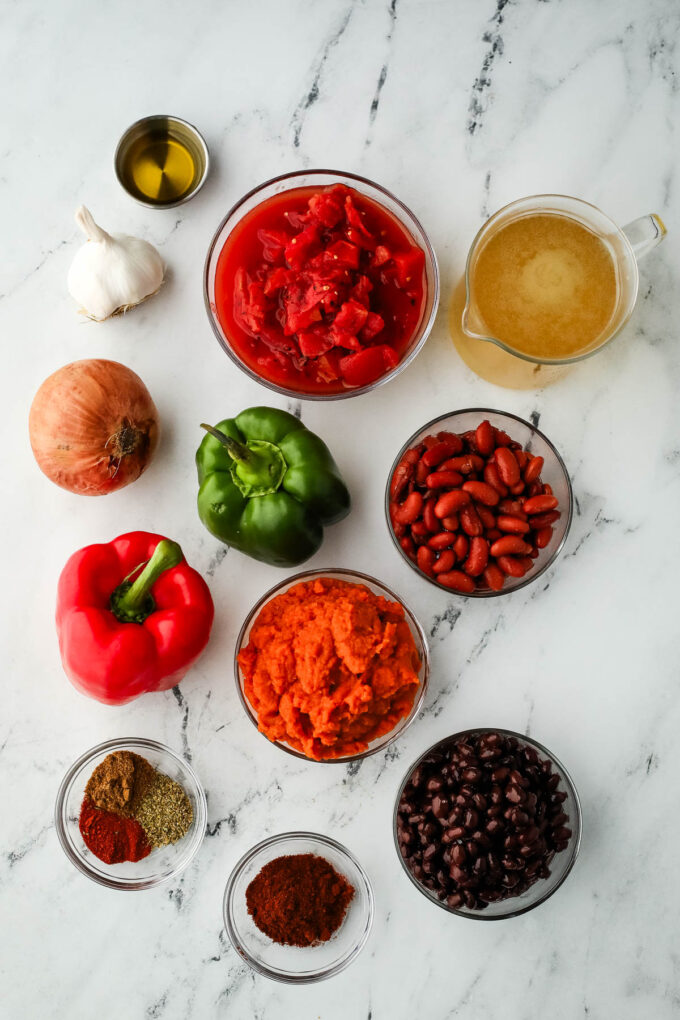 Ingredients & Substitutions
Olive Oil: The olive oil is used to sauté the onions, peppers, and garlic, providing a base for building flavor in the chili. If you prefer to make this recipe oil free, you can use 2 tablespoons of water or broth to sauté the vegetables.
Onion: Diced onions add a sweet and savory base to the chili and enhance its overall flavor. Feel free to substitute with a white onion or 2-3 shallots.
Red and Green Bell Peppers: These peppers contribute a slightly sweet and savory flavor to the chili.
Garlic: Minced garlic infuses the chili with a robust and aromatic flavor. You can substitute with 2 teaspoons of garlic powder, if desired.
Chili Powder: Chili powder is the primary seasoning, providing the chili's signature heat and depth of flavor. I used a mild chili powder to ensure this dish wasn't too spicy, but you can use a chili powder with more heat if you like it spicy.
Cumin: Ground cumin adds a warm and earthy note, complementing the chili's overall flavor profile.
Oregano: Oregano contributes a subtle, earthy undertone to the chili's flavor.
Smoked Paprika: Smoked paprika enhances the smoky and slightly sweet aspects of the chili. You can substitute with regular paprika if necessary.
Diced Tomatoes: Diced tomatoes provide acidity, a rich tomato flavor, and a chunky texture to the chili. I like using fire-roasted diced tomatoes for even more flavor.
Pumpkin Puree: Pureed pumpkin not only thickens the chili but also adds a creamy, velvety texture and a mild, slightly sweet flavor. Be sure to use canned pumpkin puree and not pumpkin pie filling.
Vegetable Broth: Vegetable broth serves as the liquid base of the chili, ensuring it has the right consistency and provides extra depth of flavor.
Kidney Beans and Black Beans: The beans add protein, fiber, and a hearty texture to the chili, making it a filling and satisfying meal. You can substitute with pinto beans, if desired.
Lime Juice: Lime juice brightens and balances the flavors in the chili, providing a touch of acidity and freshness. You can substitute it with a splash of red wine vinegar.
The Best Toppings for Chili
I love topping this hearty vegan pumpkin chili with jalapeños for a little extra spicy kick. I also love adding a few tortilla chips to add a crunchy texture. You could also top your vegetarian pumpkin chili with sour cream, shredded cheese, green onions, fresh cilantro, corn chips, or hot sauce.
How to Make Vegan Pumpkin Chili
How to Store Leftover Chili
To store leftover chili, let it cool to room temperature before portioning it into airtight containers for the refrigerator or freezer. In the fridge, chili can last 3-4 days, while in the freezer, it can stay good for 2-3 months. When ready to enjoy, thaw frozen chili in the fridge overnight or reheat it from frozen in the microwave or on the stovetop.
Other Healthy Soup Recipes
If you're looking for other tasty fall recipes, try my immunity boosting soup which is perfect for the cold and flu season or any time you're feeling under the weather! I also love this Mediterranean lentil soup for a hearty and filling dinner.
Print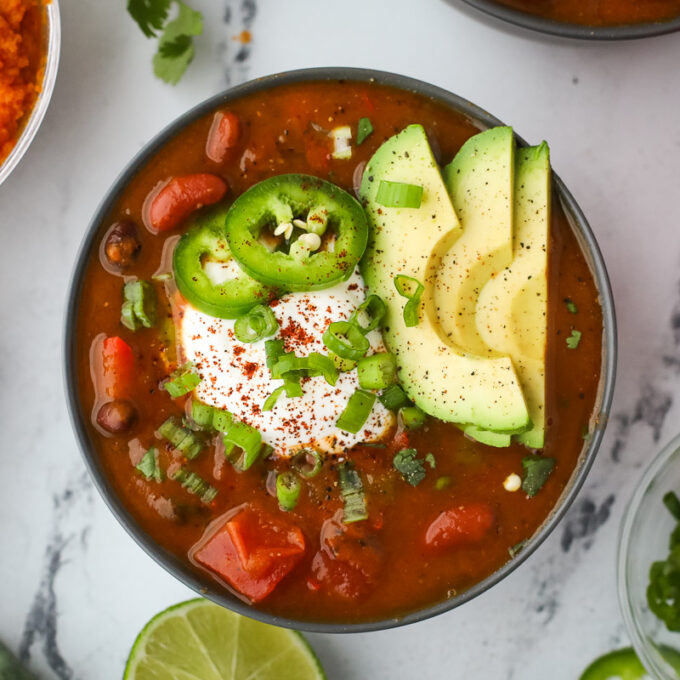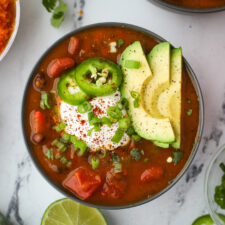 Vegan Pumpkin Chili
Author:
Prep Time: 15 minutes
Cook Time: 45 minutes
Total Time: 1 hour
Yield: Serves 6
Category: Dinner
Method: Stovetop
Cuisine: American
Diet: Vegan
---
Description
Get ready for a cozy, autumn-inspired dish with this vegan pumpkin chili! It's packed with healthy veggies, hearty beans, and velvety pumpkin puree for a satisfying plant-based meal.
---
1 tablespoon olive oil
1 large yellow onion, diced
1 red bell pepper, seeded and diced
1 green bell pepper, seeded and diced
2 cloves garlic minced
2 1/2 tablespoons chili powder
1 teaspoon cumin
1/2 teaspoon oregano
1/2 teaspoon smoked paprika
1 14.5oz diced tomatoes
1 15oz can pumpkin puree
2 cups vegetable broth
1 15oz can kidney beans, drained and rinsed
1 15oz can black beans, drained and rinsed
1 tablespoon lime juice
Salt to taste
Optional toppings: avocado, diced red onion, green onions, fresh cilantro
---
Instructions
In a large pot or Dutch oven, heat the olive oil over medium heat.
Add the diced yellow onion, red bell pepper, and green bell pepper to the pot. Sauté for about 10 minutes or until the vegetables become tender and the onion is translucent.
Stir in the minced garlic, chili powder, cumin, oregano, and smoked paprika to the pot. Stir well to coat the vegetables with the spices and cook for another 1-2 minutes to toast the spices.
Add the diced tomatoes, pumpkin puree, vegetable broth, kidney beans, and black beans to the pot, stirring until the pumpkin is mixed into the broth.
Bring the chili to a simmer, then reduce the heat to low and cover. Let it simmer for about 20-30 minutes, stirring occasionally. This allows the flavors to meld together and the chili to thicken.
Just before serving, stir in the lime juice to brighten the flavors. Taste and adjust the seasoning with salt and pepper if needed.
Serve the pumpkin chili hot with your choice of toppings.
Keywords: vegan pumpkin chili