Apple Pie Oatmeal
This creamy bowl of oatmeal will remind you of sweet apple pie! Made with whole grain oats, maple syrup, cinnamon, and apples, this is a breakfast that tastes like dessert! Plus, it's made in the microwave so it's ready in minutes!
I've been enjoying oatmeal for breakfast lately because it's one of the few things that can keep me full until lunchtime! A bowl of oatmeal really sticks with me and gives me energy all morning long!
Is Oatmeal a Healthy Breakfast?
Yes! Oats are a whole grain which means they're naturally high in protein and fiber. This is is why a bowl of oatmeal is so satisfying and makes you feel full for a long time. If you want to keep your sugar content down, you can skip the maple syrup or use stevia or another natural sweetener.
How to Make Oatmeal in the Microwave
I like to make my apple pie oatmeal in the microwave because it's quick and I don't have to dirty any extra dishes! Here are my tips for making oatmeal in the microwave:
Use a large bowl, as oatmeal will expand rapidly while cooking. I use a bowl that holds about 6 cups when I'm cooking 1/2 cup of oats.
Add 1 cup of water or milk for every 1/2 cup rolled oats.
Microwave for 2 1/2-3 minutes on 80% power. You may need to adjust slightly based on your microwave. By not cooking at full power, you can avoid the oatmeal boiling over.
After 2 1/2 minutes, carefully remove the oats from the microwave (the bowl will be very hot!) and stir vigorously. Let it sit for 1-2 minutes to thicken.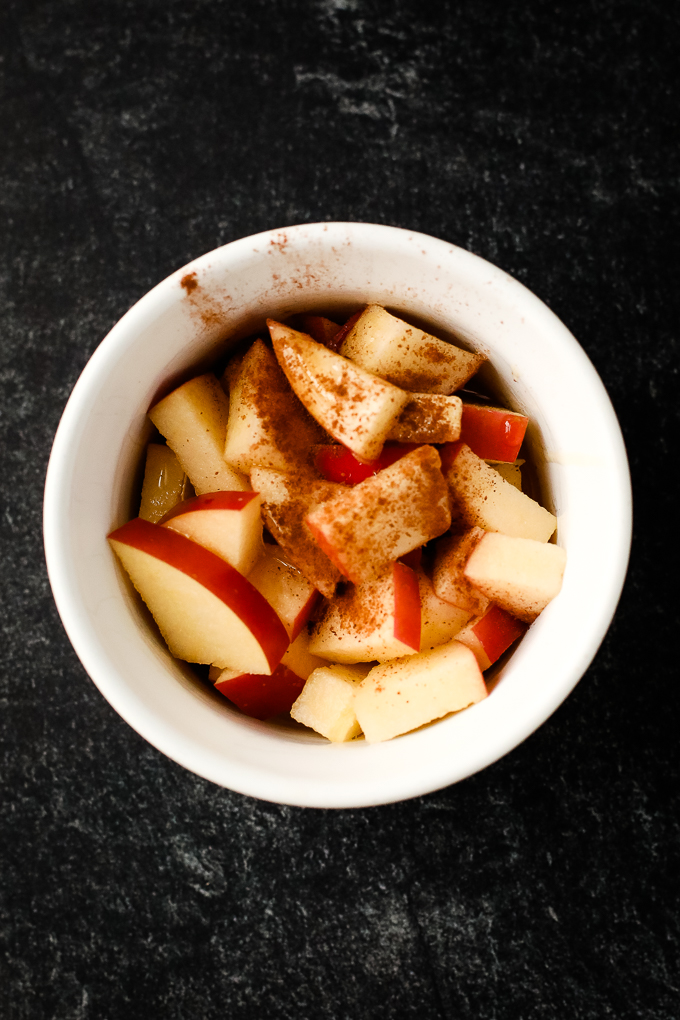 How to Cook Apples in the Microwave
Place the chopped apples in a small, microwave-safe dish.
Drizzle with maple syrup and sprinkle with cinnamon.
Stir to combine.
Microwave for 30 seconds – 1 minute, depending on how soft you like your apples
The Best Apple for Apple Pie Oatmeal
You can use any type of apple, but here are my favorites:
Honeycrisp– These apples are naturally sweet and juicy and they make a delicious oatmeal topping!
Granny Smith– If you want a more tart flavor, try Granny Smith apples! They're less sweet and can be a great way to balance out the sweetness of the oatmeal for a more mild flavor.
Fuji– These are sweet and juicy like a Honeycrisp, but they tend to be more affordable so they're a great budget option!
The Best Milk for Microwave Oatmeal
I used almond milk because that's what I typically have at home but you can use dairy milk or soymilk, too. Check to make sure your milk isn't sweetened. If it is, you'll need to adjust the sweetener and reduce the amount of maple syrup you add to the oatmeal.
Do I need Instant Oats for Microwave Oatmeal?
No! This recipe works with rolled oats, so you can skip the packets of instant oatmeal. This recipe cooks quickly in the microwave, so there's no need to buy instant oatmeal packets.
Substitution Ideas
If you want to keep this apple pie oatmeal gluten-free, ensure you're using gluten-free oats. Bob's Red Mill is a great option.
You can make this recipe with water instead of milk, if necessary. It'll be a little less creamy, but it'll still work great!
More Oatmeal Recipes
Print
Apple Pie Oatmeal
Author:
Prep Time: 5 minutes
Cook Time: 5 minutes
Total Time: 10 minutes
Yield: 1 bowl 1x
Category: Breakfast
Method: Microwave
Cuisine: Breakfast
Diet: Vegan
---
Description
This creamy bowl of oatmeal will remind you of sweet apple pie! Made with whole grain oats, maple syrup, cinnamon, and apples, this is a breakfast that tastes like dessert!
---
1/2 cup rolled oats
1 cup almond milk
1 small apple, diced
2 teaspoons maple syrup (divided)
Pinch of salt
1/2 teaspoon cinnamon
1/4 cup granola
---
Instructions
Combine the oats and almond milk and microwave for 2 1/2 – 3 minutes at 80% power.
Carefully remove from the microwave, add 1 teaspoon of maple syrup, and a pinch of salt and stir.
In a small microwave-safe bowl, add the apples, remaining teaspoon of maple syrup, and cinnamon.
Stir to combine.
Microwave the apples for 30 seconds or until softened slightly.
Top the oatmeal with the apples and granola.
Add additional maple syrup and cinnamon if desired, and add salt to taste.
---
Keywords: apple pie oatmeal
This cozy bowl of oatmeal is perfect for chilly mornings. I love the sweetness of the apples with the crunch of granola. It makes this breakfast feel so satisfying! Since it's made in the microwave, it doesn't require any preparation in advance and it's ready in minutes!
Looking for more delicious breakfast recipes? Here are a few of my favorites:
What's your favorite oatmeal topping?