Sometimes, inspiration just strikes.
I was long over due for some play time in the kitchen. I was in the mood for something sweet… warm… decadent…. oh, and low calorie.
I'm just glad inspiration came in time for What I Ate Wednesday.
So today, I'll be featuring What I Ate for Dessert 🙂
It took trial. Error. And lots of dirty ramekins. But I did it! I made the recipe for a single serving, but you could easily double it or triple it. Just note that the microwave time is for one serving!
Almond Cake for One
1 1/2 tbsp almond flour
1 tbsp pureed pumpkin
1 tsp egg white
1 tsp soymilk (or other milk)
1/8 tsp pumpkin pie spice
2 drops of almond extract (Sub in vanilla if you must!)
Dash of salt
I mixed everything in one ramekin, and then transferred it to a new one that was sprayed with non-stick cooking spray. Then I popped it in the microwave for 45 seconds, and voila! A dense, sweet, rich, cake. All for me.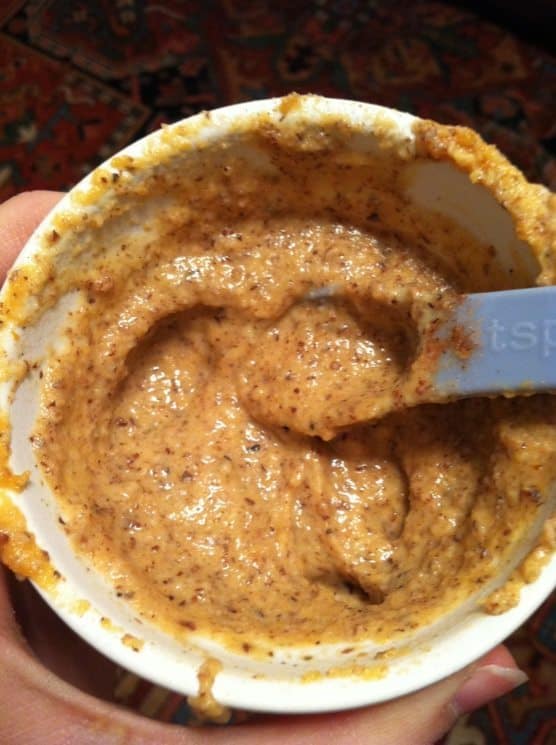 This lovely little cake has just 75 calories, 1.5g fiber and 4g protein. Beat that!
All. For. Me.
It's a good thing I could share this, because all of my other eats have been exactly the same. Cake batter yogurt bowls, salads with super creamy hummus, and Trader Joe's Asian Stir Fry. Lame. I know.
Do you ever make single serving desserts?